These paleo carnitas are made with pork loin in the Crockpot for a super easy Whole30 dinner. Pork loin makes these paleo carnitas super budget-friendly, and they're full of flavor, making them perfect for a Chipotle copycat Whole30 carnitas bowl! These paleo carnitas are made easily with this awesome Crockpot.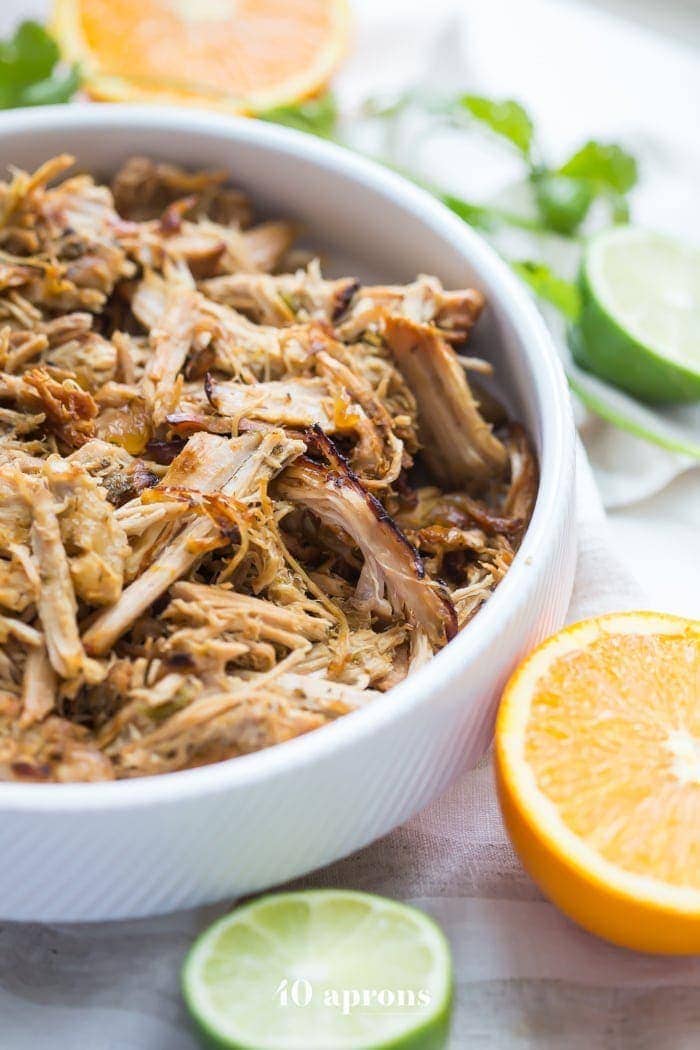 I was never a huge fan of carnitas before my first Whole30. Nah, I didn't have anything against the Mexican pulled pork, but I'd always, always opt for steak if given the chance. Problem is…
Well, two problems.
a) The steak at Chipotle is not Whole30 compliant, and
b) Um, steak is expensive?
So on our first Chipotle outing during a Whole30, I wandered up to the glass with my phone in my face and ordered off a post I'd found on the Whole30 forums.
"Carnitas and lettuce and, um… extra guac, of course," I emphasized. "And like 2 cups of each salsa."
Because, you know, that roasted salsa verde is damn good, but not as good as the one I made!
I was surprised, then, when I liked the carnitas bowl as much as I did, considering there was no, GASP, cheese, and no, ALSO GASP, steak, and no corn salsa and no crunchy chips and generally lots of saying no to lots of things. But what I got instead was crunchy and crisp, tender and juicy, bright and flavorful and garlicky and a little smoky. I left feeling satisfied but not grossly full, and I didn't immediately need to take a nap or top off my steady caffeine drip.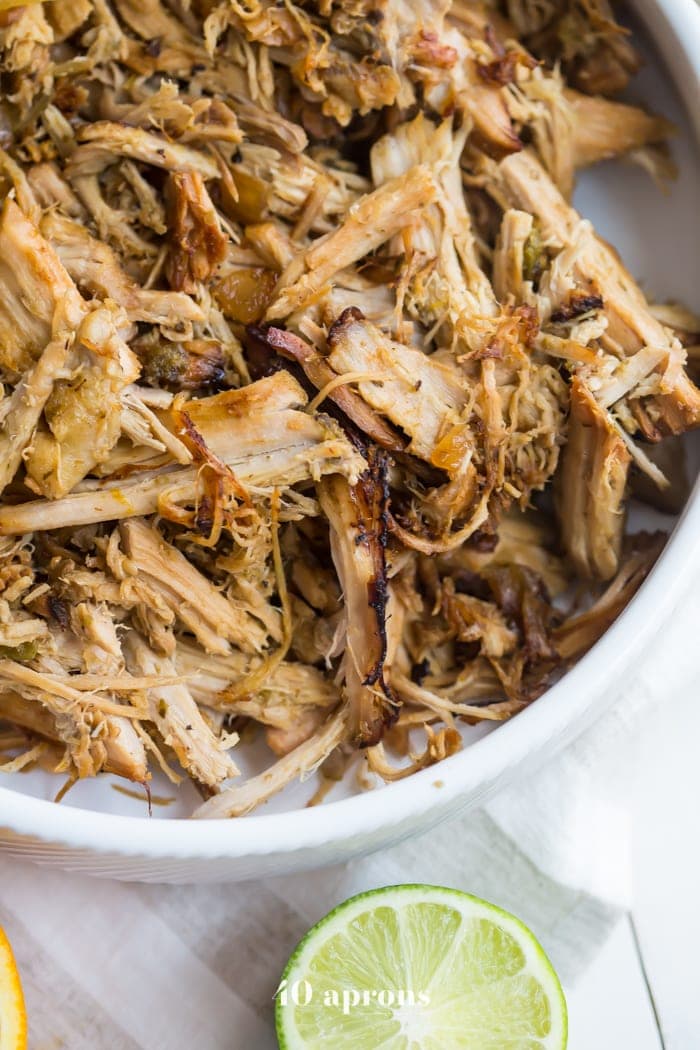 Mexican food that makes me feel good? True. Love.
Wait, wait, wait. I take that back. Mexican food that makes me feel good, is budget-friendly (hellllllo, Sprouts sales), and takes only a few minutes of hands-on cooking time? That's true love, like, I'm divorcing O, moving to the nearest state that allows the marriage of humans to carnitas, and planning the honeymoon as we speak.
No hyperbole included.
Really, though, I found myself craving carnitas bowls on a recent Whole30 and had a couple pork loins in the fridge that I'd recently found on sale at Sprouts for insanely cheap. At about 4 bucks for half a loin (8 bucks for the whole thing, and we used the other half for a pan-roasted tenloinerloin with apples and bacon DROOL), this paleo carnitas recipe made enough carnitas for an entire week of lunches for O and me. And did I mention I literally put it in the Crockpot on Sunday afternoon and just let it do its thing? Y'all.
Just y'all.
When you work full-time as a freelancer and also somehow full-time as a food blogger (still doing that math), are married, and have kids? An easy, cheap, delicious, Whole30 recipe is basically the unicorn for whom you've been searching since your life became this way.
After making the transition from pork loin to carnitas in the Crockpot, I shredded the meat with two forks and browned it in a cast-iron skillet. Chipotle carnitas are a little soggier and don't have the browned bits, so you can skip that step if you like. I don't recommend it, since browned bits are my life, but you're also an adult who can make browned-bit decisions in her or his life.
This recipe is used to make…
Paleo Carnitas from Pork Tenderloin (Crockpot, Whole30)
Paleo carnitas made from pork tenderloin in the Crockpot. These paleo carnitas are made with pork tenderloin in the Crockpot for a super easy Whole30 dinner. Pork tenderloin makes these paleo carnitas super budget-friendly, and they're full of flavor, making them perfect for a Chipotle copycat Whole30 carnitas bowl like you'd get at Chipotle!
Ingredients
2

pounds

pork tenderloin or loin

1/2

onion

chopped

3

cloves

garlic

minced

1

jalapeño

chopped

2

teaspoons

salt

Juice

of one lime

Juice

of one navel orange
To Serve
Instructions
Pat dry pork tenderloin with paper towels. Combine rub ingredients and rub all over tenderloin then place in your Crockpot.

Top with remaining ingredients, cover, and cook on high for 4-6 hours or low for 6-8 hours. When done, the meat will be cooked through and very tender, easily separated with a fork.

Remove the tenderloin from the Crockpot and shred the meat with two forks. Do not discard juices.
To Serve
Heat a drizzle of olive oil in a medium skillet over medium heat. Add enough carnitas to cover the surface without crowding and ladle a little of the carnitas juice over. Cook until juice has evaporated and bottom of carnitas is crispy and browned. Flip and cook briefly, but not until too brown.

Remove from skillet and drizzle with a little more juice. Serve.
Recipe Notes
It's important that you do not use a WHOLE pork loin but the recommended poundage. If you use a whole pork loin, you will not have enough liquid. If you would like to up your poundage, simply multiply the sauce ingredients to make up for the extra meat!
Wait until you're ready to serve to sear the meat in the skillet. Keep in the refrigerator in an airtight container with juices drizzled over until ready to serve.
I recommend this programmable Crockpot.
Adapted from RecipeTin Eats.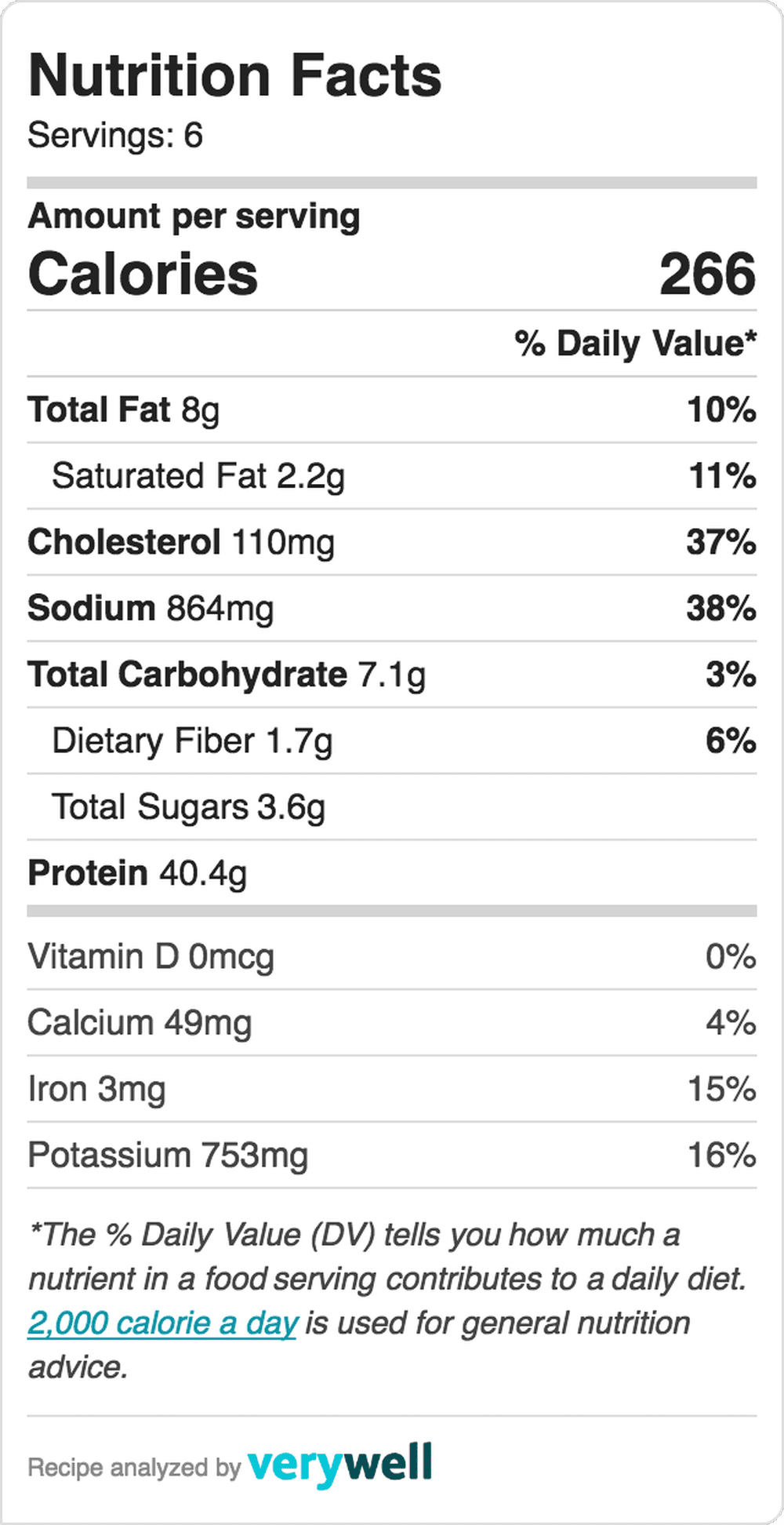 240