Chipotle Copycat Whole30 Carnitas Bowl

Posted: 05/03/17 Updated: 05/11/22
This Chipotle copycat Whole30 carnitas bowl is a take on the Whole30 Chipotle favorite and is a fantastic Whole30 dinner, especially for warmer weather! I just can't think of a better way to eat Whole30 Mexican food. Sorry, Chipotle!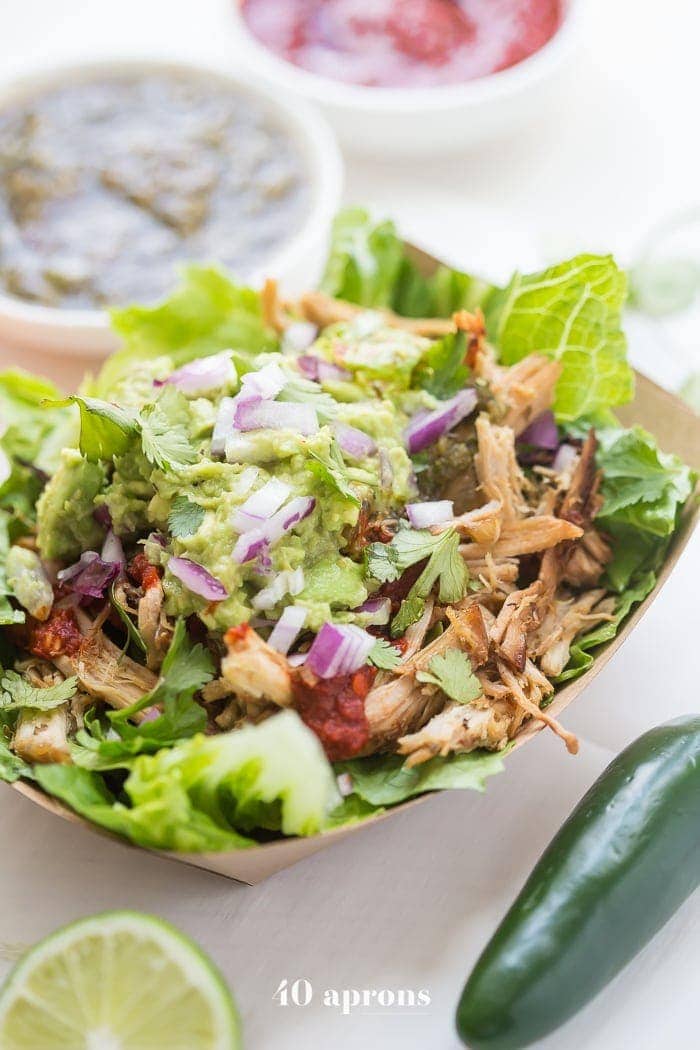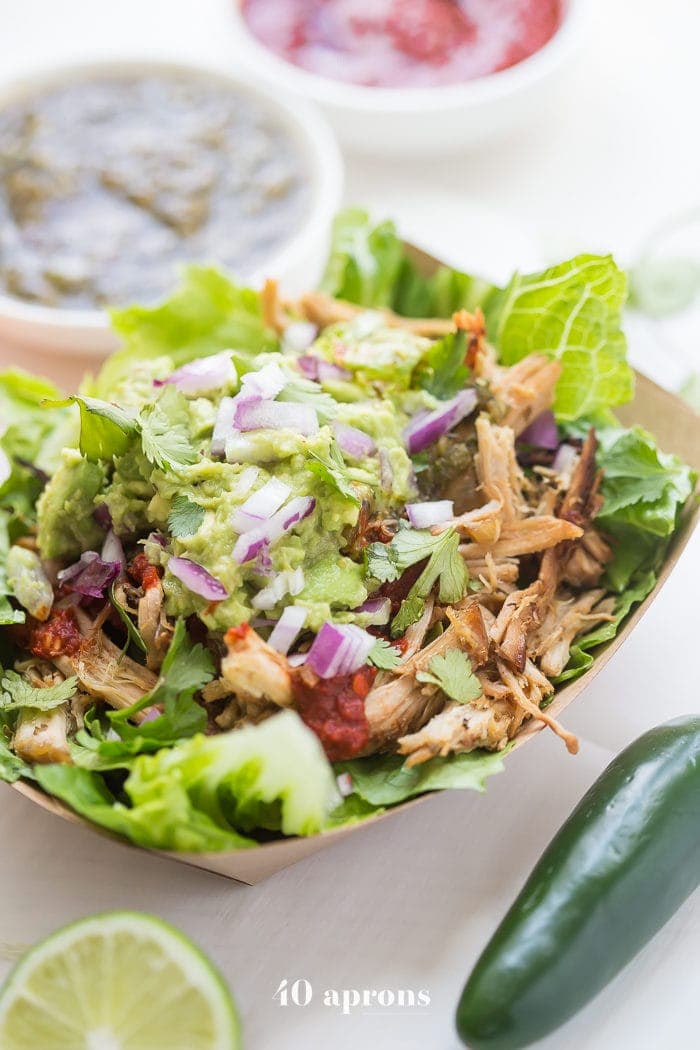 I've waited months to tell this story.
It starts and ends like any good story does: opening with great intentions and ending in disaster (and an ultra-strength air freshener for your car). You see, I have two good Chipotle stories, but only one will make you feel better about yourself. I'll save the nice one for later.
Every time we do a Whole30 (which is kind of a lot), we end up frequenting the nearest Chipotle a bit more than probably recommended.
"I'm on a Whole30," I preface my order, raising my eyebrows to gauge the level of understanding my burrito artist might possess. Realizing the aproned teen understands my elimination diet about as well as he remembers Y2K, I dive into the specifics. "I can't have any rice or beans, no cheese or corn–yes, that means no tortilla chips, and I can only eat the carnitas."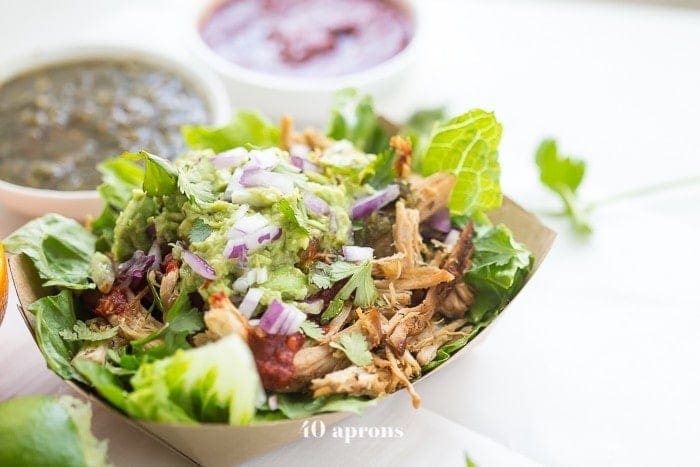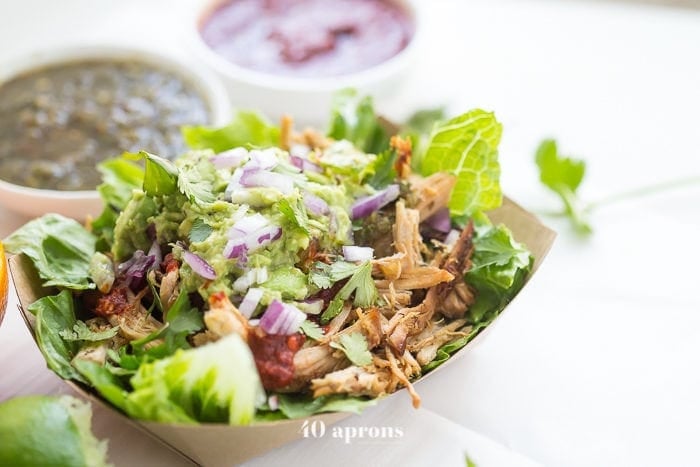 I start feeling dainty, so I make up for it with a confusing display of self-deprecating machismo. "Weird, I know. But like… primal, yeah? Caveman-style, all meat and veggies, and meat meat meat, and also you feel reeeeeally amazing after you get over the carb flu and… OK, yeah, the burrito bowl, yes. Mhm."
And my obsession with salsa is nothing new, but on a Whole30, things are a bit more dire.
"Extra salsa, like… as much as you'll give me. And then more. So like, give me so much that you feel like you're about to get fired and then give me one extra. But NOT THE CORN SALSA–I, yeah, I know corn is sort of a vegetable but, like, it's all about cultivated crops and GMOs and just… OK, yeah, no, I'll take the corn salsa, it's fine."
By the time I've reached this position in the burrito conveyor belt, the manager has heard of my fancy needs and tries to make me feel better as he delivers the total. "We had someone come in last week on a Whole30 and they got the sam–well, I think that was you. Do you want chips? Oh, OK… well, alright, have a nice day?"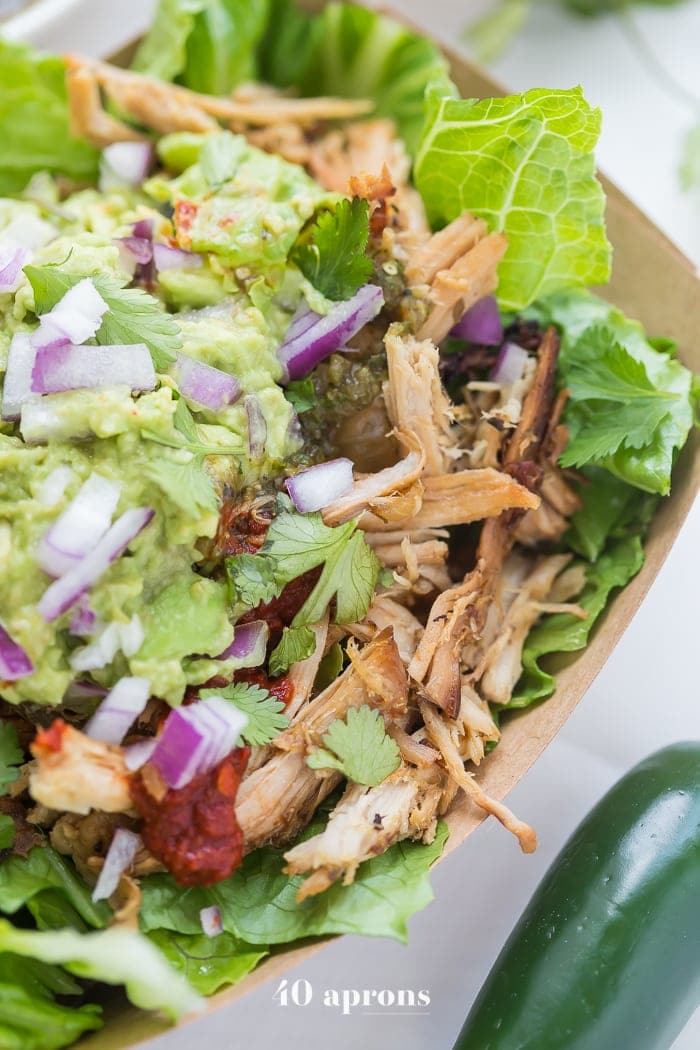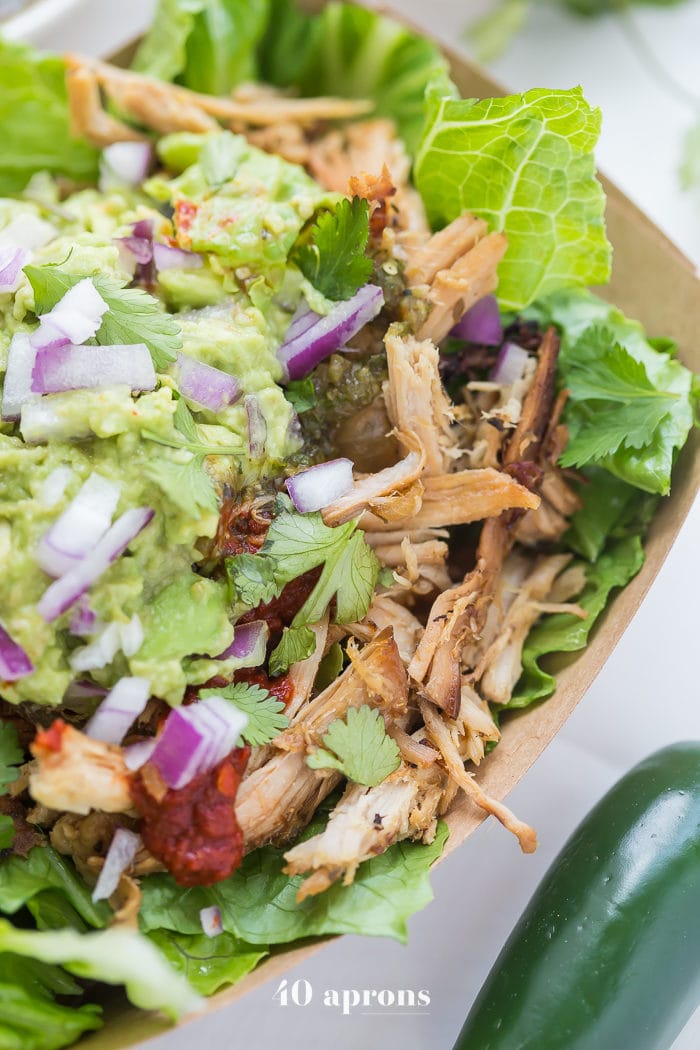 And off I go, brown paper bag in hand, carnitas bowls lying dormant underneath their leaden blankets of salsa, upon which even more tiny plastic cups of salsa teeter. "Aaaand uh, dinner is served, my friends," I mutter to myself as I boop-boop my key fob, having already forgotten where I'd parked my massive and painfully stereotypical white SUV. I don't bother to switch the music back to grown-up offerings and let Basho rap the alphabet to me, honing my craft to better distract Leo during toddler meltdowns.
"C IS FOR CANDLE AND ALSO A CHAAAAIR!" I'm essentially wailing at this point, as I pull into the driveway, feeling all heroic as I've rescued my husband from another night facing Mount Dishmore, and I reach over to grab the brown paper bag…
but it feels a little lighter this time.
A surge of salsa oozes out of the bag and into the crack of the seat, the crack of the seat of my essentially brand-new car, and it's salsa, not like organic lavender oil, and holy shit I knew my salsa addiction would come back to bite me in the ass. This is rock bottom, y'all. I've reached it. I'm here. I need help.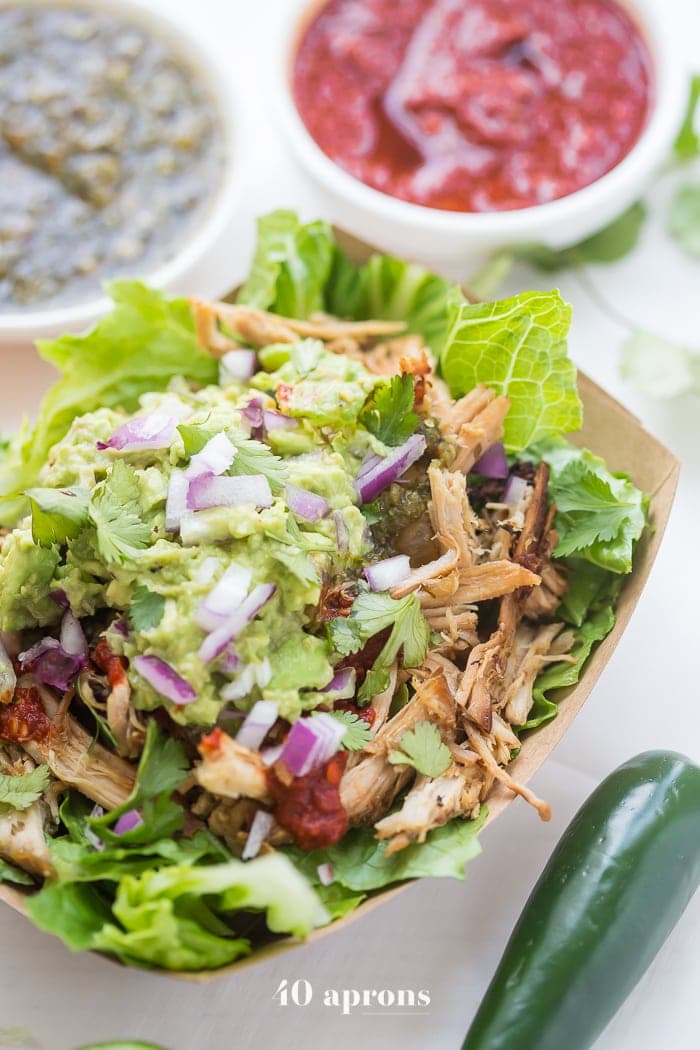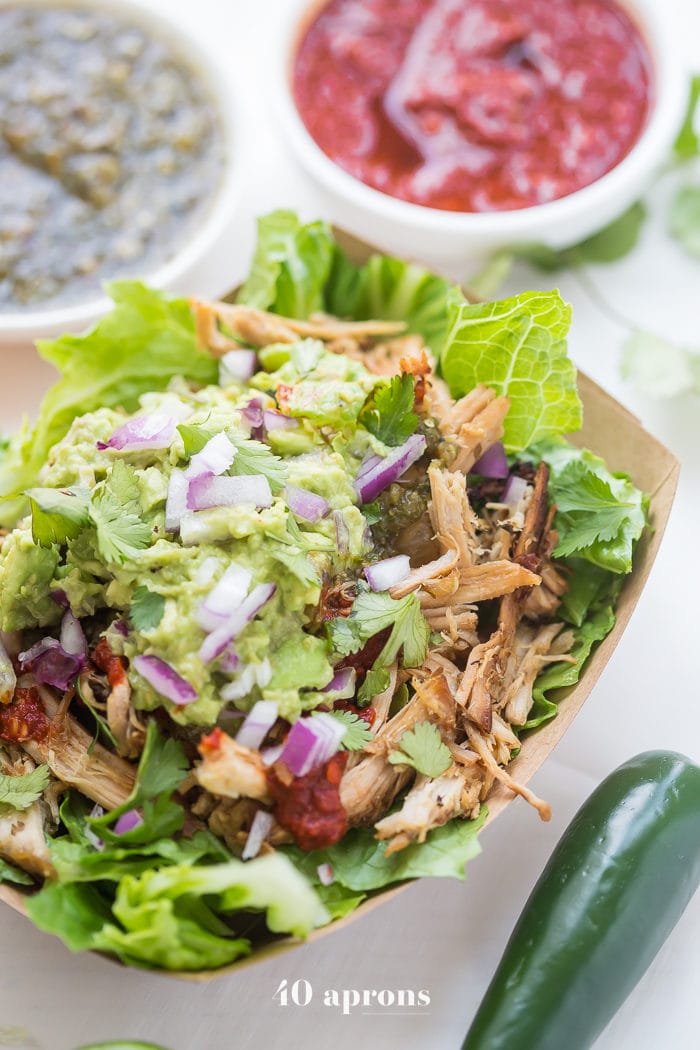 I kind of want to cry, but time is of the essence when it comes to chopped onions and dried chiles and raw garlic and your vehicle upholstery. I'm pissed at Chipotle now, and also at Whole30, because kill all the things, and is the earth really so important that they have to use brown paper bags?! Basho is still explaining that N is for needle and O is for ocean and P is for a pig with a magic potion, and the story culminates with me feeling pretty sad about what happened but cleaning it up without much drama and then buying an ultra-strength Macintosh apple air freshener to mask the smell of permanent fiesta. I still ate the carnitas bowl that had somehow managed to be turned upside down (mystery solved) and it was still good, and I was pissed that it was good. And to this day, my car smells like a taqueria in the fall.
Worth it? Um, yeah.
You see, Chipotle carnitas bowls are well-known amongst the Whole30 community as being "pretty compliant" and one of the only acceptable options for dining out on a round. The carnitas are the only meat Chipotle offers that aren't cooked in rice bran oil, so you have essentially one option there, but it's a pretty stellar one. Starting with a base of romaine lettuce, the juicy carnitas are piled on, topped with basically a shit ton of guacamole and salsa. And Chipotle's salsa selection does not disappoint, with a fresh pico de gallo, roasted salsa verde, and smoky dried chile sauce. Altogether? It's a filling, healthy meal that by no means skimps on the flavor.
So, of course, I had to make a Chipotle copycat Whole30 carnitas bowl. Of course I had to make a Chipotle copycat Whole30 carnitas bowl.
I started with one of my favorite easy recipes, paleo carnitas made in the Crockpot, and loaded it up with lots of guac, my roasted salsa verde, and my smoky guajillo salsa, too. A few red onions for a bit of crunch, and tada! Dinner is served, mis amigos. And dinner, you lucky amigos, is a Chipotle copycat Whole30 carnitas bowl. De nada.
I also ate this combo every day for basically a week, so it's an easy meal prep option that prevents #saddesklunches by about 1 million points. And dare I say, perfect for a Whole30 Cinco de Mayo? Obviously.
Obviously.
You'll want to make my paleo carnitas (from pork tenderloin in the Crockpot = cheap and easy. Pretty perf.) for this recipe, but they sell smoked pulled pork at Costco (check out my Whole30 Costco shopping list while you're there!) that would work pretty well, too.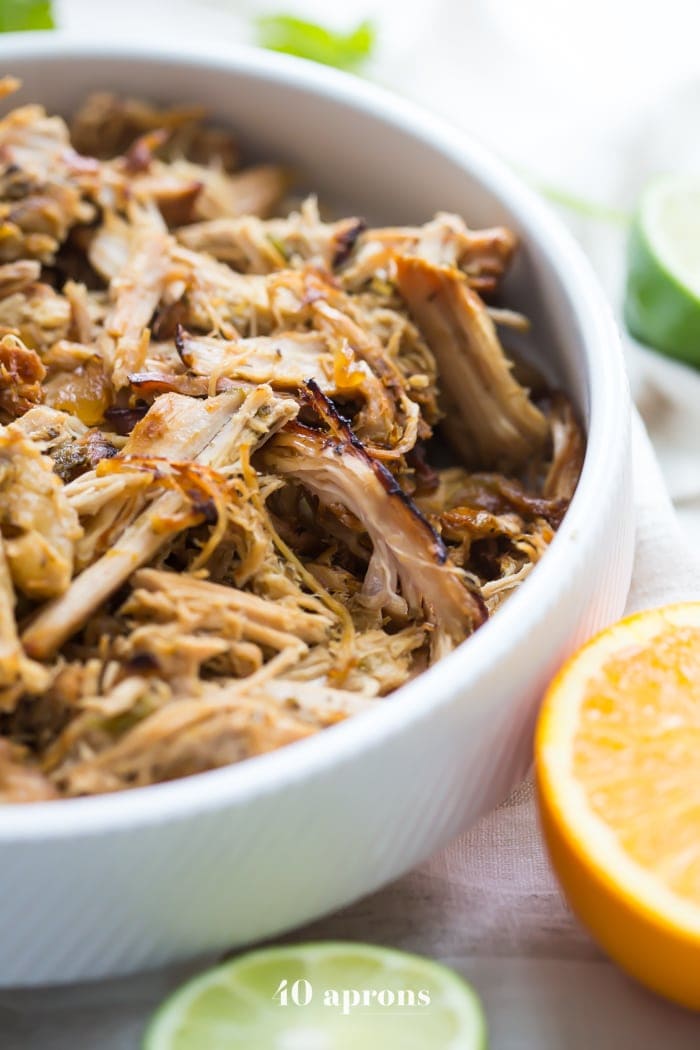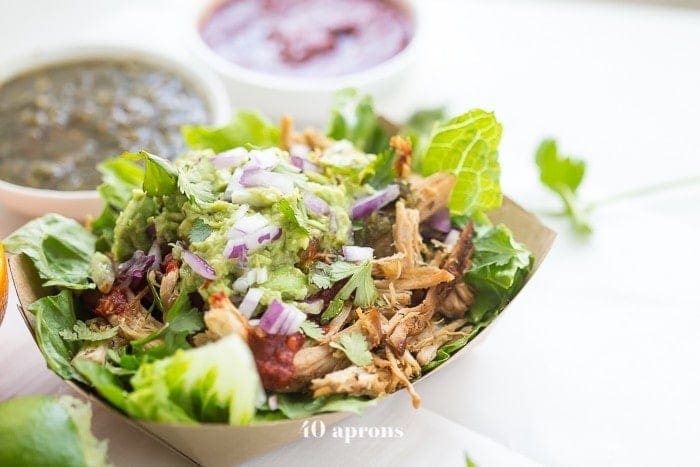 Chipotle Copycat Whole30 Carnitas Bowl
This Chipotle copycat Whole30 carnitas bowl is a take on the Whole30 Chipotle favorite and is a fantastic Whole30 dinner, especially for warmer weather! I just can't think of a better way to eat Whole30 Mexican food. Sorry, Chipotle!
Ingredients
1

drizzle

olive oil

1

small head

romaine lettuce,

cut into about 1-inch wide strips, washed, and dried

2

cups

carnitas,

my Crockpot paleo carnitas recipe in notes

4

avocados,

peeled and diced

½

cup

red onion,

chopped

juice of 1 lime

1

tsp

salt,

to taste

¼

teaspoon

ground cumin

1

cup

roasted tomatillo salsa

find recipe in notes or store-bought

1

cup

smoky guajillo salsa

find recipe in notes or favorite compliant store-bought salsa

½

cup

red onion,

chopped, for garnish
Instructions
Make guacamole: combine all guacamole ingredients and mash, if desired, until desired consistency. Season with salt.

Heat your carnitas:

Heat a drizzle of olive oil in a medium skillet over medium heat. Add enough carnitas to cover the surface without crowding and ladle a little of the carnitas juice over. Cook until juice has evaporated and bottom of carnitas is crispy and browned. Flip and cook briefly, but not until too brown.

Layer your bowls: place a handful or two of romaine in the bottom of each serving bowl. Top with carnitas, guacamole, roasted tomatillo salsa, smoky guajillo salsa, and red onion. Serve immediately.
Nutrition Information
Serving Size:
4
g
,
Calories:
581
kcal
,
Protein:
29
g
,
Fat:
30
g
,
Saturated Fat:
10
g
,
Cholesterol:
85
mg
,
Sodium:
1122
mg
,
Potassium:
2022
mg
,
Total Carbs:
56
g
,
Fiber:
21
g
,
Sugar:
32
g
,
Net Carbs:
35
g
,
Vitamin A:
29651
IU
,
Vitamin C:
36
mg
,
Calcium:
110
mg
,
Iron:
6
mg
Number of total servings shown is approximate. Actual number of servings will depend on your preferred portion sizes.
Nutritional values shown are general guidelines and reflect information for 1 serving using the ingredients listed, not including any optional ingredients. Actual macros may vary slightly depending on specific brands and types of ingredients used.
To determine the weight of one serving, prepare the recipe as instructed. Weigh the finished recipe, then divide the weight of the finished recipe (not including the weight of the container the food is in) by the desired number of servings. Result will be the weight of one serving.