This is the best vegan chocolate mousse (and best paleo chocolate mousse while we're at it – just being honest. This paleo avocado chocolate mousse is supremely healthy, made with only real, whole ingredients. To make this paleo avocado chocolate mousse, simply substitute coconut aminos for the soy sauce, et voila! The best vegan chocolate mousse ever.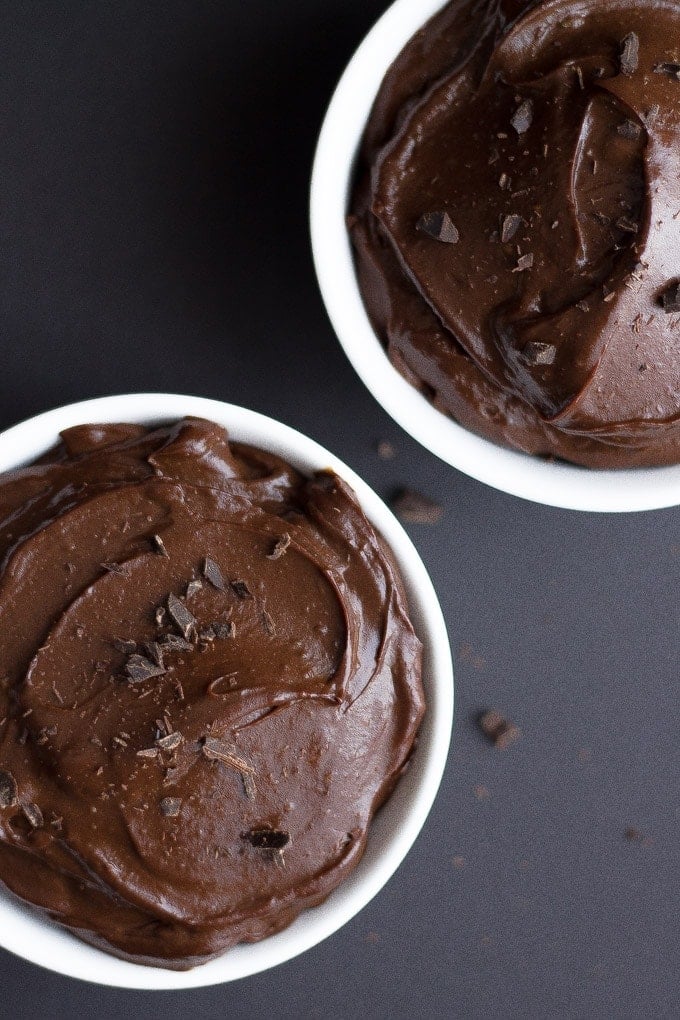 I tend to shy away from superlatives in the blog and recipe titles, but not here. Why? Because I don't know how else to tell you how simply amazing this paleo avocado chocolate mousse is just from the title. I simply don't! I could have named it chocolate-avocado pudding, or avocado-soy-sauce-balsamic-purée with chocolate, but that just sounds disgusting. I could have called it "vegan chocolate pudding" but that makes it sound like there's a meek, wobbly block of tofu in there substantiating things, and there ain't nothin' wobbly or meek about this mousse. And besides, what makes this different from any other vegan chocolate pudding out there?
Its sheer amazingness.
How amazing? This little sucker jumped the blog queue by, oh, about three weeks, so you guys could make this for Valentine's Day. Because I want your significant other to jump your bones, which they will, after they try this. Because I want you to thank me for how perfectly delicious and easy this is, which you will, after you try this. Because I want you to enjoy plant foods that taste like the most indulgent of processed, sugary desserts.
Because I love you. BECAUSE I LOVE YOU! I'll shout it from the WordPress portal; I ain't 'shamed.
Down to some description. I was a bit skeptical of this recipe after reading erm, avocado, soy sauce, and balsamic vinegar. Sure, I could get behind the avocado, but I figured it would taste the way a whole wheat cake tastes when you just really want a fluffy, processed white one–healthy. But the soy sauce and balsamic vinegar? No.. too weird. Luckily, the recipe developer, Laura Miller of Raw. Vegan. Not Gross. (Go grab a cup of coffee and settle in.. I'm about to waste the next hour of your life by encouraging you to click on that link and to watch at least fourteen of her videos.) explained the purpose of these two oddball ingredients in her video: they mask the "avocado" taste and provide a depth to the chocolate. And man, does that chica know what she's talking about!
I couldn't taste the avocado whatsoever, and neither could O. I couldn't taste the soy sauce or balsamic, even in the slightest, just this deep, rich, creamy chocolate dessert that's, um, good for me? Magnesium and vitamin C? The texture is perfect–smooth and dense, luxurious, indulgent. I used pure dark chocolate, heavy on the cacao, and that added to the sheer lavishness. Make sure you use good chocolate, and you're golden.
I tasted a few bits of the pudding right after blending, and it was delicious. It was pudding. Then.. I refrigerated it for a few hours, and it turned into this insanely dense, rich paleo avocado chocolate mousse that I could eat every hour of every day for the rest of my life, and then in future lives when I come back as a Portuguese man (or porcupine). It's that good. Did I mention it's easy? Here are the directions: 1. Uh, blend stuff. 2. Eat?
To make this raw, make sure you gently heat your coconut oil to liquid, use cocoa powder (raw cacao powder ideally), and a raw agave. Maple syrup isn't technically raw, but it's used in many raw dessert recipes.
Make this. I AM BEGGING YOU. You'll thank me.
Paleo Chocolate Avocado Mousse
A luxurious, rich chocolate mousse with three hidden ingredients. They'll never guess... but you'll know that this paleo chocolate avocado mousse is gasp... *healthy*!
Total Time
2
hours
2
minutes
Ingredients
2

piece

large avocados

pitted, flesh scooped out

½

cup

maple syrup

Slightly less if using coconut aminos

4

ounces

vegan dark chocolate (or paleo)

I recommend the melted chocolate and have not yet tried it with powder, or 1/2 cup raw cocoa/cacao powder for raw

3

tablespoon

coconut oil

liquid form

1/2

teaspoons

balsamic vinegar

don't sub any other vinegar here! And I highly encourage you to use a good balsamic here

1/2

teaspoon

soy sauce, tamari, or coconut aminos

1

pinch

small pinch salt

1

tbsp

extra chopped dark chocolate, sprig of mint, crushed raspberries, or crushed Oreos, for garnish, optional
Instructions
Melt chocolate in a double-boiler, being careful not to overheat or burn.

Scrape into a blender with all other ingredients. Blend until very smooth--a few pulses at the end will help get it all in there. Scrape down mousse as needed to ensure a perfectly smooth texture.

Refrigerate for two hours, or eat right away for "pudding".

Garnish with extra chopped dark chocolate, or garnish with a sprig of mint, crushed raspberries, or crushed Oreo cookies, if you desire.
Nutrition Facts
Paleo Chocolate Avocado Mousse
Amount Per Serving (4 g)
Calories 533
Calories from Fat 333
% Daily Value*
Fat 37g57%
Cholesterol 1mg0%
Sodium 40mg2%
Potassium 781mg22%
Carbohydrates 49g16%
Protein 4g8%
Vitamin A 147IU3%
Vitamin C 11mg13%
Calcium 77mg8%
Iron 4mg22%
* Percent Daily Values are based on a 2000 calorie diet.