Whole30 Slow Cooker Recipes

Posted: 12/27/19 Updated: 02/02/23
These Whole30 slow cooker recipes are perfect for easy dinners and are ideal for meal prepping. Whether you are looking for soups, chilis or stews, these recipes will help you to stay on track with your goals.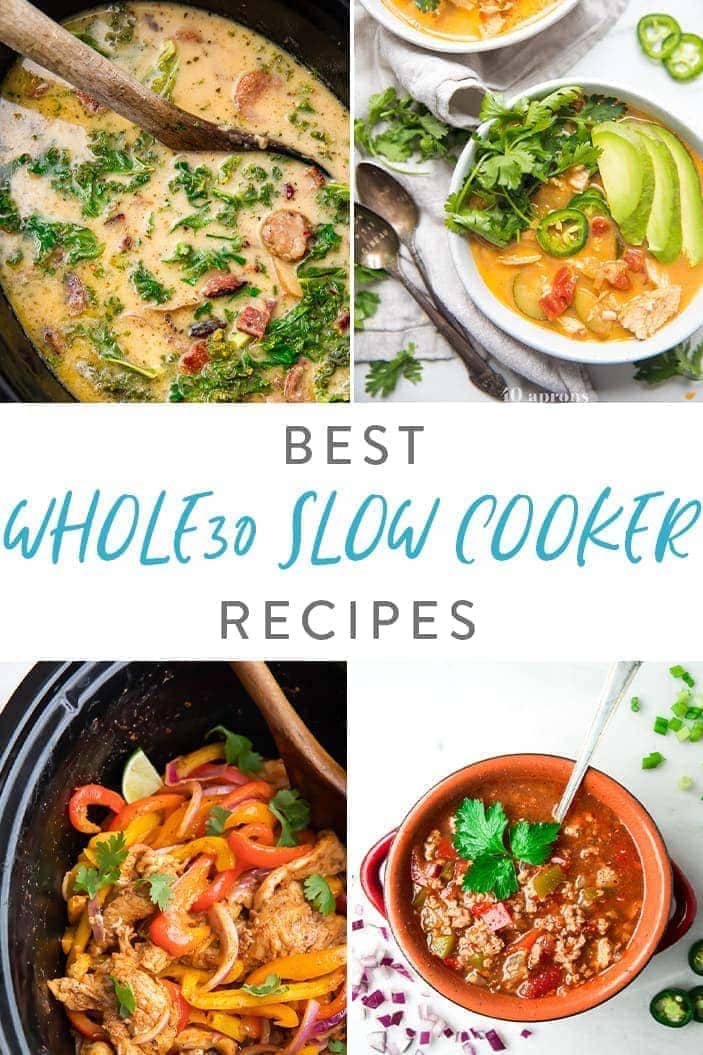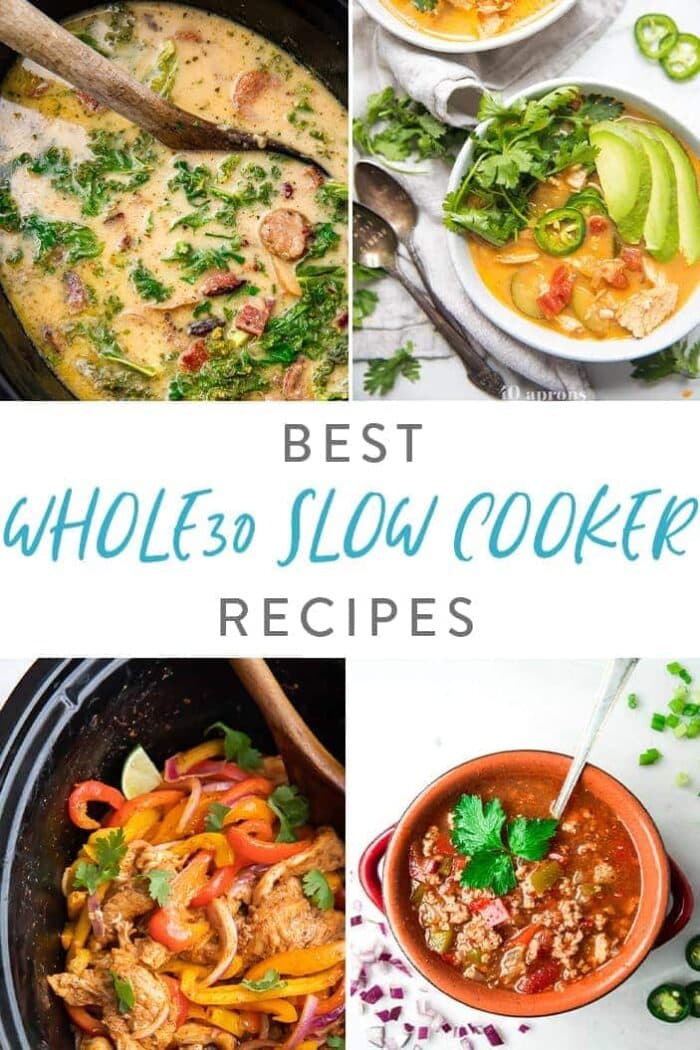 I would be so lost without my slow cooker! It makes meal prep a breeze and I'm always a fan of a dump and go recipe! Grab your crockpot and try out some of these delicious and healthy recipes!
The Best Whole30 Slow Cooker Soup Recipes
Crockpot Zuppa Toscana from 40 Aprons is a rich and creamy, filling soup that's absolutely bursting with flavor. It's dairy-free, Whole30, and paleo, too, with bacon, sausage, potatoes, kale, and rich coconut cream. The slow cooker version of the popular Healthy Zuppa Toscana recipe!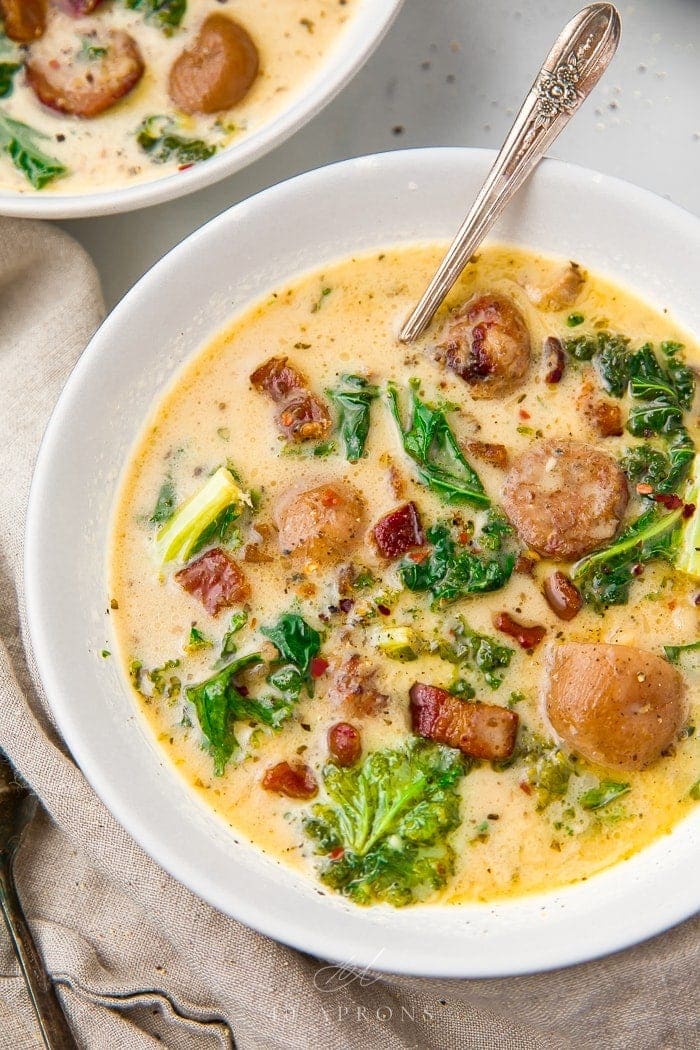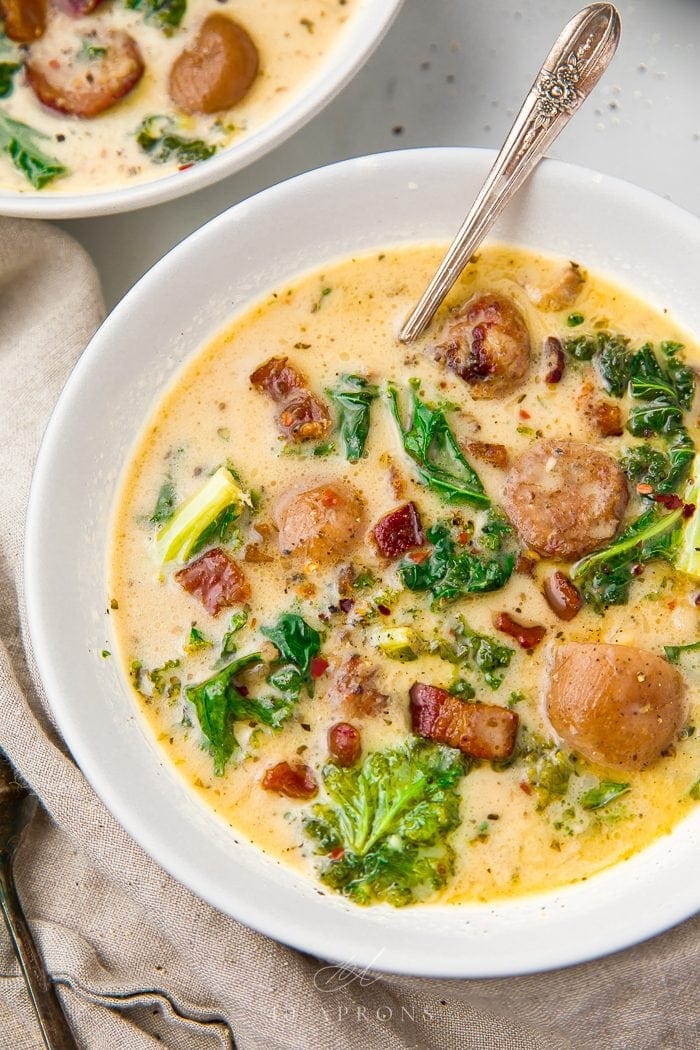 Whole30 Instant Pot Chicken Tortilla-Less Soup by 40 Aprons can also be made in the slow cooker. Full of flavor and so easy to make! Super quick and filling, this Mexican soup is creamy, spicy, and low carb.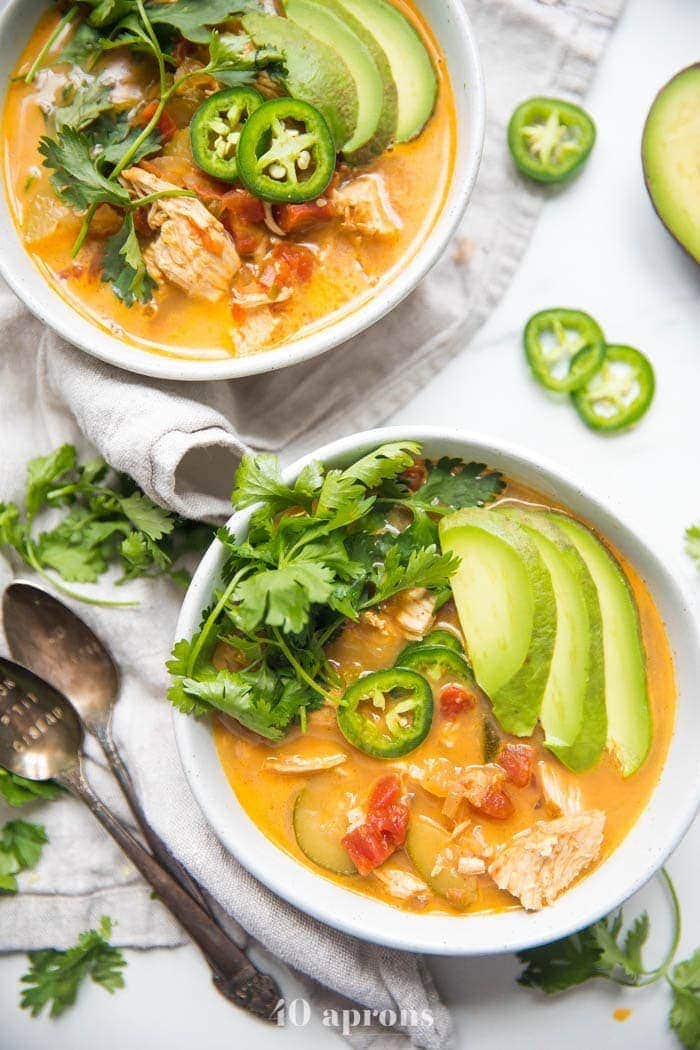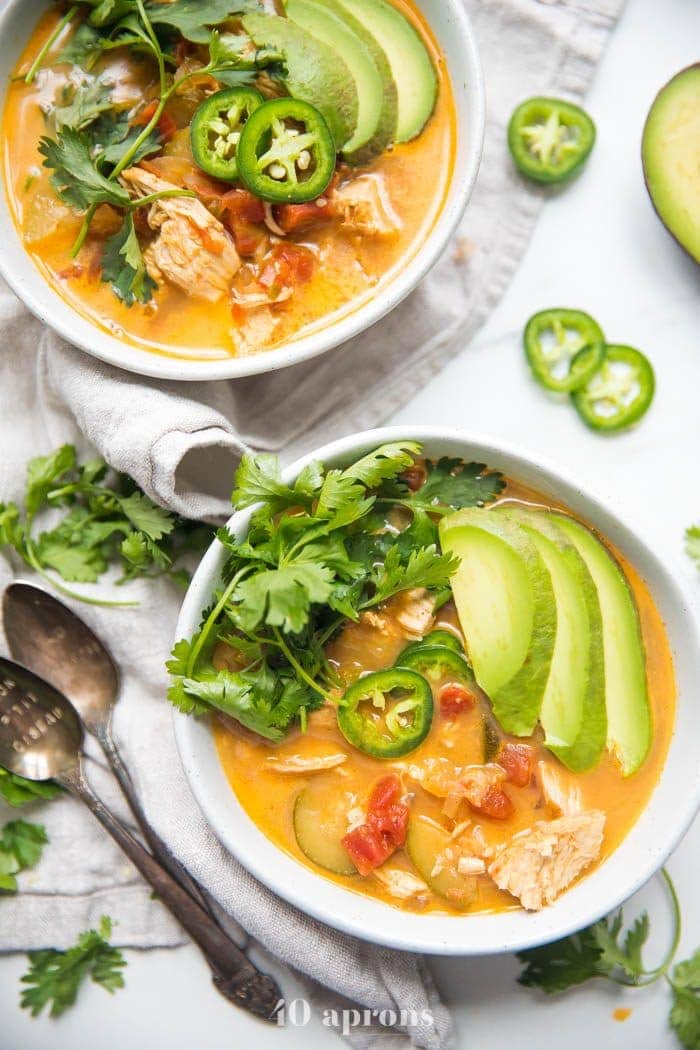 Crockpot Chicken Soup by Cook Eat Paleo is made with just a few ingredients. This easy paleo crock pot chicken soup recipe is gluten-free, grain-free, and dairy-free.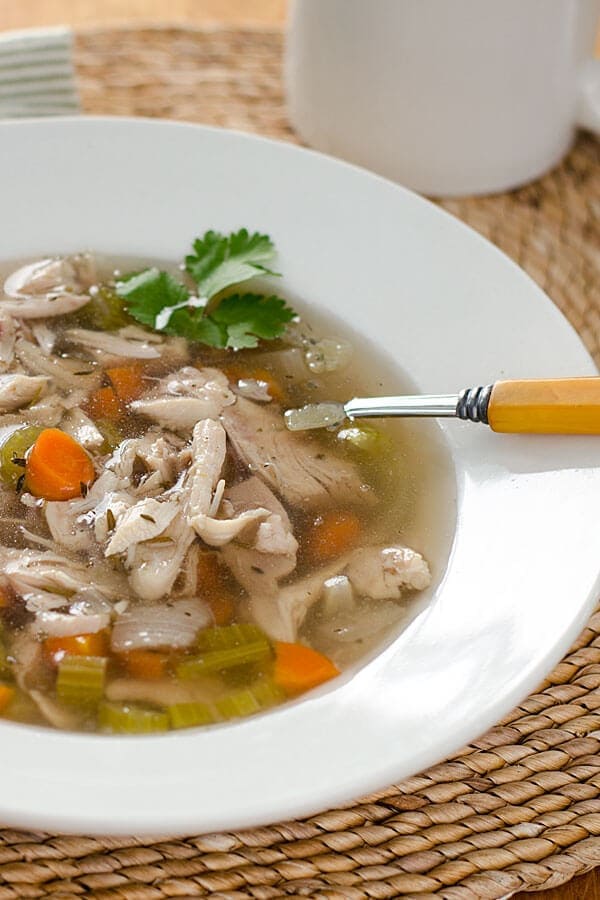 Whole30 Creamy Taco Soup by The Movement Menu makes eating a healthy and nutritious meal easy! This flavorful and nutritious taco soup is made with all paleo ingredients and only takes a few minutes to prepare!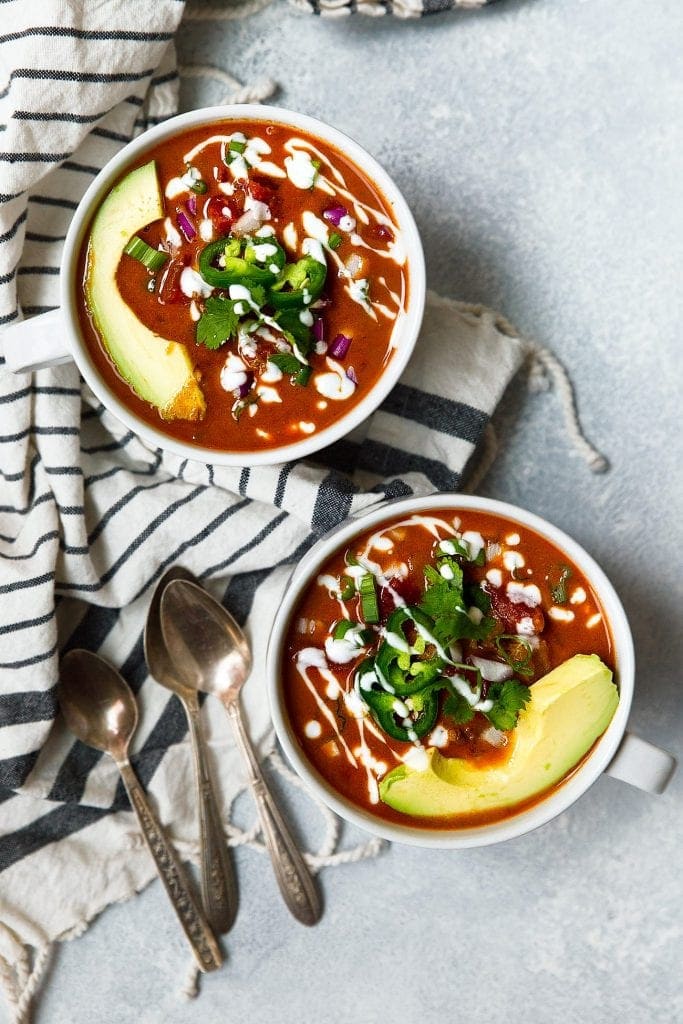 Hamburger Soup by Real Simple Good is hearty, filling and packed with veggies. It's the perfect easy dinner option that you can just throw in your Instant Pot or Slow Cooker and please the entire family. Who else is ready to dip a spoon into this healthy hamburger soup?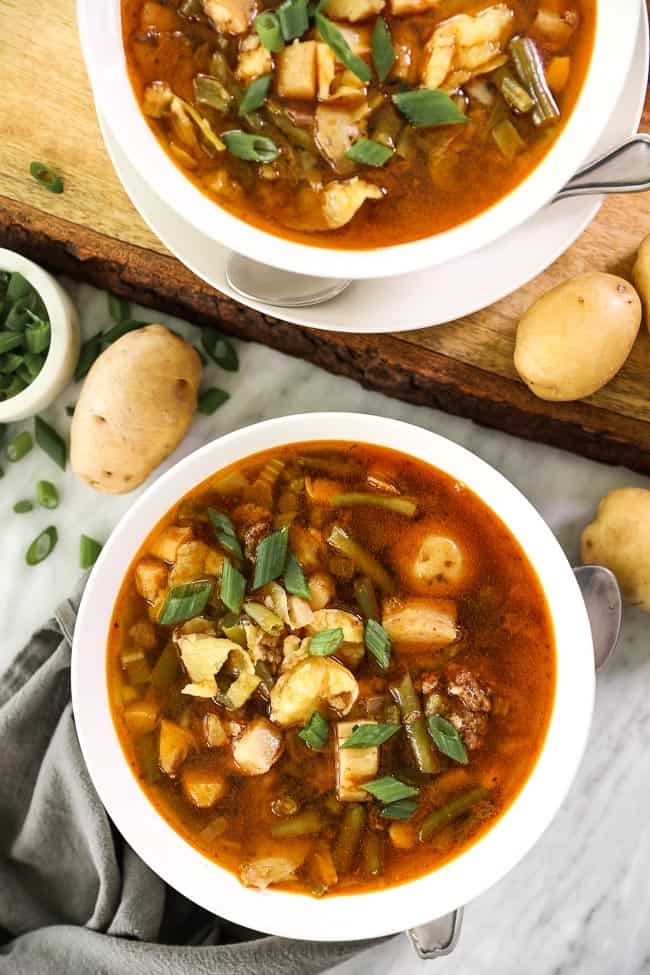 The Best Whole30 Slow Cooker Chili and Stew Recipes
Whole30 Beef Stew by Tastes Lovely can be made in the slow cooker or dutch oven. The MOST delicious beef stew you will ever have! With a secret ingredient that makes this stew amazing. Gluten-free, grain-free, dairy-free, sugar-free, clean eating, real food.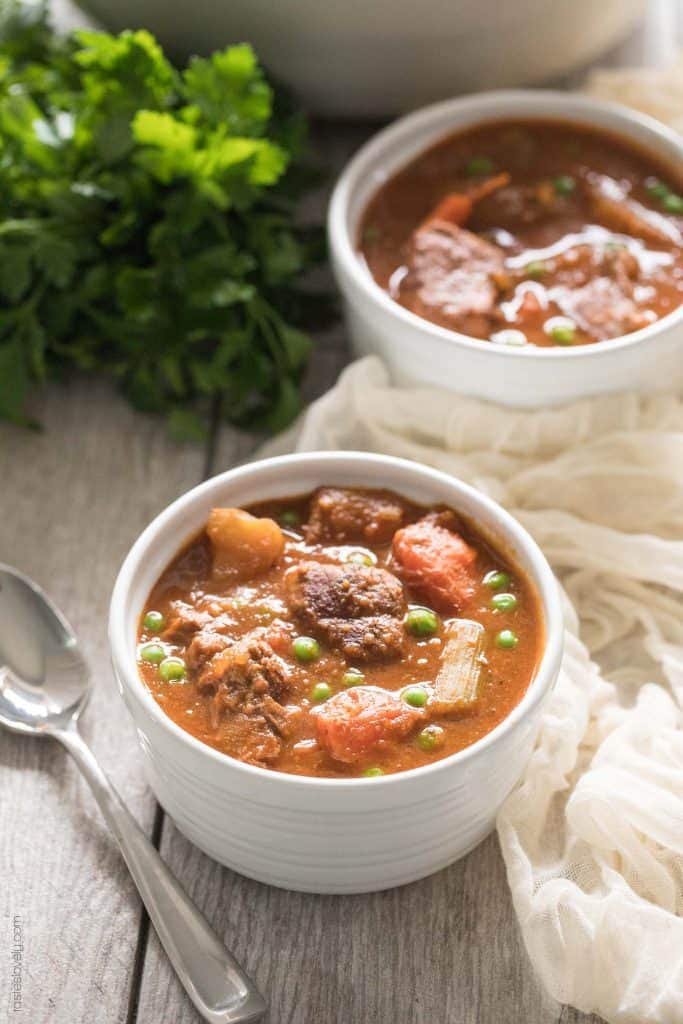 Crockpot Whole30 Chili by Tasty Thin is a hearty, no bean chili recipe. The perfect addition to a Whole30 or Paleo menu and super simple to prepare ahead!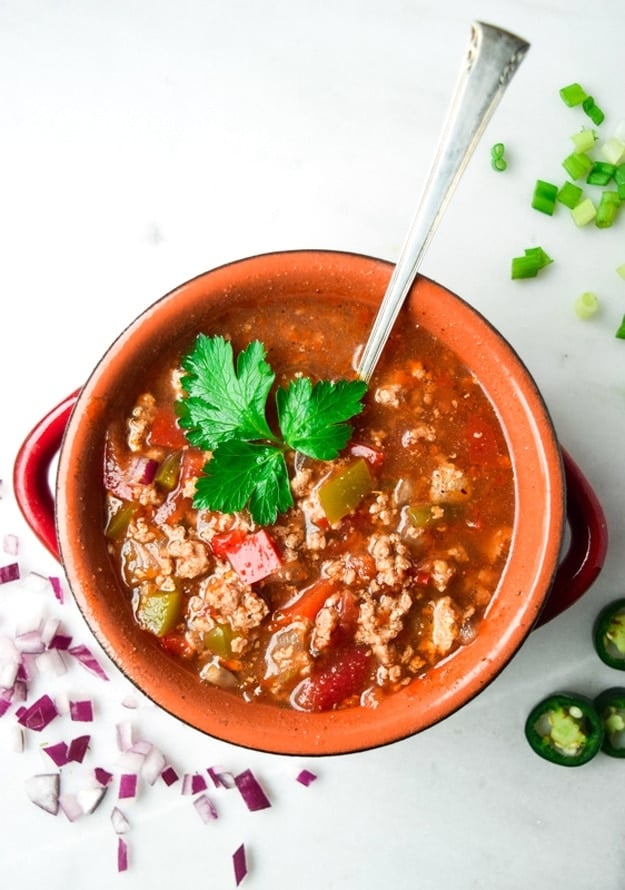 Slow Cooker Sweet Potato Chili by The Real Food Dieticians is so versatile and is perfect for meal prep. Delicious and full of bold flavors!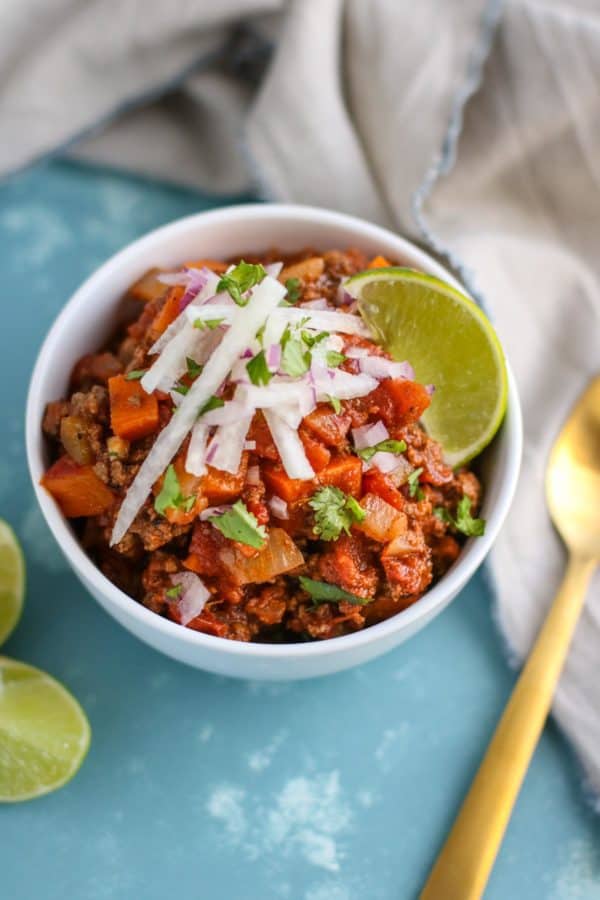 Slow Cooker Whole30 Paleo Korean Beef Stew by Food Faith Fitness is an easy gluten/sugar-free weeknight dinner with addicting spicy-sweet flavor! Total healthy comfort food!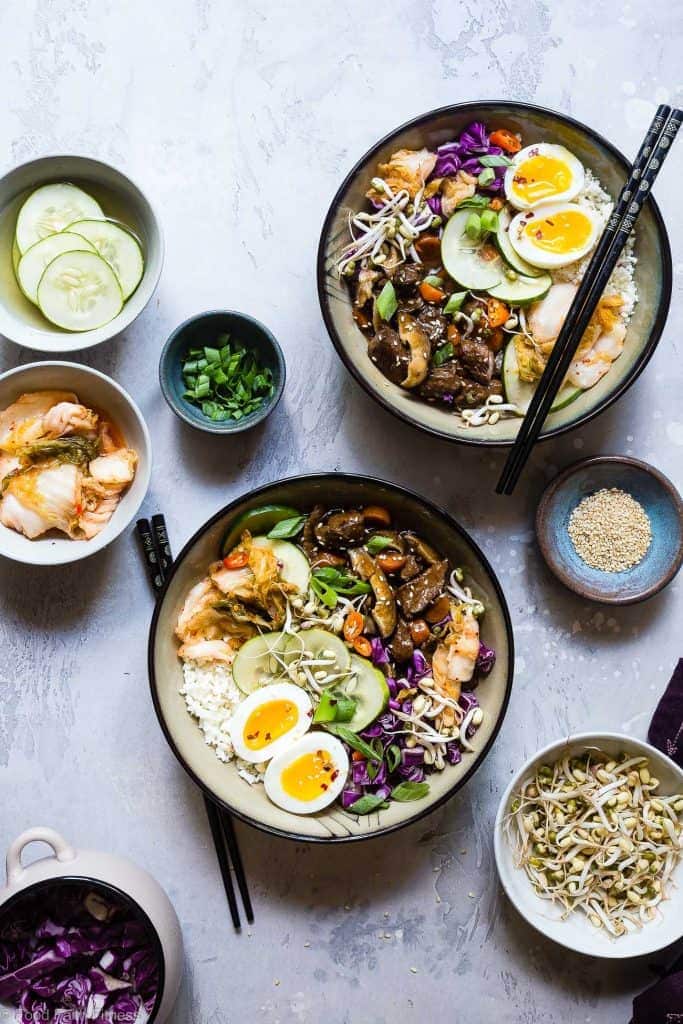 Slow Cooker White Chicken Chili With Sweet Potato from Paleo Running Momma is an easy all in one Paleo and Whole30 meal for any night of the week! Great to makes ahead and pack for lunches too.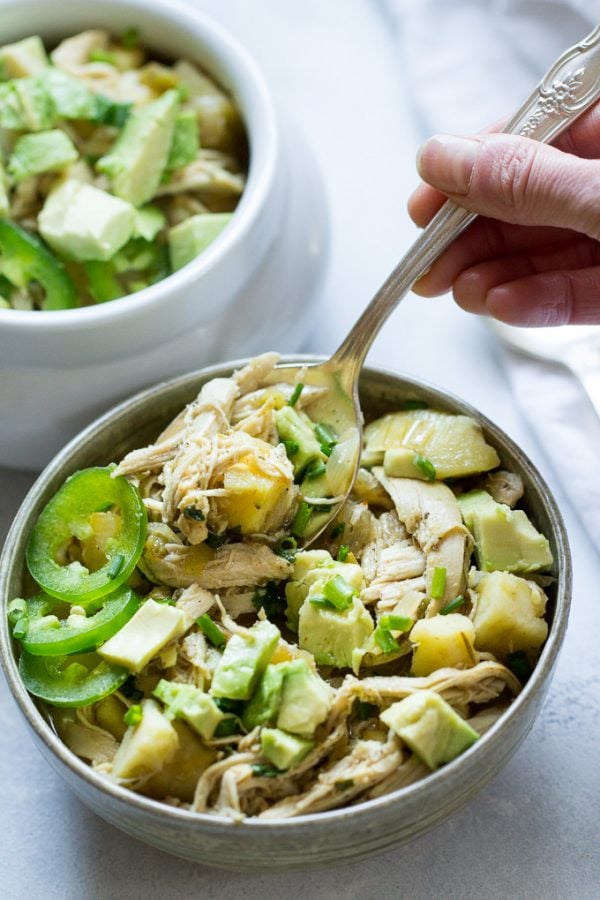 The Best Whole30 Slow Cooker Chicken Recipes
Crockpot Chicken Fajitas from 40 Aprons just couldn't be easier or more delicious! They're easy to make in the slow cooker and totally loaded with flavor. Delicious in tortillas, burrito bowls, or salads, these chicken fajitas are crazy tender and healthy, naturally Whole30 compliant, paleo, and low carb.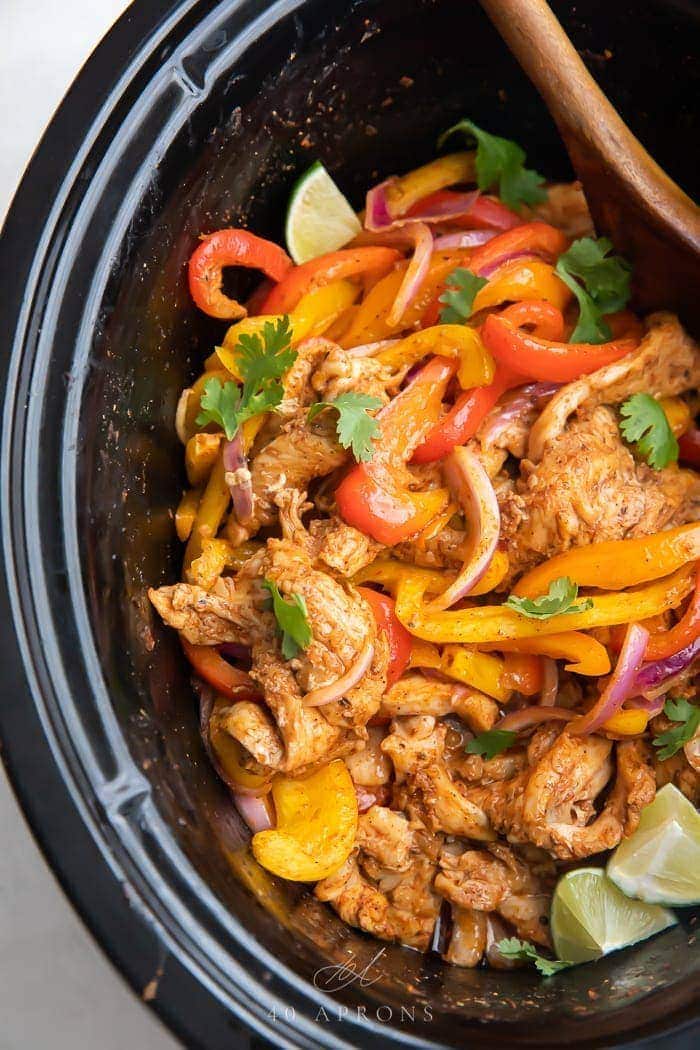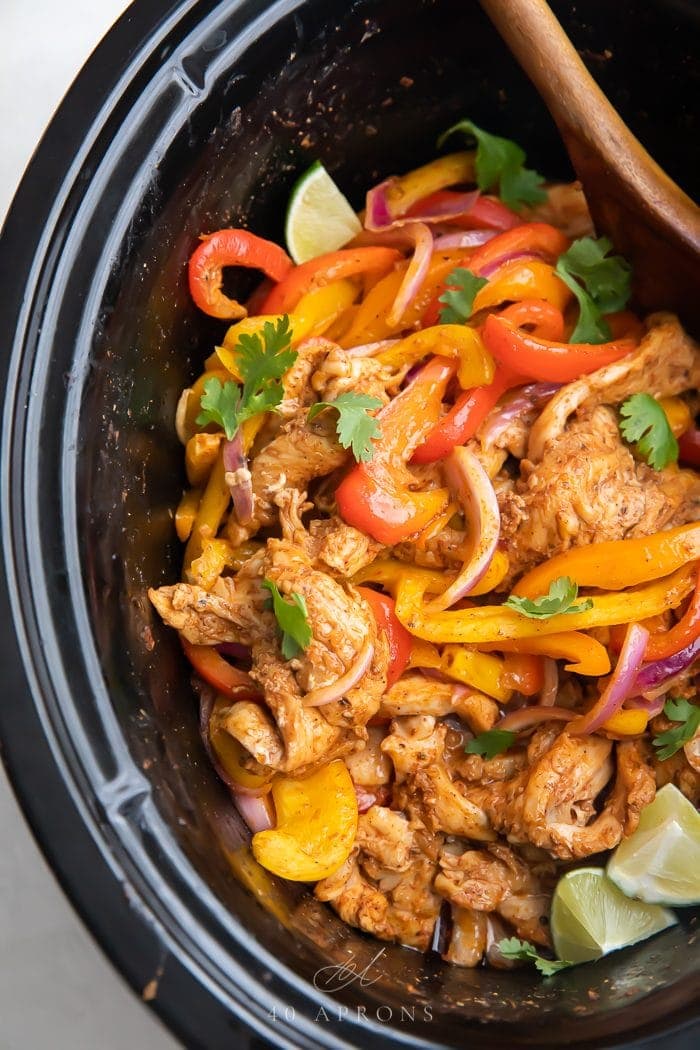 Crockpot Chicken Tacos with Avocado-Cilantro Sauce from 40 Aprons are super hands-off and easy but so tender and full of flavor! Perfect for an easy weeknight dinner or for a crowd, they're topped with a quick avocado-cilantro sauce.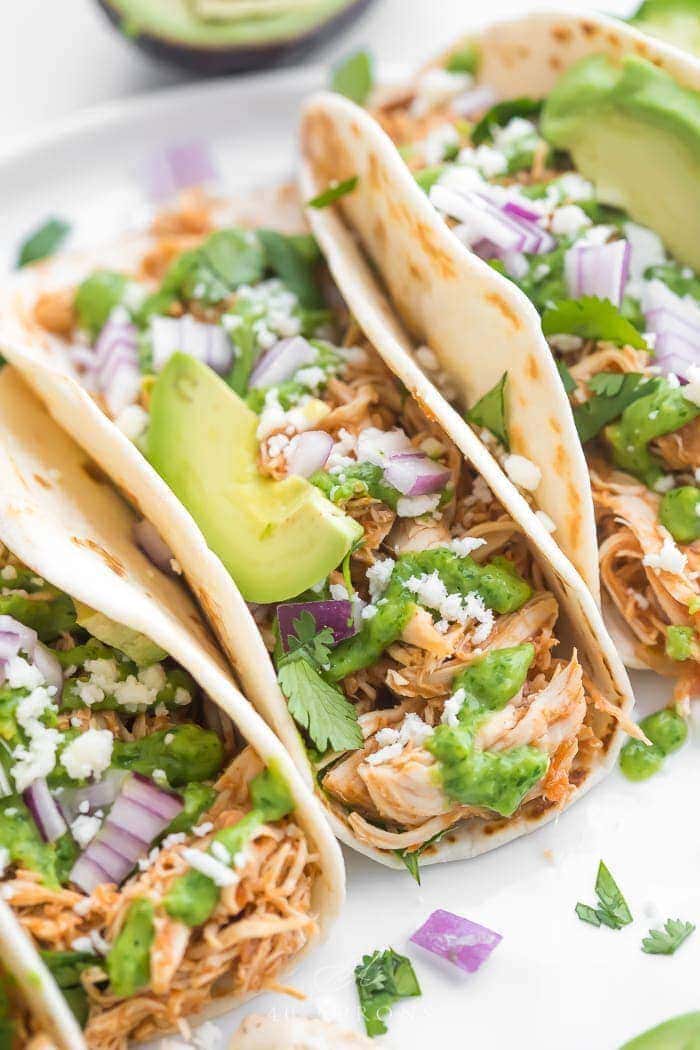 3 Ingredient Slow Cooker Mexican Shredded Chicken by 40 Aprons is super easy to throw together, and is perfect in all your Mexican dishes, from tacos to burritos to salads. Made easily in the Crockpot or Instant Pot, naturally Whole30 and paleo.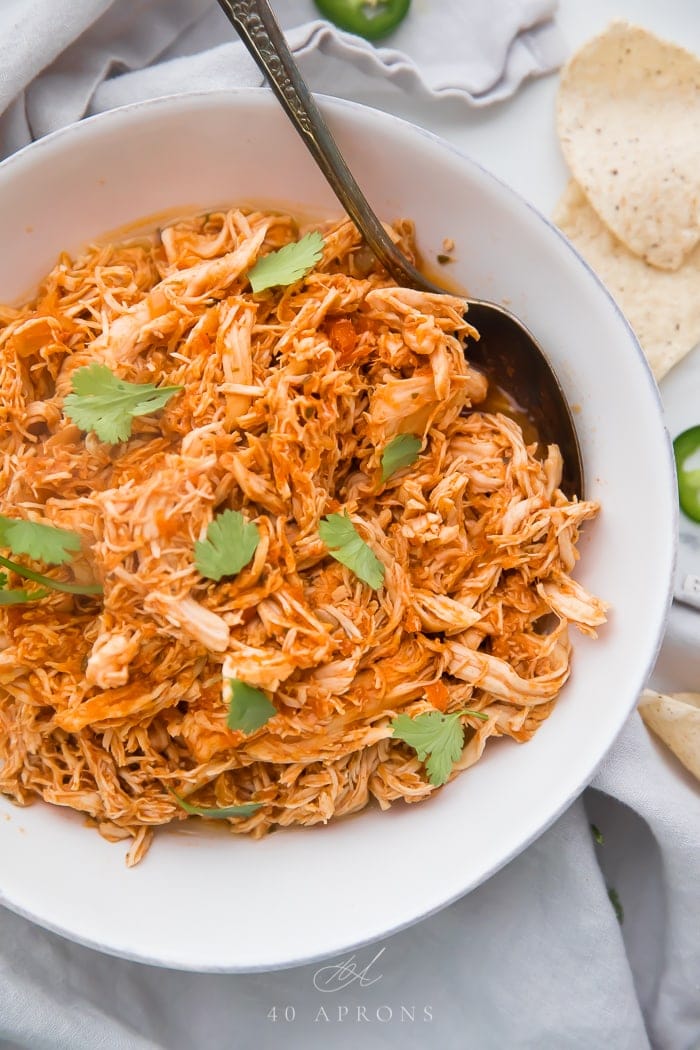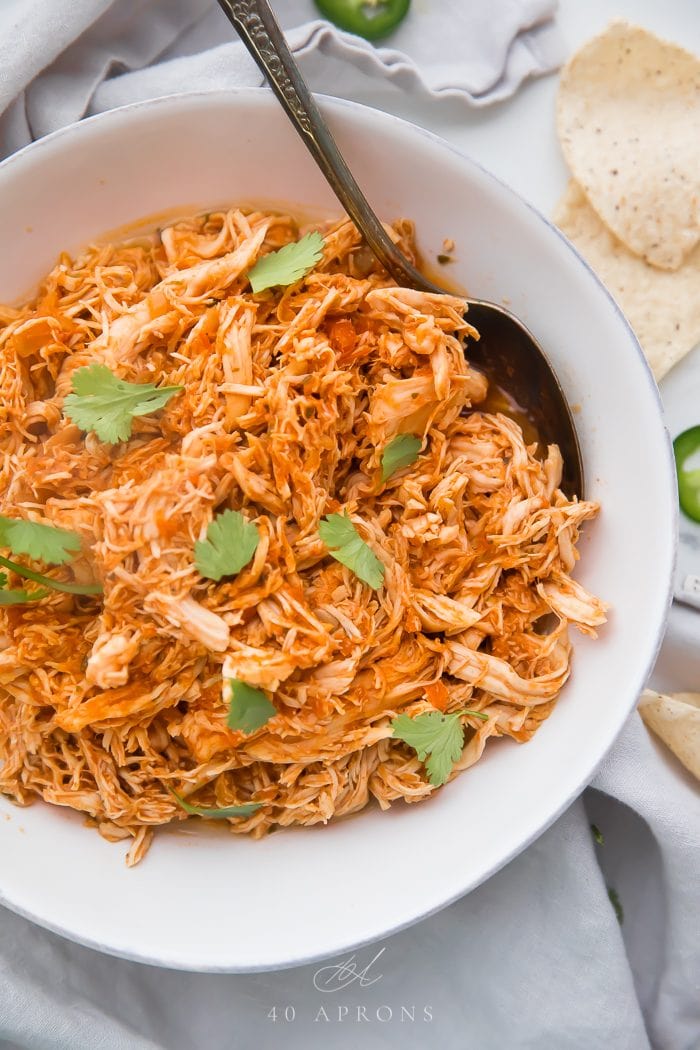 Slow Cooker Garlic Butter (Ghee) Whole Chicken with Gravy by 40 Aprons is the easiest, most delicious ever way to cook a whole chicken! A fancy garlic butter stuffed under the skin gives this recipe flavor and keeps the chicken moist, and the Crockpot or slow cooker lets you set it and forget it. It's all finished with a gravy you'll want to bathe in!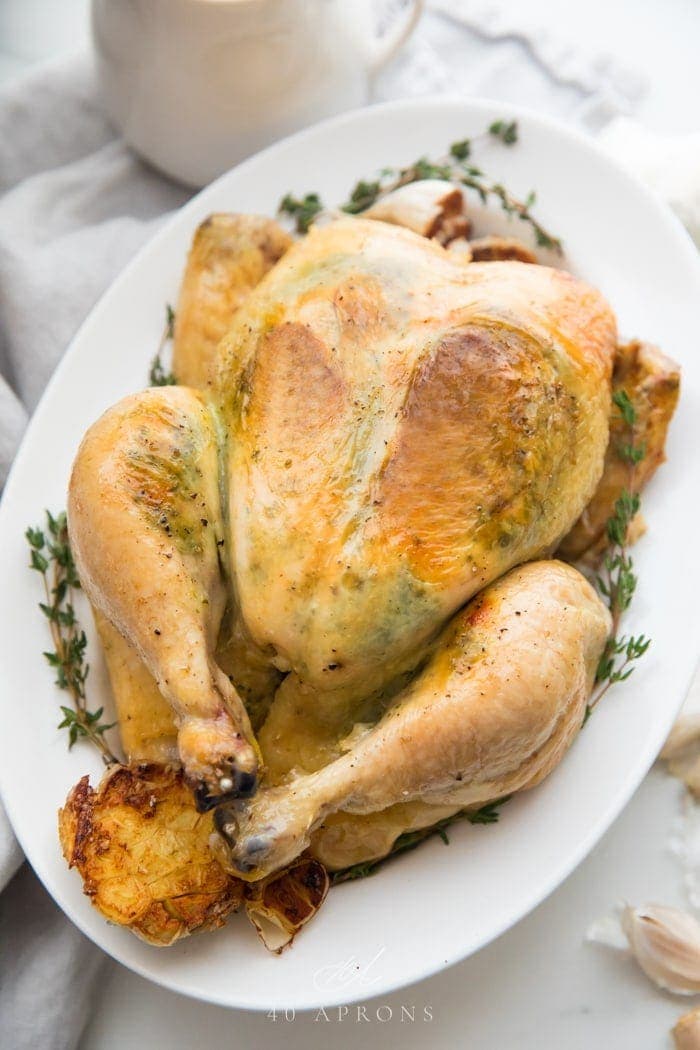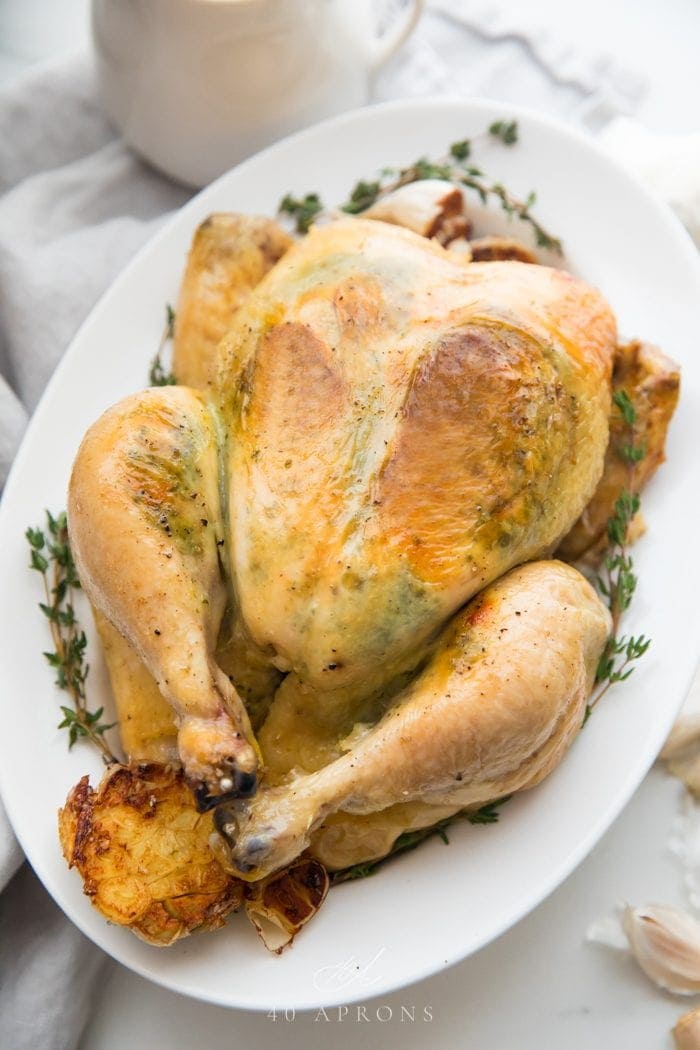 Chicken Tacos in Lettuce Wraps by 40 Aprons are made in the Instant Pot or slow cooker and are served in lettuce wraps for a Whole30 and low carb take on the Mexican recipe favorite. Topped with rich avocado crema and fresh pico de gallo, these are the best ever low carb and Whole30 chicken tacos. Keto, too!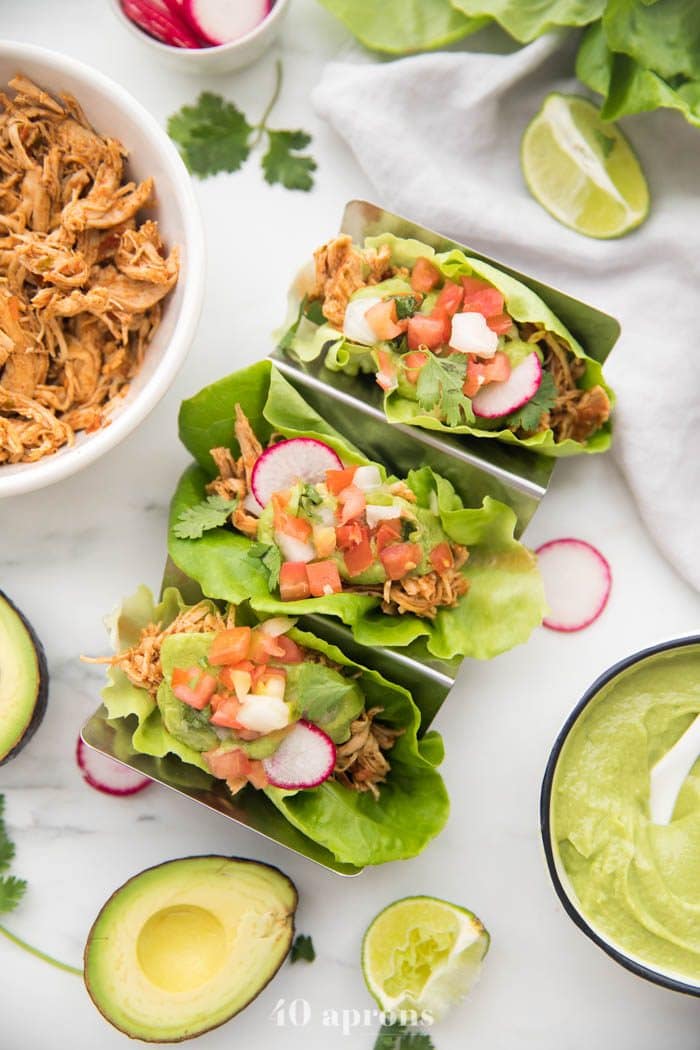 The Best Whole30 Slow Cooker Side Dishes
Whole30 Crockpot Mashed Potatoes by 40 Aprons are so easy and creamy. Lactose-free and with a vegan or dairy-free option, these Whole30 Crockpot mashed potatoes are absolutely perfect for any Whole30 Thanksgiving or vegan Thanksgiving table, since they cook while you work on the rest of dinner!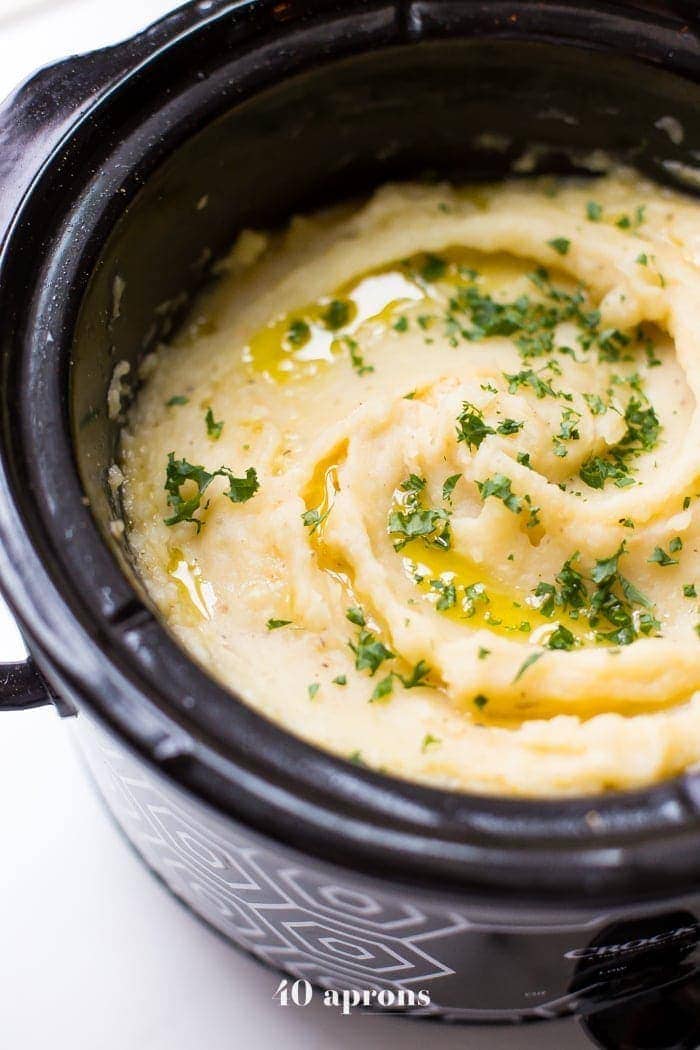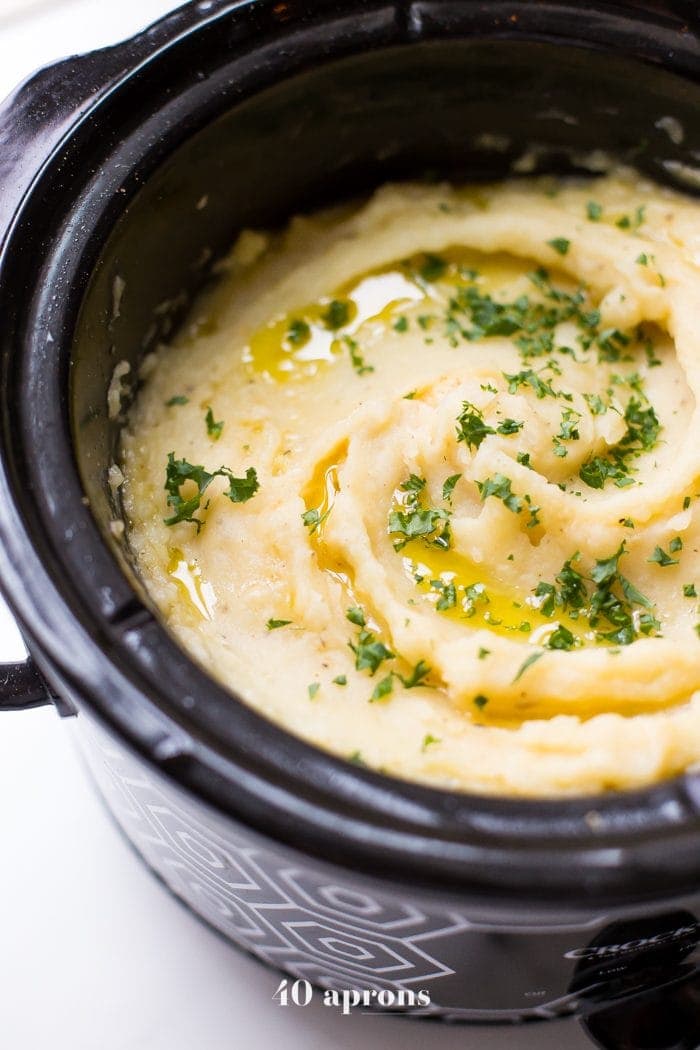 Slow Cooker Cauliflower Mash Recipe by Wicked Spatula is so easy! Just 5 ingredients and 10 minutes prep! Paleo cauliflower mash (mashed cauliflower) is flavorful, low carb and healthy.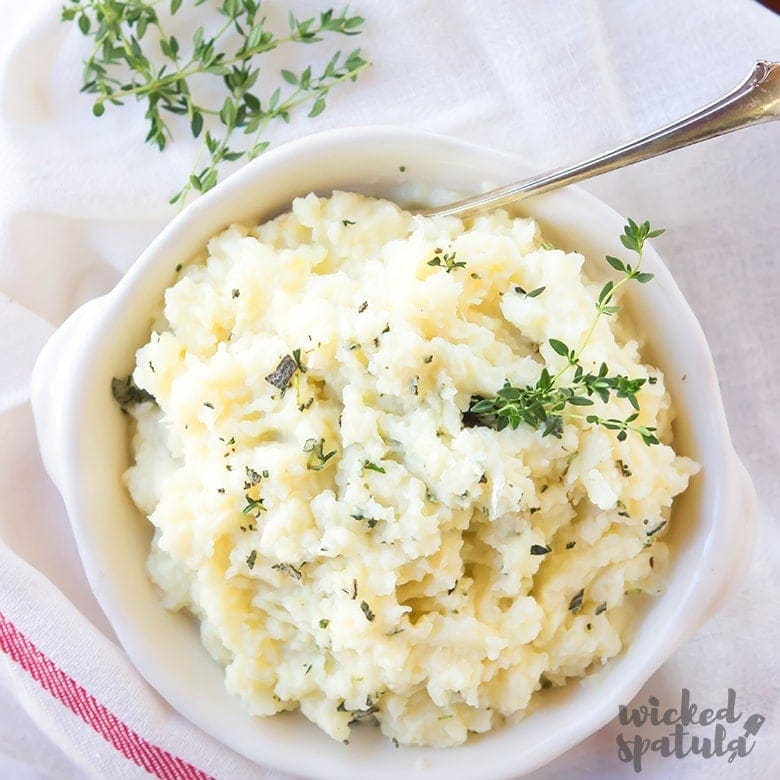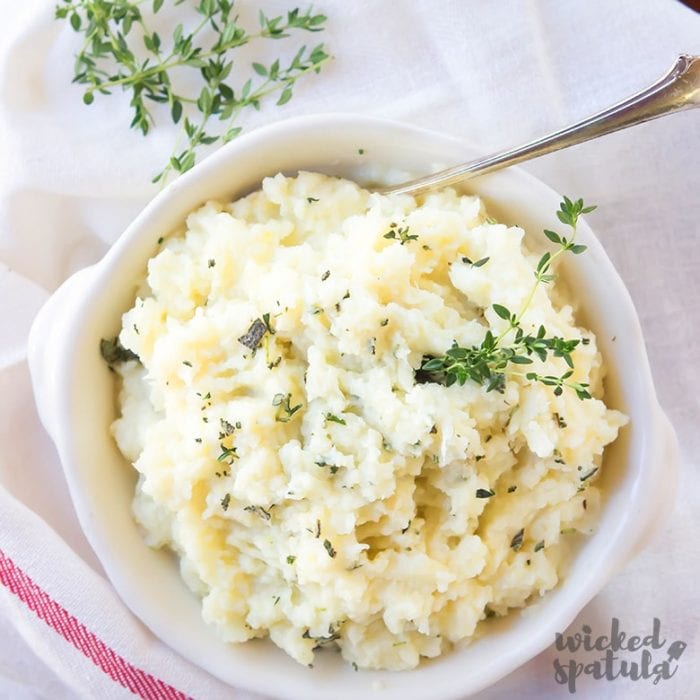 Healthier Crockpot Mashed Butternut Squash from Recipes From A Pantry is the perfect cozy side dish to complement your weeknight dinners, fall gatherings, Thanksgiving and Christmas dinners, plus all of your other holiday meals. It is a family-friendly, colorful, vibrant, delicious and healthy mash that is easy to make in your slow cooker.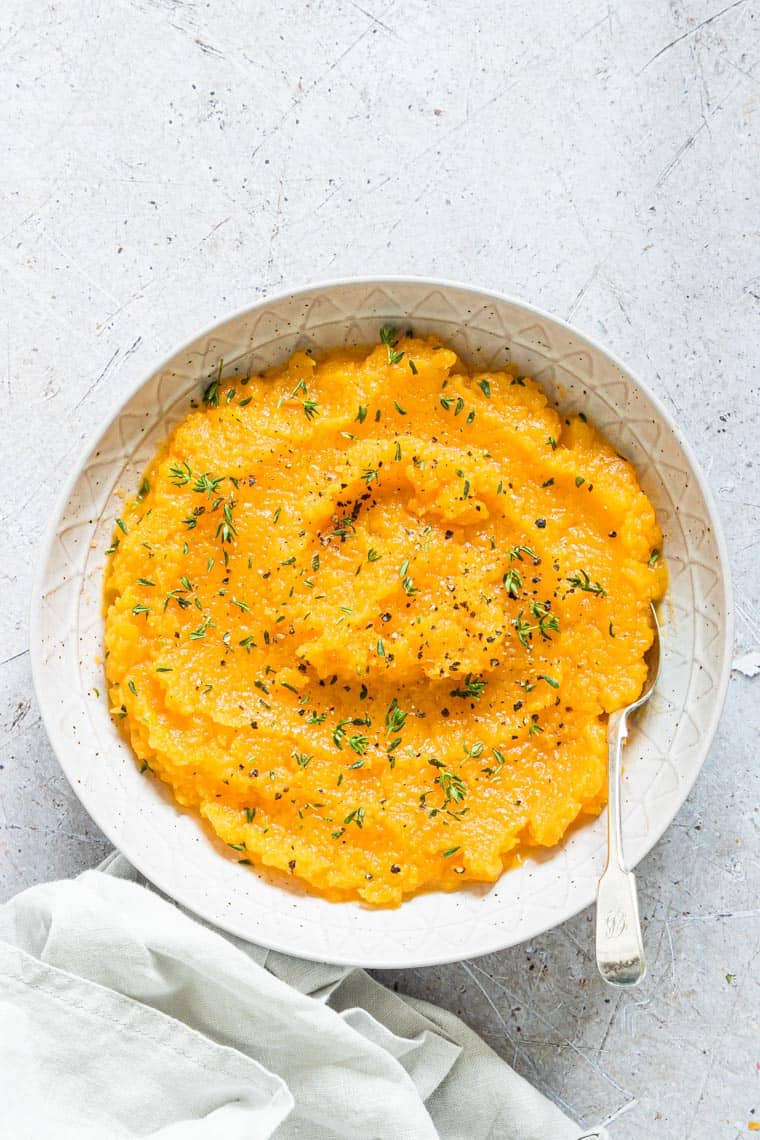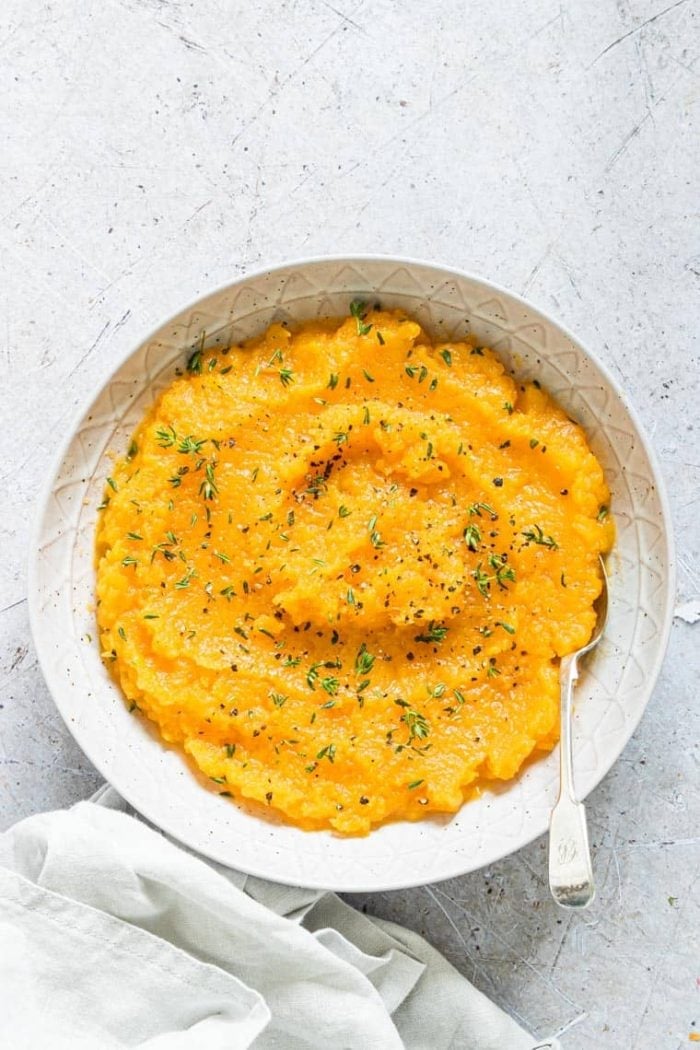 What Whole30 foods can you cook in the slow cooker?
So many options here! From breakfast casseroles to soups, side dishes to main courses, the slow cooker makes a Whole30 more convenient.
What are the best Whole30 slow cooker recipes?
We personally love chicken tacos, zuppa toscana, chicken tortilla-less soup, mashed potatoes, and chicken fajitas. Each recipe is made in the slow cooker for less time spent in the kitchen.
What can you eat on the Whole30?
There are SO many things you can eat on Whole30: all the vegetables you want; meat, poultry, and seafood; healthy fats like coconut oil, avocado oil, and even ghee; eggs; potatoes; vinegars; spices and seasonings; green beans, sugar snap peas, snow peas; coffee, tea, sparkling water, and kombucha. For the full (and printable!) Whole30 foods list, go here.
For More Whole30 Recipes:
Hey – you've made it this far, and now we're best friends! If you make this recipe, I'd love for you to give it a star rating ★ below. Make sure you follow me on Instagram, Pinterest, and Facebook, too!