There's only one right answer when asked if you want whole or refried beans. Only one.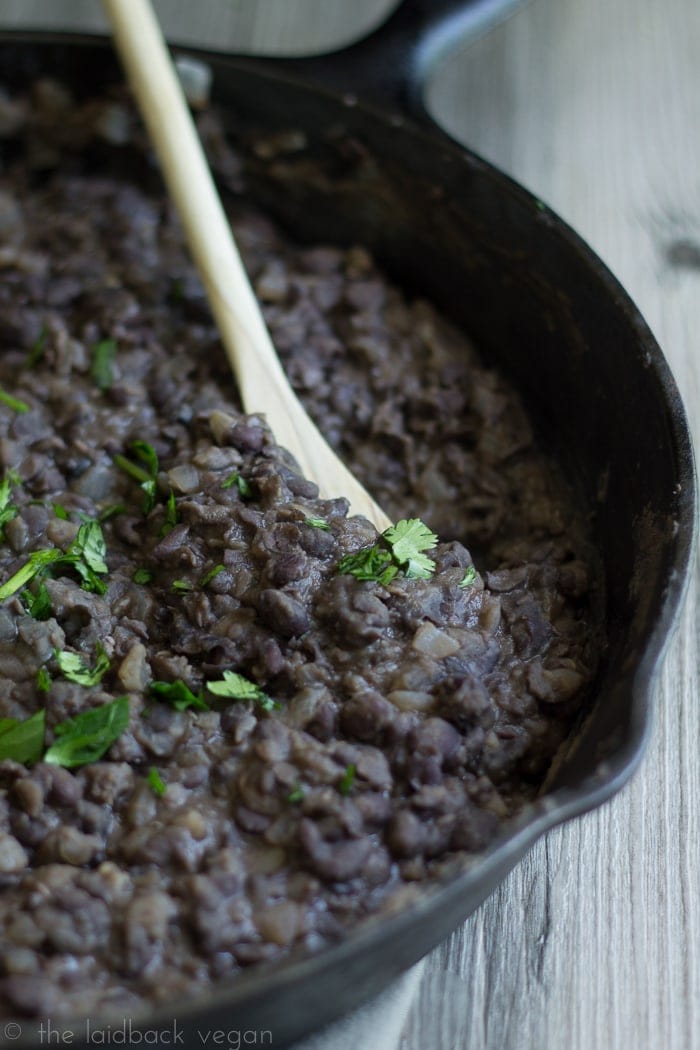 I sometimes wish I were the type of person that ordered whole beans–the type of person who (on purpose!) opts for water instead of wine, fruit instead of cake, a light vinaigrette in lieu of a rich, creamy salad dressing.
But I'm not. No, it's refried beans all the way for me (and wine and cake and rich, creamy salad dressing). Rich, often spiced, and full of flavor, they're perfect–not just alongside your veggie enchiladas–but smeared inside a burrito, scooped onto a chip, providing a bed for a layered dip. Yet the options are usually limited for vegans–you get "vegetarian" refried pinto beans from a can, if you're lucky, but most of the time, taqueria-refried beans are loaded with lard, a pretty clear no-no for the vegans in the house.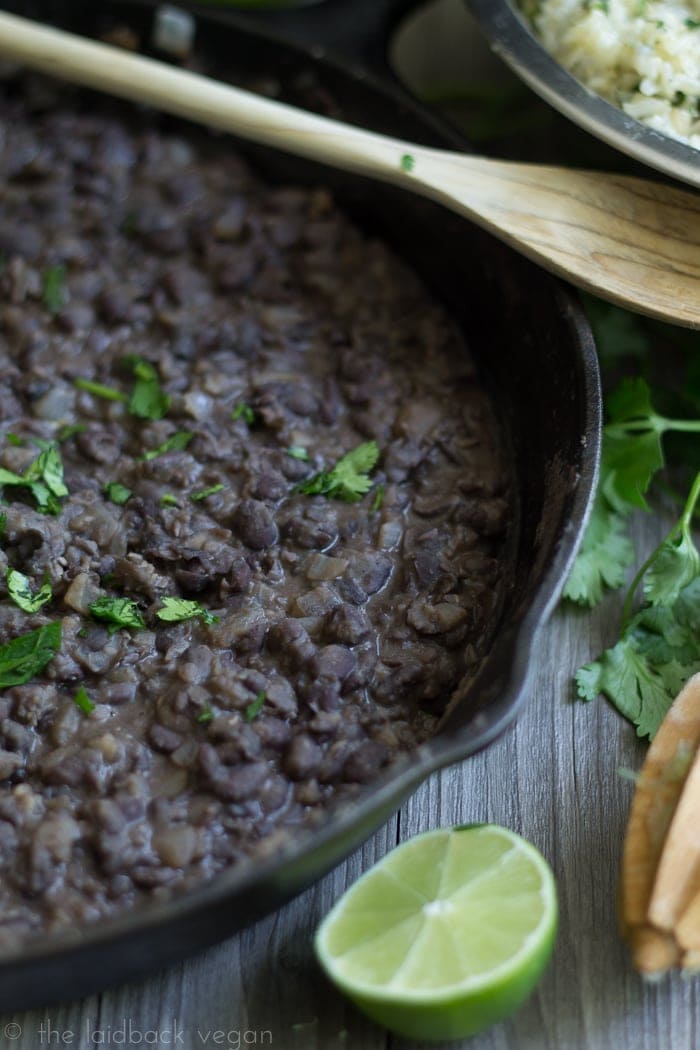 Enter the homemade refried black beans! Absolutely crammed full of flavor, they're totally vegan and a perfect side dish for those Latin flavors that seem to always accompany warmer weather. These come together very quickly if you're using canned or pre-cooked beans; if you're using dried, it takes a bit longer, but it's almost all inactive time. Totally worth it!
Do make sure that if you cook your beans from dried that you give yourself plenty of time to simmer them. If you try to speed up the process by cooking them above a simmer, the outsides will become tough, which is all-around not the best!
Try them stuffed into burritos and topped with vegan nacho cheese dip (maybe even stir in some Rotel for some really kickin' TexMex flair!), layered on top of tortilla chips for some vegan nachos, or accompanying some veggie tacos (maybe alongside some cilantro lime brown rice–recipe coming soon!–or some vegan elote–slather grilled corn with vegan mayo [try Just Mayo], ground cashew meal, a bit of lime and chili powder). Urggggmaagawwwwd.
I'm hungry now.
Refried Black Beans
Easy at-home refried black beans that are flavorful and perfectly versatile. Delicious in burritos, enchiladas, and nachos, and the perfect side dish for any Latin-inspired meal!
Ingredients
3

tablespoons

vegetable oil or vegan shortening

1/2

cup

finely chopped white onion

3

medium garlic cloves

, finely chopped

2

teaspoons

kosher salt

3

cups

cooked black beans

(canned is fine)

3/4

cup

water or bean-cooking liquid
Instructions
Heat oil or shortening in medium frying pan over medium heat until shimmering, about 2 minutes. Add onion, garlic, and salt and cook, stirring occasionally, until vegetables are soft and just beginning to brown, about 5 minutes.

Add 1 cup of the beans and mash COMPLETELY with the back of a spoon or a potato masher. Add another cup of the beans and mash completely again, stirring occasionally. Add remaining 1 cup beans and mash, leaving about half of the beans intact, or whatever strikes your personal texture fancy.

Continue cooking, stirring constantly, until the bean starches begin to coat the bottom of the pan and turn golden brown, about 3 minutes. Add water or bean-cooking liquid, bring to a simmer, and cook, stirring and scraping the bottom of the pan to incorporate the water and heat the beans through, about 2 minutes. (The beans may initially look soupy, but they'll thicken as they cool, so be sure to add all of the water or bean-cooking liquid.)
836