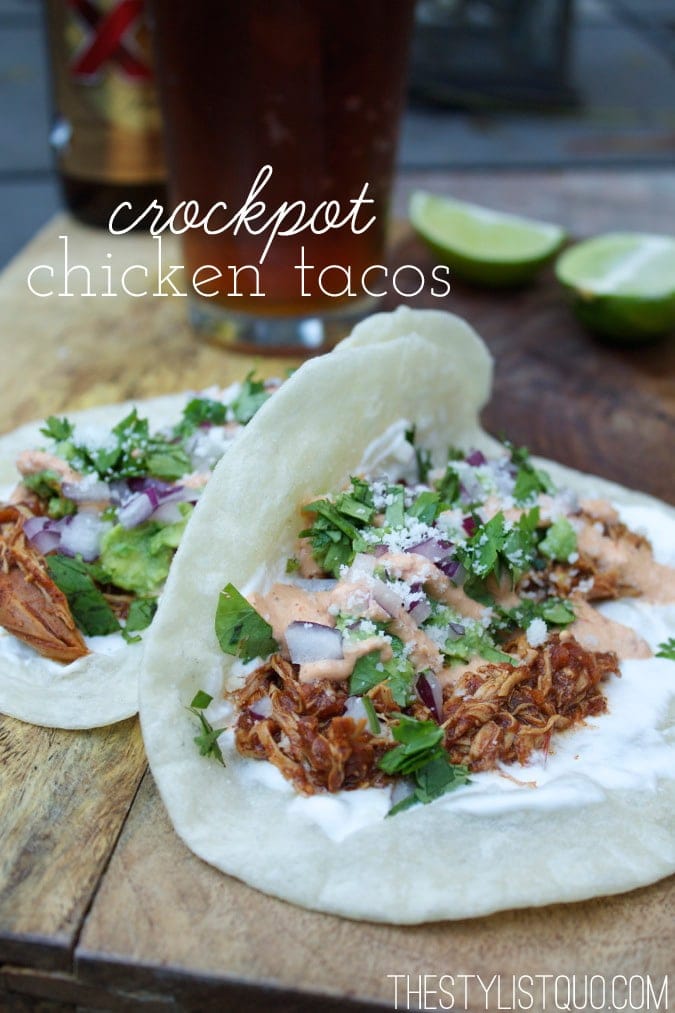 Ever since I started working at home, it seems like I have less time than ever to cook extravagant meals. Solution? Enter the dreaded slow-cooker.
I've always been one to tout my patience for meals that require six or more hours, but never like this. I wished to prove my worth by the complication of my meals! And then.. I started making Crockpot meals…
and they were amazing. Who knew that chicken breasts and salsa would do that if you left them alone for most of the day? I had no idea.
grows up and becomes
I'd been looking for a great chicken taco meat recipe for quite a long time now, and I finally found it. These Crockpot chicken tacos are simply perfect. Gather up a jar of salsa, a few chicken breasts, and a bit of taco seasoning, throw it all in a slow-cooker and you're 100% ready to go.
[AdsWithin]
The night I made these, we ate 2/3 of the meat as tacos, layered on small corn tortillas, topped with shredded lettuce, diced jalapeños and red onions, a simple guacamole, cheese, crema, tomatoes.. pure gringo-style, as delicious as it comes. I saved the rest of the meat for tortilla soup the next day, which made a simple dish just that much easier.
Everything was going great, except O got mad that I wouldn't let him eat the rest of the chicken on taco night. It almost turned into a fight, I kid you not. But who reigned supreme?
Of course. I did.
This recipe is almost embarrassingly easy, but you'd never know it. I made my own taco seasoning, simply because I was too lazy to add it to the grocery list. The chicken shredded so easily and was so flavorful. Absolutely perfect for gringo tacos.
Thank God O and I have been together long enough that I feel comfortable gushing "Ohmigod omigod these are so groooood" with a huge mouthful of taco. That's love, y'all.
Crockpot Chicken Tacos
Simple, perfect chicken taco meat for tacos, chilaquiles, burritos, enchiladas, nachos..
Total Time
6
hours
5
minutes
Ingredients
3

boneless skinless chicken breasts

1

cup

salsa

2

tablespoons

taco seasoning

I make my own, try Alton's recipe
Instructions
In a slow-cooker, combine all ingredients. Do not add water.

Cook on low for 6 to 8 hours, or cook on high for 4 to 6 hours. After about 3/4 of the time, shred the chicken breasts with two forks and leave in the slow-cooker for the rest of the time.

As tacos: serve with corn or flour tortillas, spread a thin layer of sour cream on the tortilla, layer on the meat, top with a bit of shredded cheese, then lettuce, tomatoes, chopped red onions, and/or jalapeños. End with a dollop of guacamole.
Recipe Notes
I've gotten away with using just the two breast filets from a whole chicken and the consistency is still perfect.
Adapted from Chocolate Therapy
121