How to Make Money with a Food Blog

Posted: 03/25/21 Updated: 05/11/22
You love food and want to be your own boss, so you're thinking of trying your hand at food blogging. That's fantastic! Take it from me, food blogging can be incredibly satisfying and rewarding – and, if you know how to make money with a food blog, it can be extremely lucrative, too! If you're wondering how you'll generate revenue from all your hard work, this is the post for you.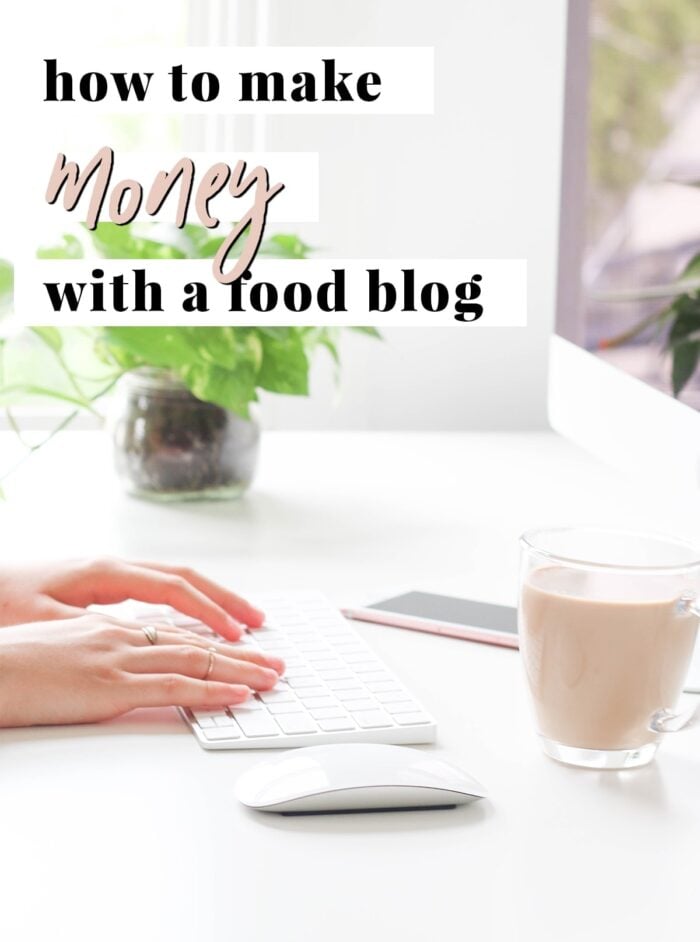 Love food blogging, but hate keeping up with all of the back-end, behind-the-scenes, technical stuff? Check out CakePOP, from the team that brought you 40 Aprons!
Understand the Necessary Expenses
You know that old saying, "it takes money to make money"? Well, I hate to break it to you, but… it's not wrong.

There's a lot that goes in to running a successful food blog, and if you're not prepared for it, it can catch you off guard. There's the obvious expenses, like groceries, photography equipment, props, cookware. But then there's all the less-obvious, behind-the-scenes stuff… Buying (and renewing) domains, web hosting, marketing campaigns, email services (a lot of plans vary pricing based on the size of your mailing list, so the more people you're emailing, the more you pay to email them), utility bills, editing software, website plugins… I could go on.

Oh, and don't forget the non-financial investments. Your time, your energy, your stress levels. Blogging, especially in the beginning, and especially if you're doing it 100% solo, is a huge time commitment. There's planning, researching, shopping, cooking, photographing, editing, writing, publishing, monitoring, optimizing, advertising, updating, and so much more that goes in to every single recipe and post you'll develop. Plus, in the very beginning, you'll need to factor in the time it takes to get set up with a name, a domain, a web platform, social medium platforms, an email platform, a logo, a brand look and voice…

So with everything you're paying for monthly or annually, how on earth are you supposed to generate any sort of viable income? Well, it takes a little lot of work, but it's absolutely doable!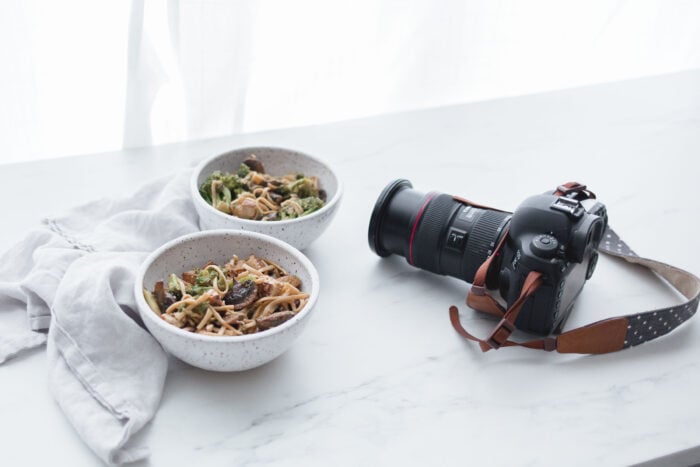 Grow Your Blog Traffic
The first rule of "how to make money with a food blog" is: grow your traffic.

It's simple really. You can't generate revenue if your blog isn't getting views. Traffic is the core of any revenue generation strategy.

Ads are a necessary evil. Most of your blog revenue will come from ads, and how much they generate will depend on the amount of traffic your blog gets every month. Of course, the downside to ads is that almost everyone hates them, even if they understand how necessary they are. The trick is to balance the amount of ads on your site, to maximize their revenue generation without completely destroying the user experience.
Tips to Grow Your Blog Traffic
There are a lot of ways to grow your blog traffic, but start with the basics – strong SEO, a clear brand vision, and incredible photos. These are the "meat and potatoes", if you will, of any good food blog – everything else is just, well… gravy.

I go over each of these basics, plus 7 other pretty important aspects, in a lot more detail in my free webinar on my 10 proven steps for 6-figure food blogging! I've been learning, monitoring, and fine-tuning my processes for the last 12 years, and I am so excited to share everything I know with you!

Click here to sign up for my next webinar! It's totally free, and I think it'll really help you determine your next steps for your blog, whether you're just starting out or already have 100,000 page views each month.
Advertising Networks
I really recommend partnering with an ad network for your display advertising. They'll handle the behind-the-scenes stuff, like ad management (to show your readers targeted & industry-specific ads), new plugins and tech updates, site speed, and optimization. It's important to partner with an ad network that you trust, who'll let you maintain control of your site, and who supports the growth and performance of your site. For example, 40 Aprons generated a 6-figure income in 2018, 2019, and 2020. We're even on track to do it again in 2021. Before 2018, though, we were teamed up with a different ad network, and we were only bringing in about $80,000 a year. Partnering with the right ad network absolutely makes a difference in how much money you make with your food blog.

We've worked with both Mediavine and AdThrive in the past, and both networks have fairly high minimum traffic requirements you'll have to meet before you can apply to work with them. For Mediavine, you'll need 50,000 sessions within the last 30 days. For AdThrive, you'll need 100,000 monthly page views, minimum.

That doesn't mean you can't get started with an ad network if you're a new, small blog, though. If you've got ad space to sell, odds are someone will be interested in buying it. The key is to turn out consistent, quality content and grow your web traffic over time. Advertisers won't pay to been seen in a blog that's not getting any views!
Sponsored Content
Another way to make money with your food blog is to team up with brands and companies for sponsored content.

We have a few sponsored posts on 40 Aprons – like our keto granola and our bone-in ribeye posts. We only take on sponsored posts occasionally, because I value and want to maintain the trust of our readers. If our content looked like nothing but ads and paid-for posts, our readers would question the information and recipes we're giving them. I don't want to give anyone the impression that we'll support just anything and everything that comes our way.

I'm very selective about the brands and companies I choose to work with, and I recommend you be selective, too. They're essentially borrowing your platform for a short time, so it's important that they align with your blog's brand and visions. We actually work with a brand management agency that helps us find strong, on-brand campaigns and partnerships when we have the capacity to take them on.

Something to keep in mind about sponsored content. While it's usually a great way to get a boost of income, they almost always come with a lot of deliverables to be produced within a strict timeline. It's not at all uncommon to get a sponsor offer with a turnaround time of a week. In that week, you'll need to develop a recipe using ingredients specific to the brand's current campaign, cook and photograph the food, write up post copy that meets the brand's specific guidelines, then submit it for review. On top of anything else you've got slated for that week.
What Will You Offer?
Part of determining your brand vision and the direction for your blog is to decide what exactly you're going to offer to your readers. You'll obviously want your readers to find value in your content, otherwise they'll just go somewhere else. Food blogging is a heavily saturated industry. To stand out, you'll need to develop a strong, unique voice and online presence. I go into that in more detail in my free webinar, so don't forget to sign up!
Digital Products
As more and more food blogs pop up, it's important that you're going above and beyond to set your site apart. Digital products and services can be a great way to do that!

You've probably noticed we offer meal plans and eBooks in addition to all of the recipes and articles we put out. Some bloggers sell their meal plans, others give them away for free. We actually package new meal plans, eBooks, recipes, articles, a Sustainable Clean Eating course, and so much more into our 40 Aprons Premium membership. The membership gives our members access to exclusive content and a totally ad-free site experience, in exchange for their monthly or annual membership fee.
Digital Services
Outside of 40 Aprons and 40 Aprons Premium, my business partner and I offer 40A., a virtual assistant agency that handles all the front-end aspects of food blogging, and CakePOP, which covers everything on the back-end. While these services are related to food blogging, they're totally separate revenue streams from 40 Aprons. Still, they're ways that I can utilize my knowledge and years of experience with food blogging to generate revenue.

Another digital service I provide now is my Food Blogging Bootcamp! It's a 6-week, in-depth course that covers everything you need to know to grow and make money with your food blog, whether you're just starting out or already established. Bootcamp goes over the basics of branding and blogging, the ins-and-outs of WordPress, recipe planning and development, food photography, SEO, and so much more. Again – not a direct food blog revenue stream, but a way I can share everything I've learned from my time as a food blogger in a way that generates income.
Physical Products
So now you've got a solid understanding of various digital products and services you can offer to set your blog apart. Beyond that, some bloggers also offer tangible, physical products that readers can purchase. Some have branded merch, others team up with big brands and private labels, and others develop products (like baking mixes) and sell them through their blog.

We've actually got physical products in the works right now, and I. CAN'T. WAIT. to share them with you! More on that later, though.
Your Team Matters
OK! You've got a high-level idea of what it'll take to create and make money with a food blog. So… how will you actually do it? A lot of the time it'll feel like there just aren't enough hours in the day to get everything done. Trust me, I know that feeling!!

If it's in your budget, absolutely build a team to help you. 100% cannot recommend this enough. Having other people to balance the workload, bounce ideas off of, and just take some things off your plate can be a huge asset to your business. Earlier I mentioned being selective about the sponsors you work with, and that same idea goes here, too. Be selective about the team members you bring on. Employees are an investment, and the right team – with members that are a good fit for you, your brand, and your vision – will see a return.

Yes, employees are a cost, but they're a revenue generator, too.

If regular employees aren't in your budget right now, you might consider services like 40A. and CakePOP to take some of the work off your hands when you need the extra help.
The Pros (and Some Cons) of Food Blogging
Food blogging is a lot of work. I'm not going to lie to you and pretend like it isn't! It's really stressful sometimes, and there's always something new to learn or do. Just when you think you've got things figured out, Instagram changes the algorithm or WordPress releases an update and boom, you've got something to figure out all over again. You have to constantly come up with creative, interesting content to appeal to your readers. Diversifying your content keeps your blog from getting stale. If you struggle with time management or following through on projects, blogging may be an extra challenge for you. There's so much to juggle at all times, especially if you take on extra projects besides just putting out a few blog posts every week.

BUT! There are a lot – a lot – of things to love about food blogging. Honestly, I have so much fun doing what I do. I won't say it never feels like a job, but it's definitely more fun and rewarding than the jobs I had before this. I get to make delicious food, be creative with photography and design, and connect with all of you. Plus, being my own boss lets me prioritize what's really important to me in life. How could you not love that?!
More About Food Blogging