Food Blogging Bootcamp

Posted: 01/19/21 Updated: 01/27/22
Introducing the 40 Aprons Food Blogging Bootcamp – a 6-week food blogging course that teaches you the whats, hows, and whys behind operating a successful food blog. Whether you're a veteran looking to overhaul your process or break through a plateau, or a newbie blogger hoping to break into the field, this course is designed to help you work smarter, not harder.
Already know you want to sign up for a self-paced bootcamp led by Cheryl? You can snag your spot by clicking here. If you're still on the fence, though, keep reading!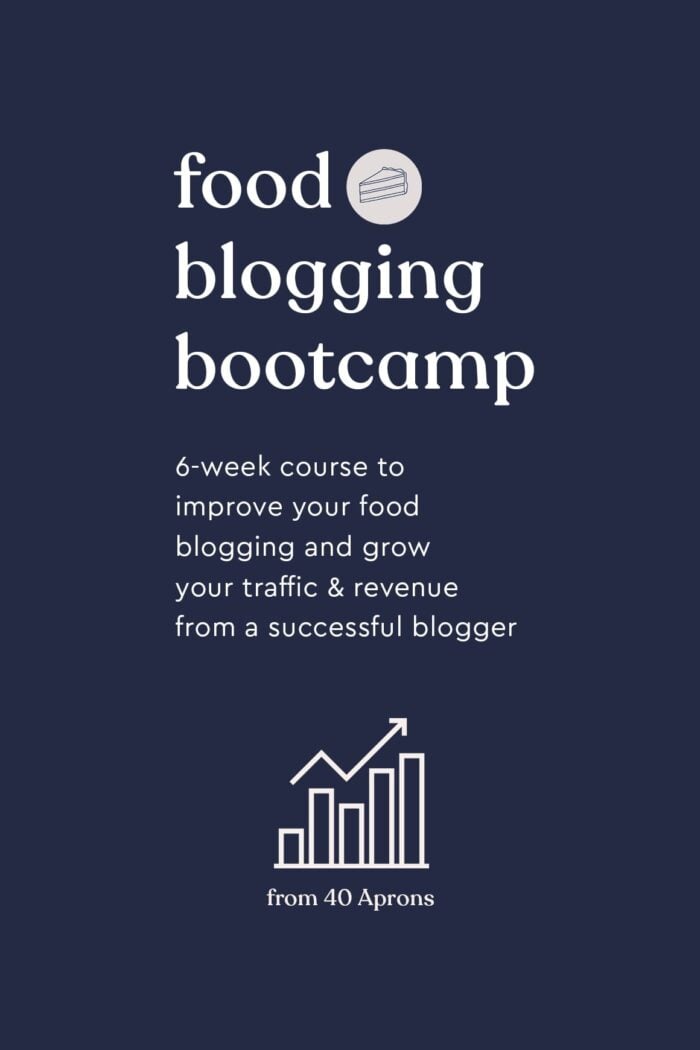 What Exactly Is This Food Blogging Course?
I'm calling this a "bootcamp" because we aren't messing around. Over 6 weeks, we'll cover everything you absolutely need to know to successfully grow your food blog. Food photography, SEO, social media, videos, sponsored campaigns, editorial calendars, and seriously SO much more. I'll be teaching you all of my food-blog knowledge in an in-depth but totally digestible way.
Well, why tell you, when I can show you? Watch the video below for a look at everything we'll be covering in bootcamp.
What Do You Get From My Food Blogging Course?
In a nutshell… ME! All of the information in this bootcamp comes straight from me and my decade-long experience as a dedicated food blogger. In the past, you'd have to be one of my private clients to get this kind of instruction.
Lifetime access to 6 video-modules with handouts dissecting my method for growing food blogs ($1500 value)
Direct consultant access to me ($750 value)
My Lightroom food photography presets package ($40 value)
My food photography eBook, "Improve Your Food Photography Almost Instantly" ($35 value)
That's a $2,325 total value for this food blogging course, and it's available to you right now at only $750, so… No big deal.

This course completely self-paced, so don't worry about not having a dedicated 6-week window of free time for bootcamp. Work on it as you can, soaking up knowledge every step of the way.

Click here to sign up with a one-time payment, or click here to set up a 3-month payment plan.
Why Should You Take My Food Blogging Course?
Contrary to popular belief, food blogging is not easy. In fact, as more and more bloggers enter the arena, it's actually getting harder to compete. Everyone's vying for the same Google rankings and website traffic, and everyone's working with the same algorithm. If a successful, money-making blog is your goal, you've got to bring your A+ game.

That's where my food blogging course comes in. I've spent literal years growing, tweaking, adapting, and honing my process through a lot of trial and error. It's taken a lot of tears and sweat, some hair pulling, and more profane language than I should probably admit, but I finally cracked the food blog code.

Don't believe me? Well, check this out.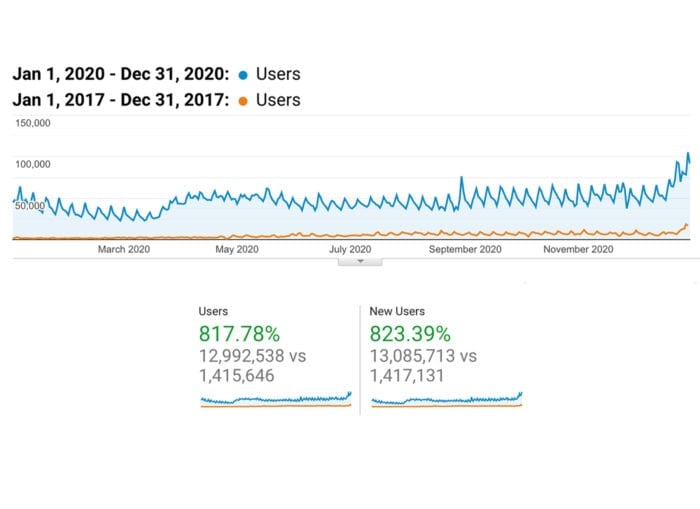 The orange line? That's the 40 Aprons blog traffic in 2017, before I implemented the processes I use now. That blue line is 2020, after using these processes for a few years. WHOA.
Yes, my methods breathed life into my at-the-time little food blog, but here's the thing – it's still working. 40 Aprons is growing significantly year over year.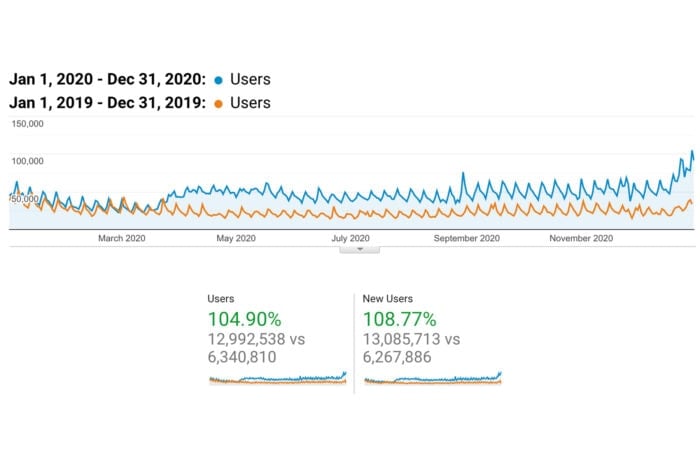 Graph number 2 shows the same data as the first graph, with 2019 as the baseline instead of 2017. In 2020, our blog traffic increased 105% over 2019.

Not only has our traffic steadily increased, but so has our revenue. For the last 3 years, I've been making a full-time, six-figure income from my blog. That has definitely not been the case since day one – trust me, I know the struggle that comes with food blogging.

So yeah, believe me when I tell you, this method WORKS. And it can totally work for you, too.
The 40 Aprons Method
Food Blogging Bootcamp is designed off my established method for growing food blogs, implemented internally at 40 Aprons and Easy Healthy Recipes, with our clients at food blog VA agency 40A., and with my private coaching clients. It's proven to work! It straddles the balance between experts in individual fields and the needs of food bloggers and their readers. I know where you're coming from and won't tell you to consume yourself with any one thing, just focus on what really works and keeps food blogging enjoyable.

Of course, I can't guarantee your traffic, followers, or revenue will grow – that comes down to you. You're going to have to put in the work. If you commit to the process and implement the tips and information I teach you, though, there's a damn good possibility you'll see serious growth.

Ready to sign up? Click here to make a one-time payment, or click here to set up a 3-month payment plan.
What Topics Will This Food Blogging Course Cover?
More like what topics WON'T we cover?!
Web Design Best Practices
Blogging Basics
Branding
WordPress 101
Food Photography
Videography
Recipe Development
Editorial Planning
Post Writing
Search Engine Optimization
Social Media
Making Money with Your Blog
Week One: Blogging Basics + The Importance of Branding + WordPress 101
In week 1, we cover everything from buying a domain to nailing down your brand's identity. Experienced bloggers will spend most of their time focusing on clarifying their vision and brand, while newbies will be busy with blog basics.
Week Two: Food Photography 101
From gear to selecting a signature style, natural vs. artificial light (and how to work with both!), food and prop styling, planning a shoot, and the method that Cheryl teachers her private coaching clients for instantly improved shots, developing food photography skills is one of the most important investments a food blogger can make. This week is designed for both newbies and vets.
Week Three: Food Photography 201 + Video 101
In week 3, we finish the topic of food photography, discussing the ins and outs of what happens after the camera is turned off. From properly organizing photos and backing up your media to editing efficiently in Lightroom, we complete our focused discussion of food photography and switch camera modes over to video. We'll discuss why you should produce video in the first place, Cheryl's super simple method of easily shooting lovely video, and editing basics.
Week Four: Recipe Development + Editorial Planning + Post Writing
Let's talk about all of our favorite subject: food! We'll discuss effective recipe writing, the etiquette of inspiration, how to efficiently test recipes, and planning recipes and an editorial calendar for SEO opportunities. In week 4, we'll also cover how to write a recipe blog post clearly and concisely, what to include, what to omit, and how to balance SEO, the reader, and you, the blogger!
Week Five: SEO
You're either addicted to SEO or terrified of it – is there any in-between? In week 5, we'll cover the SEO a food blogger needs to know after writing the post. From identifying the posts you should treat to actually updating posts, using SEO tools effectively and Cheryl's own personal workflow, plus the SEO strategy Cheryl implements on her own sites and with her private coaching clients.
Week Six: Social Media + Making Money with Your Blog
In week 6 of our food blogging course, we cover all things social media: Instagram, Facebook, Pinterest, plus TikTok, Jumprope, and web stories! We cap the program with discussion of how to make money with your food blog, from ad networks to affiliate programs, sponsored campaigns to brand representation, plus how to absolutely nail a branded campaign.
This Self-Paced Food Blogging Course is Perfect for All Skill Levels
Designed both to help established food bloggers take their blogs to the next level and to support brand new bloggers develop their sites and get through launch, Food Blogging Bootcamp is suited for all experience levels.