Food Blogging Resources

Posted: 04/15/21 Updated: 05/11/22
Take it from someone who knows, the right tools can make a huge difference in your food blogging experience. These are some of my favorite food blogging resources, perfect for new bloggers and veterans alike.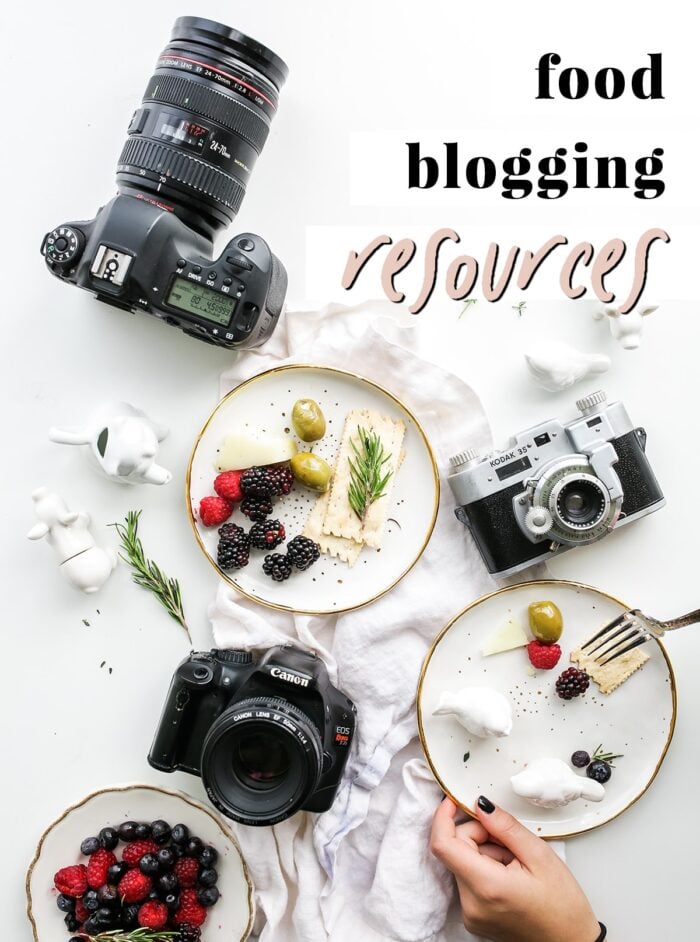 Food Blogging Resources
It's safe to say I've learned a thing or two in my 10+ years as a food blogger – though that's not to say that I know absolutely everything there is to ever know about food blogging. It doesn't really work like that. Blogging is fluid and there are always new things to learn, create, and try out. It's an evolving industry, and it's exciting to be a part of it.

After running my own successful food blog (twice) and building dozens of sites for other bloggers, though, I've seen a lot of what works – and what doesn't work. These are some of the food blogging resources that I think really work and fully recommend checking out whether you're an aspiring food blogger or one who's already established.
Hosting
Your host is where your blog lives, so it's incredibly important to choose the platform that fits both your needs and the needs of your reader. There are several options that work for a variety of budgets, including free web hosts, which is great if you're just starting out and don't have a huge budget for your blog yet. The downside is that free hosts usually offer limited options and can't support as much traffic, but you may not be too concerned about that starting out. I will say, though, that if you're planning to turn your blog into a source of significant income, you might consider making the investment on a paid web host from the beginning. You can change web hosts any time, but the larger your blog is, the more difficult it can be to migrate.
WordPress
WordPress is our current hosting platform for 40 Aprons and Easy Healthy Recipes, and we're big fans. We've tried others in the past, but this has worked well for us and gives us the freedom to do a lot of things we want to do through different plug-ins and other options.

You can read more about the different options WordPress offers here.
---
Tech Support
If tech stuff isn't your thing (or even if it is and you just want one less thing on your plate) then I highly, highly recommend investing in a dedicated tech support team. FAQ pages and discussion boards can be great resources, but nothing beats having people you can go to for help, who actually care about resolving the issues you're running encountering.
Nerdpress
Nerdpress is a great tech support option for food bloggers. It's run by a food blogger, and believe me, it's really nice having someone who gets this niche troubleshooting your tech. Nerdpress handles backups, security, and firewalls, and they'll take care of any problems that come up from broken plug-ins.
Foodie Digital
Another solid tech support option from people who know food blogging. Foodie Digital offers full WordPress support packages aimed at developing secure, fast, reliable sites.
iMark Interactive
Another WordPress support option, iMark Interactive offers tech support and a little strategy. They can do custom development, host migrations, and domain changes on top of general WordPress support.
---
Courses
Courses are seriously fantastic food blogging resources, and I really don't know that you can take too many of them. Continuing education is a big thing with me, so I am always checking out courses on various topics related to food blogging – SEO, photography techniques, approaches to social media and marketing. You name it, I've probably taken a course on it.

The way I see it, you can never know too much, and this field is one where the best practices change all. the. time. All the time! So if you're not keeping up then it won't be very long before you fall behind.
Food Blogging Bootcamp
Food Blogging Bootcamp is my personal everything-you-need-to-know food blogging course. It's a 6-week, self-paced course that covers… well, everything you need to know, whether you're a brand new blogger or someone already seeing 100,000+ pageviews every month.

Not only does Food Blogging Bootcamp cover topics like food photography, SEO, social media, video, sponsored campaigns, and so much more, but it also includes direct consultant access to a 6-figure-per-year food blogger… ME! You'll also get a copy of my eBook, Improve Your Food Photography Almost Instantly, and my bundle of Food Photography Presets for Lightroom.
or click here to sign up with a payment plan
Foodtography School
Foodtography School offers great courses geared toward different styles and applications of food photography – beginners, advanced, restaurant photography, mobile photography, etc.
Food Blogger Pro
A great place to start, Food Blogger Pro covers starting up a food blog and growing your traffic, whether you're blogging as a hobby or hoping to turn it into a career. In addition to their courses and forum, they produce a podcast about food blogging that you might enjoy!
The Bite Shot
Another amazing food photography resource is The Bite Shot, who offers food photography courses, yes, but also tutorials on YouTube and behind-the-scenes peeks on Instagram so you can improve your food photography in the way that works best for you.
---
More Food Blogging Resources to Check Out