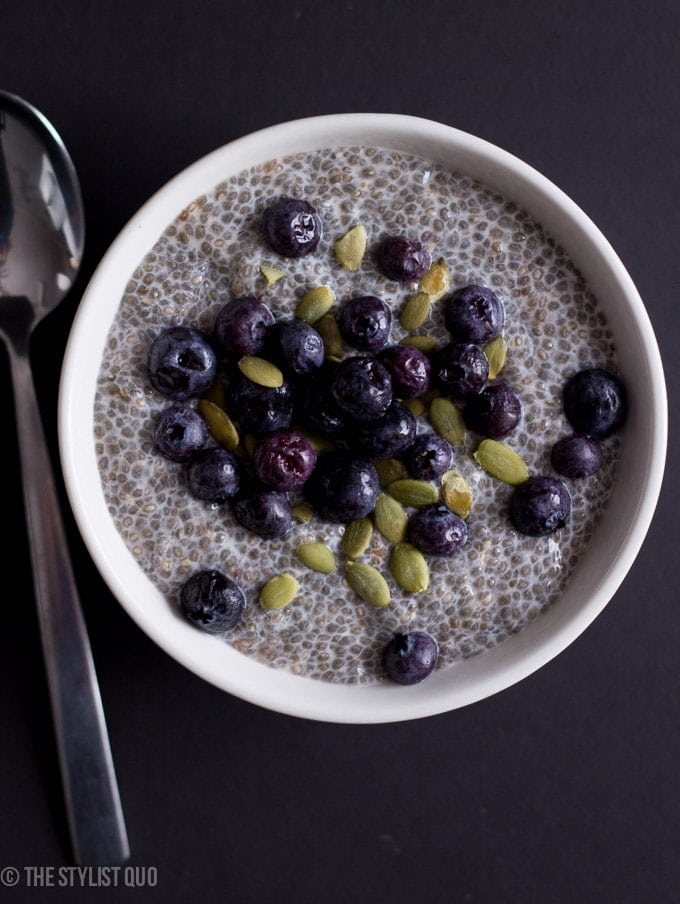 As the warmer months set in, you'll probably start to crave food that's a bit lighter and less, er, stove-intensive, but that's still filling and nourishing. Enter.. the chia seed breakfast pudding.
Chia seeds, for many years, were the butt of the, uh, seed world?, relinquished only to growing hair on terra cotta pets. That is, except in native Mexican groups and, specifically, the Tarahumara tribe of "super-athlete" runners in Mexico who were detailed in the überpopular (for runners, that is) book Born to Run. Like the dutiful runner he is, O read the book on a trip to, naturally, Mexico, and that was that. We now have at least a pound of chia seeds in our fridge at all times.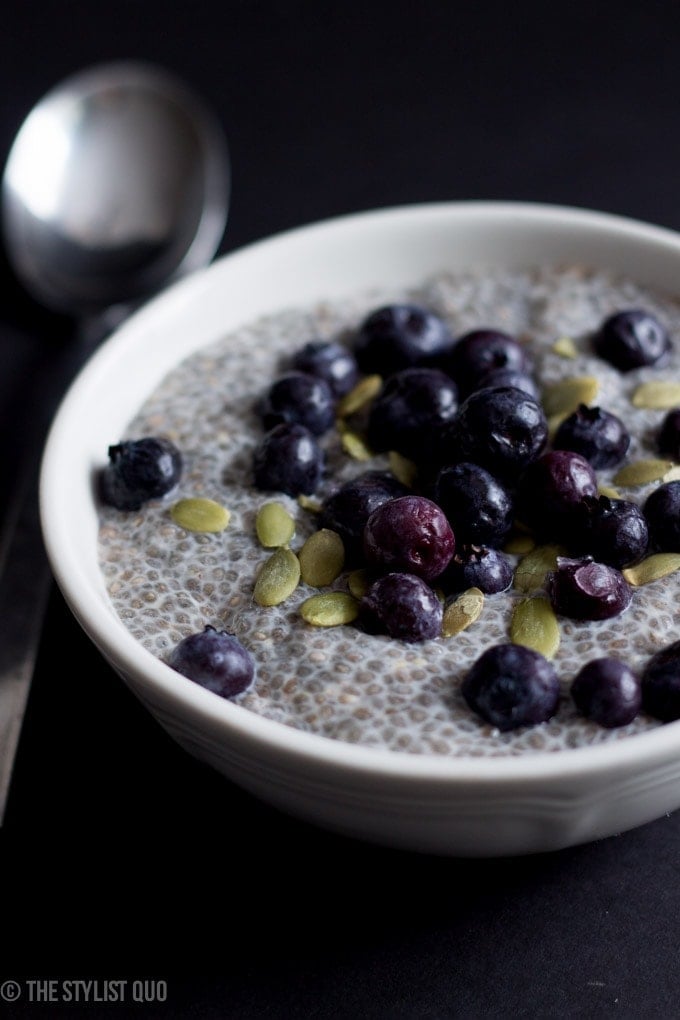 Why? Chia seeds are brimming with goodness, packed with fiber, omega fatty acids, calcium, antioxidants, protein, and more! Chia seeds absorb 12 times their own weight and expand, creating a sort of jelly and easily curbing your appetite. They're extremely filling and fabulous for a burst of energy, the Gu of the natural world. That jelly also comes in quite handy when it comes to raw and vegan desserts, specifically puddigs. Enter.. the chia seed breakfast pudding.
"You already said that!" you shout, infuriated.
"I know," I reply. "Why are you so infuriated? You should eat more chia seed breakfast puddings, and you'll be less infuriated."*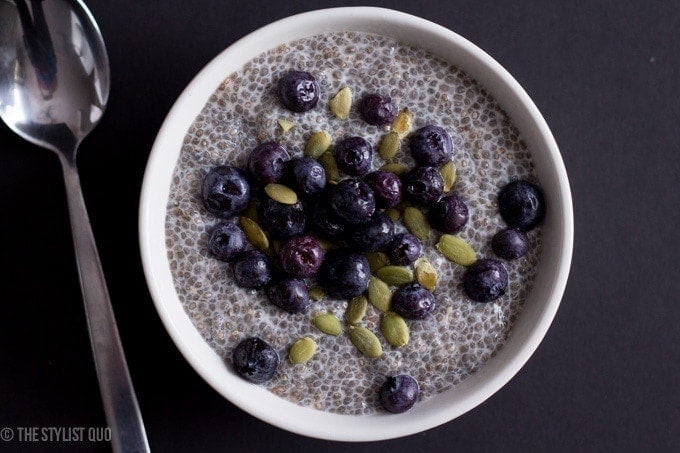 What we love so much about this pudding is that a) it is so nutritious and filling, b) it's cool and refreshing, c) it takes mere seconds to prepare, 4) it's insanely delicious and versatile, and 5) you can do it all way in advance. How's that for packing a punch?
O begs for this chia seed pudding for breakfast all the time, yet refuses to actually make it when I tell him how easy it is; I guess I just "make it better", as he claims I do to pretty much everything. We keep it simple with a bit of real maple syrup, some seeds–usually pumpkin, and some fruit–ideally blueberries. When blueberries go on a massive sale, we buy pint after pint after pint and keep them in the freezer to enjoy year-round. Whatever you have on hand, though, will work beautifully.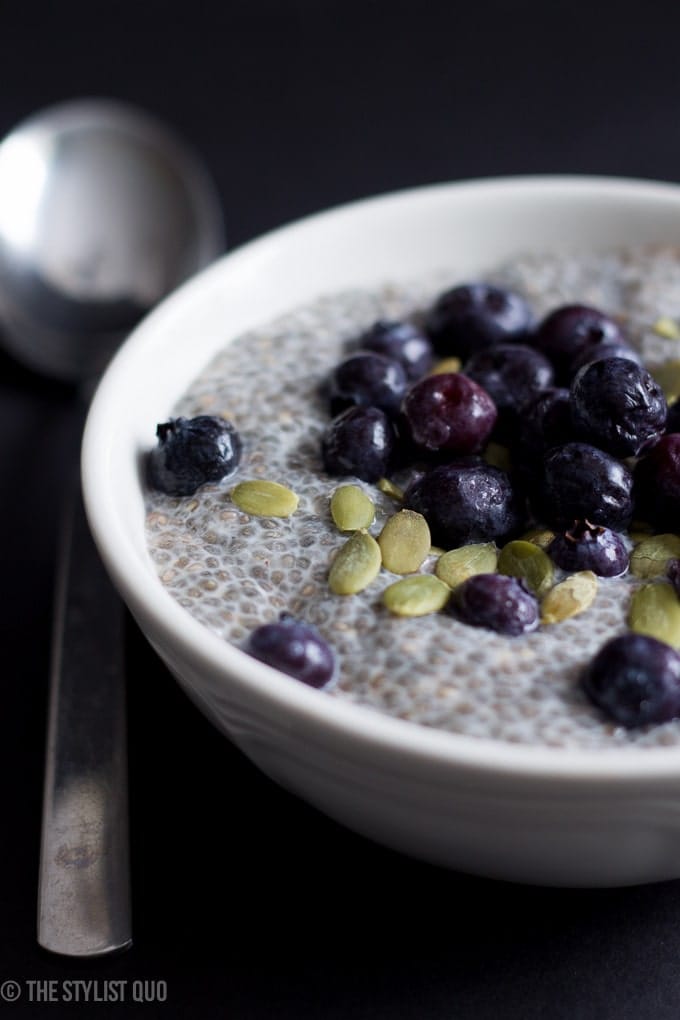 You need at least 30 minutes for the recipe to really work and for the chia seeds to "set" but overnight is ideal to properly chill it. It takes a couple minutes to throw together the night before for a perfect breakfast.
*Data still processing on the relationship between chia seed breakfast puddings and infuriation.
Chia Seed Breakfast Pudding
A nutritious, refreshing breakfast pudding made from superfood chia seeds. So versatile and adaptable.
Ingredients
2

tablespoons

chia seeds

½

cup

almond milk

or any other nut, coconut, soy or dairy milk

1/2

tablespoon

maple syrup

1

cup

fruit

optional

1

tablespoon

seeds or nuts

optional
Instructions
Mix all ingredients well and cover in an airtight container. Chill at least 30 minutes, preferably overnight.
Nutrition Facts
Chia Seed Breakfast Pudding
Amount Per Serving (1 g)
Calories 356
Calories from Fat 126
% Daily Value*
Fat 14g22%
Sodium 180mg8%
Potassium 368mg11%
Carbohydrates 55g18%
Protein 7g14%
Vitamin A 716IU14%
Vitamin C 5mg6%
Calcium 324mg32%
Iron 3mg17%
* Percent Daily Values are based on a 2000 calorie diet.
Read more about chia seeds at http://www.doctoroz.com/blog/lindsey-duncan-nd-cn/chia-ancient-super-secret