What Is Matcha and Why Is Everybody Obsessed with It?

Posted: 10/01/19 Updated: 05/11/22
Have you heard of matcha green tea powder and wonder what it is? Learn more about the history of this Japanese superfood, the taste, its health benefits and how to incorporate it into your healthy diet.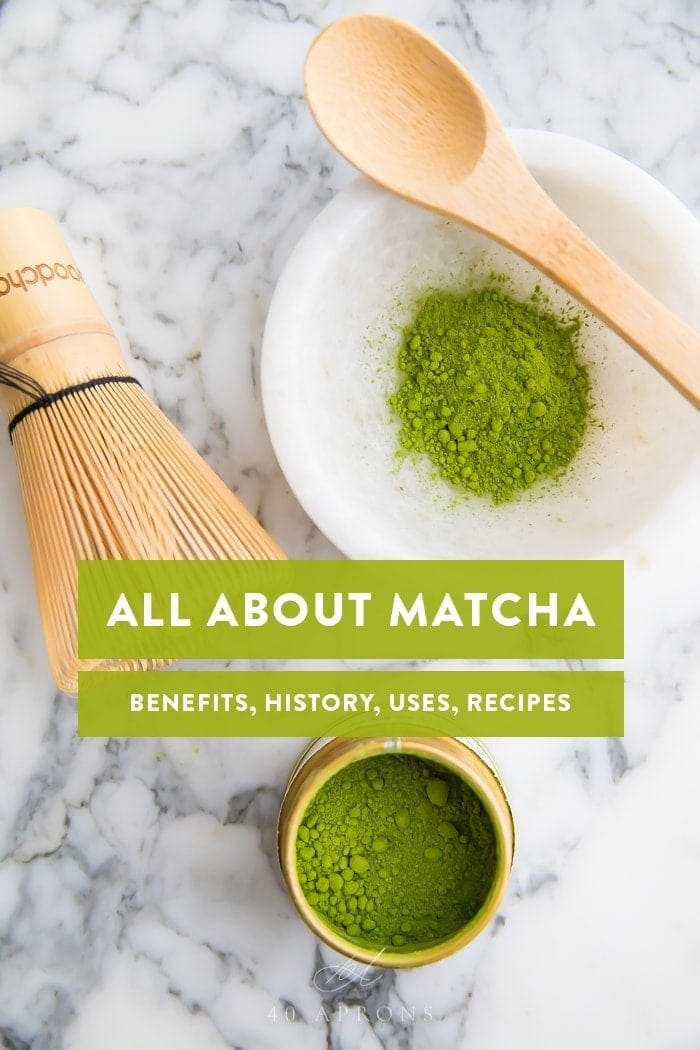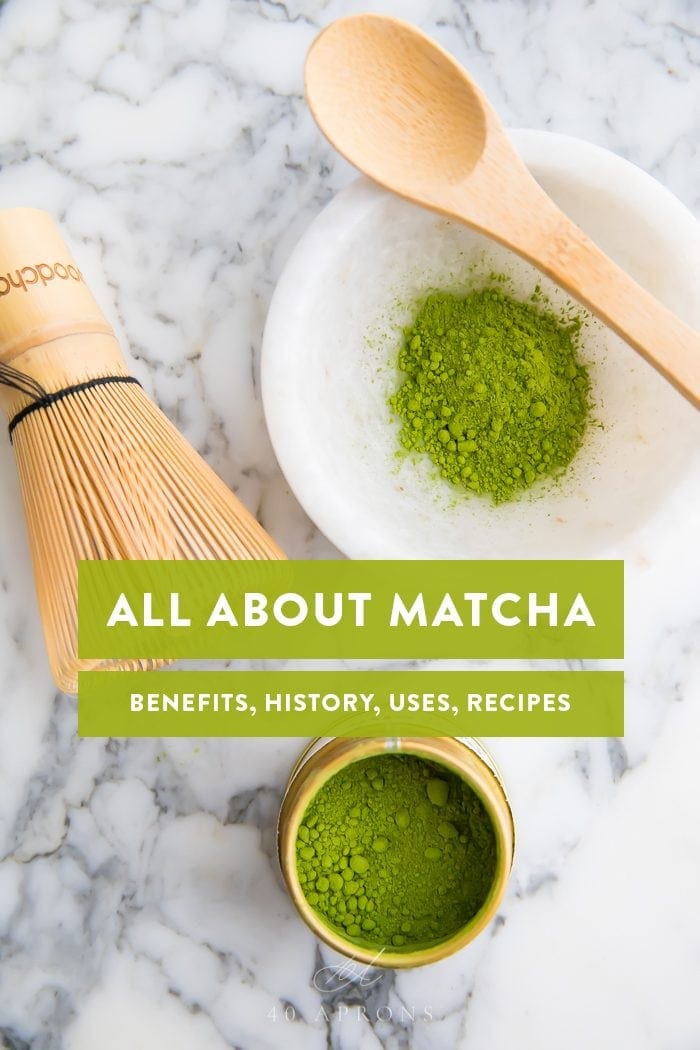 If you've been to any coffee shop or cafe lately, chances are you've seen a couple of really fun looking green beverages on display! Or maybe you've come across matcha on the dessert menu of your favorite restaurant? Oh, yes, Matcha is everywhere right now.
The insta-worthy green powder has become every food blogger's BFF thanks to its visual appeal, but it is also supposed to boast a bunch of health benefits. Last but not least, is has a beautiful distinct green tea flavor. Find out more about the milled green powder that everyone is drinking in this blog post.
What is Matcha Powder?
So what is matcha powder? It is a stone-ground powder made from green tea leaves. The best matcha hails from Japan. What sets it apart from how other green teas is the way it is grown. The tea bushes are covered for several days prior to harvest to protect them from the sunlight and therefore to boost the plants' chlorophyll levels. This process is responsible for the leaves' vibrant shade of green.
Once harvested, the green tea leaves are dried and then finely milled into a what we call Matcha powder. Because of the laborious process required to produce matcha, this green tea is generally pricier than loose tea or tea bags.
Matcha powder most commonly used for making tea, by just mixing the powder with hot water, but there's no shortage of creative uses (scroll down to the recipes). It is green in color and is now widely available in Western countries.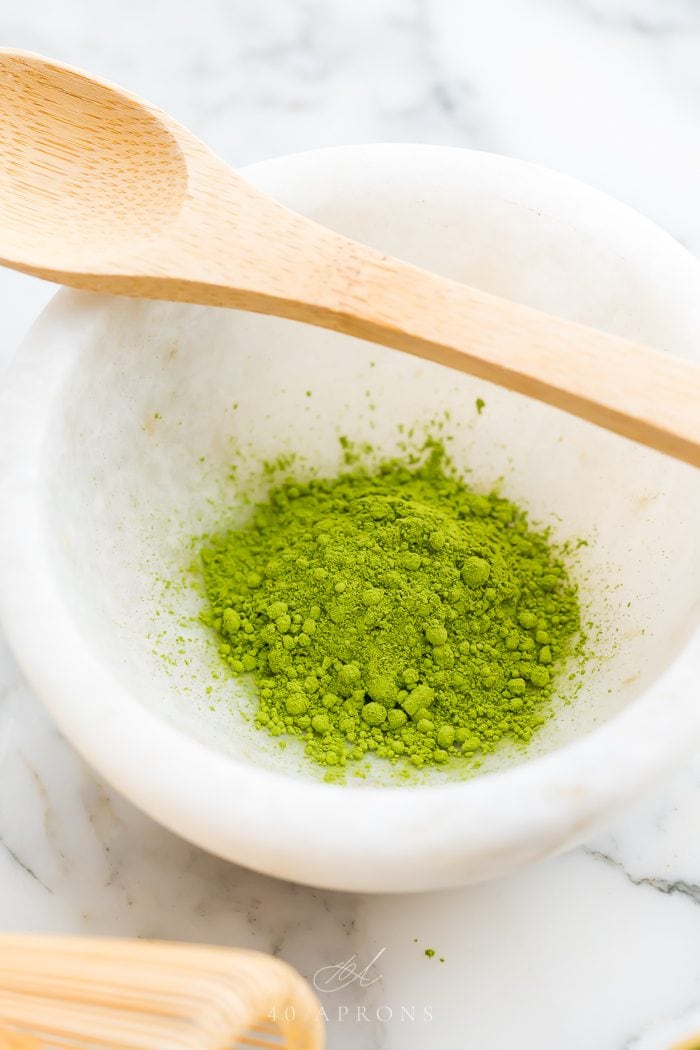 History of Matcha Green Tea Powder
Matcha originates from China, where matcha tea was prepared as early as 618 AD. Chinese Zen Buddhists started to include matcha tea into ceremonies in 1100 AD. The Chinese monks then took matcha tea to Japan where the tea ceremonies grew in popularity.
The meditative act of preparing, presenting, and sipping matcha is now the backbone of the famous Japanese tea ceremony. While matcha's origins are purely ceremonial, the green tea powder has now become popular around the world.
Apart from its most common use is in beverages like tea lattes, smoothies or bubble tea, foodies have also discovered it as a baking and cooking ingredient using it to add a nice tea flavor to baked goods, ice cream, salad dressings, you name it.
What does matcha taste like?
Matcha has a very complex flavor and is not like other teas you will have tried. It is rich and intense and it leaves a lingering sweetness. The highest grade of matcha will not have any bitterness in it, whereas culinary grade will have a hint of bitter flavors. If you find it bitter, you can balance the flavor with a little agave or honey.
What are the health benefits of matcha?
Matcha has also recently been making waves in the health and beauty sectors. Green tea is generally considered healthy because the leaves contain antioxidants. However, water can only extract a rather small about of them. In the case of matcha, one consumes the entire leaf which makes the powder exponentially more healthful.
Further health benefits of matcha powder:
It boosts metabolism,
detoxifies the body,
is rich in fiber.
Can improve mood and
lowers cholesterol and blood sugar.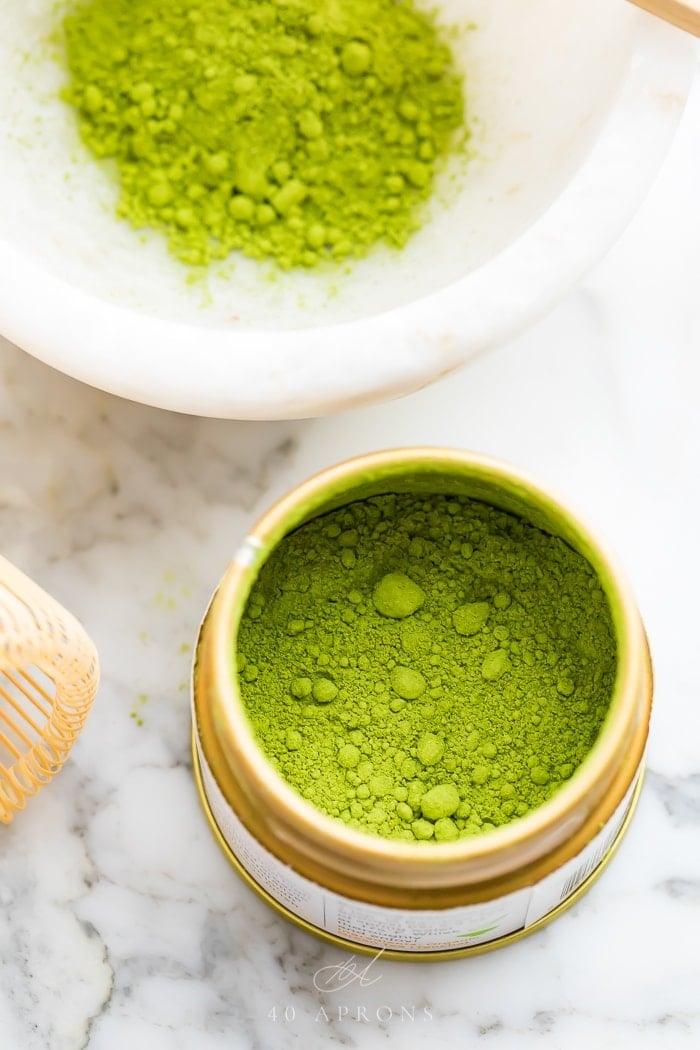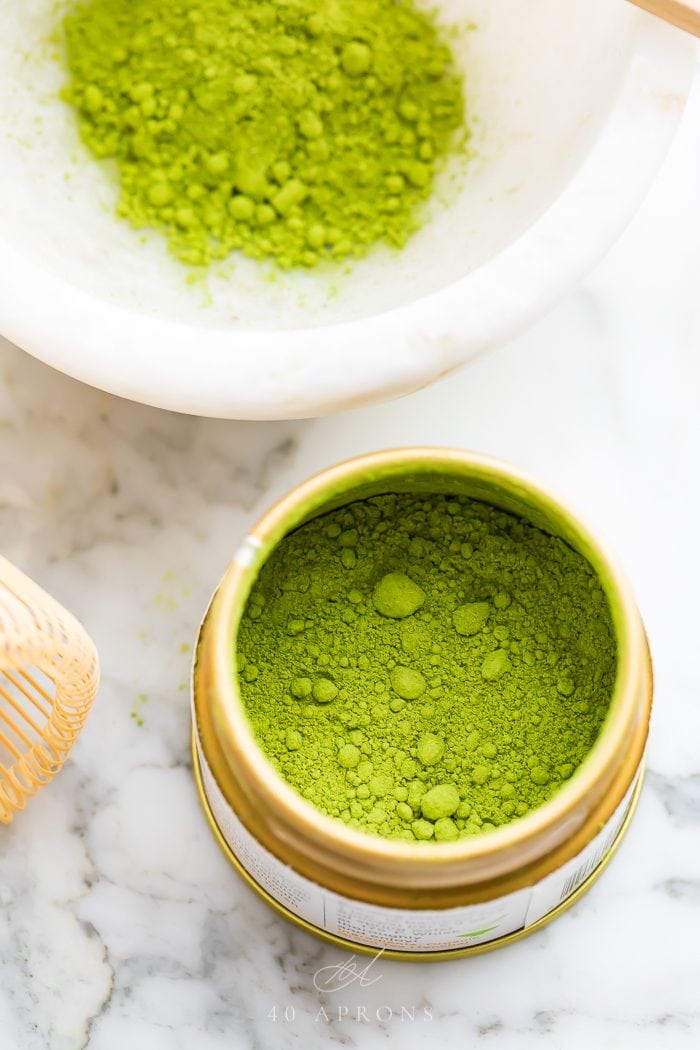 Matcha for Skin
Yep… matcha's benefits just won't quit! Aside from ingesting this grassy glory, try applying the powder topically or using products that contain matcha for glowy skin.
Matcha's benefits for skin include:
Treating inflammation
Improving the complexion
Reducing redness
Offsetting signs of aging
Treating oily skin
Supporting all skin types
Learn more about the benefits of matcha for your skin here.
Check out these matcha-infused skincare products to take your routine to the next level. Talk about ceremonial!
Does matcha have any side effects?
Matcha is generally considered safe, but it is not important to go overboard as it does contain caffeine. Overconsumption of caffeine can cause headaches, insomnia, heartburn and irritability.
It also depends on how you are consuming the matcha – full-fat lattes are not ideal to be consuming on a regular basis, neither is a sugar-loaded cupcake with matcha frosting.
Is matcha good for weight loss?
One amazing benefits of matcha is its ability to help with weight loss. Consuming green tea increases thermogenesis, the body's rate of burning calories, from roughly 10 % to 35-43% of daily energy expenditure.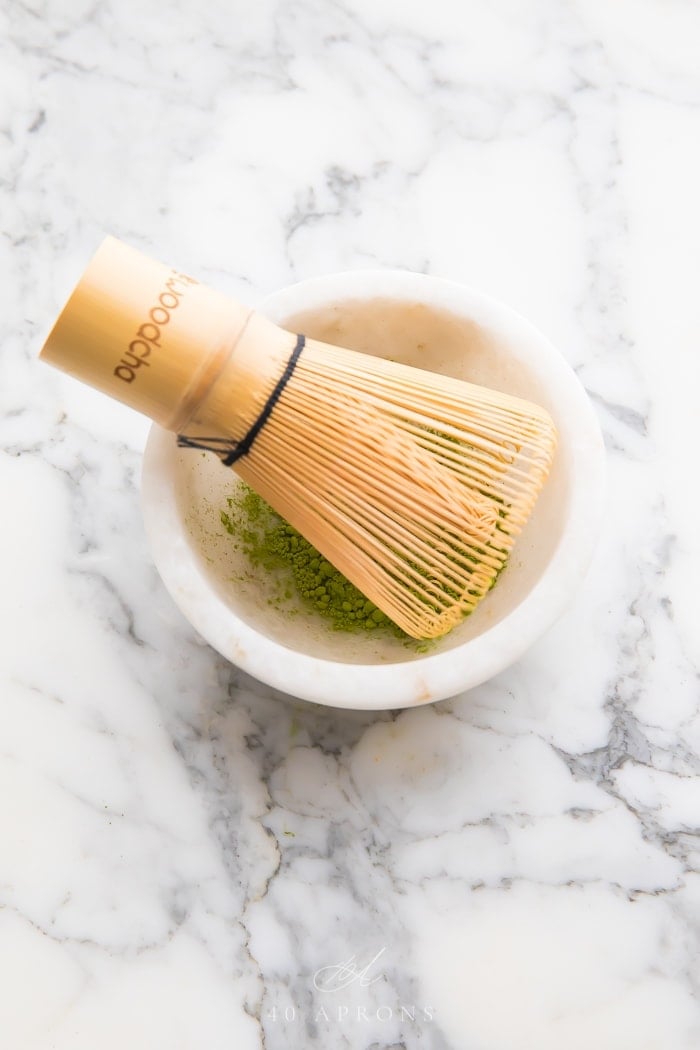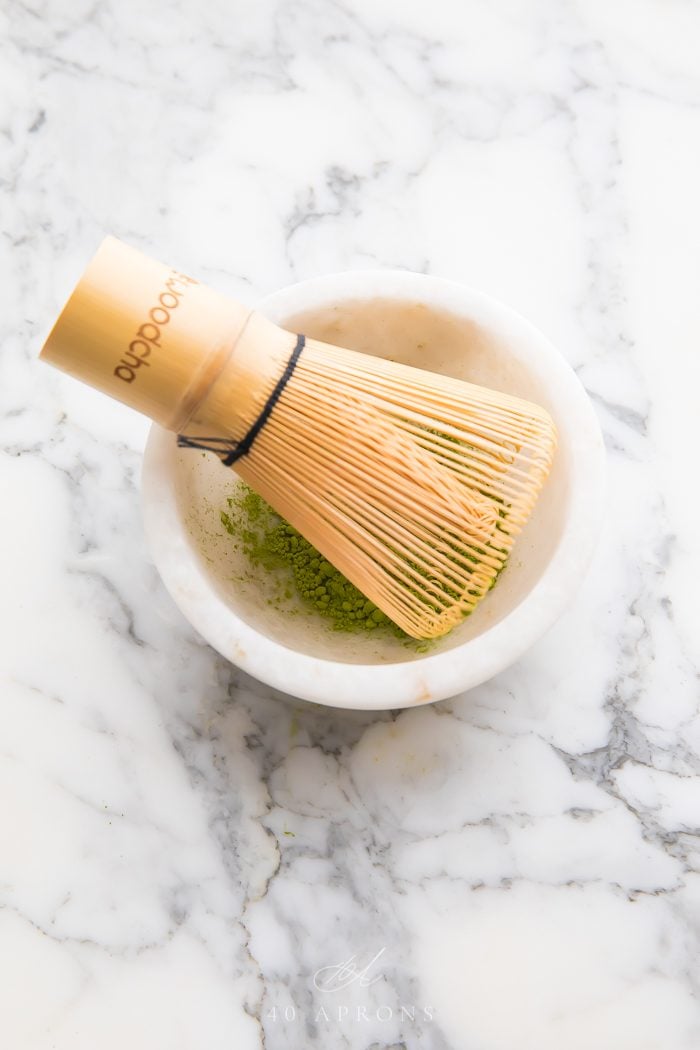 If you are drinking matcha tea to gently support weight loss, you should opt for caffeinated. Why, you ask? Because the decaffeination process significantly reduces the amount of the flavanols and antioxidants that can assist weight loss.
How much caffeine is in matcha powder?
Matcha is a type of green tea so it does contain caffeine. Because it is made from crushed leaves, it has a higher caffeine content than bagged tea. It contains around 34mg which is about half the amount of an espresso coffee or the same as a brewed cup. The hit of caffeine from matcha is more energizing and longer-lasting than coffee.
Matcha calms the mind enhances mood and aids in concentration. I find the energy you get from drinking a cup of matcha is very different from coffee. While coffee sometimes makes me jittery and anxious, I feel alert, clear and energized yet calm after drinking matcha! The perfect drink to sip on while studying or working on your computer.
Is it ok to drink matcha every day?
It's perfectly fine to drink matcha every day, but you don't want to drink too much, especially if you are sensitive to caffeine. If you have a morning coffee each day, try swapping it for a matcha tea. You will still get the energy hit but it contains more health benefits.
How is matcha prepared?
There are actually different grades, or qualities, of matcha that determine what type of recipes you should use matcha in. The main grades are:
Ceremonial grade: The highest quality matcha in color, taste, and texture. Reserve for beverages.
Culinary grade: Still high quality but not as fine as ceremonial grade. Bake or cook with this matcha.
Save ceremonial grade matcha for beverages. It's the best quality of matcha there is, and just as you wouldn't stir a $50 bottle of wine into a stew, you won't want to waste the top-notch quality of ceremonial grade matcha on recipes.
Use culinary grade matcha for recipes such as my Matcha Granola, Matcha Popsicles, and more.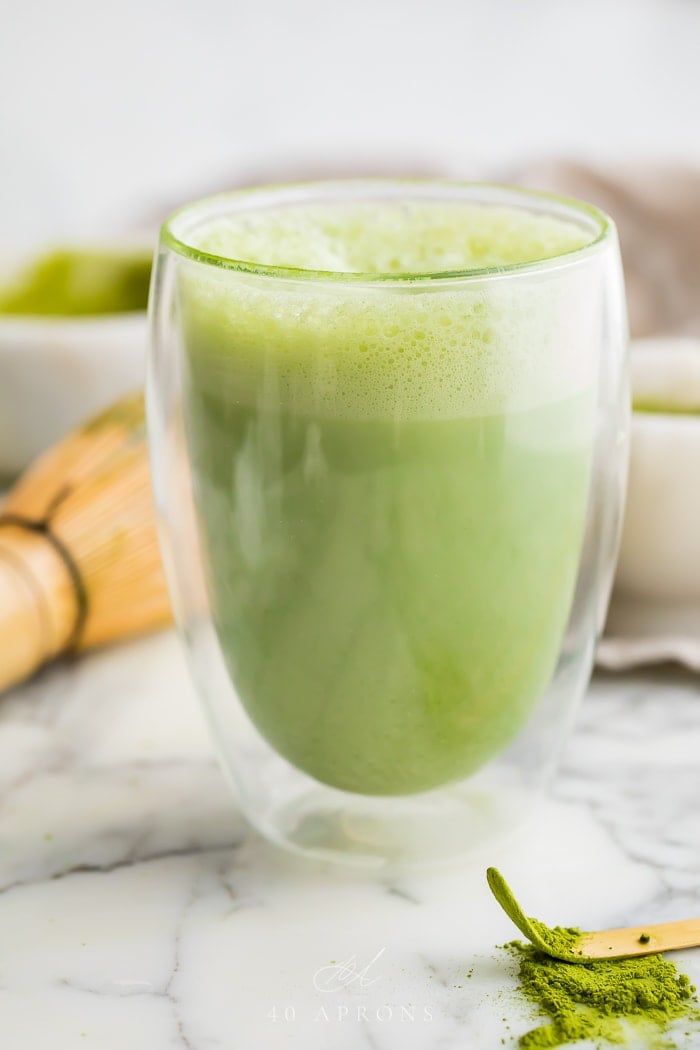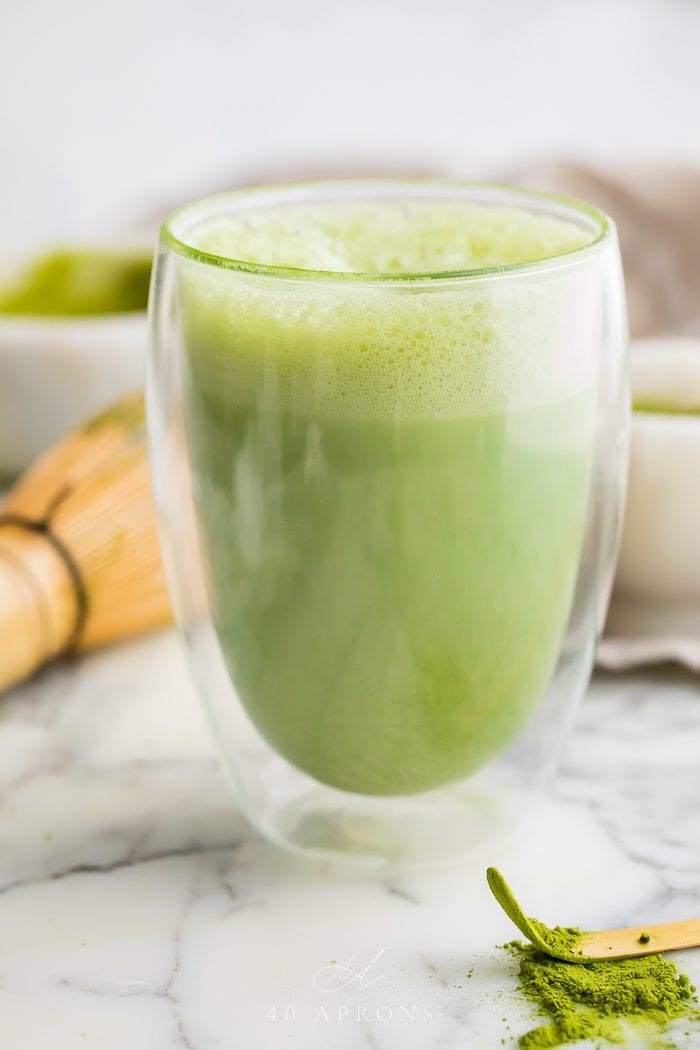 Where to Buy Matcha
Back when I started drinking and cooking with matcha, it was a challenge to source locally! These days, it's super easy to find at most well-stocked groceries. I still prefer buying mine online for better control of qualities (like organic) and grades (ceremonial vs. culinary).
I love, love, love the Thrive Market brand, since you get crazy bang for your buck with what they offer, like organic matcha powder in different grades. If you're a Thrive Market member, scoop those up ASAP!
If you're not a member, sign up for a free 30-day trial membership and 25% off your first order by using my link. Then take advantage of their awesome prices on organic matcha! I love…
If you make matcha or matcha lattes with any frequency, consider investing in a bamboo whisk, traditional scoop, and tea spoon set. They're super affordable and that whisk does such a better job at smoothly incorporating hot water into your matcha than any steel whisk can.
Matcha Beverages
Matcha is delicious in a matcha latte, which is made simply with a little hot water, frothed milk, and a bit of sweetener.
You can also make a simple ceremonial tea by whisking in hot water to your matcha.
If you prefer an iced beverage, try making a matcha latte as written but use cold milk, not frothed, instead. Pour over ice… so good! And so, so much better than Starbucks.
Try these delicious matcha recipes!