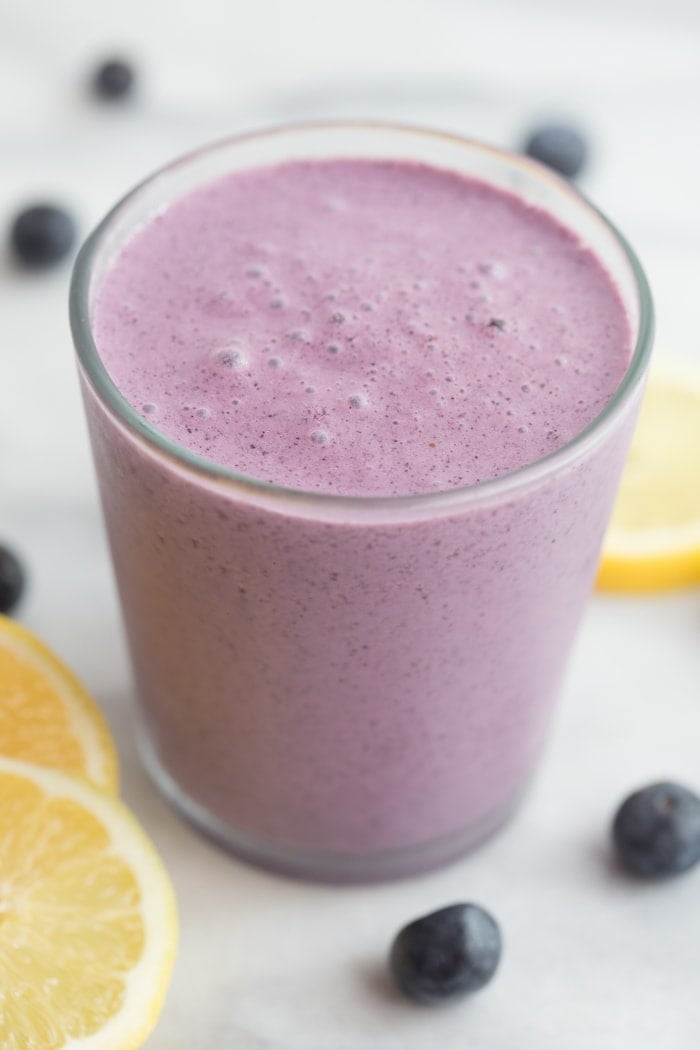 In college, I was called–with a straight face–a foul temptress.
Granted, it was one time, one night, one drunken guy, but luckily, we weren't nearly as drunk, and so the memory will live on in my heart forever. I will cherish it 'til the day I die, and no one–NO ONE!–can take it away from me. I'm not sure quite if it was the implication or the Monty Python lover in me, or both, but I look back on those days and smile. The worst I'm called these days is a mean doodoohead who never lets her perfect husband go where he wants to eat.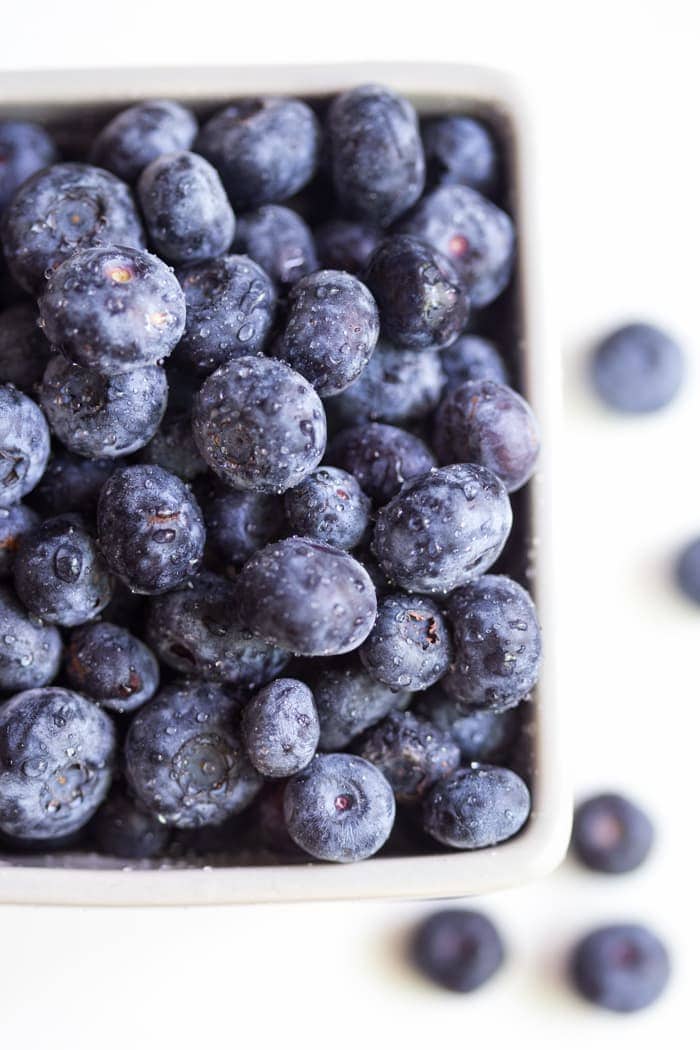 It might sound like I already have a two-year-old but alas.. that's just O, people. That's just O.
When it comes to breakfast, I'm pretty sure that blueberry muffins are the foul temptresses of the realm. Since they involve blueberries (a health food!) and are, you know, muffins (not cupcakes–let's be clear about that), one would think they're not completely bad for you. But one would be wrong.. unless you're indulging in some sort of whole wheaty maple-instead-of-sugar kind of sorcery.
When I was finally getting my appetite back earlier in the pregnancy, I decided muffins were my favorite thing evereverever and so I bought a four-pack from Fresh Market, springing out of bed in the morning to eat an oversized, tender muffin in thirty-seconds flat before debating whether I'm really "eating for two" yet, if baby is the size of a, uh, lime. And then I saw the ingredient list. First ingredient: sweet cream cake mix.
Cake, you guys. MY MUFFINS ARE CAKE. Ugh. Forever ruined.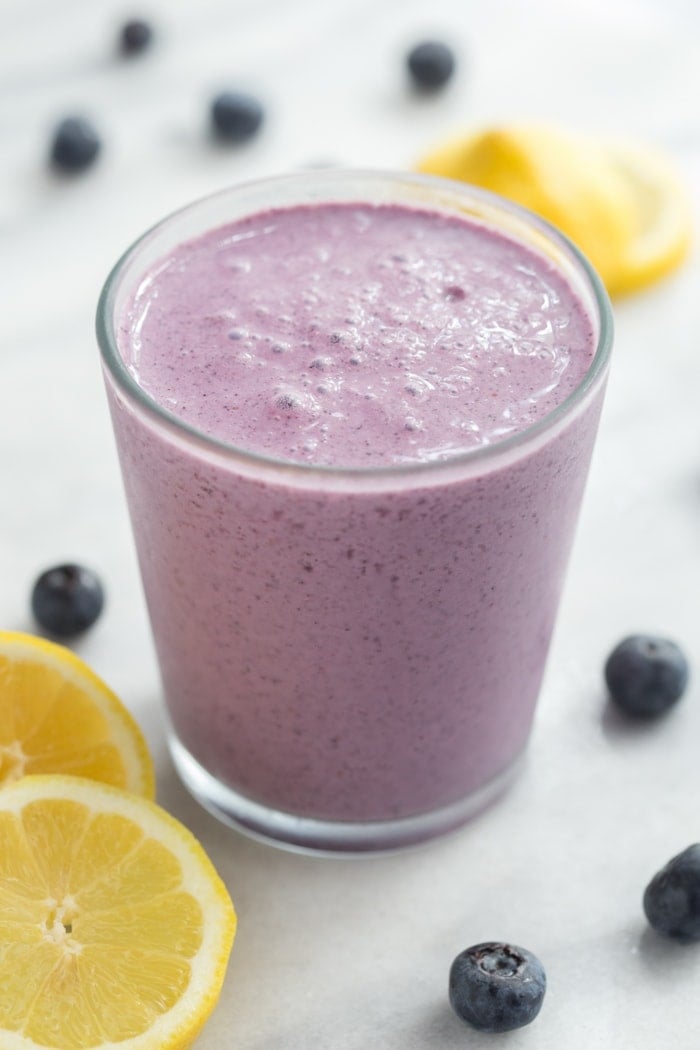 So as time passed and the weather warmed up a bit, I continued to crave those blueberry muffins, and my cravings didn't schedule themselves around when I could justify a muffin for dessert after an already inordinate amount of gravy for dinner (gravy surface irrelevant). Enter.. the blueberry muffin smoothie.
Ooh! Ooh, this is good. What I love about this smoothie is it does taste like a blueberry muffin, and that's thanks to the lemon zest and the vanilla extract. There's loads of blueberries in there, along with some full-fat yogurt (because why would you get anything else? I beg of you, why?!) and a date for good measure–all of which are excellent for pregnancy and being a human in general. It comes together so quickly and definitely sates the craving, whilst leaving you feeling smug about how healthy your breakfast was. Oh, mama.
Blueberries are cheap right now, so get it while the gettin's good, people. You won't regret it.
Blueberry Muffin Smoothie
Sweet, tart blueberries with bright lemon zest and heady vanilla extract combine for the perfect smoothie take on blueberry muffins.
Ingredients
1

cup

organic blueberries

1/2

cup

full-fat plain or vanilla yogurt

1

cup

milk or almond milk

1/2

teaspoon

vanilla extract

1

pinch

big pinch of lemon zest

(about 1/4 teaspoon)

1

piece

pitted date

1

piece

ice
Instructions
Blend all ingredients but the ice in a blender (preferably a high-speed blender like a Vitamix), adding the ice once everything is smooth. Blitz until you no longer hear chunks of ice -- this will prevent the ice from melting at all and keep it ice-cold!
Recipe Notes
Blitz until you no longer hear chunks of ice.
Nutrition Facts
Blueberry Muffin Smoothie
Amount Per Serving (1 g)
Calories 249
Calories from Fat 45
% Daily Value*
Fat 5g8%
Cholesterol 6mg2%
Sodium 408mg18%
Potassium 428mg12%
Carbohydrates 45g15%
Protein 9g18%
Vitamin A 133IU3%
Vitamin C 17mg21%
Calcium 509mg51%
Iron 1mg6%
* Percent Daily Values are based on a 2000 calorie diet.
You might also like..