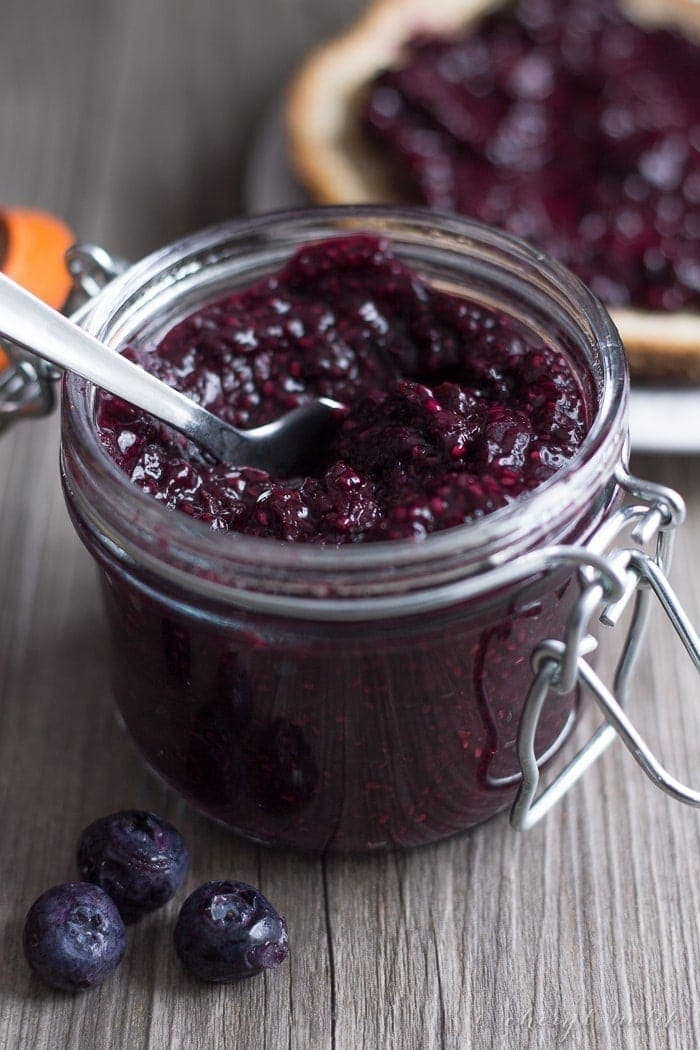 Blueberry season is one of my favorite times of the whole year. Not only are the vibrant little berries O's favorite fruit, but they work so perfectly as an ingredient in just about any and everything–from blueberry scones and muffins, to straight up blueberry pie and cobbler, to now.. blueberry chia jam! Mmmm.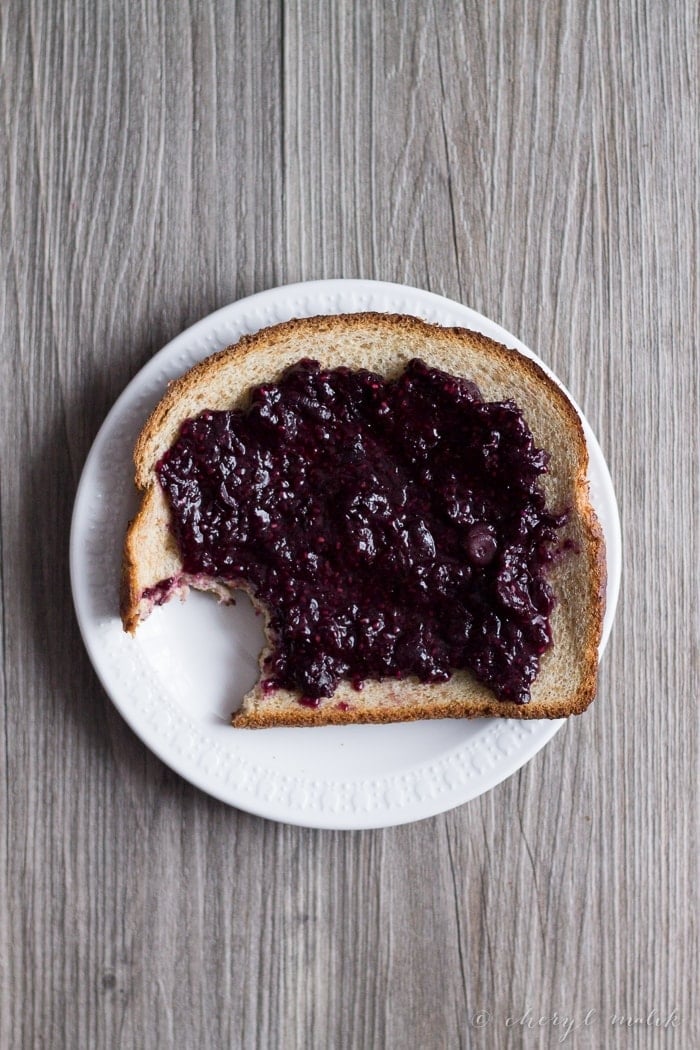 The superfoodiness of chia seeds can't be overstated, it seems, and it's reflected in their chic darling status in the culinary world. Did we all read "Born to Run" (the story of the super-runner Tarahumara people in Mexico who thanks chia seeds for their überathlete status) at the same time? Perhaps… though I'll admit to just digesting the Sparknotes version from my dear hubs. Chia seeds have been lauded in 40 Aprons before, doting on their extremely high levels of fiber, omega-3's, magnesium, phosphorous, calcium, antioxidants, manganese.. Not only that, but they can provided a serious burst of sustained energy, perfect for longer runs and workouts. These little suckers absorb water and expand in your stomach, making you feel fuller longer.. making them a great weight loss aid. Convinced yet? Good.
About that absorbing water part–chia seeds gel the liquids in which they're immersed mixed, which makes them an excellent binding agent, so to speak, for so many different recipes, like raw pies, puddings, and jams!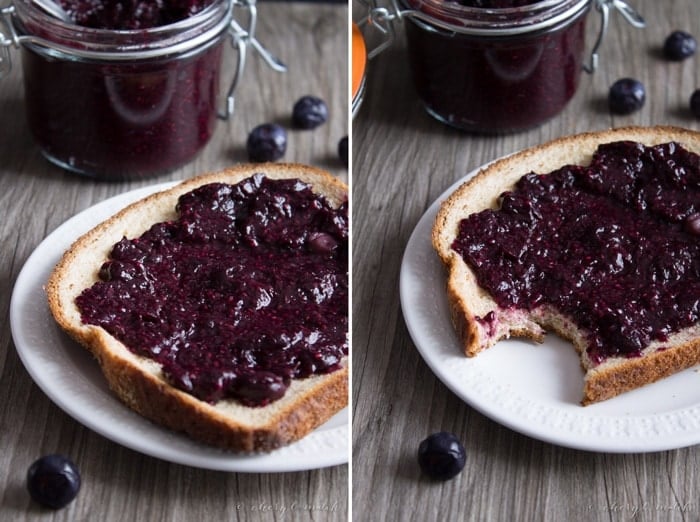 This blueberry chia jam comes together in just about 20 minutes and uses no refined sugars or weird refined powders. It's absolutely loaded with antioxidants, vitamins, and minerals, and the vanilla extract lends an aromatic quality that makes it seem so, so indulgent. The maple antes up the complexity without overtaking the simple sweetness of the blueberries.
Spread it on buttered whole-wheat toast or pancakes in the morning; level up your PB&J with some freshly ground peanut butter and a slathering of blueberry chia jam; even spoon it over some simple vanilla ice cream for a decadent, healthier treat!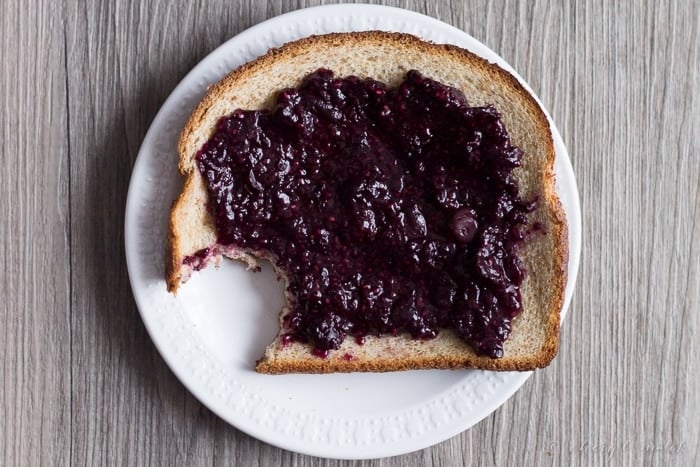 The only problem is… you might have to learn how to can this stuff, so you can enjoy it all year round (without shelling out something like $4.99 per pint in the winter). I'm personally T-E-R-R-I-F-I-E-D of canning, having heard some (certainly) wives' tales about exploding jars during the process, but you might be, you know, more rational than I. In which case… don't forget to invite me over for brunch in January. Just sayin'.
Blueberry Chia Jam
An aromatic, yet sweetly simple blueberry jam - 4 ingredients, 20 minutes, loaded with antioxidants, vitamins, and minerals.
GO PREMIUM - AD FREE + MEAL PLANS
Instructions
Combine blueberries and 3 tablespoons maple syrup in a medium non-stick saucepan over medium heat and bring to a low boil. Reduce heat slightly and simmer about 5 minutes, stirring frequently, or until all berries have turned dark and shiny, like little marbles. Mash with a potato masher, leaving some berries whole for texture.

Stir in chia seeds and reduce heat to low. Let simmer about 15 minutes, stirring frequently, or until thickened--it will continue to thicken in the fridge.

Remove from the heat and stir in the vanilla extract.
Notes
Keep in an airtight container in the fridge; should keep at least a week or two.
Nutrition
Serving:
4
g
Calories:
134
kcal
Carbohydrates:
29
g
Protein:
2
g
Fat:
2
g
Saturated Fat:
1
g
Sodium:
3
mg
Potassium:
144
mg
Fiber:
5
g
Sugar:
20
g
Vitamin A:
60
IU
Vitamin C:
11
mg
Calcium:
61
mg
Iron:
1
mg
Net Carbs:
24
g
You might also like…