These fast food style french fries are made in the air fryer for perfectly crispy but tender french fries! Salty and addictive, they're made with just a small amount of oil, so the whole family can have healthy fries anytime.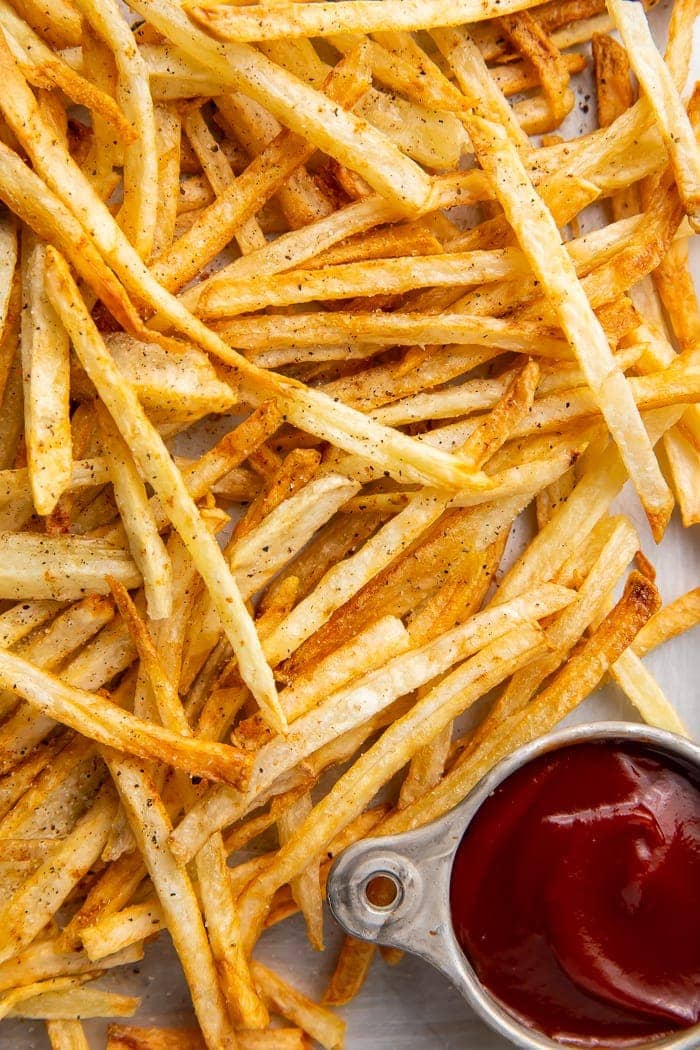 What Makes This Recipe So Good
My son ate these and said, "You went to McDonald's?!" (Thanks, Grandma, for introducing my kids to fast food!) But, seriously, they are just as good as your favorite fast food french fries, but without all the heavy grease and suspect ingredients.
These fries are insanely delicious with a few simple seasonings. Just a little oil gives the fries flavor, but doesn't weigh them down with grease. Salt, pepper, and a little cayenne make these fries super delicious!
This recipe is naturally vegan and Whole30-compliant! Load them up with some Whole30 ketchup, and you are in snacking heaven.
How To Make Fast Food Style French Fries in the Air Fryer
The full recipe & ingredients list are below, but here you'll find a quick overview for making this recipe perfectly, along with useful tips and info!
Cut the potato lengthwise into slices about 3/8 inch thick. Think the size of fast food fries! (See the top tips for tricks on how to cut them!) Put the slices into a large bowl.
Cover the potato slices with water and let them soak for a few minutes. (This helps them release extra starches.)
Drain the potatoes and cover them with boiling water, then let them sit.
After draining the potatoes, transfer the slices onto some paper towels and blot off the excess water. Let them cool, then add them to a bowl and drizzle with oil. Toss the sticks to get them fully coated.
Add the potatoes to a preheated air fryer basket in a single layer. Cook until the tips of the potato slices are a light golden brown, shaking the basket halfway through the cook time. You'll want to check on them and shake some more every couple of minutes so they get nice and crispy!
After cooking, add the fries to a large bowl. Sprinkle with the salt, a pinch of cayenne, and black pepper. Toss them to coat and serve with lots of ketchup!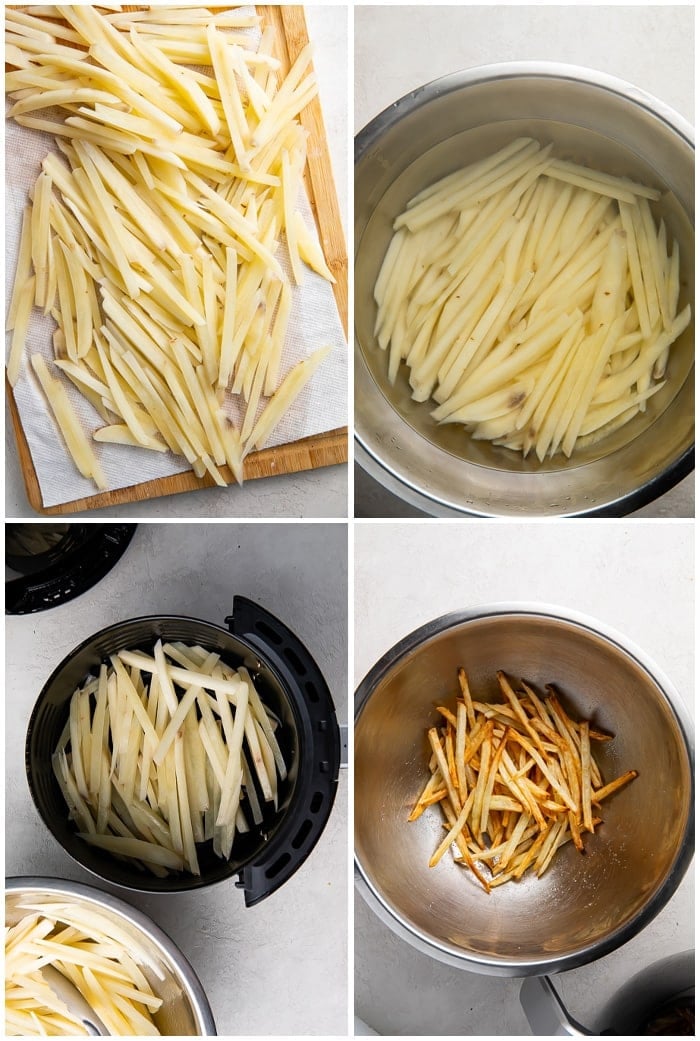 Top Tips For Making
I like to use a mandolin for cutting my potatoes. It makes the whole process very quick and easy, and the fries are perfectly uniform. I like this one that comes with cut-resistant gloves!
This recipe makes about 2 batches of fries. I like to heat my conventional oven to about 250º and place the cooked fries on a baking sheet to keep them warm while I cook each batch, especially if I'm doubling or tripling the recipe.
Want an air fryer but not sure which one to get? I use the Chefman 6.3 Quart Air Fryer, but here are some other great options for air fryers in a variety of sizes.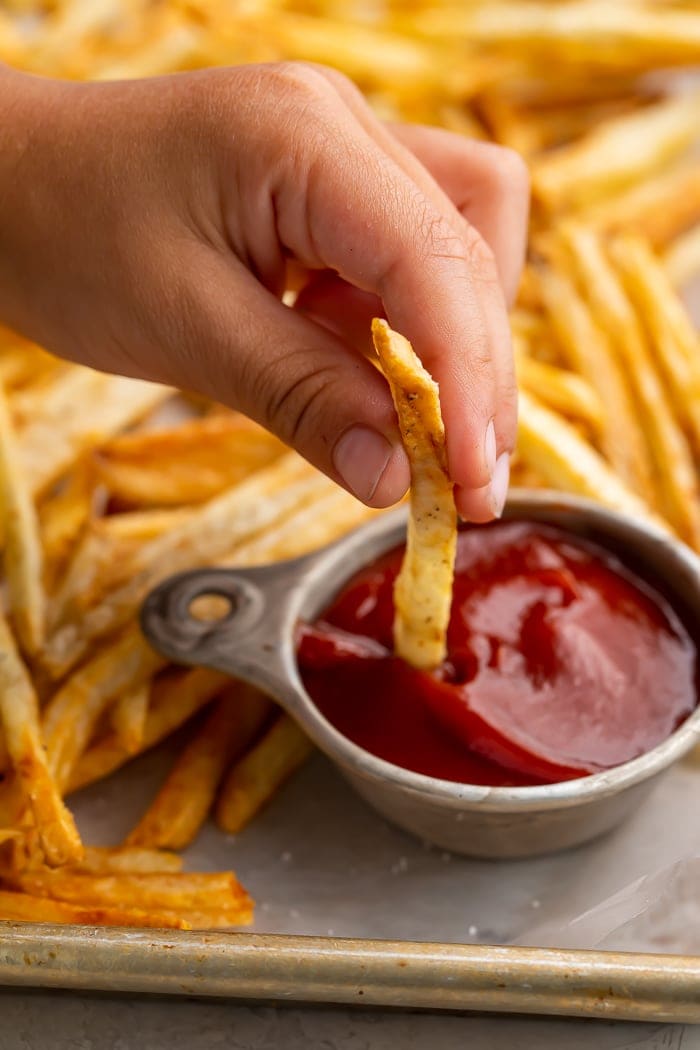 More Air Fryer Recipes
Hey – you've made it this far, and now we're best friends! If you make this recipe, I'd love for you to give it a star rating ★ below. Make sure you follow me on Instagram, Pinterest, and Facebook, too!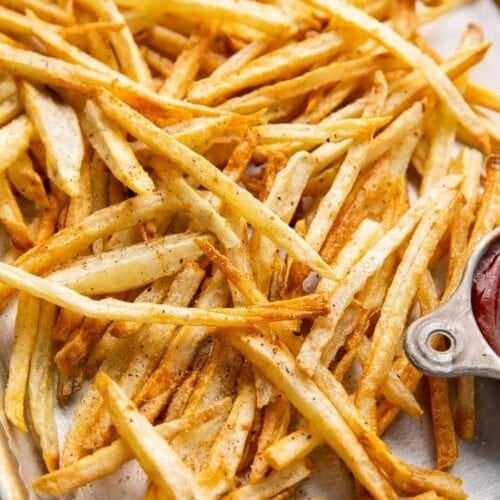 Air Fryer French Fries
These crispy, flavorful fries are just like your fave fast food, but without all the grease!
GO PREMIUM – AD FREE + MEAL PLANS
Ingredients
1

pound

russet potatoes

peeled

3

teaspoons

vegetable oil

1/2

teaspoon

kosher salt

cayenne

pinch

black pepper

to taste
Wine pairings (no wine on Whole30)
Instructions
Cut potatoes lengthwise into slices about 3/8" thick. Slice each section into sticks of the same thickness. Place sticks in large bowl.

Cover potato sticks with water. Let soak 5 minutes.

Drain and cover potatoes with boiling water, a few inches above potatoes. Let sit 10 minutes. Drain potatoes and transfer to paper towels. Blot off excess water and let cool, at least 10 minutes. Transfer to bowl and drizzle with oil. Toss to coat.

Preheat air fryer 380º F. Add potato sticks to air fryer basket in single layer. Cook until tips are light golden brown, between 12-16 minutes. Shake basket midway through cook time, then check and shake every 2-3 minutes until fries are done.

Add fries to large bowl. Sprinkle with salt, cayenne, and pepper to taste. Cook rest of fries in batches.
Notes
Wine pairings
(Remember – no wine on Whole30!)
I recommend buying wine from Scout and Cellar, especially for lower carb or sugar and the health conscious. There's no added sugar to these wines, and they're all much lower in carbs, calories, and sugar. For me, there's no headache or fogginess the next day!
Obviously, if these are for the kids, don't give them wine. (I mean…) But for an adult snack, the saltiness of these fries goes so well with a light white or even a deeper red. I like:
– Sparkling white wine (in cans!), like 14K Bubbly White Wine
– Sauvignon Blanc, like 2019 Adelante Sauvignon Blanc from Chile
– Cabernet Sauvignon, like 2017 Fieldhouse Cabernet Sauvignon from Mendocino County, California
Nutrition
Calories:
115
kcal
Carbohydrates:
20
g
Protein:
2
g
Fat:
3
g
Saturated Fat:
2
g
Sodium:
296
mg
Potassium:
473
mg
Fiber:
1
g
Sugar:
1
g
Vitamin C:
6
mg
Calcium:
15
mg
Iron:
1
mg
Net Carbs:
19
g