Oh! Oh hi there.
Did you miss me?
Yeah, about that. Last weekend my bestest friend had a baby shower in Atlanta, which I couldn't miss! I made a bunch of little cupcakes out of the batter from my apple cider donuts and brought them across a few state lines and had such a blast. Then I headed to Nashville with my dear ol' mom to check out neighborhoods and visit family and shop and eat ramen (basically). Before that? Before that I was rushing like a crazy person to get everything done for my work before I left, which always terrifies O but impresses him that I can mostly give up work as soon as we start traveling.
So… the blog sort of fell by the wayside. But to make it up to you, I'm bringing one of my favorite recipes to your face! Lemongrass tofu.
And if you're from Memphis, you'll join me in a collective groan: Mmmmmmmmmmmmm.
There's this famous little Vietnamese joint in midtown Memphis called Pho Hoa Binh, which offers a cheap and painfully delicious (and equally generous) buffet for lunch. Their lemongrass tofu is known city-wide as being one of the most delicious things, ever, and upon announcement of my attempting to recreate the dish, my notifications exploded and Facebook temporarily shut down due to overload. No? Well, felt like it.
I'm happy to share, too, that I was successful! This recipe is full of aromatic lemongrass and pungent onion and garlic, fiery with Thai bird eye chiles! Seriously, this stuff is hot. You can reduce the amount in the recipe, but I really enjoyed how intense the slow burn was. For reals. I also added more fish sauce, because I dig that kinda thing. If you're vegetarian or vegan, skip the fish sauce and replace it with more soy sauce. Altogether, the recipe came together quickly and was beloved by all.
Just like a lemongrass tofu should be.
Make this!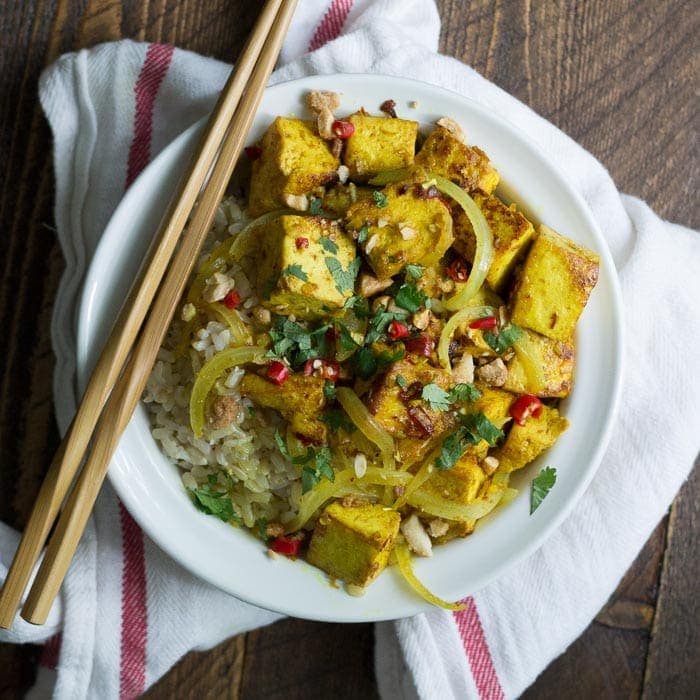 Lemongrass Tofu
Aromatic lemongrass, salty fish sauce, and fiery Thai red chiles combine with tender tofu for a gorgeously flavorful Vietnamese-inspired dish.
Ingredients
1-

pound

block extra-firm or firm tofu

cubed

2

tablespoons

stalks lemongrass

minced fine

2

teaspoons

fish sauce

fish sauce

1

teaspoon

soy sauce

soy sauce

2

teaspoons

Thai red chile

chopped

1/4

teaspoon

red chile flake

dried

1/2

teaspoon

turmeric

ground

2

teaspoons

agave

agave

1

teaspoon

salt

big pinch

2

tablespoons

oil

vegetable oil

1/2

tablespoons

onion

sliced

2

teaspoons

garlic

minced

4

tablespoons

peanuts

chopped

1

tablespoon

chopped cilantro

for garnish

1

tablespoon

steamed brown rice

to serve
Instructions
Combine the lemongrass, fish sauce, soy sauce, chilies, chile flakes, turmeric, agave and salt in a bowl. Add the tofu cubes and turn to coat them evenly. Marinate for 30 minutes.

Heat half of the oil in a medium to large non-stick skillet over moderately high heat. Add the onion and garlic and stir until fragrant, about 1 minute. Reduce the heat to low and cook until the onions are soft, about 3 minutes. Transfer to a plate and keep warm.

Wipe the pan down and heat remaining oil over moderate heat. Add the tofu mixture and, using chopstick or wooden spoons, turn the pieces so they cook evenly, about 4 - 5 minutes. Add the onion mixture and cook, uncovered, for another 2 to 3 minutes. Add half the peanuts.

Remove from the heat and transfer to serving bowls. Garnish with the remaining peanuts and cilantro and serve immediately over steamed brown rice.
Recipe Notes
Garnish with the remaining peanuts and cilantro and serve immediately over steamed brown rice. (Adapted from Epicurious).
Nutrition Facts
Lemongrass Tofu
Amount Per Serving (4 g)
Calories 585
Calories from Fat 180
% Daily Value*
Fat 20g31%
Sodium 915mg40%
Potassium 350mg10%
Carbohydrates 83g28%
Protein 21g42%
Vitamin A 66IU1%
Vitamin C 8mg10%
Calcium 190mg19%
Iron 4mg22%
* Percent Daily Values are based on a 2000 calorie diet.