Whole30 Meal Plan + Shopping List: Week 2

Posted: 01/06/17 Updated: 02/02/23
Click below to download your printable Whole30 meal plan and shopping list for week 2!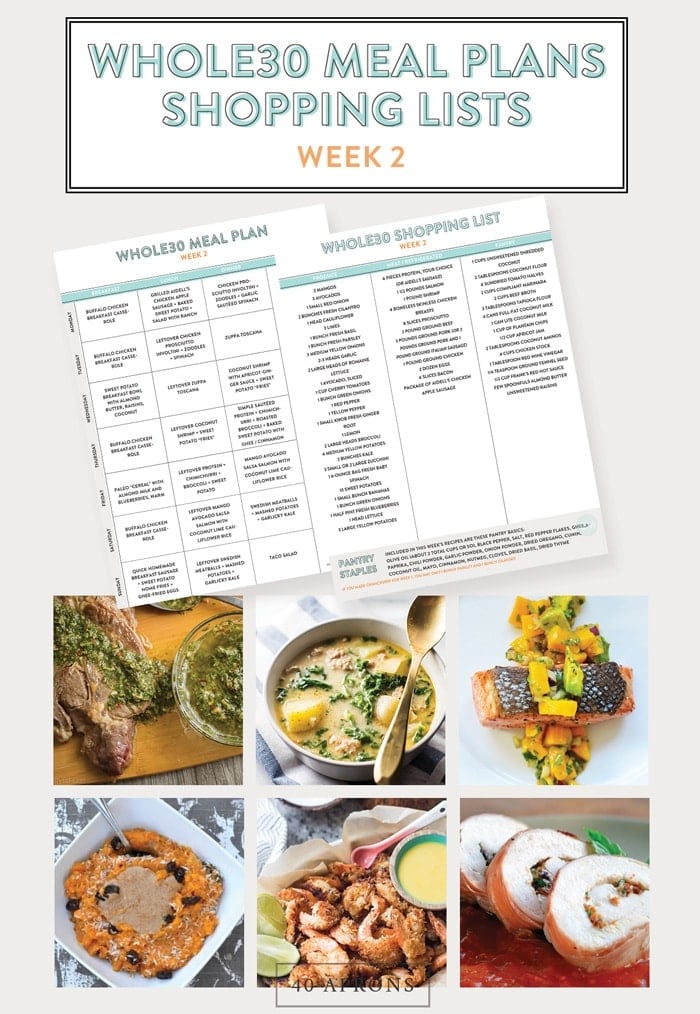 Have you started your Whole30 yet?! Hundreds of us are chugging away with our almond butter and our breakfast egg bakes in the support group, and you should join us! We discover new recipes, ask questions, and most of all share our experience together. That's huge on a Whole30! Click here to request to join, and I'll approve you right away.
The Whole30 can be overwhelming, especially if you're not used to buying for, cooking, and eating a paleo diet. I remember when we first started, and I almost just froze up and quit right away. I was used to subbing out vegan ingredients, but paleo and Whole30? Whoooole different ballgame.
On top of that, it can be complicated to make a plan for every meal, which you basically have to do on a Whole30. Planning is the name of the game, but most of us have, what's the word I'm looking for, jobs? Lives? So planning a Whole30 meal plan isn't always at the top of your list of priorities.
That's why I'm putting together and sharing Whole30 meal plans and shopping lists each week of January, to take the planning out of it and make it as easy as possible to rock your round. This week we're venturing into fruit-for-dinner territory, because you're hella tired of plain ol' chicken thighs by now right? So let's do this thing! This week 2 thing! This Whole30 week 2, day 1, only-15-days-left kinda thing. Only 360-hours-left kinda thing.
Download the Whole30 Meal Plans
If you want to download the Whole30 meal plans, check out my Whole30 Starter Kit, complete with Total Guide to the Whole30 and 4+ weeks of meal plans and shopping lists by clicking here.
Whole30 Week 2 Recipes
Breakfasts
Sweet potato home fries (no sugar, obviously!)
Dinners
Garlic-sauteed spinach (recipe below)
Paleo Swedish meatballs
Paleo mashed potatoes (recipe below)
Garlic Sautéed Spinach
This recipe is very loose, since we make it often!
A spoonful of ghee
A couple cloves of garlic, minced, number depending on how garlicky you like it
Several large handfuls of fresh baby spinach
Salt and pepper, to taste
In a large skillet over medium heat, heat the ghee. Add the garlic and sauté constantly until fragrant, about 30-60 seconds. Be careful – the garlic will burn easily! Add the spinach and use tongs to stir around, wilting. As soon as spinach is wilted, add salt and pepper to taste and serve.
Paleo Mashed Potatoes
Another loose recipe, because I couldn't find one I liked to share with you!
2 large yellow potatoes
Ghee, to taste
Almond or coconut milk, to taste
Salt, to taste
Garlic powder, to taste
Wash and cut the potatoes into cubes. Place in a medium saucepan and cover with cold water. Bring to a boil and boil until fork-tender. Drain and place back into hot pan, but not on the heat. Add ghee, almond or coconut milk, salt, and garlic powder to taste and mash. Fix seasonings and add more milk or ghee to reach desired consistency. Serve.
---
What's on your Whole30 meal plans for week 2?