Whole30 Meal Plans + Shopping Lists: Week 3 (Downloadable)

Posted: 01/13/17 Updated: 05/13/19
Click below to download your printable Whole30 meal plans and shopping list for week 3!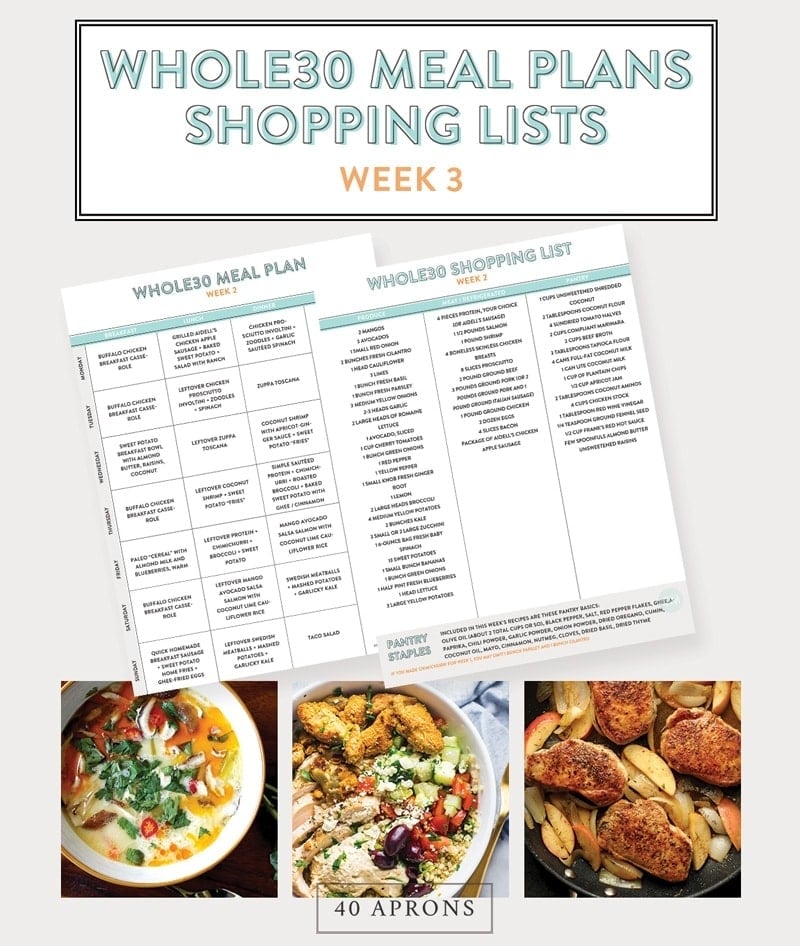 Um… want me to let you in on a little secret?
You're HALFWAY THERE. Not like you're counting or anything, right? Not like you actually downloaded a countdown app on your phone with simple the champagne emoji as the object of the countdown, right? Nah, you're going with this flow, right?
OK, I know by this point, you're probably tired of meat. And eggs. And La Croix. But you're about to get that tiger blood so stick with it. It was at about this point in our first round that we started sleeping wonderfully and I lost my TMJ point. Tons of Whole30ers in our Facebook support group have mentioned reductions in their inflammation and looser-fitting pants already, which is pretty rad, I think.
I've included a few different sort of recipes this week to keep interest up, treat yourself a bit with higher-end recipes, and mix things up with some ethnic flavors.
By the way, some of these recipes are in my Total Guide to the Whole30 free eBook! Have you downloaded it yet?
Download the Whole30 Meal Plans
If you want to download the Whole30 meal plans, check out my Whole30 Starter Kit, complete with Total Guide to the Whole30 and 4+ weeks of meal plans and shopping lists by clicking here.
Whole30 Meal Plans: Week 3 Recipes
Breakfast:
Lunch:
Dinners:
Thai coconut soup but with shrimp. Add the shrimp when you add the coconut milk.
Acorn squash halves (make both acorn squashes and eat as leftovers) but sprinkle lightly with dried ginger.
Saag chicken: sub 1 pound of cooked chicken pieces for the paneer. Marinade the chicken in the spices like you would the paneer, but skip the sautéeing part. Add the chicken in at the same time as is instructed to add the paneer. Sub a can of full-fat coconut milk for the yogurt.
Chicken meatballs with spicy "peanut" sauce over zoodles + fresh cilantro garnish. Double this recipe for leftovers and QUADRUPLE the sauce, for some saucy zoodle magic.
Seared scallops in ginger-blueberry sauce with basil (leave out all the sugar, of course)
Easy apple cider pork chops
Steakhouse steaks, subbing ghee, of course
GREEK GODDESS BOWLS (see directions below)
Crispy artichoke hearts (no aioli)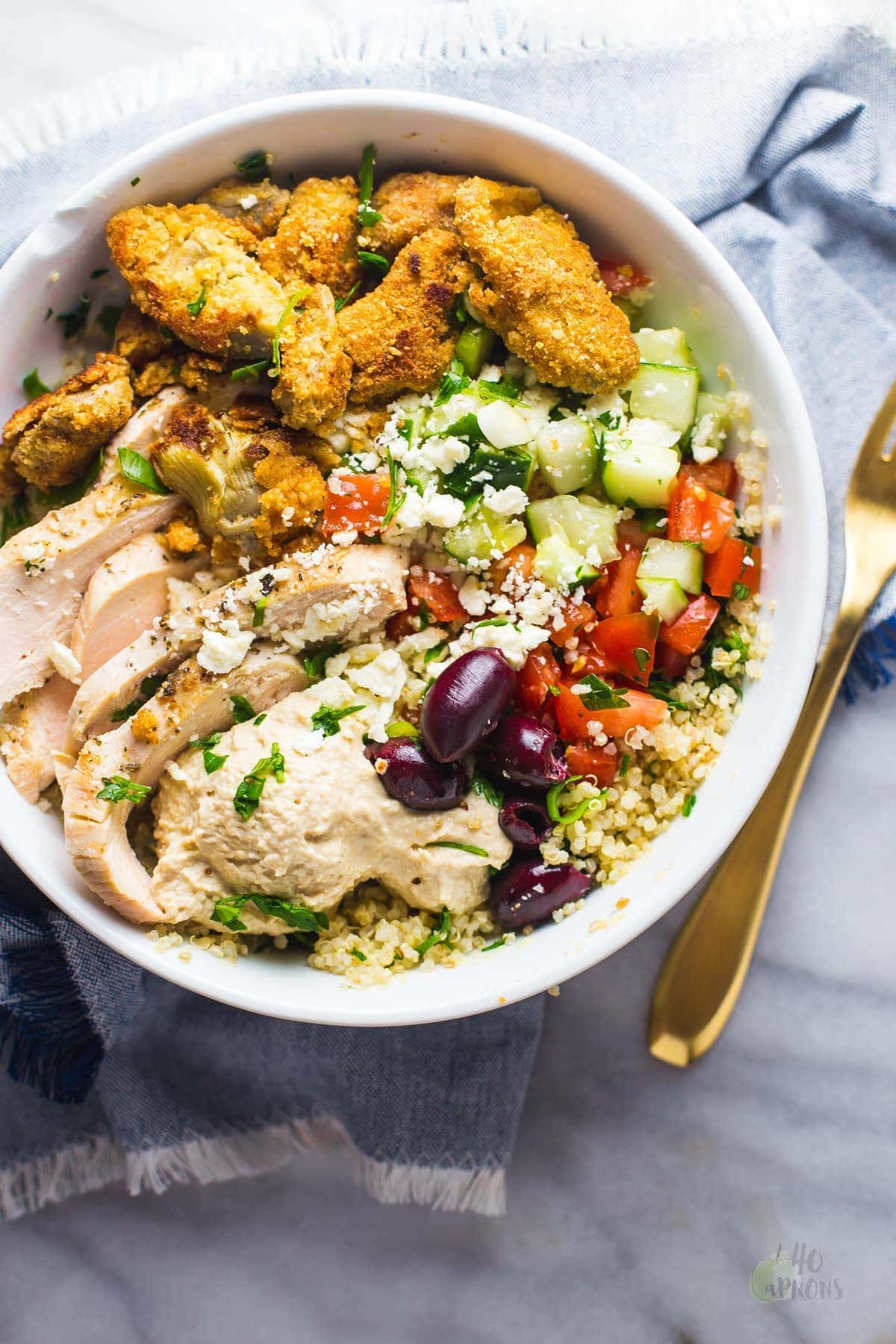 Greek Goddess Bowls
1 batch cauliflower rice tabbouleh
1 batch baba ganoush
1 batch crispy artichoke hearts (no aioli)
1/3 large cucumber, diced
1 Roma tomato, diced
8 soft-boiled eggs
1/2 cup pitted kalamata olives
Prepare bowls: spoon tabbouleh into serving dish first, then place other ingredients in bowl.
Note: Photo included to help inspire your plating! This photo I took is of a NON-Whole30 Greek Goddess bowl, but this Whole30 recipe was inspired by this amazing recipe that I just can't wait to share. Don't go telling Moderator Tom I implied you could have feta or quinoa on a Whole30 ?