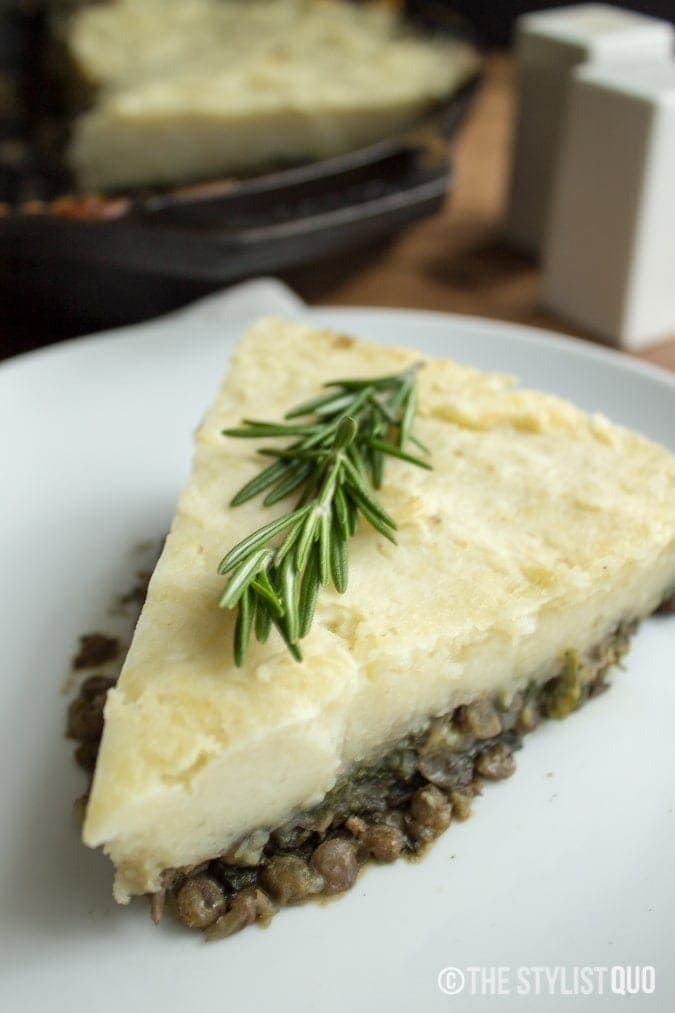 The first time I made this vegan shepherd's pie, it lingered on my meal plan calendar for weeks, procrastinating this health-conscious dish–no doubt inspired by our recent forays into the nutrition documentary stacks of Netflix–in lieu of other, more traditionally satisfying chicken-this or braised-that dishes. When I finally bit the bullet and gathered up the perishable bounty of ingredients I needed to make this vegetarian version of a traditional English dish, I was amazed at the rich, hearty smell that wafted through the kitchen from my oversized skillet.
An aroma I'm still unable to exactly pinpoint, the guts of this shepherd's pie emit the most comforting, savory smell that immediately creates a sense of calmed urgency around the stove. You know–trust–despite its half-finished state, its lack of traditional ground beef, its bevy of veggies, that this one-dish meal will be a satisfying, homey one. You're anxious, yet composed. Confident, yet impatient. Yet patient. Yet impatient.
The heavy-handed helping of vegetables and reliance on depth and flavor pairings (rather than my beloved Old Faithful: butter) makes this a healthy dish, but it doesn't taste that way. Instead, you'll notice how the earthy mushrooms play with the slight, yet deep tartness of the red wine and the can't-put-my-finger-on-it umami, the softness and minerally taste of freshly wilted spinach, the starchy, yet tender texture of the lentils, the full-bodied creaminess of properly mashed potatoes. The addition of fresh rosemary whispers a wintriness and infuses the lentil mixture with a tamed, yet rugged herbaceous quality.
There's nothing "vegetarianny" about this vegetarian shepherd's pie, except, well, the absence of any meat or necessary dairy. There's no soy crumbles or rice milk cheese, no extra firm tofu (drained, pressed, frozen, shredded, then thawed), no kneading vital wheat gluten. It's simply an elegant, yet rustic one-pot dish of hearty comfort food, heavy on the vegetables. It's completely broken up and moved on from its original iteration (and earnestly so–no need to delete the original, meaty shepherd's pie from Facebook, as our heroine simply doesn't care, even after a half a bottle of merlot and the realization that all her friends are married).
Feel free to embed your take on this vegetarian shepherd's pie with any woodsy or robust fall-seasonal herb, like thyme or sage. Or buy a full pack of fresh rosemary and use the rest to make my pan-seared chicken with rosemary vin blanc au beurre. You won't regret it; it's nom to the max. Just like this.
Make it.
Lentil and Mushroom Vegetarian Shepherd's Pie
Hearty, savory shepherd's pie with lentils and mushrooms to take the place of traditional, heavy ground meat! Can easily be made vegan by using vegan margarine and non-dairy milk instead.
Total Time
1
hour
15
minutes
Ingredients
4

large red potatoes

2

tablespoons

butter

1/3

to 1/2 cup milk

Salt to taste

2

tablespoons

butter

1

large onion

, finely chopped

4

cloves

garlic

, minced

8

ounces

cremini

, oyster, or baby bella mushrooms

Two 15-ounce cans lentils

, lightly drained but not rinsed (or about 3 1/2 cups cooked lentils with a little of their cooking liquid)

2

tablespoons

dry red wine

2

tablespoon

soy sauce or Bragg's liquid aminos

1

long sprig fresh rosemary

, cut in half

1/2

teaspoon

dried oregano

1/2

teaspoon

dried basil

1/2

teaspoon

dried parsley

1/2

teaspoon

garlic powder

1/2

teaspoon

dried thyme

Freshly ground pepper to taste

3

tablespoons

cornstarch or arrowroot

8

to 10 ounces baby spinach or arugula leaves

1

cup

panko bread crumbs
Instructions
Preheat oven to 400º.

Wash potatoes and place in a medium saucepan filled with cold water. Place on stove over high heat and bring to a boil. Continue to boil anywhere from 12 - 20 minutes, or until easily pierced with a fork. *You can move ahead with the next steps of the recipe while the potatoes are cooking, especially if you have a proper mise en place setup (every ingredient measured and prepared [chopped, diced, etc.]*. Meanwhile, setup an ice bath--fill a large bowl with ice water, ensuring not all the ice melts. When the potatoes are cooked properly, remove with a slotted spoon and drop into the ice bath. After about a minute or so, remove the skins from the potatoes (they should come off easily after being boiled and shocked in the ice bath) and quarter. In a glass or microwave-safe measuring cup, microwave 2 tablespoons butter and 1/3 cup milk until butter is melted and milk is hot. Pour into potatoes and mash or whip until the desired consistency. Taste and season with salt. Add a bit more milk if you like.

While the potatoes are cooking, you can move ahead. In a large skillet (cast iron or otherwise), melt 2 tablespoons butter over medium heat. Add the onion and sauté until translucent. Then, add in the garlic and mushrooms and sauté, stirring constantly, until the garlic is aromatic, the mushrooms are "sautéed", and the onion is golden.

Add the lentils and their liquid and bring to a gentle simmer. Stir in the wine, soy sauce, rosemary and dried spices. Cook gently for 5 minutes. Combine the cornstarch a small amount of water--just enough to dissolve it--in a small bowl then stir into the lentil mixture.

Add in spinach a bit at a time and cook until just wilted. Remove from the heat, taste, and adjust seasonings. Fish out the fresh rosemary stalk and discard.

Lightly oil a 2-quart (preferably round) casserole dish, two deep-dish pie plates, or ignore if you plan to use your large cast iron skillet that you've been cooking in. If using a separate dish, scatter the breadcrumbs evenly over the oiled bottom. Pour in the lentil mixture, then spread the potatoes evenly over the top. If using two pie plates, divide each mixture evenly between them. If using cast iron skillet, sprinkle the breadcrumbs over the top of the lentil mixture for fun (it's super fun, I promise), or skip that part if you desire. Spread the potatoes over the top of the lentil mixture.

- 35 minutes or until top becomes slightly crusty and golden. If desired, melt a little butter and brush the top of the potatoes with it about 20 minutes into the baking process. When done, remove from the oven and let stand 5 - 10 minutes, then cut into wedges and serve. Yum yum!
5