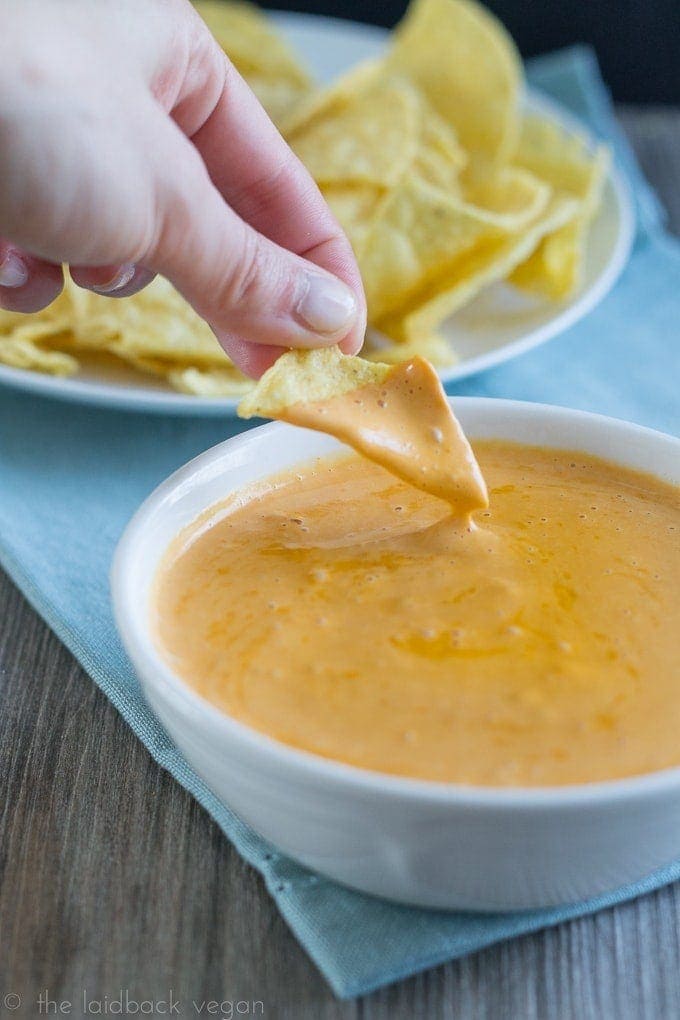 You're a little late for Cinco de Mayo,
you might say.
Why aren't you like other bloggers who publish 25-Margaritas-for-Cinco-de-Mayo posts weeks in advance?,
you might say.
We don't even like vegan nacho cheese sauce,
you might say.
And you'll be wrong, on all counts. Except I really did intend to publish a list of really badass margaritas for Cinco de Mayo and just failed tremendously, what with coming back from Europe and, I don't know, renormalizing? My life's tough.

But vegan nacho cheese sauce is never late. It's always right on time, especially this liquid gold. How many five-dollar bills have you spent on crappy, plutonium-enriched nacho cheese at pre-vegan basketball games and nights out at the movies with people you're really comfortable with? Me, I've spent many. Many five-dollar bills on that siren song of artificial cheese and maximum junk food deliciousness. I even checked the ingredients of common brands when I went vegan, just in case that really wasn't cheese, but alas, there's enough milk protein and cheese-like substances in there to take this guilty pleasure out of rotation for any vegans or paleo..ers.
You might, then, equate this vegan nacho cheese sauce with weirdly "not right"-tasting vegan cheese and pass with a simple, annoyingly polite "no, thank you". But you're misled, my friend! Come back to us. Why?
This stuff is magic.

About a minute in a high-speed blender, and you've nearly got yourself a batch of the finest non-dairy nacho cheese you've ever tasted, I swear it! I'm 100% convinced I could fool any nacho-lovin' dairy-eatin' sucker (or non-sucker, for the sake of my case) with this sauce, it's that good. Not only that.. it's healthy!
What?
I mean, WHAT?!
Cashews, pimentos, nutritional yeast, lemon juice, and some spices. That's it, people. Can I get an amen?
…thank you, you know who you are.

This vegan nacho cheese sauce is ridiculously versatile–it works just as beautifully on steamed veggies or a baked potato, as drenching tortilla chips, layered with sautéed mushrooms and onions, tomatoes, jalapeños. Perfect for dipping–especially with a can of chopped green chiles or jalapeños thrown in there. I bet it'd even kick some booty as a mac and cheese sauce!
If you have a high-speed blender, you'll love the super creamy texture and how easily everything comes together. If you don't have a high-speed blender, get one! Just kidding (not really), but all you have to do is blend the crap out of it and if it's not perfectly smooth, strain the sauce to draw out the wayward little bits of cashew if you want. Either way, it'll be monstrously delicious.
Make this.
Vegan Nacho Cheese Sauce
The astonishingly delicious nacho cheese sauce with absolutely no dairy and all whole foods! A great way for vegans to get B vitamins, this sauce is perfect on pretty much anything.
GO PREMIUM - AD FREE + MEAL PLANS
Ingredients
1

cup

water

2/3

cup

raw cashews

1

2-ounce jar

pimentos

drained

1/2

cup

nutritional yeast flakes

2

tablespoons

fresh lemon juice

1 - 1 ½

teaspoons

salt

or to taste

1/2

teaspoon

onion powder

1

teaspoon

teaspoon garlic powder

1

teaspoon

paprika

1/2

teaspoon

cumin

1

teaspoon

cayenne powder

to taste, optional
Instructions
Combine water and all other ingredients in a Vita-Mix or other blender and blend until completely smooth. If you're using a Vita-Mix, use the "hot soup" setting, and you'll be good to go! Otherwise, transfer mixture to a medium saucepan and whisk constantly over medium-low heat until heated through.

Serve as a dip, drizzle over nachos (think refried black beans, a simple guac, fresh jalapeno slices, homemade salsa, sliced black olives, sautéed mushrooms, diced tomatoes, and thinly sliced red onions..... which is exactly what we had for dinner last night, coincidentally), or burritos.
Notes
*Omit cumin if using for a non-Mexican application (like steamed broccoli, mac and cheese, etc.), unless you just dig the flavor!
Adapted from ShmooedFood.
Nutrition
Serving:
1
serving
Calories:
61
kcal
Carbohydrates:
5
g
Protein:
3
g
Fat:
4
g
Saturated Fat:
1
g
Sodium:
585
mg
Potassium:
122
mg
Fiber:
1
g
Sugar:
1
g
Vitamin A:
332
IU
Vitamin C:
6
mg
Calcium:
3
mg
Iron:
1
mg
Net Carbs:
4
g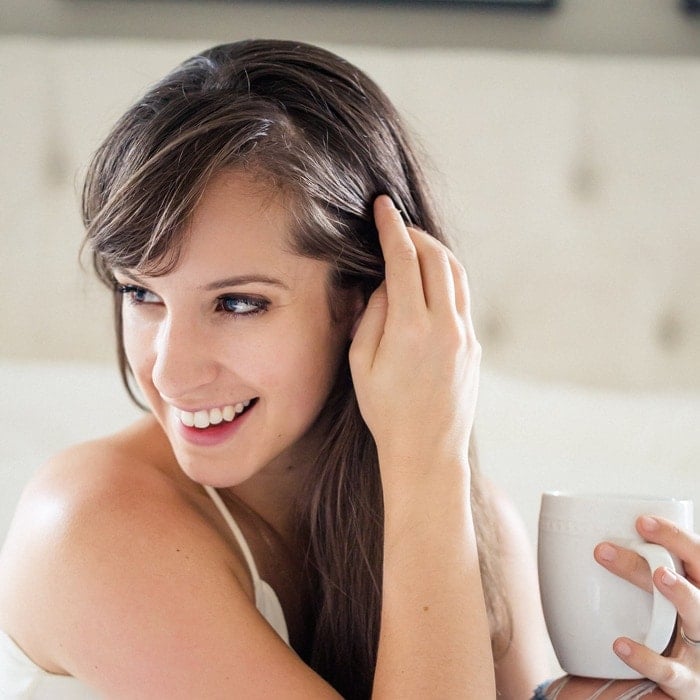 Cheryl Malik is the recipe developer, writer, and photographer behind the healthy, flavorful, family friendly recipes at 40 Aprons. She's been a blogger for 10+ years and is known for her delicious recipes and detailed recipe instructions. Cheryl is a mom of three who lives in Memphis, TN.