How to Make Homemade Kombucha

Posted: 04/30/14 Updated: 01/27/20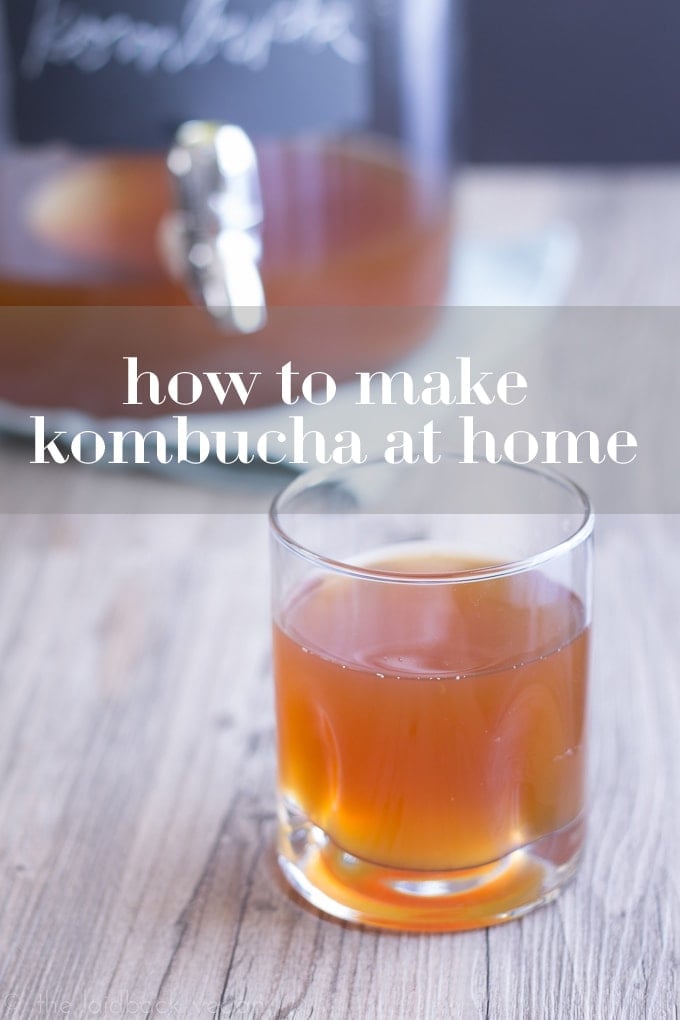 I first mentioned my full-fledged love affair with kombucha a few weeks ago when I shared with you how to grow your own SCOBY using only a few simple, inexpensive ingredients. But which is kombucha.. Stinky fermented tea.. or all-out life elixir?
I'm going with the latter, and I'll tell you why. First of all, people have been brewing this fizzy, tart drink for thousands of years, which pretty much turns every response of mine to a kombucha-is-gross-and-weird-and-whats-the-point into a raised eyebrow and incredulous stare. We've only been taking vitamins (total waste of time, at best, in my opinion, except for maybe that elusive B-vitamin.. thanks to our totally annihilated soils!) and sweating at elliptical machines for a fraction of that time, and yet kombucha is the weird thing? I digress.
According to Food Renegade, a few of the benefits of kombucha are, humbly:
detoxification
joint care
aids digestion and gut health
immunity boosting
Pretty impressive for stinky fermented tea, non? I personally find that it's perfect when I need to debloat or I've just eaten too much–it helps flatten the tummy and get your entire system feeling and working great.
So now that you're totally sold on kombucha, go buy some! I'll wait.
….doot da doot da doo…
As you're now standing in front of the refrigerated section at Whole Foods, gawking at the $6.00 a bottle they're asking for this miracle drink, you're hopefully totally sold on making the stuff yourself. Would you believe that you can make an entire gallon for about a dollar more than 1 bottle at Whole Foods.. and that's if you don't already have a SCOBY? A miracle for a miracle drink, I tell ya.
And it's beyond simple! Especially if you already have a SCOBY. If you don't, and you don't have any kombucha-brewing friends who can give you an extra, check out my post on growing one yourself. It'll save you money, and you'll be super proud of your little creepy jellyfish mushroom baby. That creepy jellyfish mushroom baby's about to brew you a whoooole helluvalot of 'bucha.
What, not gonna catch on? I feel ya, Gretchen.
Anyway, all you need is a SCOBY, some already-brewed kombucha (which you can have from your homemade SCOBY, can get from some brewer friends, or might have to buy Organic Kombucha Scoby – Live Culture if you ordered a SCOBY) some tea, some sugar, a clean food-grade glass gallon jar, a clean towel, a rubber band, and some patience! Let's do this, people!

How to brew kombucha at home
What you need:
-12 cups distilled water (water that's been treated or has any chlorine can hurt the growth of your kombucha.. but if your tap water is "good", then just use that.. I do!)
– SCOBY (grow your own, ask a kombucha-brewing friend for an extra, or Organic Kombucha Scoby – Live Culture
order one)
– 1-2 cups kombucha as starter liquid
– 1 gallon food-grade glass container with a wide mouth, very clean (but completely 100% free of soap.. soap is a kombucha killer! Try hot water instead)
– 1/4 cup loose black tea (you can use green, too, just no flavored teas–the oils can be kombucha killers! Kombucha's so dern fragile)
– 1 cup organic granulated sugar
– 1 clean cloth that will fit over the mouth of the jar
– rubber band or string to tie cloth
What you do:
1. Bring the 12 cups water to boil. Stir in loose tea and sugar and remove from heat. Stir until sugar is dissolved. Allow to cool to room temperature.
2. Strain tea into clean gallon jar. Add kombucha starter liquid and SCOBY. Cover with the clean cloth and use a rubber band or string to secure around the lip of the mouth of the jar.
3. Place jar in a dark, warm-ish area of your house where it will be undisturbed. I put mine above the stove in a cabinet. It brews quite quickly and is totally undisturbed there!
4. After about 5-6 days, start tasting your kombucha, It should be a bit fizzy and tart, but without being TOO tart that it's like vinegar. If it's still really sweet, let it keep brewing for a day, then test again. Keep testing until you're satisfied with the taste.
5. Remove your SCOBY (If you don't remove your SCOBY, it will keep brewing and eating the sugar, leaving you with a very acidic kombucha) and 1-2 cups of kombucha to use as starter liquid for your next batch. There will be a "baby" SCOBY underneath your original SCOBY, which grew during the brewing process. Give it to a friend or keep it in kombucha in the fridge (the SCOBY and kombucha will not work well in the fridge, but you don't need them to do anything as they relax in their SCOBY "hotel"), for use next time. You can get to the point where you're always brewing when you have a couple SCOBYs. Enjoy your remaining, freshly brewed kombucha!
Kombucha ideas
– Cocktails! Let's be honest.. vodka is AWESOME in kombucha. I stir a shot of good, distilled vodka into a glass of kombucha and flavor with a couple shots of lambic (fruit-flavored beers). Probably my favorite cocktail ever. Kombucha aids in the processing of the liver, but take it easy!
– Homemade healthy kombucha fruit snacks. Um, yes.
– Smoothies. Instead of water, coconut water, or an alt-milk, try adding kombucha to your fruit smoothies for some tummy flattening badassness. Coming soon is my favorite strawberry banana kombucha smoothie!
– Chia frescas. Recipe coming soon!
– Flavored kombucha. Try adding fresh fruit or juices to your kombucha after it's completed its fermentation process. Check out the mini-primer on ratios of flavored kombucha from CulturesforHealth.com:
If flavoring with fresh, frozen, or dried fruit, we recommend starting with 10-30% fruit and 70-90% Kombucha. Keep in mind that dried fruit often yields less flavor than fresh or frozen fruit.
If flavoring with juice, we recommend starting with 10-20% juice and 80-90% Kombucha.
What's your favorite kombucha flavor? Have you ever tried it?