Keto peanut butter cups are easy to make and satisfy that chocolate craving on a super low carb diet. This real deal Reese's copycat recipe uses only 3 ingredients and takes about 10 minutes to make. They're a keto favorite!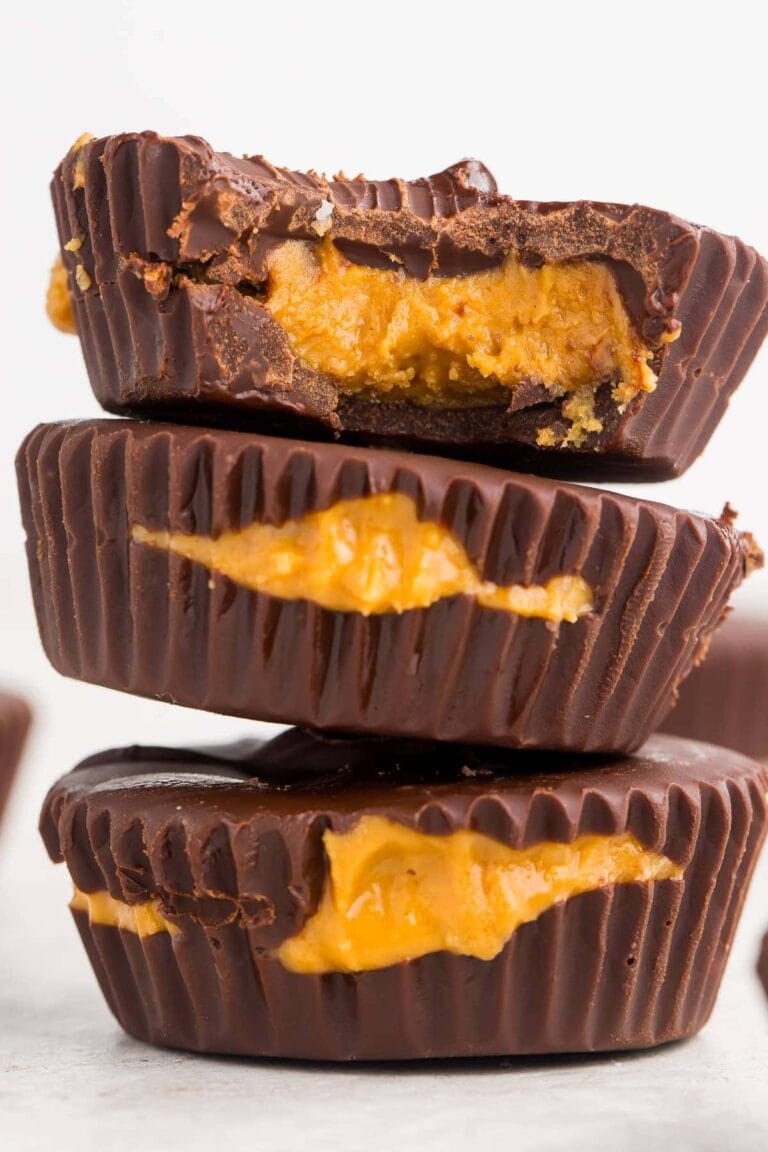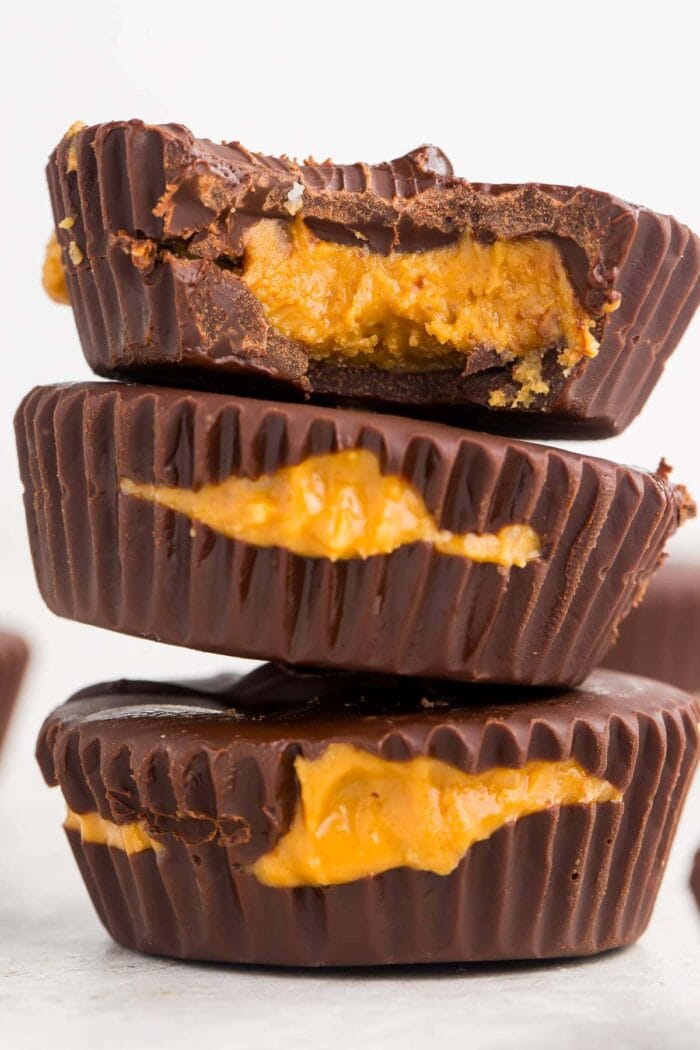 What Makes This Recipe So Good
These low-carb peanut butter cups are every bit as good as traditional Reese's Peanut Butter Cups, without all the carbs and added sugar!
Some variations mix coconut oil into the chocolate, but the oil changes the flavor just enough that the cups don't taste quite right. They're good, sure, but if you're going for an authentic Reese's copycat, they're a little off. This recipe, on the other hand, is just chocolate, peanut butter, and erythritol, so the flavors are perfect.
"Can't I just buy sugar-free Reese's cups?" Well, you can, BUT! They contain maltitol – a sugar substitute that is really not great for you. Maltitol can cause a lot of stomach distress, like bloating and diarrhea. The glycemic index of maltitol is almost as high as regular sugar, so it's actually not a keto-friendly sugar substitute, even though it's technically low carb. The 40 Aprons recipe, though, is completely keto-friendly!
Keto Peanut Butter Cups Ingredients
Chocolate – Be sure to use sugar-free/low-carb chocolate chips, to keep the carb count as low as possible. I like to use Lily's Milk Chocolate Chips for this recipe to make it as close to traditional Reese's cups as I can get. A serving of Lily's chips only has 1g of net carbs!

Peanut Butter – If you've ever checked the labels on peanut butters, you know the macros are all over the place and completely dependent on the brand. Look for peanut butters that have the fewest ingredients – try to find ones that only use peanuts and maybe salt if you can. Avoid "low" or "reduced fat" labels, as those usually have added sugar to make up for the lack of fat. Smucker's Natural Creamy Peanut Butter is a great option, at only 4g net carbs per serving.
How to Make Keto Peanut Butter Cups
The full recipe & ingredients list are below, but here you'll find a quick overview for making this recipe perfectly, along with useful tips and info!
Line a cupcake pan with cupcake liners, then fill each liner partway with a little melted chocolate. Layer the peanut butter/erythritol mixture on top of the chocolate, then pour a little more melted chocolate on top of the peanut butter.

Once they're assembled, refrigerate the peanut butter cups for an hour, or until the chocolate is hardened.
Chef's Tips
Sifting the powdered erythritol is super important – don't skip that step! If you don't sift it, the erythritol will clump, and the consistency of your keto peanut butter cup filling will be all wrong.
To reduce the chances of the peanut butter cups sticking to the cupcake liners, use parchment paper liners or silicone liners.
For an extra punch, try sprinkling a little sea salt on top of your peanut butter cups before you put them in the refrigerator. Salt wakes up your taste buds and enhances the sweet flavors in these treats. Don't go overboard, though – too much salt will dampen the sweetness.
Keep the peanut butter cups refrigerated until you're ready to eat them. They'll soften if left at room temperature too long, and while they'll still be delicious if they soften, they'll be messy.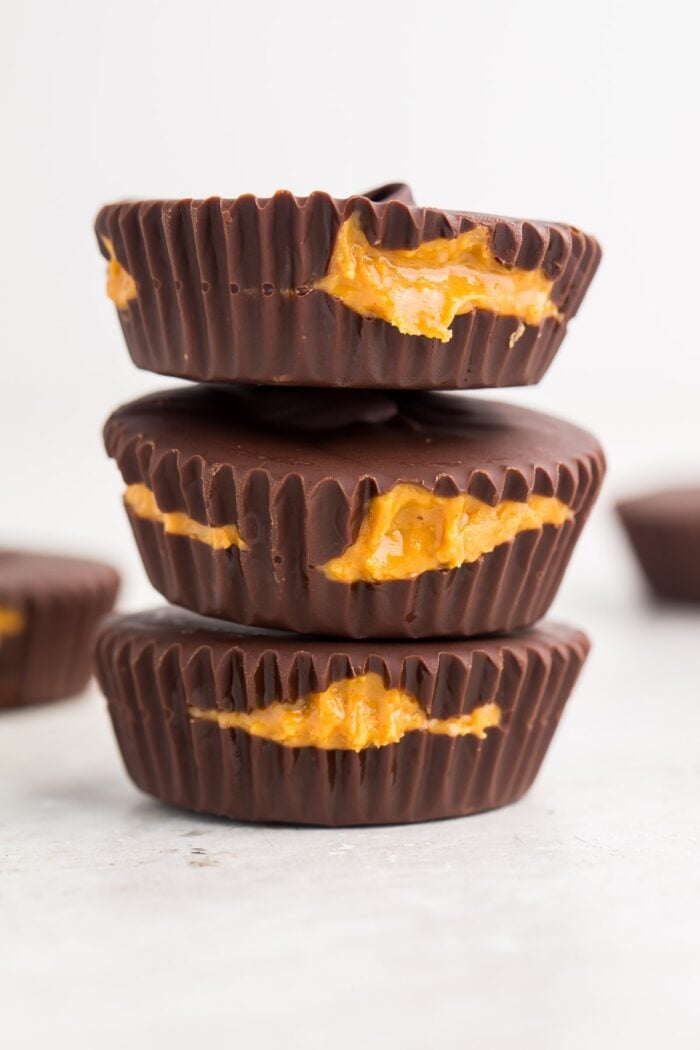 More Amazing Keto Desserts
Hey – you've made it this far, and now we're best friends! If you make this recipe, I'd love for you to give it a star rating ★ below. Make sure you follow me on Instagram, Pinterest, and Facebook, too!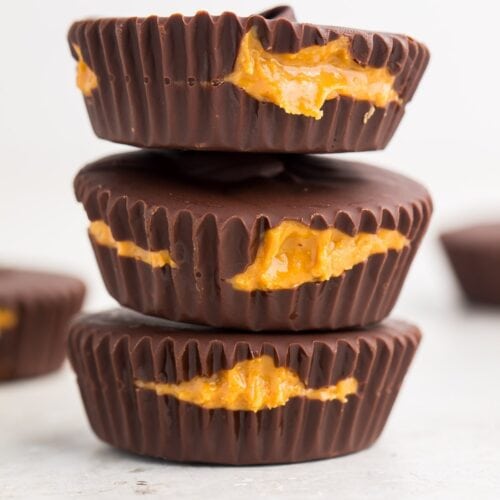 Keto Peanut Butter Cups
Keto peanut butter cups are easy to make and satisfy that chocolate craving on a super low carb diet. This real deal Reese's copycat recipe uses only 3 ingredients and takes about 10 minutes to make. They're a keto favorite!
GO PREMIUM – AD FREE + MEAL PLANS
Equipment
Cupcake pan

Cupcake liners

Sifter
Ingredients
3

tablespoons

powdered erythritol or Swerve Confectioners'

sifted

½

cup

creamy peanut butter

1 ¼

cup

sugar-free/low-carb chocolate

melted, approximately 9 ounces of Lily's dark chocolate chips
Instructions
Prepare a cupcake tin with 6 cupcake liners.

Stir peanut butter and powdered erythritol together until smooth.

Spread 1 to 2 tablespoons of chocolate in bottom of each cupcake liner.

Dollop 1 to 2 tablespoons of peanut butter mixture on top of chocolate.

Cover each dollop of peanut butter with more chocolate and smooth.

Refrigerate for one hour or until chocolate has hardened.
Notes
It's very important to sift the powdered erythritol, otherwise it will clump and you'll end up with the wrong consistency for your peanut butter filling.
Recipe yields 6 peanut butter cups. Nutritional values shown apply to 1 peanut butter cup. Values were calculated using Swerve Confectioners' and Smucker's Natural Creamy Peanut Butter. Macros will vary depending on the specific brands of ingredients used.
Nutrition
Serving:
1
peanut butter cup
Calories:
292
kcal
Carbohydrates:
35
g
Protein:
8
g
Fat:
23
g
Saturated Fat:
10
g
Trans Fat:
1
g
Cholesterol:
1
mg
Sodium:
73
mg
Potassium:
404
mg
Fiber:
17
g
Sugar:
1
g
Calcium:
1
mg
Iron:
1
mg
Erythritol:
12
g
Net Carbs:
6
g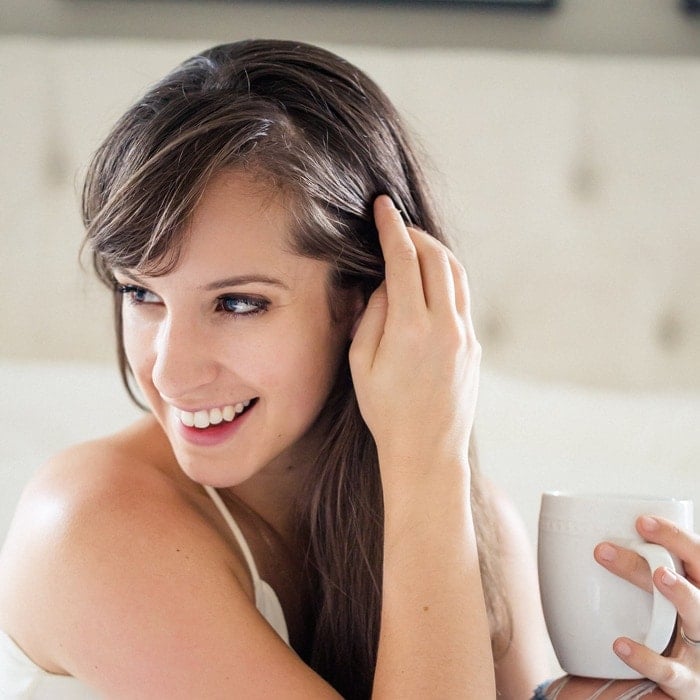 Cheryl Malik is the recipe developer, writer, and photographer behind the healthy, flavorful, family friendly recipes at 40 Aprons. She's been a blogger for 10+ years and is known for her delicious recipes and detailed recipe instructions. Cheryl is a mom of three who lives in Memphis, TN.