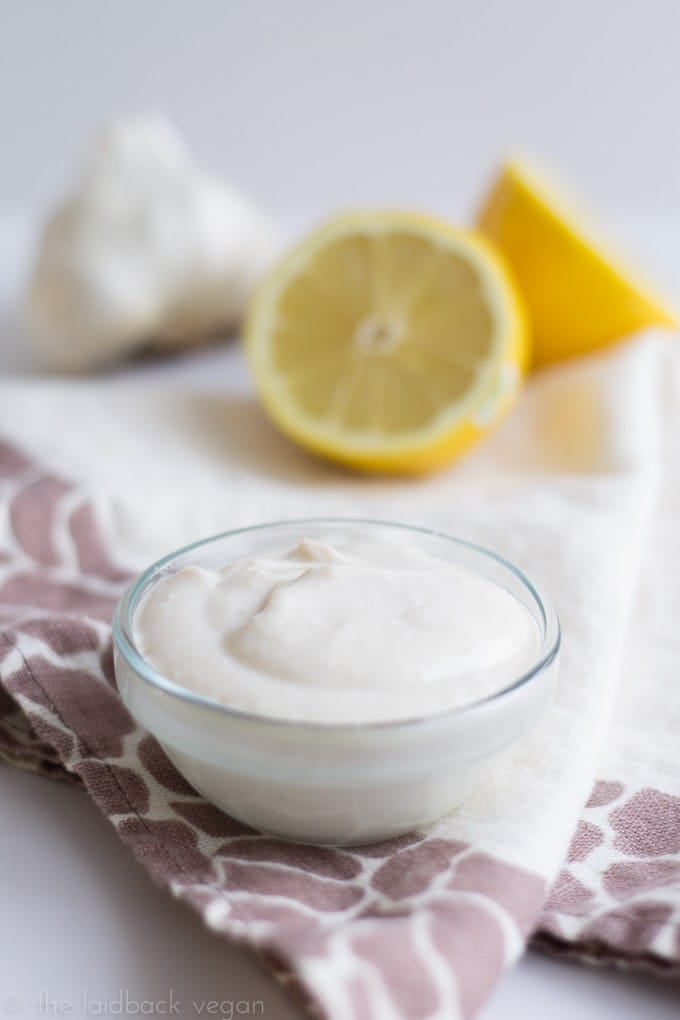 There are certain vegans out there who crave bright, acidic vinaigrettes, begging for their salads to be drenched in a naturally vegan dressing. There are other vegans who eat tofu "chicken" nuggets naked, needing no pool of dipping sauce, or being satisfied with another "naturally vegan" dip, like organic ketchup or spicy brown mustard. There are other vegans still who soak and blend cashews each time they need a creamy touch to the lemon-garlic sauce adorning their kale-and-seitan bowls, perfectly planning and scheduling this long-term endeavor.
I am not one of them.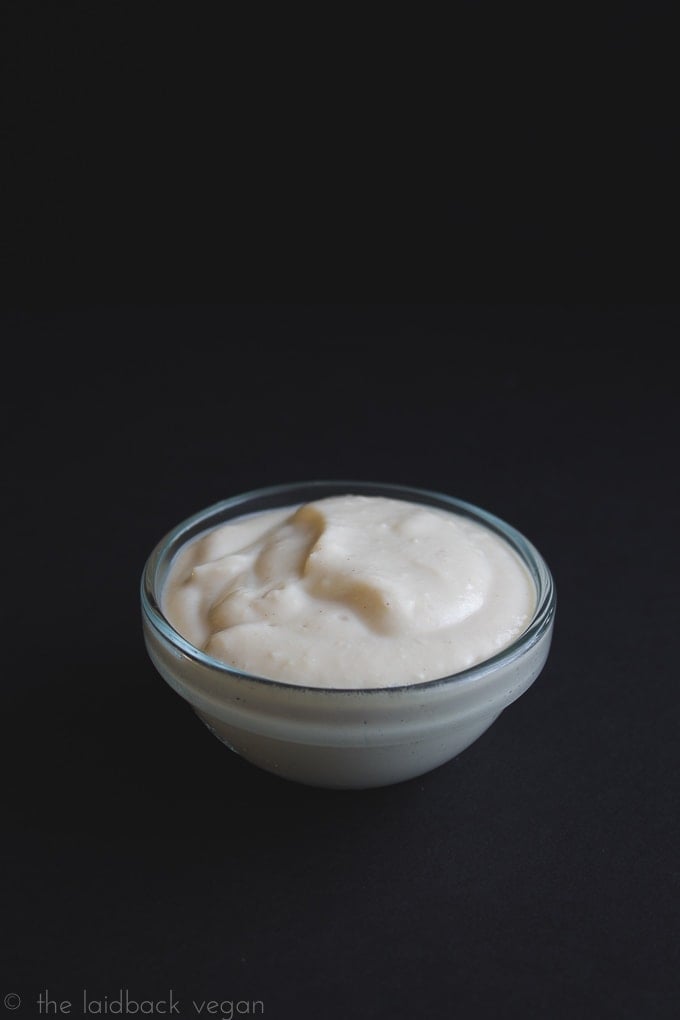 When we visited the Netherlands when I had just turned fifteen, there was a moment of simultaneous enlightenment and gloat. My ketchup-loving family had to pay for little packets of the sweet, red dip, whereas mayonnaise flowed from the taps like the fountain of youth, pooling in the creases of wax paper sandwich wrappers for dipping french fries.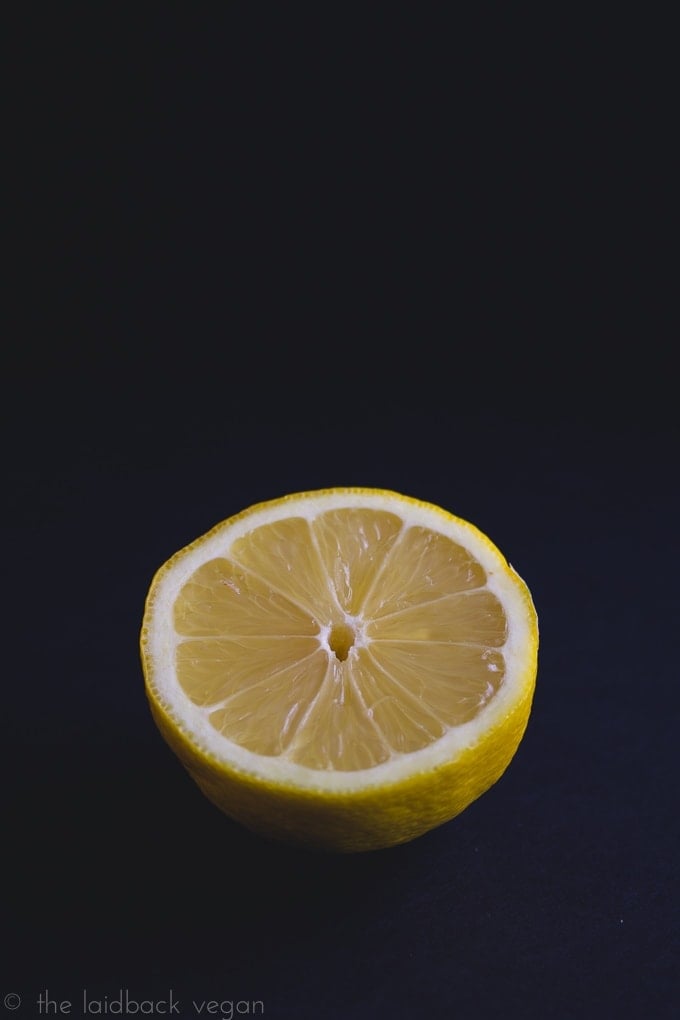 "Ha!" I exclaimed, finally smug. "I told you I'm not weird for liking mayonnaise, or coating my fries in it. This stuff's has been around for ages, and you are the weirdos. And the grossies. The weird gross weirdo-grossies". (I was fifteen, so I didn't say "shit" to my family [yet], but there was most definitely some puerile name-calling.
I said all that to say this: I freaking love mayonnaise, and ranch dressing, and honey mustard ("honey" mustard, these days), and chipotle aioli, and all things creamy and tangy and right in the world. I deeply resent that at [non-vegan] restaurants I must default to overly-vinegared dressings I attempt to order a vegan salad  and that I'm stuck with barbecue sauce for my dipping practice. But I also dislike paying $23.99 for a bottle of Veganaise.

OK, so that might be a slight exaggeration, but this tofu mayo is really a godsend. It's creamy and tangy to your own tastes, but it's oil-free, making that chipotle aioli or vegan ranch dressing totally guilt-free. Because it's lacking heaps of canola oil, it doesn't taste quite like the jiggly jarred stuff, but it works beautifully in recipes or as a dip.
This isn't even much of a recipe! It's more like, "here's a thing and there's a thing, put them together et voilà" but it's so worth having in your back pocket. I used it to make a sriracha mayo dip for some tofu "chicken" nuggets (recipe coming soon!) and as a base for a mind-blowing lemon-garlic sauce for our, yes, kale-seitan earth bowls, loaded with sautéed zucchini and hummus. I originally made the recipe many, many (, MANY) moons ago, stirred in a bit of garlic powder to an ungarlicked batch, and used it as a dip for some baked sweet potato fries.
Make this. It's so yum, and such a great beginning to any number of creamy vegan dishes.
Tofu Mayonnaise (Vegan)
A creamy, tangy "mayonnaise" made from just a few simple ingredients. A fabulous replacement for non-vegan mayo in recipes.
GO PREMIUM - AD FREE + MEAL PLANS
Ingredients
12

oz

silken tofu

like Mori-nu, firm, excess water drained

juice of 1/2-1 lemon

1

clove

garlic

if you prefer a less pungent, spicy garlic flavor, use garlic powder to taste after mayo is blended, minced, optional

1

teaspoon

salt

to taste

1

tbsp

splash unflavored non-dairy milk

optional

1

tbsp

other optional ingredients: Dijon mustard

to taste, start with about 1/2 teaspoon
Instructions
Blend tofu and garlic (and optional Dijon mustard) in blender until smooth. Add lemon juice, to taste, and blend. Add non-dairy milk your desired consistency. Season with salt to taste.
Notes
Add non-dairy milk your desired consistency.
Nutrition
Serving:
4
g
Calories:
78
kcal
Carbohydrates:
3
g
Protein:
8
g
Fat:
4
g
Saturated Fat:
1
g
Sodium:
629
mg
Fiber:
1
g
Sugar:
1
g
Vitamin A:
15
IU
Vitamin C:
3
mg
Calcium:
112
mg
Iron:
1
mg
Net Carbs:
2
g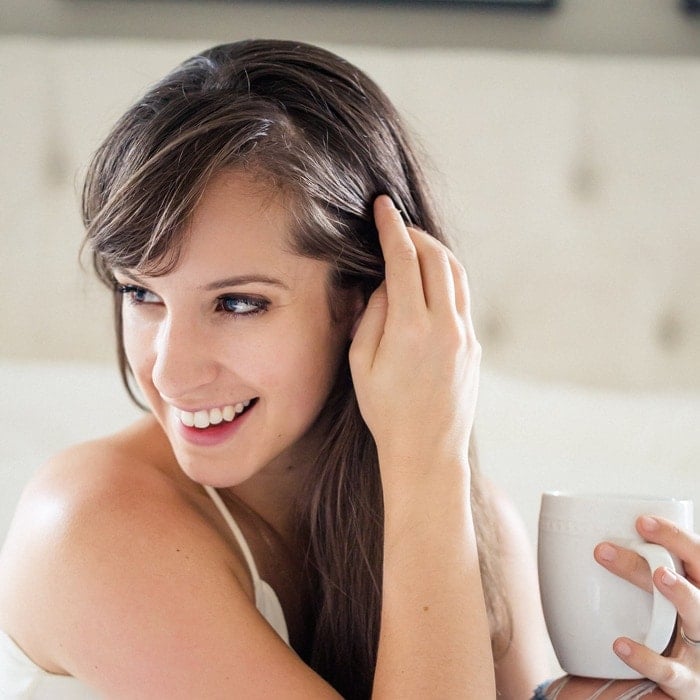 Cheryl Malik is the recipe developer, writer, and photographer behind the healthy, flavorful, family friendly recipes at 40 Aprons. She's been a blogger for 10+ years and is known for her delicious recipes and detailed recipe instructions. Cheryl is a mom of three who lives in Memphis, TN.