5 Air Fryers We Love

Posted: 07/04/20 Updated: 05/31/23
Want to buy an air fryer but don't know where to even start? We've taken all the guesswork out of shopping with a list of 5 of our favorite air fryers.
Please note that if you purchase a product from one of our affiliate links, we will earn a small commission. However, each product review is our own opinion.
1. Ninja 4 Quart Air Fryer – $99.99
This Ninja air fryer is awesome if you have just a couple mouths to feed. With a ton of included accessories, an easy digital display, and lots of features, it's the perfect option for couples, making leftovers, or making snacks for the kids. However, one of the limitations is that the degree options are only available in 15º increments, so if you're making a recipe that calls for 390º, for instance, you'll need to decide whether to go high or low.
Pros: Easy to use, lots of accessories, relatively inexpensive, easy to clean
Cons: Degrees only change in 15 increments, not good for cooking large amounts.
2. Dash 2.6 Quart Air Fryer – $59.99
This adorable little air fryer is perfect if you're cooking for just one or two or are tight on space. While this air fryer is great if you're a cooking novice or just want to be able to whip up some quick, small recipes, it only reaches 400º F. The lack of display can also be less than ideal if you're looking for more features or a digital screen.
Pros: Variety of colors, inexpensive, compact, easy to clean
Cons: Not good for large recipes, knob can be confusing
3. Chefman 6.3 Quart Air Fryer – $189.99
This is the air fryer yours truly uses! While a little bit higher on the price point end, this air fryer is absolutely a dream. With a rotisserie, trays, and a ton of room inside, this is an amazing air fryer for families or if you do a lot of entertaining.
Pros: Big size, tons of accessories, easy to read display
Cons: No basket, can be initially confusing to use
4. Cuisinart Toaster Oven Air Fryer – $159.99
This large toaster oven version is another great option for seasoned chefs or those making large amounts of food. It's easy to use and perfect if you like an air fryer with trays. It also includes a small basket, which is perfect for cooking smaller items like fries or veggies. However, this air fryer does cook very quickly, so be sure to keep an eye on your food when getting used to it.
Pros: Trays and basket for a multitude of recipes, large size
Cons: Can be difficult to clean, reports of knobs falling off air fryer (we didn't have this problem), can cook too quickly
5. GoWISE 2.75 Quart Air Fryer – $59.99 and up
This air fryer is another great start option. Slightly bigger than the Dash, it is good for making one or two servings, and it has a digital display that may be easier for some than using a knob. It also comes in an array of really cute colors, like mint, pink, yellow, and red, so it's perfect if you like coordinating appliances! However, it can be a little small and too simple for cooks who like to make large, complex recipes.
Pros: Inexpensive, easy to use, available in several colors, easy to clean
Cons: Not many features, not good for large recipes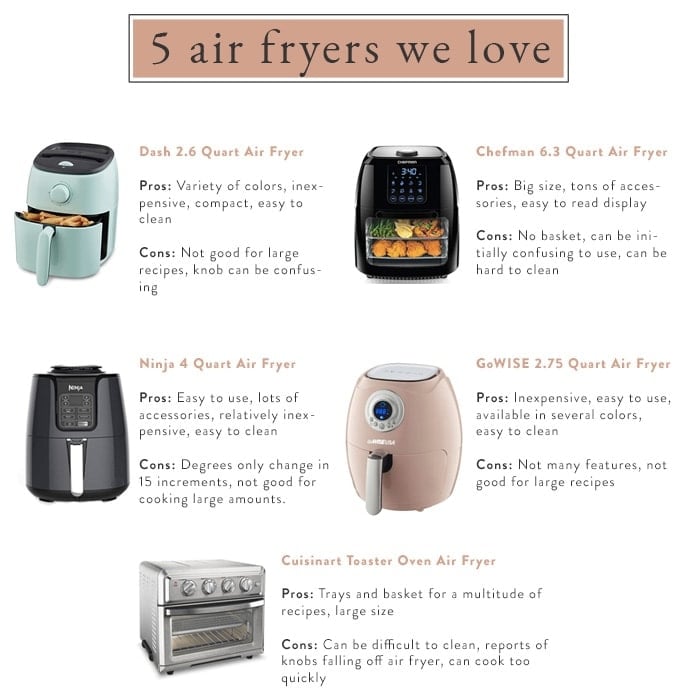 More Roundups & Reviews