Strawberries and Cream Smoothie

Posted: 04/24/15 Updated: 05/18/20

I should probably open this blog by cooing over how simple and delicious this smoothie is, with really just three ingredients and a powerfully fresh and indulgent taste. But instead, I'm going to complain about how hard it is to properly open a brown coconut.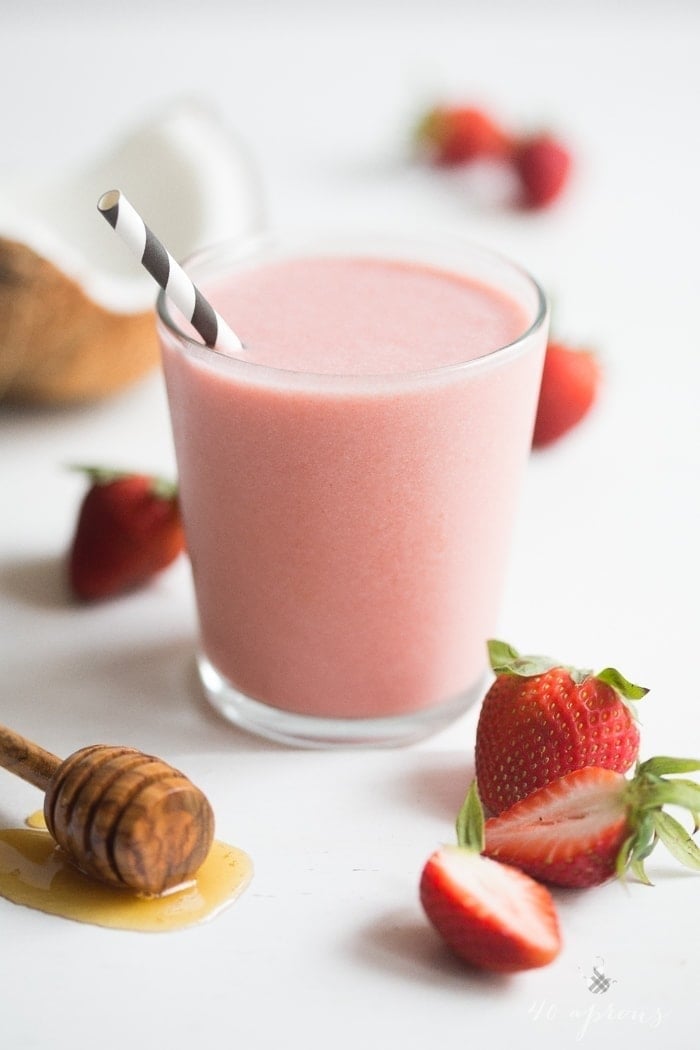 When I was a kid, my parents bought us a brown coconut as a fun little experiment–let's see how we can open it!–and I have memories of my dad using tools in the kitchen and for some reason us making use of the oven to open this stubborn little nut?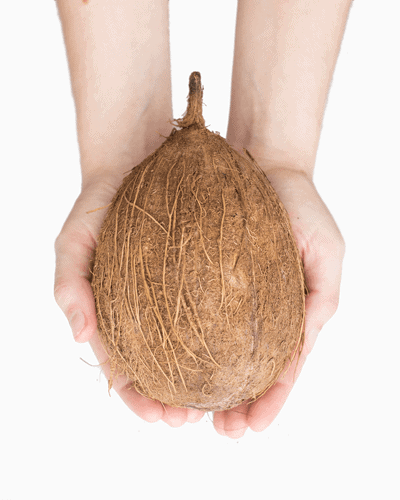 Unfortunately, my memories don't include the actual consumption of the coconut, so whether or not we even successfully cracked it.. total mystery.
So when I was meandering around the massive Asian market in town, searching for the next baby-sized fruit of the week, I was a bit wary of the brown coconuts.. but they're just so damn cute, so furry! Coincidentally, baby is also covered in fur, like the part-amphibian, part- uh, grizzly bear?, that s/he is. I just couldn't resist. Weirdly, baby is so freaking big now that I had to find the longest brown coconut of the bunch, and that meant this little guy, all the way from crown to rump, er.. base to very, very tip.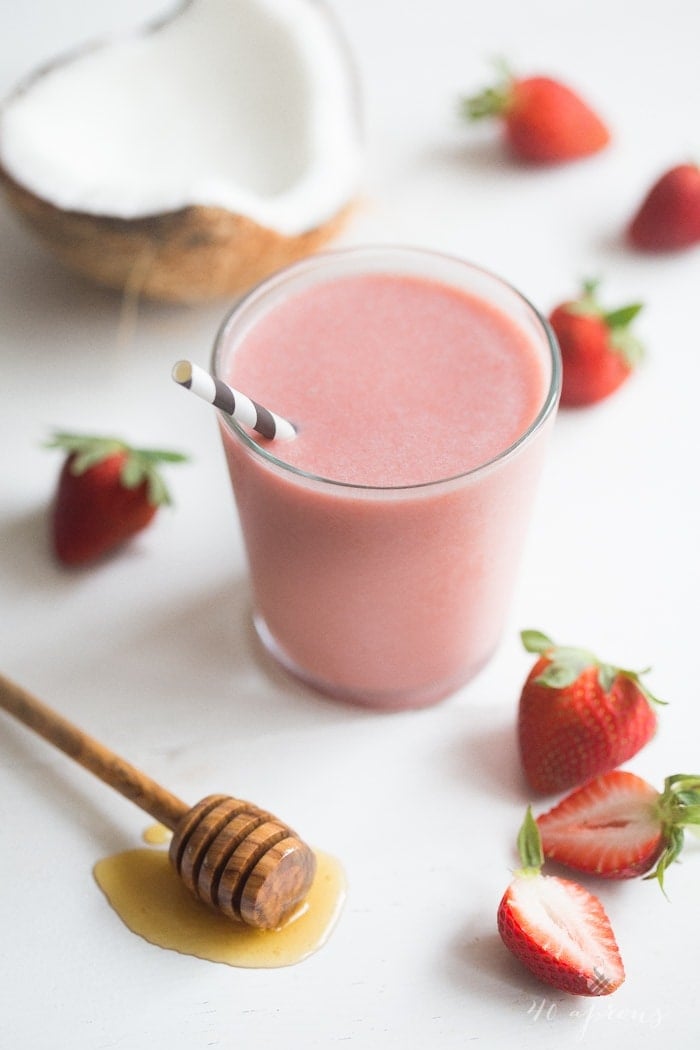 Convinced I could handle something as plebeian as a brown coconut, with my fancy kitchen skills and all, I attempted to open this sucker mid-filming. Like.. while the frosty smoothie awaited camera B. I started with a screwdriver jammed into one of the eyes– which sounds positively violent–and yes, yes, all very good. The coconut water poured out, just as expected. Because I, people, have fancy kitchen skills and brown coconuts are sooo plebeian. And then I tried to whack the seam of the coconut that runs between the eyes with the back of a machet–cleaver. Machete would've worked; cleaver, no. But the YouTube video made it look so easy!
Alas, I eventually had to resort to banging the ever-living shit out of that poor, poor lanugo-covered coconut (leave me to my anthropomorphism. I'm pregnant! Everything looks cute!), while the neighbors hovered over their kitchen sinks, peering out the blinds towards our house, 911 dialed and thumb just lingering over the call button. I probably would've aroused less suspicion had I kept the shrieking and swearing to myself, but alas..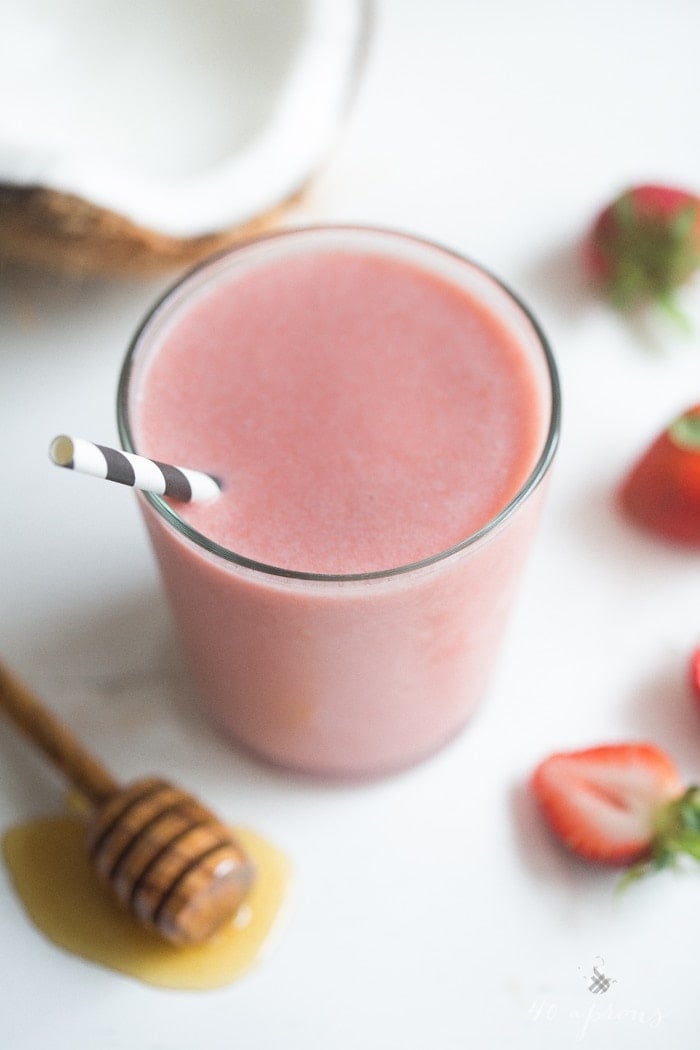 The moral of the story is, don't let me buy brown coconuts. They may look nice in photos, but I just can't handle them. Even when I did get that little twerp open, I couldn't for the life of me scrape out any worthwhile flesh without having to peel the brown residue off the back. Not worth it–I'm resigned to only fresh from now on. Plus, with fresh, you get to hack off the tops with the fun end of the cleaver, and yell "hiyaaaahh!!!!!" because you need to offset the fact that you're a white girl designer and photographer who bought her prey for $5.99 at Whole Foods.
You'll love this smoothie because it doesn't require brown coconuts, but instead, rich, rich coconut milk from a can or carton and fresh strawberries. Sweeten 'er up with a bit of honey or a fresh date or two, to taste, and you're set. Perfect for those rushed mornings when you need something fresh and healthy and cold and light but are already late and still tired from three weeks ago. The coconut brings just a hint of summer to an otherwise basic strawberries-and-cream flavor and a richness that you'll fall in love with. Puh-romise.
Strawberries and Cream Smoothie
3 simple ingredients blend together for a perfectly rich, indulgent smoothie.
Ingredients
1 ½

cups

strawberries

½

cup

full-fat coconut milk

, well-shaken

1-2

Fresh dates

(1 or 2) or honey, to taste

2-4

Ice
Instructions
Blend all ingredients 'til smooth.
Nutrition Information
Serving Size:
1
g
,
Calories:
311
kcal
,
Protein:
4
g
,
Fat:
25
g
,
Saturated Fat:
21
g
,
Sodium:
18
mg
,
Potassium:
625
mg
,
Total Carbs:
25
g
,
Fiber:
5
g
,
Sugar:
15
g
,
Net Carbs:
20
g
,
Vitamin C:
128
mg
,
Calcium:
55
mg
,
Iron:
5
mg
Number of total servings shown is approximate. Actual number of servings will depend on your preferred portion sizes.
Nutritional values shown are general guidelines and reflect information for 1 serving using the ingredients listed, not including any optional ingredients. Actual macros may vary slightly depending on specific brands and types of ingredients used.
To determine the weight of one serving, prepare the recipe as instructed. Weigh the finished recipe, then divide the weight of the finished recipe (not including the weight of the container the food is in) by the desired number of servings. Result will be the weight of one serving.
I'm 18 weeks this week! Baby is kicking the crap out of us (yep, O can feel it too already!) and my bump has really bumped, though it's nicely photogenic (read: way bigger in real life):