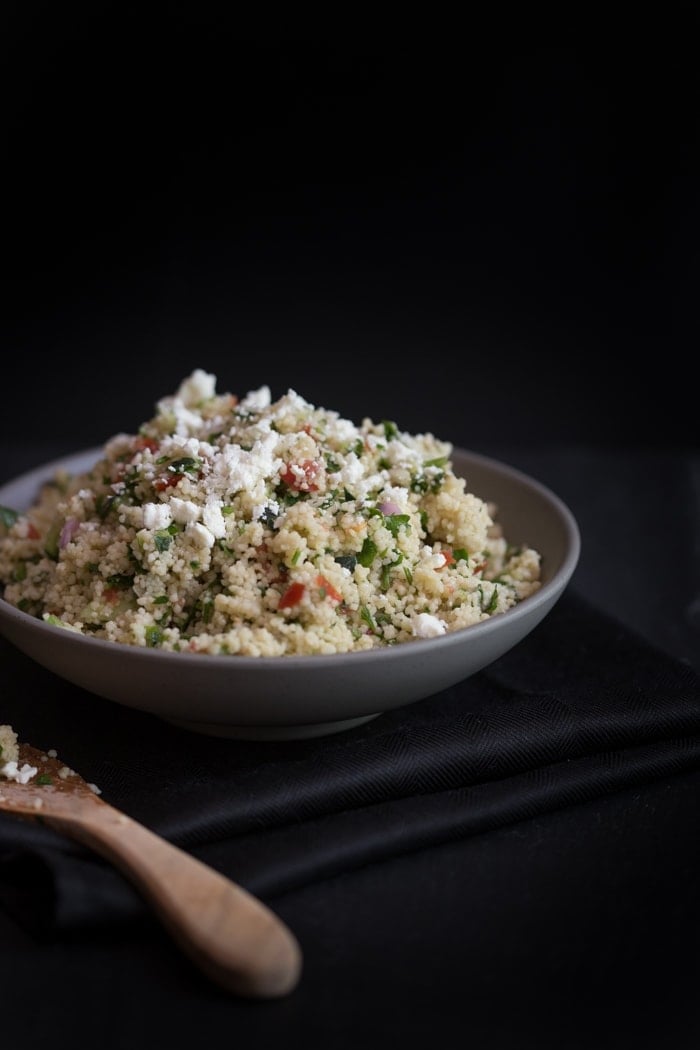 I hate to cook.
I know… right? She with a food blog hates to cook!
OK, so this is a new thing, almost certainly tied to pregnancy and my less-than-predictable cravings and aversions and whatever that "meh" feeling in-between is, but every night when I put away my laptop and shuffle into the kitchen, I'm dreading it. Perhaps it's that we plan in advance, always shopping for the week's dinners on Sunday afternoon; by the time that Tuesday rolls around, the Mediterranean fish that sounded oh, oh so healthy on Sunday sounds positively disgusting. Maybe if I rolled with my cravings each night, winging it around 5 o'clock, making mental lists on the way to the grocery store, I'd be more apt to enjoy it. But it seems more like I really just want to eat Lucky Charms and forget about fish and their omega-3's and chicken and its high protein count and eggs and how wondrous they are for preggos.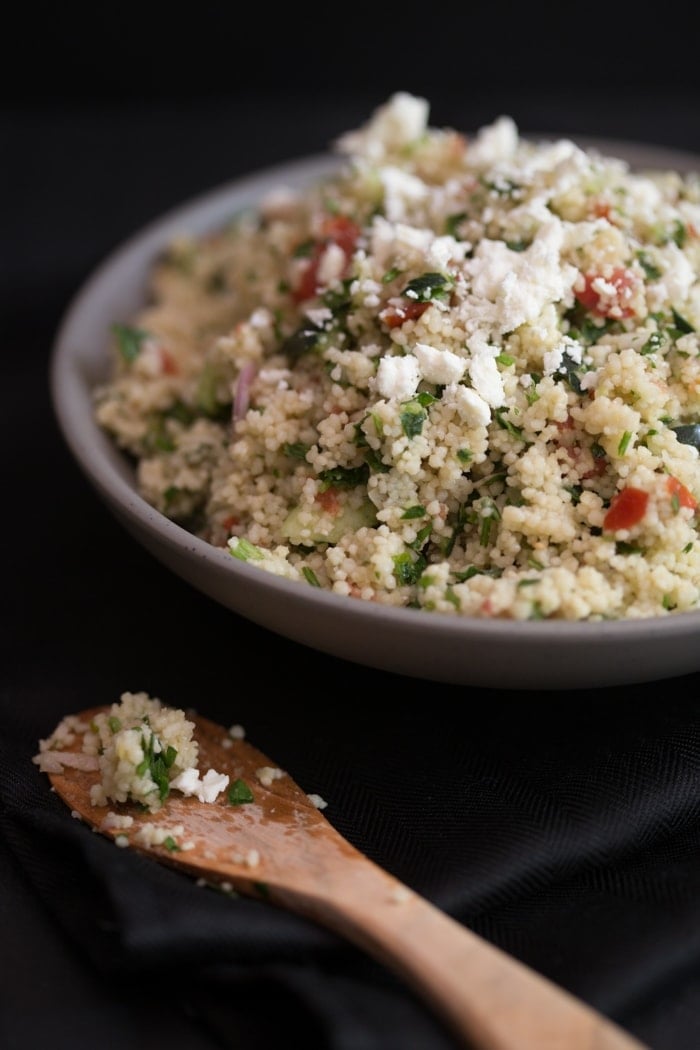 Oh, and I'd really just like to eat those Lucky Charms on the couch, kthx. If we could also turn on Jane the Virgin meanwhile.. then.. THEN I'd be happy.
And that's why it's nearly impossible lately for me to get excited about cooking lately, much less cooking in the middle of the afternoon and snapping some photos while the sun's still out. I keep trying to get excited about anything–anything!–even a big batch of grossly unhealthy brownies or whatever, but nothing's biting. Hence my digital drought.
That being said, tabbouleh has been one of my pregnancy-long cravings that I just love giving into–a much smaller guilt hangover than the cake donuts that have been popping up in my dreams–and a few weeks ago I made some from scratch using a new recipe.. that I did not like. Besides, the abundance of chopping and weighing and ugh!, why don't we just go out already?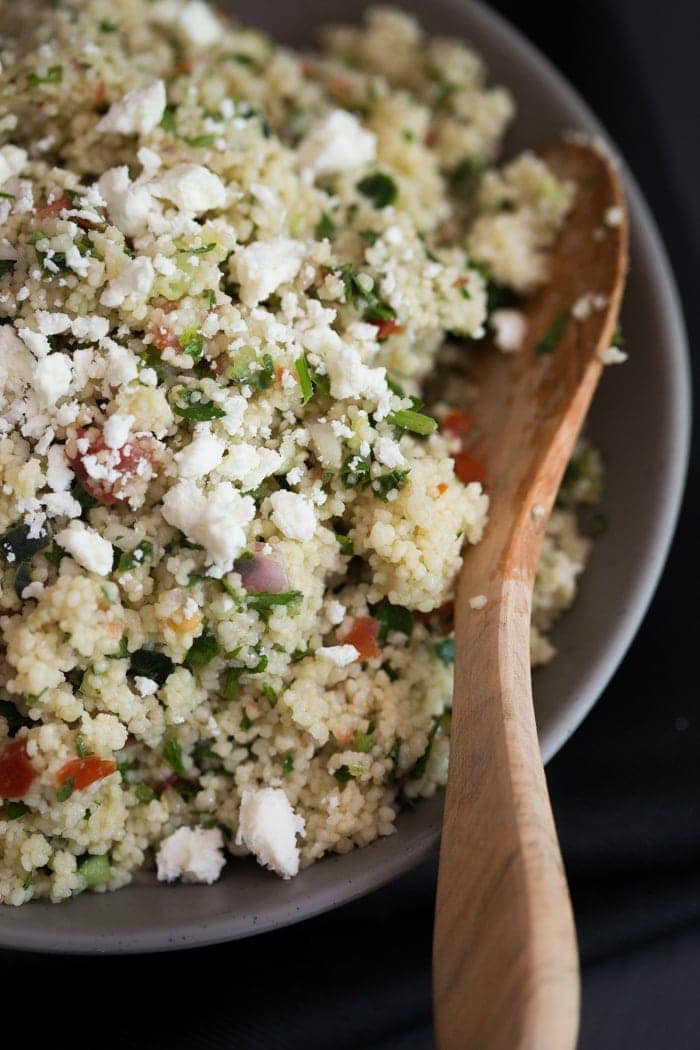 So I came up with a recipe that even a lazy girl like myself could handle! It's called quick-cooking couscous food-processored-other-stuff tabbouleh salad. Because if you call anything "tabbouleh" that isn't straight out of Lebanon the internet gods will strike you down. Or their minions at least..
O even proclaimed his love for this "tabbouleh", stating he thought he didn't like it (memories of a family member's recipe..) but ate a triple serving of mine. If that's not proof in the pudding, I'm not sure what is. You'll love this because it's bright and full of flavor without being overwhelming. So simple to make and quite elegant!
What I love about this salad is that it's so easy to make and to make ahead, which makes it perfect for summer (keep that kitchen cool, puh-lease) and even perfect..er.. for get-togethers. It goes like this: make some couscous in like oh, five minutes; chop some stuff in a food processor; stir it together; refrigerate; rejoice! You cooked, and it was like.. almost entirely painless (considering you did have to stand and you don't have Jane the Virgin in the kitchen). Small steps. Baby steps.. if I may.. oh. Oh. I may.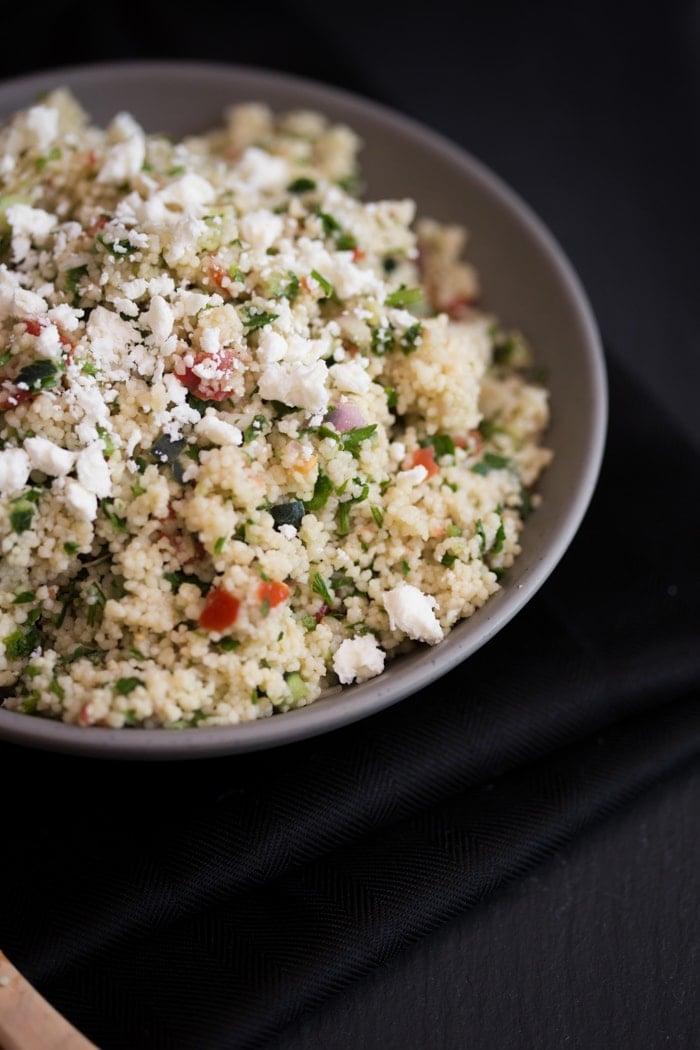 You can add more parsley if you like, which I might do next time. You could probably even handle another bunch, and same goes for the other veggies. You can get as intense on the green and red as you want or keep it lighter and more couscousy–totally up to you. It will work either way, and I promise I'll protect you from the tabbouleh soldiers!
Make this.
Lazy Girl Couscous Tabbouleh
A quick couscous-based tabbouleh salad that's bright and full of flavor. Perfect for summer and for get-togethers.
Ingredients
2

cups

water

1

tablespoon

extra virgin olive oil

2

cups

couscous

1-2

pieces

large bunch

(es) parsley leaves, stems removed

1-2

pieces

large shallots

1/2

piece

large cucumber

, very roughly chopped

2-3

pieces

ripe vine-ripened tomatoes

, seeded and very roughly chopped

1/2

cup

+ 1 tablespoon cup lemon juice

1

teaspoon

salt

, to taste

1

tbsp

crumbled feta

, to serve, optional
Instructions
Combine 2 cups water and 1 tablespoon olive oil to boil over high heat in medium saucepan. Add couscous, cover, and remove from heat. Let stand about 5 minutes then remove lid and fluff with fork. Let cool.

In the bowl of a food processor (or you can chop by hand if you REALLY want to make me look bad), add parsley leaves and pulse 'til chopped--fairly roughly chopped is OK. Remove and add shallot--pulse 'til chopped. Remove and add cucumber--pulse 'til roughly chopped. Remove and add tomatoes--pulse 'til roughtly chopped. Combine all vegetables in bowl and pour lemon juice over. Toss to combine.

Add couscous to vegetable mixture and toss to combine. Add salt to taste--don't be timid here! Serve or refrigerate until chilled.
Recipe Notes
Garnish with crumbled feta, if desired.
Nutrition Facts
Lazy Girl Couscous Tabbouleh
Amount Per Serving (8 g)
Calories 189
Calories from Fat 27
% Daily Value*
Fat 3g5%
Cholesterol 2mg1%
Sodium 322mg14%
Potassium 113mg3%
Carbohydrates 35g12%
Protein 6g12%
Vitamin A 33IU1%
Vitamin C 7mg8%
Calcium 25mg3%
Iron 1mg6%
* Percent Daily Values are based on a 2000 calorie diet.