Southern Eggs Benedict with Biscuits, Bacon, and Gravy

Posted: 10/15/13 Updated: 07/04/22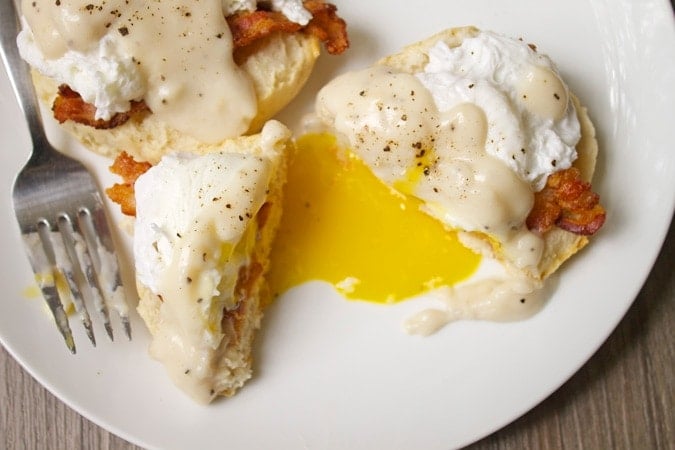 What Makes This Recipe So Good
These Southern eggs Benedict sort of sprung themselves on us on a Sunday morning. I'd decided I'd been spoiling O for too long, cooking for him every single night, and I felt it was time to reignite his self-sufficiency in the kitchen. What if I got hit by a speeding moped on my walk to the grocery store? What if I contracted flesh-eating bacteria and went the way of the zombies? What if I accidentally shoot myself in court while demonstrating to a jury how my client's alleged victim accidentally shot himself?* …what if… WHAT IF?!
I don't want O to starve if I'm attacked by a flesh-eating moped on the way to court to demonstrate how to shoot oneself, so lately I've been asking him to cook with me to get that independence-mojo back. The man survived for decades without my assistance, but I just don't know if he could go back to those bachelor meals after years indulging in truffle mac and cheese, Dijon-tarragon chicken with leeks, or homemade salted caramel (even if it was made in the microwave!).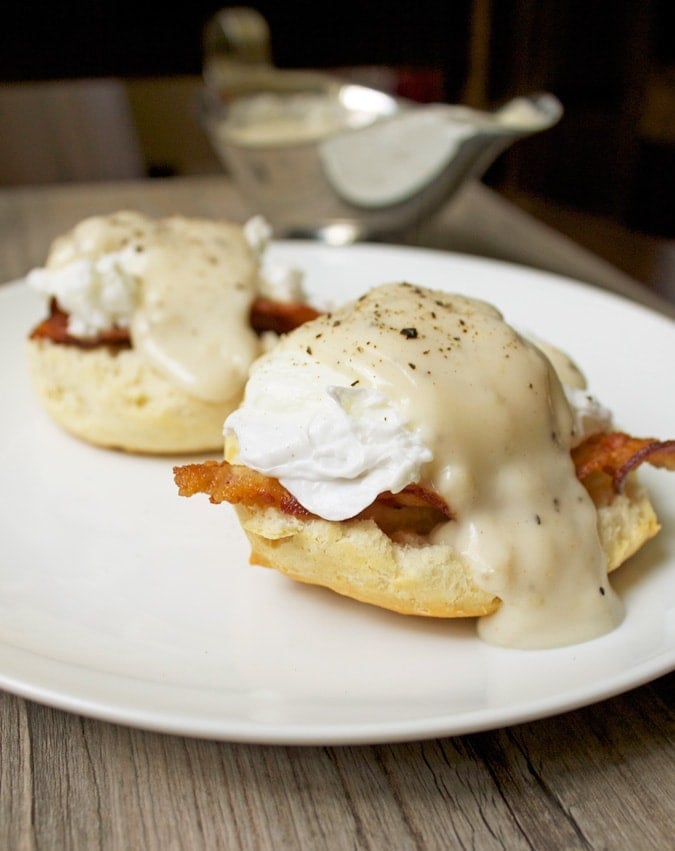 We decided on some simple breakfast foods: canned biscuits, packaged gravy, and bacon. I offered to make eggs, then began envisioning a poached egg sitting atop a Southern eggs Benedict-inspired open-face sandwich! The results were awesome. The crisp saltiness of the bacon married beautifully with the velvety, rich egg yolk, all atop a fluffy biscuit, absolutely smothered in creamy, peppery white gravy.
[AdsWithin]
Tips for Success
Naturally, you could make your own gravy or biscuits, but using these pre-packaged ingredients makes this dish perfectly simple and still delicious. The only remotely complicated part is the feared poached egg, but my method is fool-proof and so easy.. requiring no in-pot cyclones, plastic wrap, or sacrificing of virgins.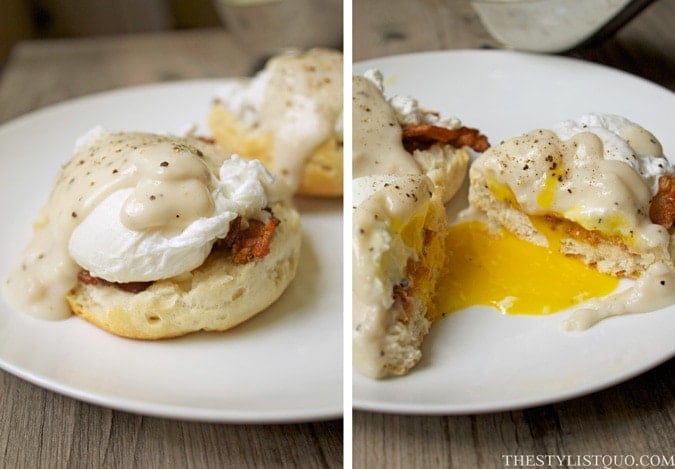 You could also replace the bacon with breakfast sausage patties, which would be delicious. As much as I love bacon, I love a sausage appearance at breakfast. Let's be honest: I put bacon in approximately 50% of our meals (modest estimate), so sausage is a welcome indulgence.
Any sort of biscuits would work! Buttermilk biscuits will be the most traditional, of course, but there's something about those flaky layered Pillsbury biscuits that are so tempting and comforting, an unassuming reminder of childhood and squeeze margarine (though I don't recommend that trans-fat party ever again).
Make these! Make these for breakfast; make these for brunch. Make these for… elevenses. I won't tell.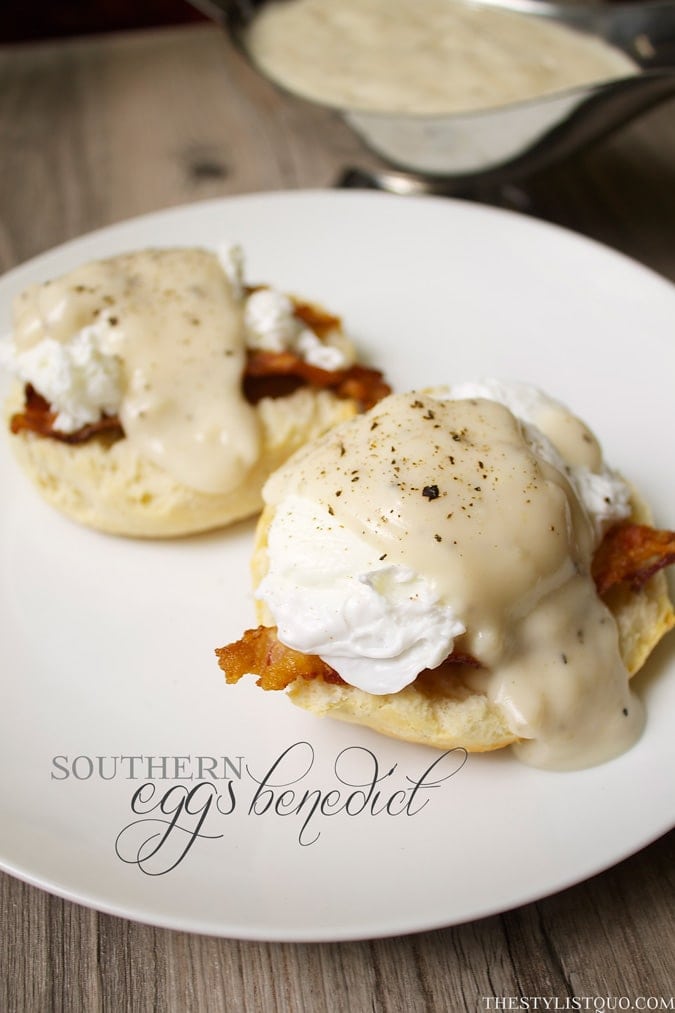 [yumprint-recipe id='9′]