Whole30 Rules

Posted: 12/30/19 Updated: 06/07/21
The Whole30 diet doesn't have to be complicated with this easy-to-follow list of dos and don'ts. By using these rules for Whole30, succeeding can be so simple!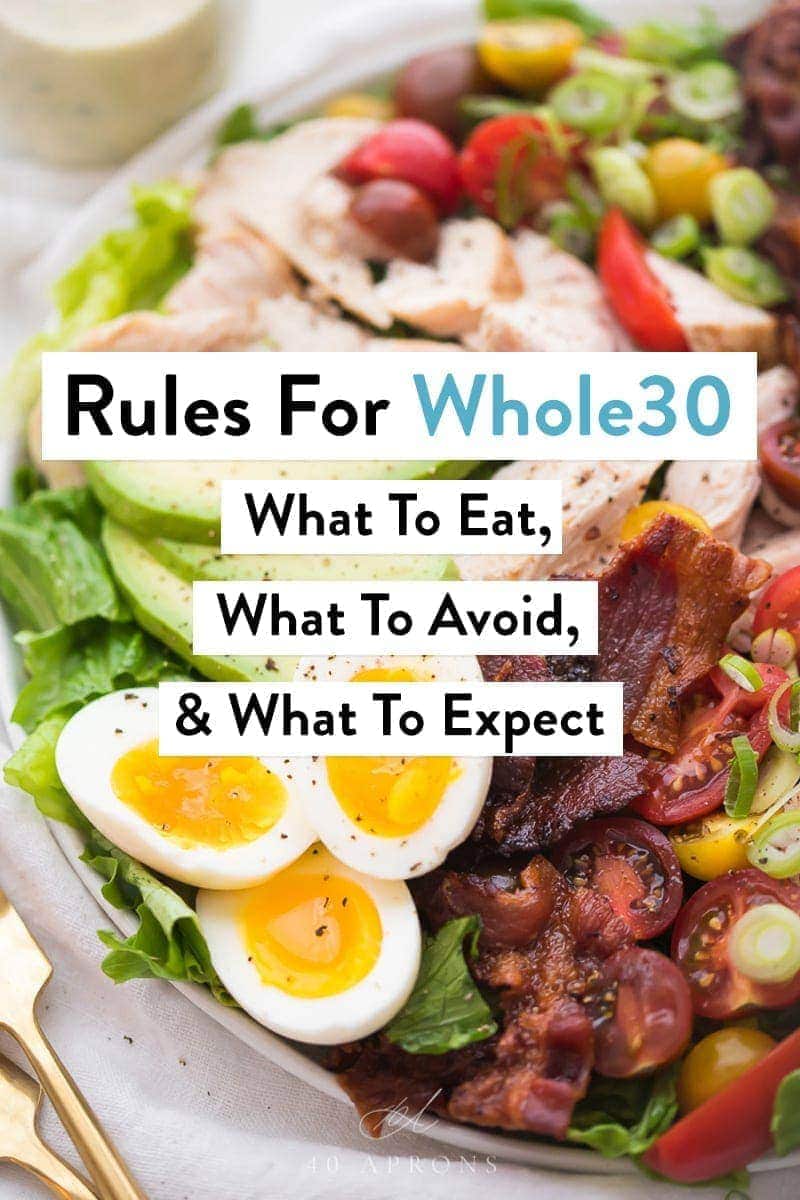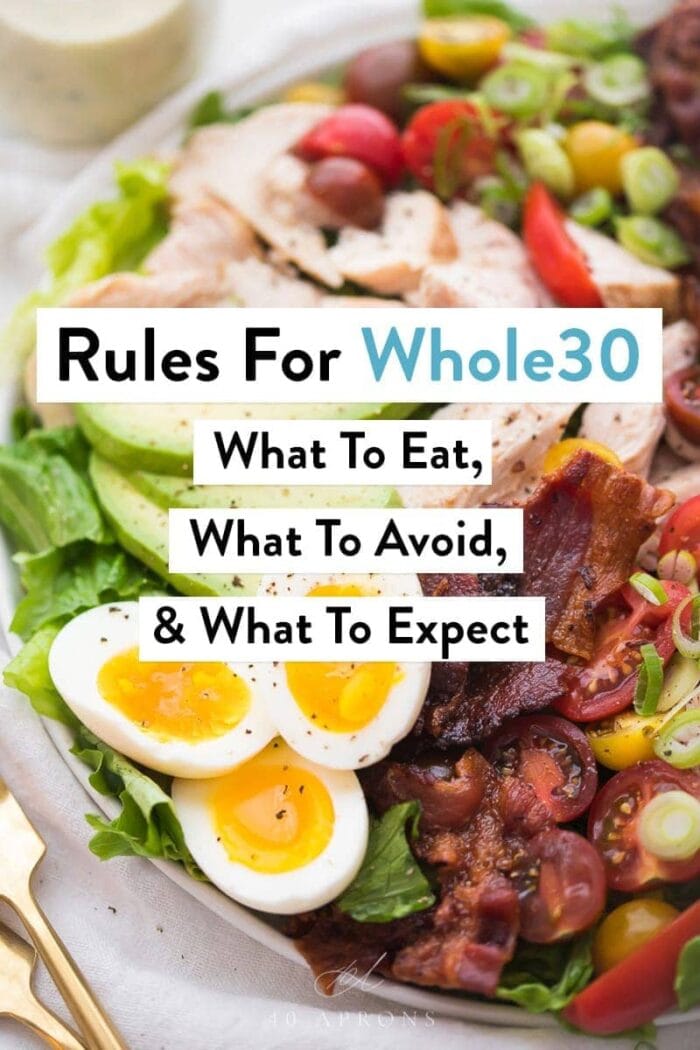 What is Whole30?
Whole30 is more than just a diet — it's a totally transformative way of creating or keeping a healthy relationship with food and discovering foods that may be contributing to chronic health problems. You get to eat three meals, snacks, and you don't count calories.
The Whole30 diet is a 30-day program during which you focus on eating real, whole foods and avoid all added sugars. It's designed to help you identify foods that are inflammatory, allergenic, or your body just doesn't tolerate well. It's a fantastic tool for "resetting" your body and then reintroducing foods to determine which foods help you to feel your absolute best.
Whole30 also encourages you to focus on thinking about food in a healthy way. Instead of treating yourself with food, you will find that you are practicing self care in other ways. Instead of focusing on weight or calories, your goal is to feel healthy. While weight loss is definitely a common side effect of a Whole30 diet, it's not its main purpose.
Whole30 Rules (The 2 Minute Version)
We'll go more in depth in just a minute, but here is the quick and easy version of Whole30 rules.
No added sugar, artificial or real.
No alcohol, even when used when cooking.
No grains.
No legumes.
No dairy.
No carrageenan, MSG, or sulfites.
No baked good, treats, or junk food.
No weighing or measuring yourself.
What can I eat on Whole30? What can I not eat?
While you will be eliminating a lot of foods from your diet according to the rules for Whole30, there are still tons of tasty options available to you. You'll hear me talk about "compliant" and "non-compliant" foods frequently, which just means what you can and can't eat. Foods that are compliant with Whole30 are:
Meat
Poultry
Seafood
Eggs
Vegetables
Fruit
Natural fats and oils
Ghee, which is the one exception to the no dairy rule
Potatoes, both sweet and white
Coffee
Vinegar
Fruit juices as sweeteners
Spices and seasonings
Green beans, sugar snap peas, and snow peas
There are some exceptions to these foods, though, which are listed in these non-compliant foods:
Dairy
Added sugars, in any form (including maple syrup, honey, and coconut sugar)
Sweeteners, like stevia or monkfruit
Grains, like rice, oats, or wheat
Pseudo-grains, like quinoa
Seed oils, like corn oil, rice bran oil, soybean oil, and peanut oil
Gluten
Alcohol at all, even in cooking (including most Dijon mustards* and vanilla extract)
Legumes, including peanuts, corn, lentils, chickpeas, and green peas. Exceptions are green beans and the peas listed above since they are more pod than bean.
Soy
Commercially produced chips, even if they're made with compliant ingredients, like plantain chips
Junk food, even if it's technically "compliant"
"Paleo-ified" versions of baked goods and treats
MSG
Sulfites
Carageenan
*Thrive Market has an amazing Whole30 compliant Dijon mustard!
Other Whole30 Rules
Don't recreate junk food, baked items, or treats. It's incredibly tempting to try to make Whole30 compliant versions of all the food we miss, but it is recommended to stay away as so many of us having issues overdoing it when it comes to junk food. And let's be real, sometimes having a Whole30 version of something can mean the difference between staying on-track and completely falling off the wagon. While there are some recreated items that are considered okay, the following are no-goes: bread-like products (bread, tortillas, crepes, pizza crust, etc.), breakfast treats like pancakes or waffles, baked treats (cookies, cake, brownies, cupcakes), and junk food like chips or ice cream.
Stay AWAY from the scale. It's so, so tempting to see how you're doing after being on the Whole30 diet a few weeks (or days… or hours…), but, remember, your health is so much more than the number on the scale. Whole30 is not just about your weight; it's about having a healthy relationship with your food and taking care of both your body and mind. Weighing yourself midway through the process can discourage you if you're not seeing the numerical results you want or expected. So put your scale in the closet, the car, or have your kids hide it. Focus on you, not a number.
Recommendations (But Not Rules)
These recommendations aren't absolutely mandatory, but they are highly encouraged to keep you on-track.
No snacking. Whole30 recommends three big meals with no snacks except pre- and post-workout, but that can be hard, especially if you're a grazer or used to eating a bunch of small meals during the day. While eating mindfully is ultimately the goal, having a snack isn't going to make or break you. (If you're pregnant, nursing, or a kid, snacking is completely okay!)
Eat organic, grass-fed, and homemade. I know this isn't completely realistic for everyone for every meal, but eating good, whole foods will not only nourish your body, but will also nourish your soul. If it's available to you and within your means, buying local and naturally raised, organic, and sustainable items are good for you and good for the planet. Make homemade food when you can, but it's okay to not cook 100% of the time.
Limit your fruit intake. Fruit can be a BIG help when fighting the "Sugar Dragon," but Whole30 recommends 2 servings of fruit a day, eaten with meals, and not as a dessert (we're treating ourselves in non-food ways, remember?).
What Can I Expect on Whole30?
There is a really useful timeline on the Whole30 website that outlines a pretty accurate schedule of the ups and downs you can expect on Whole30 (especially your first cycle) — from, "Wow, this is so easy" to, "I'm just going to take a nap under my desk" to "I WILL FIGHT YOU FOR A COOKIE" to "TIGER BLOOD!"
Being aware of the highs and lows can help you succeed. Anticipating the tough days can give you plenty of time to come up with a game plan and coping mechanisms to power through them. This is where having a set meal plan can be extremely helpful; not having to think about what your next meal makes staying on-track a no-brainer.
Delicious Whole30 Compliance
If you're thinking, "I can't do this, it's too tough, do not take away my morning coffee with creamer," I totally understand! But trust me when I say it is all worth it. And, fortunately, there are so many great resources and compliant foods out there!
Check out my 30-Day Whole30 meal plan with free printable shopping lists and my Whole30 shopping list for tons of great ideas.
Delicious Whole30 Recipes To Get You Started