Stuffed Artichokes

Posted: 11/02/23 Updated: 11/20/23
Tender steamed artichokes stuffed with garlicky, buttery breadcrumbs, this recipe is perfect any time you want to impress! Excellent for dinner parties, company, holidays, or whenever you need a recipe that feels special. Serve with melted butter or any other sauce for dipping.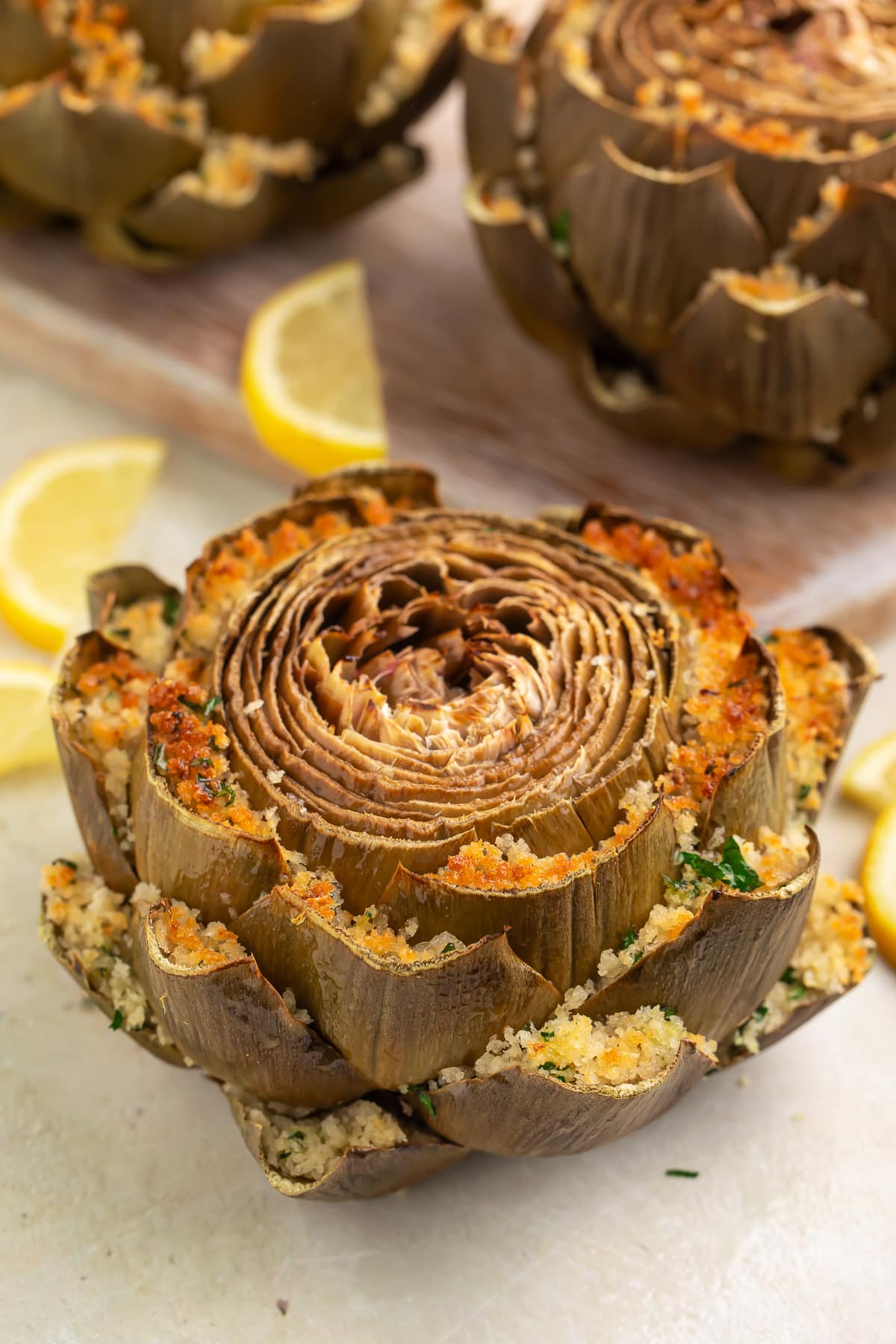 🍃 What Makes This Recipe So Good
These beauties are one of my favorite ways to enjoy artichokes, and I've been a fan of artichokes since I was a kid, so I've tried them a lot of ways! They're pretty versatile, too. This recipe is for vegetarian stuffed artichokes, packed with buttery breadcrumbs, parmesan, parsley, garlic, and lemon zest. You could also do a sausage-stuffed version like these sausage-stuffed mushrooms. In one of my favorite variations, the artichokes were stuffed with a mixture of crab meat, breadcrumbs, and fresh herbs, among other things. You can really get creative here!
Stuffed artichokes make a really great appetizer for the holidays. Serve them on a platter with small plates and a dipping sauce or two, then let everyone peel off a few petals at a time to snack on. They can be a tasty side dish, too, though it may be a little trickier to eat a whole pull-and-peel artichoke alongside the rest of your meal. To make it a little easier, and to stretch the artichokes a little further, use a sharp knife to slice the stuffed artichokes in half if you're serving them as a side.
Believe it or not, stuffed artichokes are really not that hard to make! I know it seems intimidating, but the toughest part is prepping the artichoke. Really, though, even that's not too bad. Plus, when all is said and done, you've got a gorgeous and irresistible appetizer or side dish to impress your guests and family.
👩🏼‍🍳 Chef's Tips
The fuzzy choke in the center of the artichoke is inedible, but it sits on top of the super edible (and delicious) artichoke heart, so you'll definitely want to get rid of it. You've got three options! For the first one, you can scrape out the choke while you're prepping the artichoke. This is probably the least easy way to do it, though, because the petals are rigid and can be hard to work around. Another option is to scrape it out after boiling the artichokes, when the petals are tender and more pliable. The option I go with, though, is just to leave it alone! Well, for a little while at least. Serve the stuffed artichoke with the choke intact and just make sure to pull the petals off cleanly so you don't consume any of the choke. Once you've peeled off all the petals, the choke is super accessible and easy to cut away from the heart.
It's totally optional, but consider wearing gloves when you're working with the raw artichokes. They have a really bitter-tasting juice, and if it gets on your hands while you're cooking, you could transfer it to other foods, too. You don't have to worry about that once the stuffed artichokes are cooked, though! It's just with the raw artichokes.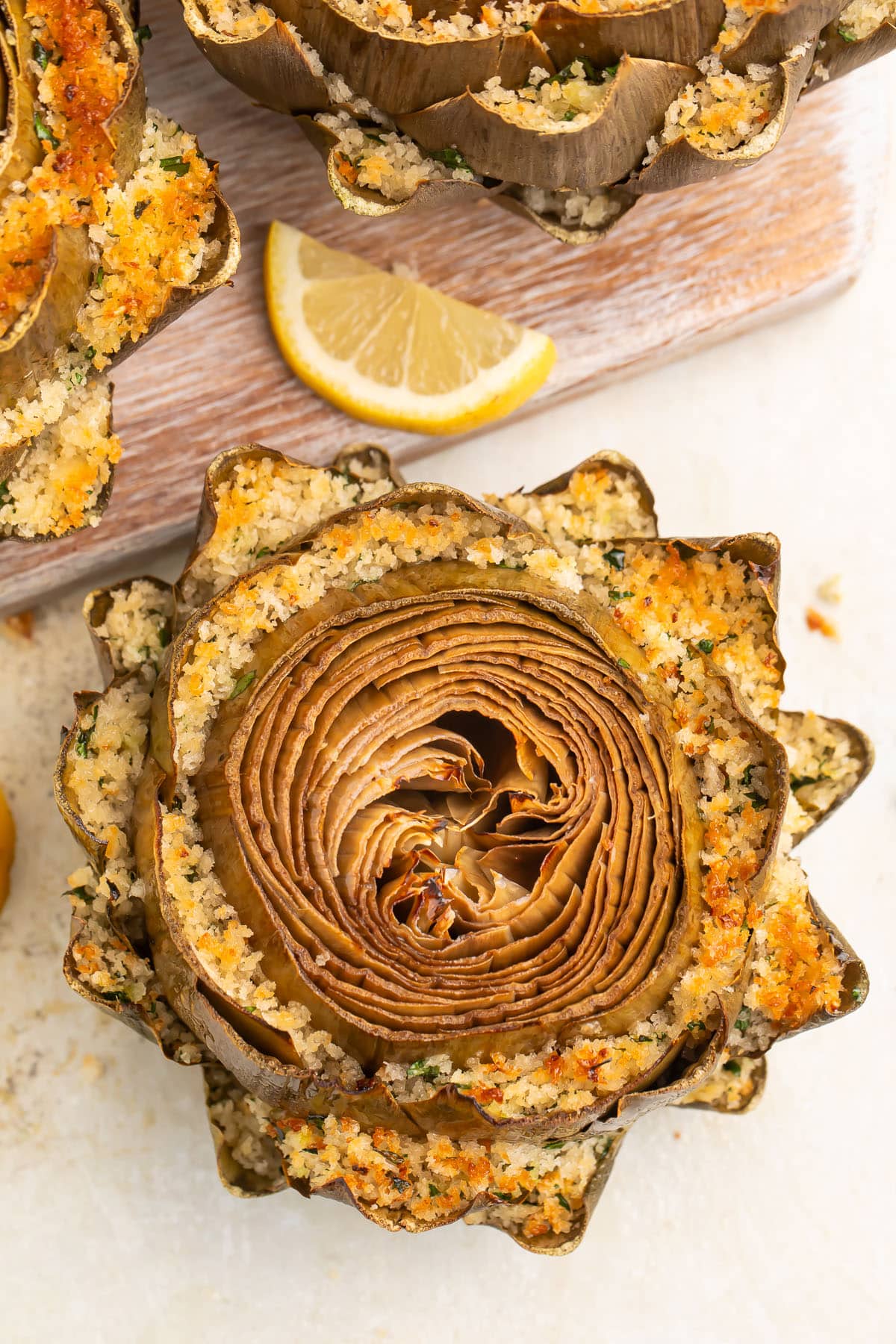 🥗 Other Holiday-Worthy Recipes
Stuffed Artichokes
For a stunning, impressive, and mouthwatering appetizer or side, look no further than this parmesan-breadcrumb stuffed artichokes recipe!
Ingredients
For the Artichokes
1-2

medium

lemons

approximately 4 ounces each

4

large

artichokes

approximately 12-16 ounces each

1-3

cups

water

just enough to cover bottom quarter of artichokes

2

teaspoons

salt
For the Stuffing
½

teaspoon

lemon zest

½

cup

unsalted butter

1 full stick

2 ½

cups

breadcrumbs

½

cup

grated fresh parmesan

⅓

cup

chopped fresh parsley

6

cloves

garlic

minced

2

teaspoons

salt

more or less to taste

1

teaspoon

freshly ground black pepper

more or less to taste
Serving Suggestions (All Optional)
additional chopped fresh parsley

aioli

melted butter
Equipment
zester

Small bowl

running water

Paper towels

Cutting board

very sharp chef's knife

or serrated knife

Kitchen scissors

dutch oven with lid

or similar large, heavy bottomed pot with lid

Tongs

Cookie scoop

or melon baller, or small spoon with sharp edge; optional

Medium microwave-safe bowl

Spoon
Instructions
Zest

1-2 medium lemons

to acquire

½ teaspoon lemon zest

. Scrape zest into small bowl and set aside. Cut zested lemons in half and set aside.
To Prepare the Artichokes
Rinse

4 large artichokes

under cold running water, pulling petals open very carefully, just enough to rinse behind. Once artichokes are rinsed well, pat each artichoke dry with paper towels and place artichokes on cutting board.

Working one by one, cut away top inch (top 2 or so rows of petals) of artichoke and discard.

Cut away stem from bottom of artichoke, creating flat base. Cut flush with bottom of artichoke so petals stay intact. Discard stem.

With kitchen scissors, cut away thorny tips from each petal. Be careful not to cut off more than ½-inch or so. Discard tips. Note: this can be done before cutting away stem if desired for easier handling.

Hold artichoke upside down and gently but firmly bang artichoke directly onto cutting board or countertop to loosen petals. Do not use so much force or hit surface so many times that petals break or fall off.

Rub cut side of one lemon half over all fresh cut spots on artichoke – top, stem, and petal tips. Set prepped artichoke aside and repeat process with remaining artichokes until all are prepped.
To Boil the Artichokes
Add

1-3 cups water

to dutch oven or similar large, heavy-bottomed pot. Place pot on stovetop. Add

2 teaspoons salt

and stir just to incorporate. Note: don't use too much water! Water in pot should only cover bottom quarter of artichokes.

Place prepped artichokes right-side up in dutch oven. Make sure artichokes are touching, to prop each other upright during cooking.

Set heat under dutch oven to high and bring salted water to boil.

Once water begins to boil, reduce heat under pot to medium-low and cover pot with lid. Boil artichokes, covered, 30 to 60 minutes or until artichokes are tender and petals can be opened and removed easily.

While artichokes boil, spread out 2 to 3 layers of paper towels on flat surface to drain artichokes. Toward end of boil time, preheat oven to 425° Fahrenheit.

Once artichokes are ready, carefully remove artichokes from dutch oven with tongs. Place artichokes upside-down on paper towels and drain any excess moisture. Discard water from dutch oven.

Optional: When artichokes are cool enough to handle, carefully pull open petals in center of artichoke, revealing fuzzy choke. Use cookie scoop, melon baller, or small spoon with sharp edge to carefully remove choke and scrape out any remaining fuzz. Return artichoke to paper towels.
For the Stuffed Artichokes
While artichokes drain, add

½ cup unsalted butter

to medium microwave-safe bowl. Microwave butter in 30-second increments, stirring well between each burst, until butter is melted but not bubbling or burnt.

Add

2 ½ cups breadcrumbs

,

½ teaspoon lemon zest

,

½ cup grated fresh parmesan

,

⅓ cup chopped fresh parsley

,

6 cloves garlic

,

2 teaspoons salt

, and

1 teaspoon freshly ground black pepper

to bowl with melted butter. Mix ingredients together until fully incorporated and well blended, making sure to cover all breadcrumbs in melted butter.

Transfer artichokes to baking dish. One by one and starting with outermost row, carefully pull each petal away from artichoke and spoon plenty of stuffing behind and between petals. Repeat until outer 3 to 5 rows of artichoke petals have been stuffed with breadcrumb mixture, then repeat process with remaining artichokes until all breadcrumb mixture has been used.

Once all artichokes have been stuffed, place baking dish in preheated oven. Bake artichokes 8 to 10 minutes or until breadcrumbs are golden and toasted.

Optional, For Extra Crispy Breadcrumbs: When breadcrumbs are golden, switch oven to broiler setting on high. Broil 1 to 2 minutes or until breadcrumbs are deep brown. Be careful not to burn breadcrumbs.

When breadcrumbs are ready, remove baking dish from oven. Carefully transfer stuffed artichokes to serving platter or individual plates and garnish with

additional chopped fresh parsley

. Serve warm with

aioli

,

melted butter

, or dipping sauce of choice.
Notes
Raw artichokes have a bitter-tasting juice, so you might consider wearing gloves while prepping them to keep that bitterness off your hands (and off other foods).
Artichoke Choke: The fuzzy choke in the center of the artichoke is inedible. You can scrape it out of the artichokes after boiling them, or you can serve the stuffed artichoke with the choke intact (which is what we do). Just make sure to pull the petals off cleanly and not to consume any of the choke. The choke sits on top of the artichoke heart, which is edible (and delicious), so you'll want to remove it at some point to enjoy the heart.
Make it Gluten Free: Use gluten-free breadcrumbs.
Make it Dairy Free: Use a dairy-free parmesan alternative and a dairy-free butter.
Storage: Let prepared stuffed artichokes cool completely, then refrigerate in an airtight container up to 3 days. Reheat stuffed artichokes in the oven until warmed through.
Make-Ahead: These are best when eaten right after preparation, so I don't recommend making them in advance, but you can if you want or need to.
How to Eat Stuffed Artichokes
Similar to an onion blossom, pull off the petals one by one.
Place the artichoke petal in your mouth and, working from the center end to the cut end, use your teeth to scrape the stuffing and artichoke meat off the bottom (outer) layer of the petal.
Discard the remaining petal and repeat with the rest of the artichoke.
After pulling off all the petals, you'll be left with the artichoke heart. Remove the fuzzy choke from the top of the artichoke heart if you haven't already, then cut the heart into bite-sized pieces and enjoy.
Nutrition Information
Serving Size:
0.5
of one stuffed artichoke
,
Calories:
327
kcal
,
Protein:
11
g
,
Fat:
15
g
,
Saturated Fat:
9
g
,
Trans Fat:
0.5
g
,
Cholesterol:
36
mg
,
Sodium:
1644
mg
,
Potassium:
584
mg
,
Total Carbs:
40
g
,
Fiber:
9
g
,
Sugar:
4
g
,
Net Carbs:
31
g
,
Vitamin A:
638
IU
,
Vitamin C:
21
mg
,
Calcium:
187
mg
,
Iron:
4
mg
Number of total servings shown is approximate. Actual number of servings will depend on your preferred portion sizes.
Nutritional values shown are general guidelines and reflect information for 1 serving using the ingredients listed, not including any optional ingredients. Actual macros may vary slightly depending on specific brands and types of ingredients used.
To determine the weight of one serving, prepare the recipe as instructed. Weigh the finished recipe, then divide the weight of the finished recipe (not including the weight of the container the food is in) by the desired number of servings. Result will be the weight of one serving.