Naturally sweetened champagne Jello shots are an easy yet glamorous way to put a elevated twist on a college classic. A touch of glitter (a.k.a. gold sanding sugar) makes them perfect for New Year's Eve, an epic birthday, or the best bachelorette party ever.
What's So Great About Champagne Jello Shots
Who says Jello shots can't be classy? These are beautiful and they taste amazing! The gold sanding sugar melts into the gelatin and looks a little like gold flake or confetti, making them super elegant and party-ready. You can also use blueberries or raspberries to give them a funkier look and an extra burst of flavor.
They are perfect to make ahead of time in a large batch. Make them as early as four days before your event and keep them refrigerated until party time – just wrap them up tightly so they don't absorb any other odors in your fridge.
Jello shots allow for a perfectly even ratio of alcohol and mixer in every serving, so you don't have to worry about the first glass being too strong or the last glass being too watered down.
The variations for these Jello shots are endless. Ginger beer with vodka and lime juice? Prosecco with strawberry vodka and lemonade? Mango-pineapple juice with Malibu rum? Jello French 75's with gin, champagne, and lemon juice? Go wild! In general, I just stick to this simple formula: 1 cup non-alcoholic liquid + 1 cup alcohol + 2 packets gelatin
Champagne Jello Shot Ingredients
Champagne – This bubbly wine is a go-to for any celebration. You'll see the recipe card below calls for "sweet sparkling wine" instead of champagne specifically. That's because all champagne is sparkling wine, but not all sparkling wine is champagne. True champagne comes specifically from the Champagne region of France.
Gelatin – A derivative of collagen, gelatin is tasteless and colorless. Jell-O is made from processed gelatin with added colors and sweeteners. Yes, you can use good ol' flavored Jell-O for these champagne Jello shots, but I like to use unflavored gelatin so all of the flavor and sweetness comes from the wine and fruit.
How to Make Champagne Jello Shots
The full recipe & ingredients list are below, but here you'll find a quick overview for making this recipe perfectly, along with useful tips and info!
I like to use a silicone mini muffin pan for easy, perfect portions – plus the end result looks way fancier than the plastic cups we used for Jello shots in college. If you're putting fruit in your shots, go ahead and do that now. For this variation, I put 2-3 thawed blueberries in each of mine.
Dump the gelatin into a medium sized heat-proof bowl, then pour in boiling sparkling cider and whisk until it's totally smooth. Stir in the champagne and vodka and whisk thoroughly, then pour the liquid over the blueberries in the muffin pan cavities. I really recommend transferring the mixture to a large handled measuring cup for easier pouring – trust me. Chill the Jello in the pan for at least 3 hours.
When it's time to remove the champagne Jello shots, run a toothpick around the inner edge of the muffin cavities to loosen the Jello, then gently push up from the bottom of the pan to release them. Pop them out upside-down on your serving plate and sprinkle the tops with gold sanding sugar. Serve chilled and enjoy – but drink (slurp?) responsibly!
Chef's Tips
If your fully-set Jello shots are sticking to the muffin molds, try half filling a jelly roll pan with hot water and placing your mini muffin pan in the water for 15-30 seconds. This should help loosen the shots so they release more easily. You'll still want to run a toothpick around the inner edge so they come out cleanly.
Any gold sanding sugar will work for these champagne Jello shots, but the one in this 3-piece Silver, Gold, and White Wilton Sanding Sugar Set from Target is my favorite because it melts beautifully without losing its vibrant color. You can also find that same set on Amazon if you don't have a Target nearby.
Your chilling time will depend on the amount of alcohol, the temperature in your fridge, and the muffin pan or container you use. Three to four hours should be plenty of time, but you'll want to adjust accordingly.
If you prefer, the champagne Jello shots can also be made in an 8×8 pan lined with parchment paper, then cut into squares for serving. For the cleanest edges, get the Jello as cold as possible, then cut with a wet knife.
To make these a little more casual, but still exciting, try garnishing your shots with Pop Rocks candy instead of fruit. Add them on top of the Jello at the very end (literally right before serving) so they POP. Adding them too early makes the candy soggy and ruins the effect.
More Delicious Drink Recipes
Hey – you've made it this far, and now we're best friends! If you make this recipe, I'd love for you to give it a star rating ★ below. Make sure you follow me on Instagram, Pinterest, and Facebook, too!
Champagne Jello Shots
Naturally sweetened champagne Jello shots are an easy yet glamorous way to put a elevated twist on a college classic. A touch of glitter (a.k.a. gold sanding sugar) makes them perfect for New Year's Eve, an epic birthday, or the best bachelorette party ever.
GO PREMIUM – AD FREE + MEAL PLANS
Ingredients
1

cup

sparkling cider

apple or white grape

½

ounce

gelatin

2 packets

¾

cup

sweet sparkling wine

see Notes

¼

cup

vodka

plain or flavored

blueberries or raspberries

optional

gold sanding sugar

for garnish
Instructions
Place 2 blueberries or raspberries in each cavity of a silicone mini muffin mold.

In a medium heatproof bowl, pour boiling sparkling cider over gelatin and stir until completely dissolved, about 2 minutes. Let cool to room temperature. Stir in vodka and champagne.

Pour gelatin mixture over fruit in muffin pan to top of cavity. Chill for 3-4 hours.

Run a toothpick around the edge of the Jello shots to loosen, then pop out upside-down onto a wax-paper lined surface or serving plate. Sprinkle with sanding sugar and serve chilled.
Notes
I recommend champagne for this recipe, but spumante is another great sparkling wine to use because it is so sweet. Moscato d'Asti and Prosecco can also be used in place of champagne.
For non-alcoholic jello shots, substitute the champagne and vodka in this recipe with more sparkling cider.
If you're using a metal muffin pan, or if your jello shots aren't releasing easily, place the bottom of the pan in hot water for approximately 15 seconds to help loosen the gelatin from the mold.
Nutrition
Calories:
19
kcal
Carbohydrates:
1
g
Protein:
1
g
Fat:
1
g
Saturated Fat:
1
g
Sodium:
3
mg
Potassium:
20
mg
Fiber:
1
g
Sugar:
1
g
Vitamin C:
1
mg
Calcium:
2
mg
Iron:
1
mg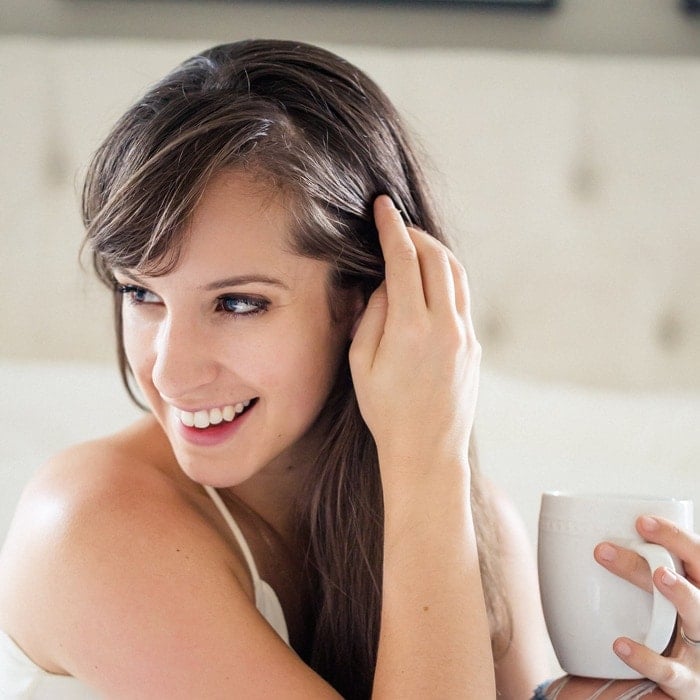 Cheryl Malik is the recipe developer, writer, and photographer behind the healthy, flavorful, family friendly recipes at 40 Aprons. She's been a blogger for 10+ years and is known for her delicious recipes and detailed recipe instructions. Cheryl is a mom of three who lives in Memphis, TN.