These champagne Jello shots are positively stunning and perfect for New Year's Eve or an epic birthday party. Elegant but super easy and perfectly strong, they're made with vodka and are naturally sweetened. Super fun and gorgeous with a gold sanding sugar topping.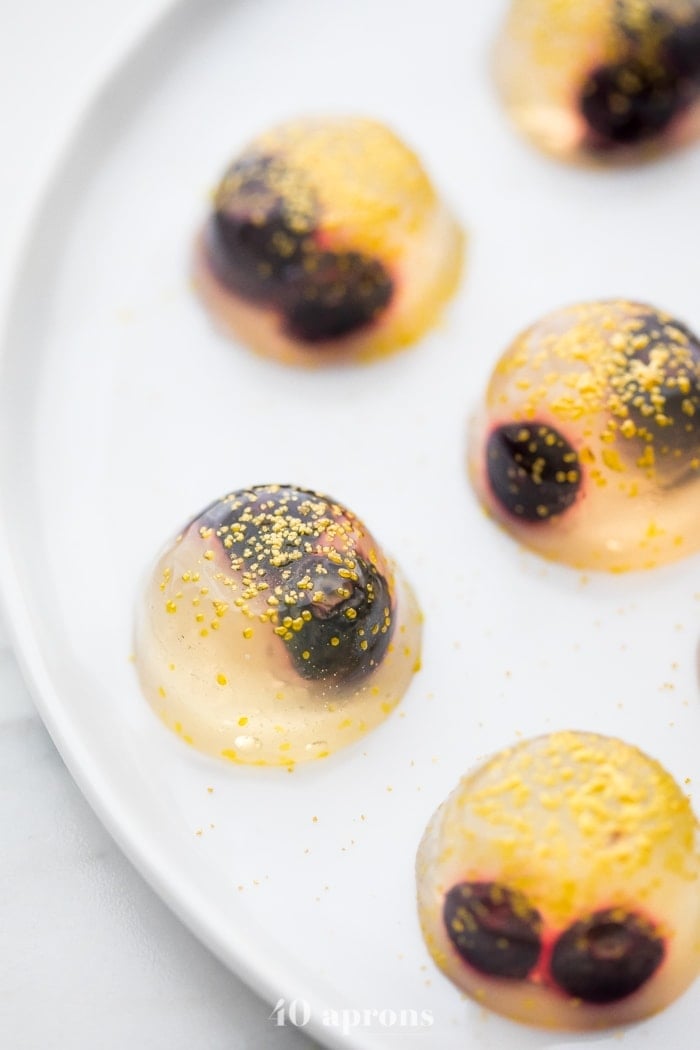 When was the last time you had a jello shot? Years maybe? A decade? MORE? Don't hurt my heart.
Most of us gave up jello shots when they stopped coming loaded with Everclear and toothpicks to scrape the boozy goop out of little bathroom paper cups, which usually (hopefully) coincided with wild college years. However, when I moved abroad to Paris in my early twenties..
(I hope you think I'm going to say that jello shots are a tenacious craze in Paris…)
my American friends and I threw a stereotypical Halloween party for our French friends. We raided the one local shop we heard had Halloween costumes and left with a vampire, a fairy, and a witch getup – that was about as good a selection as you're gonna get in a we-don't-get-Halloween country.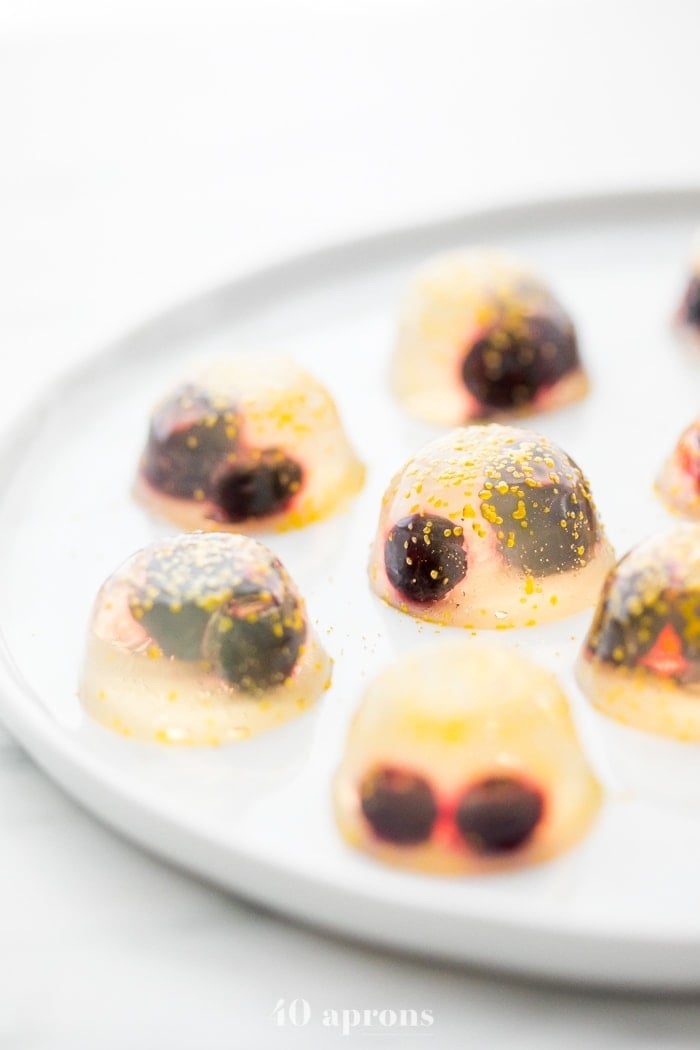 I found exactly one pumpkin and paid 20€ for it. And finally, we decided that we had to have jello shots, to give our French buddies a true feel for the "American experience". Of course, they don't have an aisle full of 67 different types of boxed jello there; instead, gelatin sheets were the best I could do. We put a gourmet spin on those suckers, knowing that if we used artificial grape "flavor", our native friends would spit them out and never return, ever.
Instead, we rigged up several iterations worthy of our more spoiled, less processed friends: lychee raspberry, screwdriver, Jack & Coke (an American tradition!), and coconut lime rum. There was no fridge space, so we let them set on the windowsill during an unseasonably early snow flurry.
They, how-you-say, loved them. I have a picture of me thumbs-upping over the table laid with about 40 of these, but I won't share. I just.. won't (Just kidding; here it is).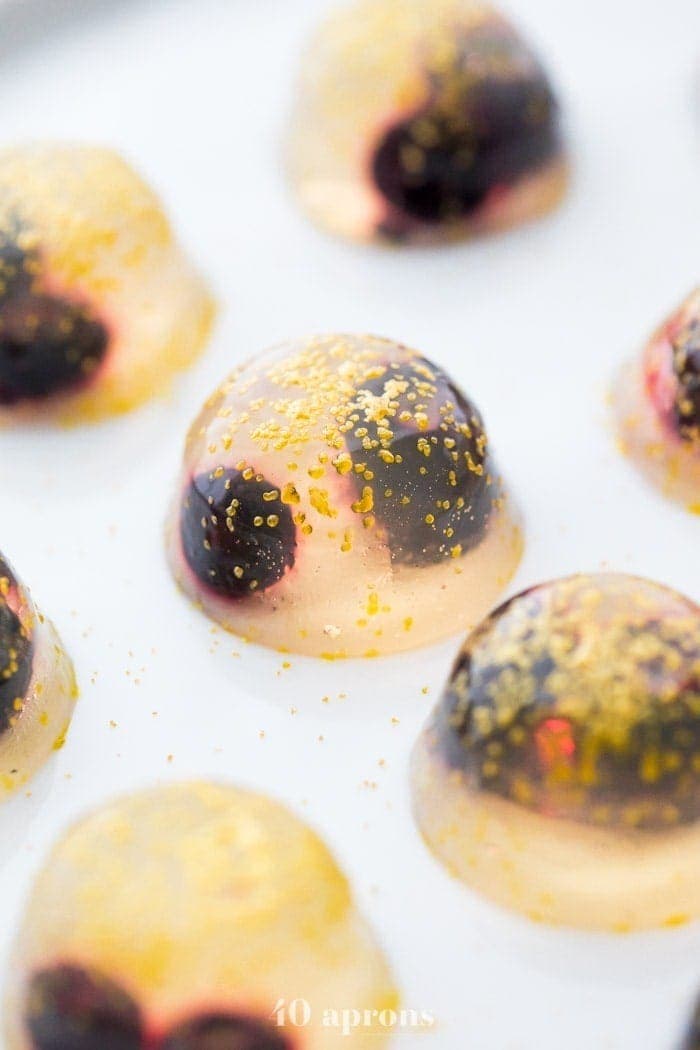 Ever since that experience, I've held jello shots dear to my entertaining M.O., knowing that no one can resist their kitschy, slightly sentimental charm when upgraded with adult flavors and booze.
The first year the hubs and I dated, we hosted a New Year's Eve party with a Mad Men theme (Hey – it was like 2010, OK? Jon Hamm was the man.), I ordered a 1960s jello mold from eBay, deeply sanitized it, and filled it with fresh blueberries, vodka, simple syrup, and sparkling water. Our guests sliced this boozy mold with a cake server and raved. The next year, it made sense to try my hand at infusing these jiggly bites with champagne, and that started my New Year's Eve tradition that I'm now sharing with you!
Why these champagne Jello shots are so perfect:
They're super fun but elevated. A great way to serve everybody's favorite to your guests without resorting to Jello packets and grain alcohol!
These champagne Jello shots are sweetened naturally with sparkling cider and by using a sweeter sparkling wine, like spumante.
The frozen blueberries give these champagne Jello shots a super elegant and funky look.
These champagne Jello shots are oh so easy and come together super quickly!
The gold sanding sugar melts on the tops of these champagne Jello shots and looks a bit like gold flake, making them super elegant.
How do you make champagne Jello shots?
Here's my process for making these champagne Jello shots:
Place a couple frozen or fresh blueberries into a silicone mini muffin pan.
Dump gelatin into a medium heat-proof bowl. Heat 1 cup of sparkling cider until boiling then pour into bowl with gelatin; whisk will until totally smooth.
Stir in champagne and vodka to medium bowl and whisk well. Using a large handled measuring cup, pour into mini muffin pan over blueberries. Chill for 3 hours.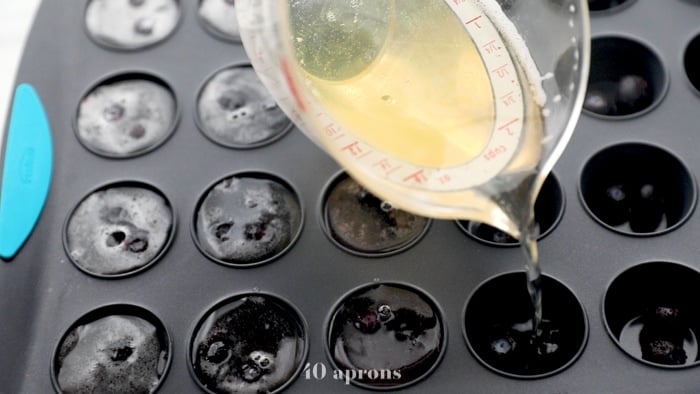 Run a toothpick around the edge of your champagne Jello shots then gently push up from the bottom of the mini muffin pan to release. Turn over on your serving plate then sprinkle with gold sanding sugar.
But you can put any sort of twist on these champagne Jello shots by following a simple formula!
Variations on champagne Jello shots
There are so many variations possible with these champagne Jello shots! Here's the general for homemade Jello shots:
1 cup non-alcoholic liquid + 1 cup alcohol + 2 packets gelatin
What about a rosé + St. Germaine combo? Or champagne + crème de kassis or Chambord? How about ginger beer + vodka and lime juice? Possibilities = literally limitless.
If your champagne Jello shots are sticking to the pan…
Try filling a jelly roll pan halfway up the sides with hot water and placing your mini muffin pan (with set champagne Jello shots) in the pan for about 15-30 seconds to loosen. Continue by running a toothpick around the sides and popping the champagne Jello shots out.
Where to find gold sanding sugar
I used the gold sanding sugar in this Wilton Gold, Silver, and White Sugars set that I found at Target. If you can't find it at your Target, you can order it off Amazon or try another gold sanding sugar! I especially loved this particular brand, because it melted beautifully but retained very vibrant color that reminded me of gold flake.
Other recipes you'll love:
Champagne Jello Shots with Raspberry
A stunning twist on a cocktail fit for New Year's Eve celebrations or epic birthday parties: champagne Jello shots made with vodka and blueberries!
Servings
20
champagne Jello shots
Ingredients
1

cup

sparkling cider

apple or white grape

2

packets gelatin

.5 ounces total

3/4

cup

sweet sparkling wine

like spumante

1/4

cup

vodka

plain or flavored

gold sanding sugar

for garnish
Instructions
Put gelatin in a medium heatproof bowl. Bring sparkling cider to a boil, then pour over gelatin and stir until completely dissolved, about 2 minutes. Let cool to room temperature.

Stir in vodka and champagne.

Place 2 blueberries into each mini muffin cavity. Pour champagne-gelatin mixture over blueberries to near top of muffin cavity. Chill for 3-4 hours.

When ready to turn out champagne Jello shots, dip bottom of pan into hot water for 5 seconds. Run a sharp paring knife or toothpick around the edge of the Jello shots to loosen, then pop out out onto a a wax-paper-lined surface or plate. See note.

Sprinkle with sanding sugars and serve. Keep chilled until serving.
Recipe Notes
If using a silicone mini muffin pan, you may not need to dip your pan into hot water before unmolding.
To do so, fill a jellyroll pan with hot water halfway up the sides then place the muffin mold into the hot water for a few seconds. Run toothpicks or a paring knife around the edge of each champagne Jello shot to loosen then pop out by pressing on the bottom of the mold or placing a baking sheet over the muffin pan and flip. Press on bottoms of molds to help pop shots out.
Nutrition Facts
Champagne Jello Shots with Raspberry
Amount Per Serving
Calories 19
% Daily Value*
Sodium 1mg0%
Potassium 20mg1%
Carbohydrates 1g0%
Calcium 2mg0%
Iron 0.1mg1%
* Percent Daily Values are based on a 2000 calorie diet.
This recipe was originally published December 2013 but was updated with new photos, directions, and a video in December 2018.