Paleo Rhubarb Tart (Grain-Free, Gluten-Free, Dairy-Free)

Posted: 06/05/17 Updated: 06/15/22
This paleo rhubarb tart is layered with a buttery shortbread crust, rich almond frangipane filling, and finished with a perfectly sweet, tart rhubarb topping. A dessert that's absolutely stunning and positively delicious, making it perfect for summer entertaining. This paleo rhubarb tart is a must-try!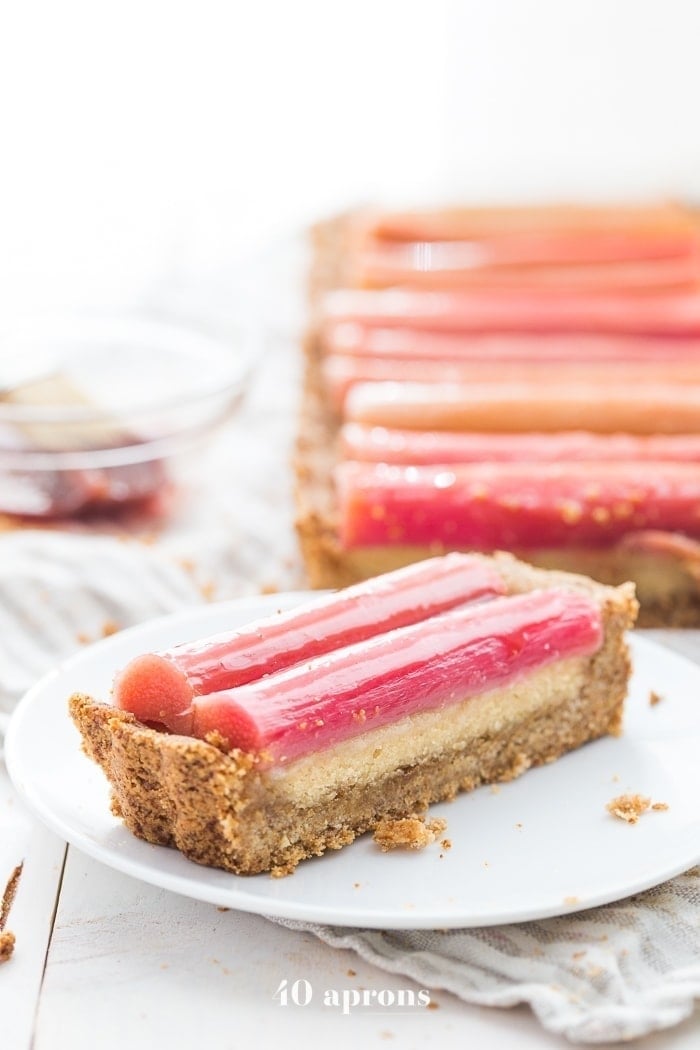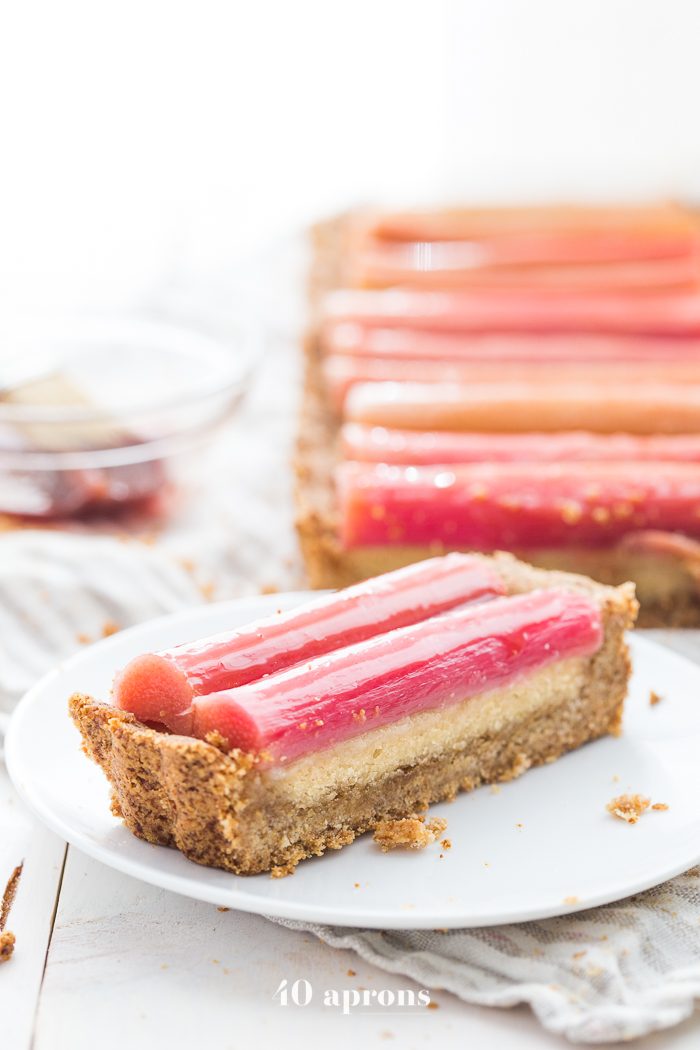 My earliest memories of rhubarb aren't memories at all; they're stories recounted to me as though I were both there and absent, flashes of short scenes I've witnessed only in photos. Like posters for movies I've seen in my sleep.
I was three or four, visiting family in upstate New York, the ones with the pet raccoons kept in cages in the living room (and I'm pretty sure that that's actually true). My aunt or cousin's wife or great uncle's wife's niece or whoever it was, she was making strawberry rhubarb pie, and I sat on the counter with a giant bowl of the filling, stuffing it into my chubby face. Eating it by the spoonful, bangs just a little too short from the homemade haircut the aunt or cousin's wife or great uncle's wife's niece had given me earlier that day.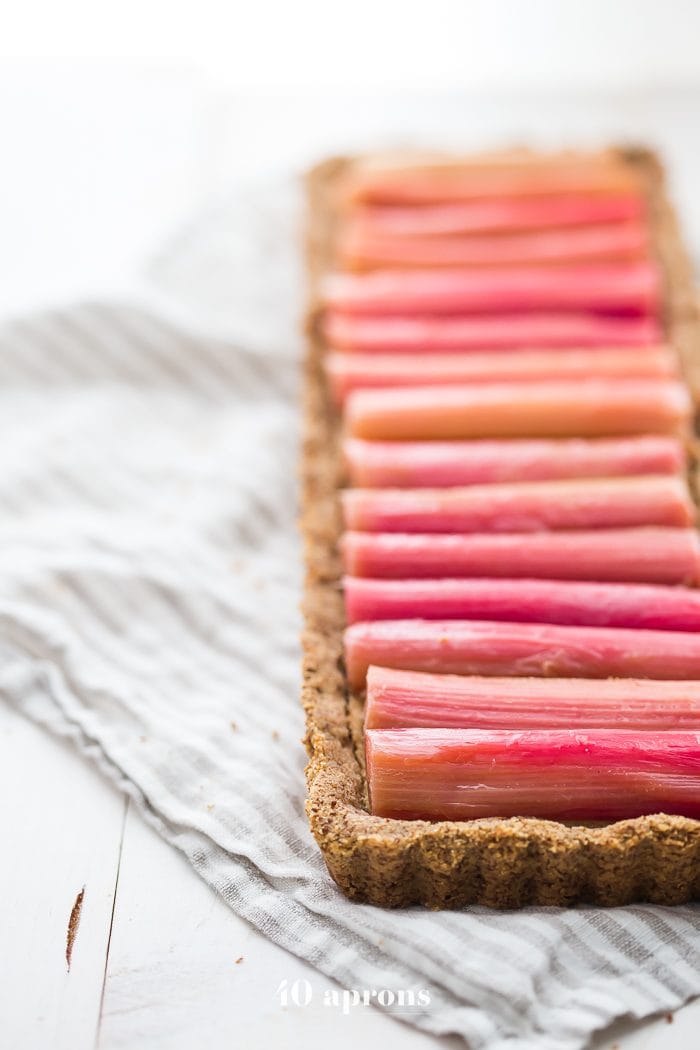 I always loved rhubarb, or so I'm told, but it took a while for me to tackle the ingredient on my own, to muster up the courage to replace this half-memory in my mind with something doubly real and potentially disappointing.
I have this sort of anomalous aversion to celery, which you'll notice on the blog, now that I've told you to look. And rhubarb, it just looks too much like celery, doesn't it? Its stringy stalks and sterile edges, seeing them only trimmed and stemmed in the grocery store in this part of the country, missing the bushes in the backyard, the fresh bundles at the farmer's market.
And so, delicate memory in mind, looking a bit too much like my hated celery stalks, and, quite frankly, not having a damn clue what to really do with it, I've tended to avoid it even when confronted by bins of the fresh stuff at the grocery store; even when peeking at bags of trimmed slices of it, frozen next to the organic wild blueberries.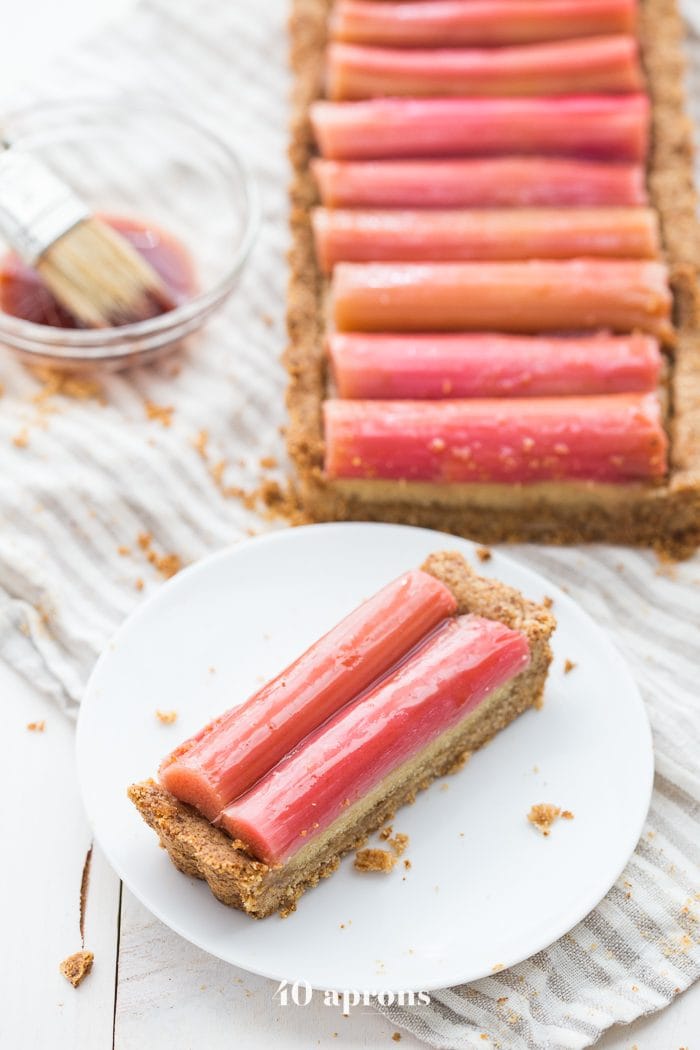 But, have you noticed? The Internet is in love with the pink stalks, and, I've been positively immersed in gorgeous, creative concoctions presented by the painfully talented food bloggers surrounding me. From teacakes to crumbles to one-pan chicken dishes, rhubarb is all around.
And so, on a recent trip to Sprouts, I grabbed several stalks, not having a clue what to do with them or what I even wanted to do with them. But as I perused rhubarb's corner of the Internet, inspiration hit quickly. I fell in love with the stunning, rectangular tarts and decided to create a paleo version of the classical dish. I wanted to pair a crumbly, buttery shortbread crust with a rich and heady frangiapane (sweet almond) filling, finished with a sweetened rhubarb topping.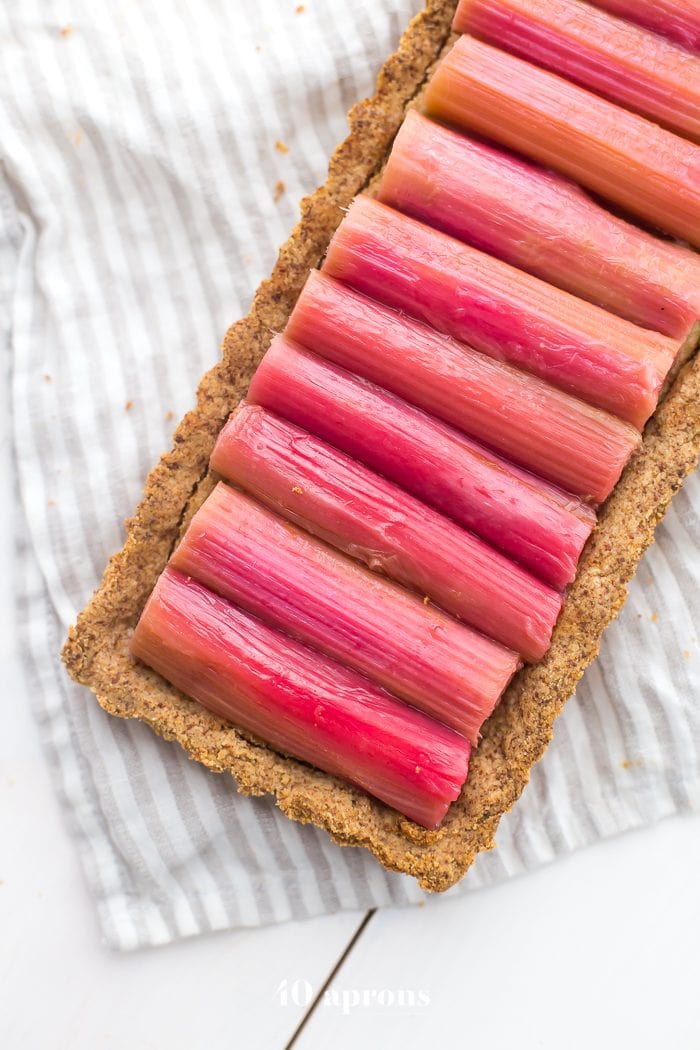 Each layer comes together easily, the bottom two whirring together in seconds in a food processor. The rhubarb topping is just as simple, simmering segments of the stalks in diluted maple syrup, cooled, and placed on the filled tart. Stunning, a tiny bit tart, and so rich, this paleo rhubarb tart is surprisingly delicious.
And it's true: I do love rhubarb. Those stories that were told to me, you know, every two years or so for the last twenty were right. I love the tart stalks and their neon hue; I love the fruity taste and the sheer weirdness of it all. I love the elegance of the slices, arranged in funky patterns. Maybe its an inherent love for rhubarb that's lain dormant all these years, and maybe it's these artificial memories that this dish shocks to life, but this paleo rhubarb tart might just be one of my favorite dishes I've made in the last year.
You'll love the buttery shortbread crust, the easy and rich frangiapane filling, and the sweet, tart rhubarb. It's easy to put together but is so delicious and stunning. And you can make this paleo rhubarb tart a few hours ahead, making it perfect for summer entertaining. Go grab some stalks today, and take advantage of rhubarb season!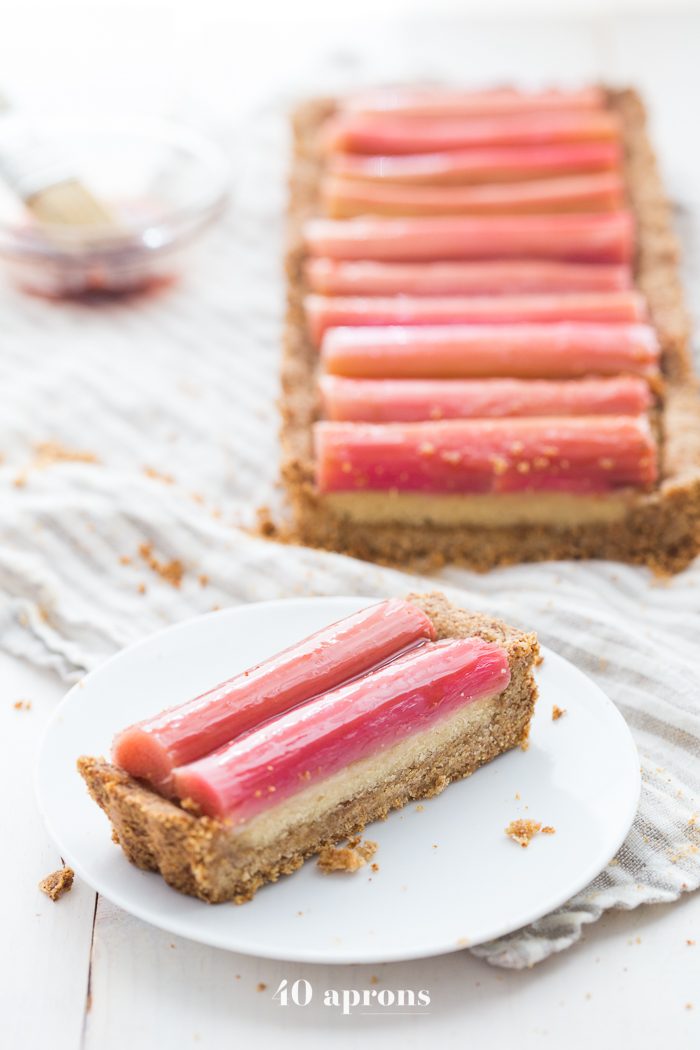 More Incredible Summer Treats
Paleo Rhubarb Tart
Layers of buttery shortbread crust, rich almond frangipane filling, and sweet, tart rhubarb topping create a stunning and delicious summer dessert.
Ingredients
For the Shortbread Crust
2

cups

almond flour

1

tablespoon

coconut flour

1

tablespoon

tapioca flour

1

pinch

salt

1

teaspoon

vanilla extract

6

tablespoons

ghee

or butter, ⅓ cup + 1 tablespoon

⅓

cup

coconut sugar
For the Frangipane Filling
Equipment
Sharp knife

tart pan

Large skillet with lid

Whisk

Food processor

rubber or silicone spatula

Aluminum Foil

Tongs

Pastry brush
Instructions
For the Rhubarb Topping
Cut rhubarb stalks into 4.5-inch wide segments. Test length by placing cut stalks in empty tart pan – stalks should fit easily in pan with space on all sides for crust edges.

Add maple syrup, water, and vanilla extract to large skillet over medium heat. Gently whisk liquids until mixture begins to simmer, then add cut rhubarb stalks.

Reduce heat to medium-low and simmer 5 minutes. After 5 minutes, remove skillet from heat and cover with lid. Let topping cool in covered pan at least 1 hour (overnight preferred).
For the Shortbread Crust
Preheat oven to 350° Fahrenheit.

Add all crust ingredients to bowl of food processor. Pulse ingredients 3 to 5 times or until mixture is combined and holds together when pinched.

Transfer crust mixture to tart pan. Gently but firmly press crust into bottom of pan and up sides of pan in one even layer.

Place tart pan in preheated oven. Bake 11 to 13 minutes or until sides of crust are lightly brown. Remove crust from oven and set aside to cool.
For the Frangipane Filling
Wipe out food processor bowl to remove any leftover crust crumbs. Add all frangipane ingredients to food processor bowl, then pulse 2 to 4 times, until mixture is well-combined.

Transfer frangipane filling to tart pan with partially-baked tart crust. Use spatula to evenly distribute filling across crust and smooth top of filling layer.

Cut one large sheet of aluminum foil and place filled tart pan in center of foil sheet. Bring sides of foil up, folding as needed so that foil just covers crust tart edges while leaving filling uncovered.

Return tart pan to preheated oven. Bake 20 minutes or until filling is golden-brown and set. Check doneness by inserting knife in center of filling and removing – knife should come out of filling completely clean.

When filling is set, remove tart pan from oven and set aside to cool completely.
For the Rhubarb Tart
Strain rhubarb out of syrup and set syrup aside. One by one, gently line rhubarb across top of frangipane filling.

Return skillet with syrup to stovetop and warm uncovered over medium heat. Let syrup come to boil, then continue boiling until syrup has reduced to approximately ¼ cup.

Use pastry brush to gently brush reduced syrup over rhubarb topping, then serve tart immediately or cover pan with foil and keep at room temperature until ready to serve.
Notes
If you don't have a rectangle tart pan, you could try making this in a 9×9″ baking dish. You'll need a little more rhubarb, and the filling and crust will be a bit thinner, but it would otherwise be a close substitution. I highly recommend getting a rectangle tart pan, though – so elegant and stunning (plus quite affordable)!
Serving: This tart is best served immediately. If you plan to serve it the same day you make it but not immediately after baking, cover the pan with foil and keep the tart at room temperature until ready to serve. If you plan to serve it the next day, you'll need to refrigerate the tart in an airtight container until ready to serve.
Nutrition Information
Serving Size:
1
serving
,
Calories:
454
kcal
,
Protein:
9
g
,
Fat:
32
g
,
Saturated Fat:
10
g
,
Trans Fat:
0.003
g
,
Cholesterol:
62
mg
,
Sodium:
37
mg
,
Potassium:
437
mg
,
Total Carbs:
30
g
,
Fiber:
6
g
,
Sugar:
20
g
,
Net Carbs:
24
g
,
Vitamin A:
60
IU
,
Vitamin C:
2
mg
,
Calcium:
148
mg
,
Iron:
3
mg
Number of total servings shown is approximate. Actual number of servings will depend on your preferred portion sizes.
Nutritional values shown are general guidelines and reflect information for 1 serving using the ingredients listed, not including any optional ingredients. Actual macros may vary slightly depending on specific brands and types of ingredients used.
To determine the weight of one serving, prepare the recipe as instructed. Weigh the finished recipe, then divide the weight of the finished recipe (not including the weight of the container the food is in) by the desired number of servings. Result will be the weight of one serving.