This DIY hand sanitizer destroys germs but is made from simple ingredients. It's super cheap and super easy to learn how to make hand sanitizer, and we love customizing ours with essential oils. This hand sanitizer uses high-concentration alcohol to kill many surface germs… but only costs about $1 to make!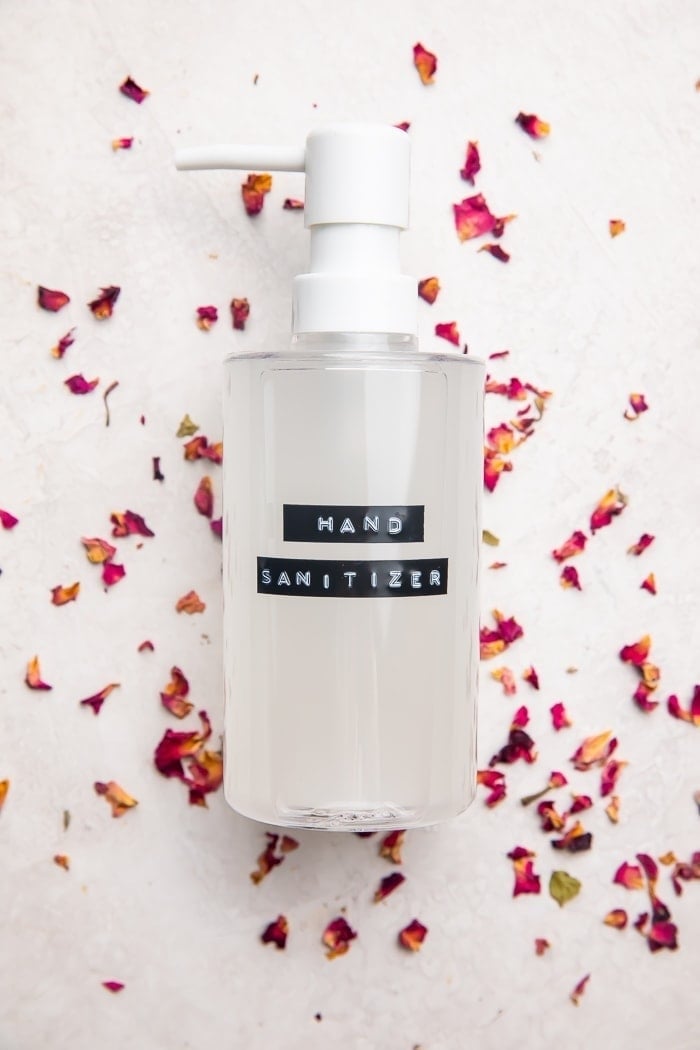 Reminder: Washing your hands for at least 20 seconds with soap and water is the best way to prevent the spread of germs. However, if soap and water are unavailable, hand sanitizer can be used to reduce microbes on the skin. Hand sanitizer will NOT kill ALL types of germs. Your homemade hand sanitizer must be 60% alcohol at least, or it will not be effective.
Disclaimer: We are not medical professionals, and we don't play them on the internet. We are not chemical formulators, pharmacists, or anything other than moms who like to DIY germ-fighting household products. This is not medical advice! Use at your own risk.
I recently shared my own recipe for DIY hand sanitizer on my Instagram, and there was SUCH a response, I knew I had to share my official recipe on the blog.
After, of course, my DIY Disinfectant Spray recipe.
That stuff is like Lysol spray but WAY cheaper and with WAY more pronounceable ingredients. Did I mention it has essential oils?! But don't get me wrong… this stuff is powerfully packed with high-proof alcohol to slay germs. Don't let the essential oils fool you into thinking it's nothing short of stout.
Why You Should Learn How to Make Hand Sanitizer
It's effective. It's about 85% alcohol and contains hydrogen peroxide, a bit of water, and essential oils known for their disinfectant properties. Each ingredient plays a key role in fighting germs in this hand sanitizer.
It's very cheap. It's about $1 to make 12 ounces of the stuff!
This DIY hand sanitizer is made from simple ingredients that you might even have on hand: isopropyl alcohol, water, hydrogen peroxide, and essential oils.
The scent is customizable. You can use whichever essential oils you like or whichever suit your needs. Don't customize the alcohol percentage much, though; hand sanitizer needs to be at LEAST 60% alcohol to be effective, preferably stronger.
This hand sanitizer isn't super "jelly" because it has a high concentrate of alcohol, plus distilled water and hydrogen peroxide, but it has a super luxe feeling!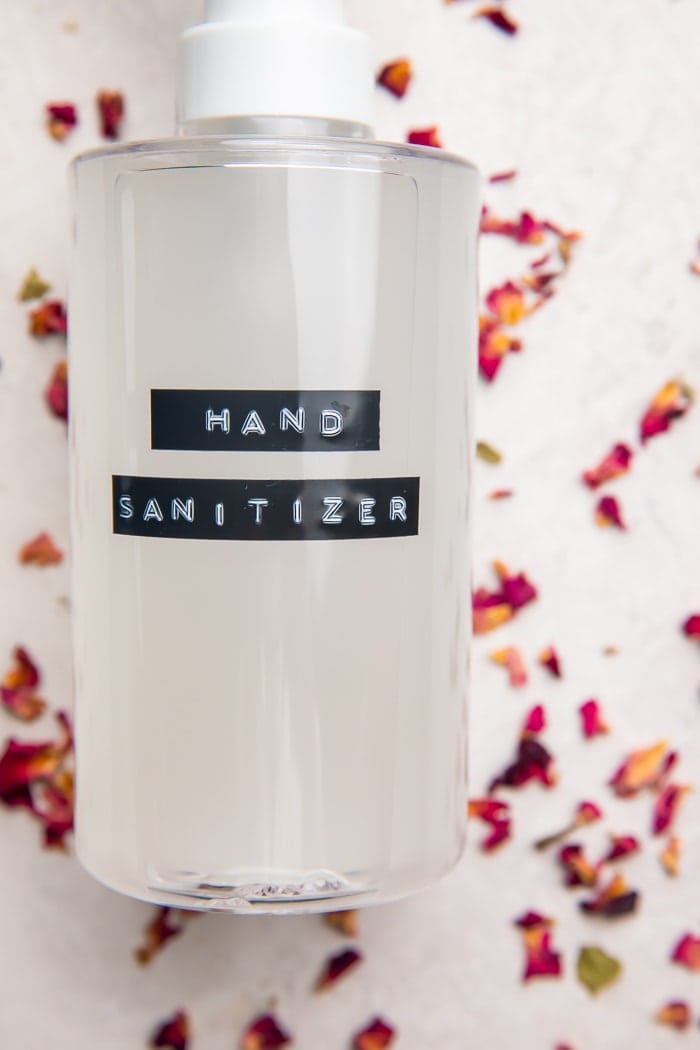 When to Use Hand Sanitizer
We know that that soap and water can be more effective at destroying certain types of germs. HOWEVER, we all know there are times when soap and water aren't available (Um, shopping carts, meeting rooms… dare I mention Porta-Potties?!), and then, hand sanitizer can be used to help destroy surface germs.
Check out the CDC for more information on when and how to use hand sanitizer.
Ingredients
We use only 4 simple ingredients in this DIY disinfectant spray, each with an important role:
high-proof alcohol, preferably isopropyl alcohol (AKA rubbing alcohol)
distilled water
aloe vera gel
hydrogen peroxide
essential oils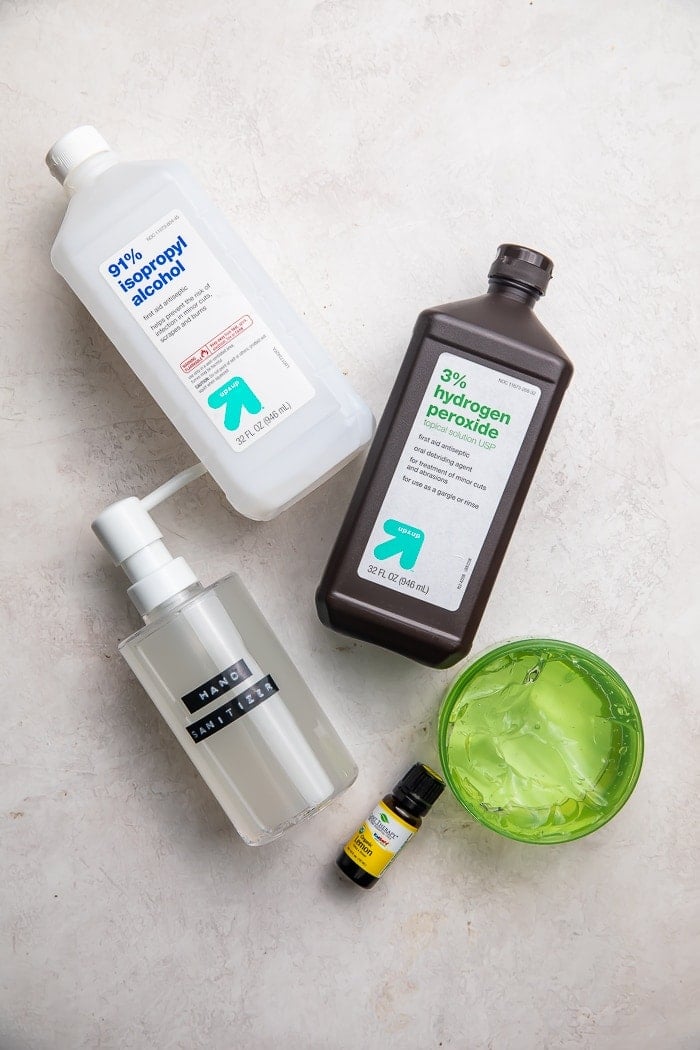 Isopropyl Alcohol or Ethanol?
We use ethanol (AKA high-proof "drinking" alcohol, like Everclear) in my DIY disinfectant spray. So are we using ethanol in this hand sanitizer, too?
Not necessarily!
First off, what's the difference?
Isopropyl alcohol and ethanol are both alcohols.
Ethanol is the kind of alcohol that is more often imbibed. Say no more!
On the other hand (PUN INTENDED!), isopropyl alcohol, or rubbing alcohol, is typically used topically on skin; this is what is usually used in hand sanitizer and alcohol prep pads at the doctor. It's easy and cheap to pick up isopropyl alcohol at places like pharmacies and grocery stores.
Both are effective at killing germs, but some research shows isopropyl alcohol is especially good at killing bacteria, and ethanol (or ethyl alcohol) is especially great at destroying virus germs.
So whether you use ethanol (ethyl alcohol AKA Everclear, etc.) or isopropyl alcohol, it really depends on what you're after! We like to use ethyl alcohol during winter but for an all-purpose DIY hand sanitizer, isopropyl alcohol is easy to find, known to be safe topically,
When it comes down to it, you can use either, but we're using isopropyl alcohol here because it's cheap and easy to find. Interestingly, according to this calculator (based on a WHO recipe), you don't need to really change the other ingredients if you use 95% ethanol (180 proof Everclear).
Use a Little Water
Some research actually shows that
"absolute ethyl alcohol, a dehydrating agent, is less bactericidal than mixtures of alcohol and water because proteins are denatured more quickly in the presence of water."
Because of that, as in our DIY Disinfectant Spray, we use primarily alcohol in our DIY disinfectant, along with a bit of water, aloe vera gel to help moisturize the skin, a little hydrogen peroxide, and essential oils for our mix.
Aloe Vera Gel
Every ingredient in this DIY hand sanitizer recipe serves a specific role, and all of them except one helps with disinfecting the surface of the hands.
Aloe vera gel, however, is in the recipe to help moisturize hands. If you were to use straight alcohol, water, hydrogen peroxide, and essential oils, you'd end up with very dry, cracked hands.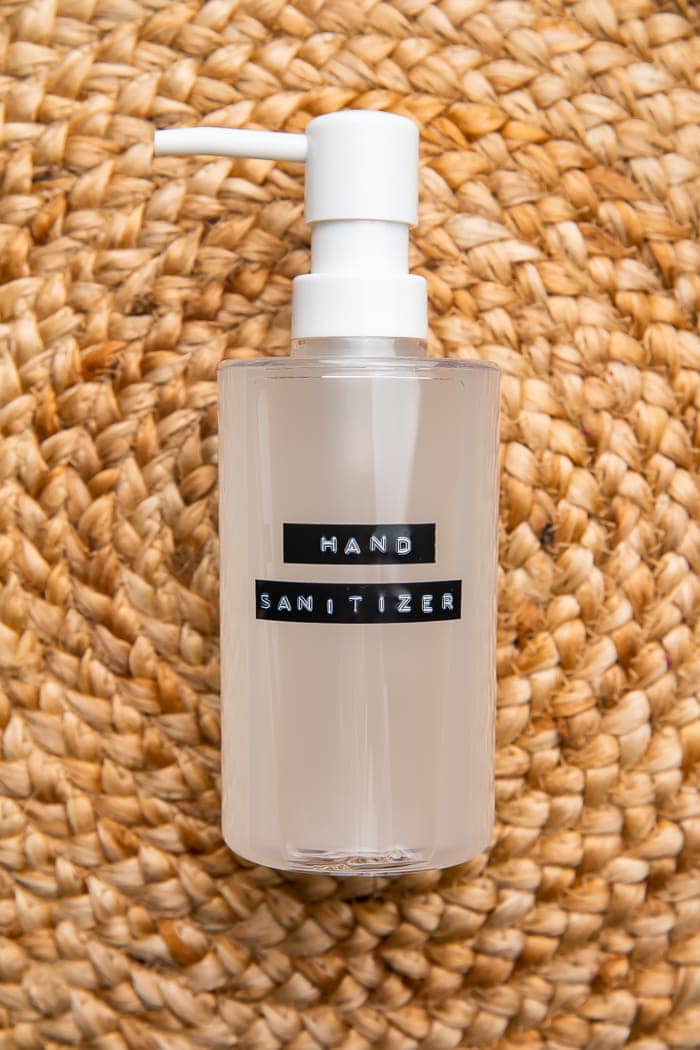 Essential Oils
Two reasons for using essential oils in homemade hand sanitizer:
scent (so you don't smell like you're about to get a shot at the doctor!) and
antiviral properties
Now I'm not "oily," as some essential oil enthusiasts refer to themselves! We use them a lot, but I don't belong to any kind of essential oil sales group. I often turn to Amazon's selection for organic pure essential oils here, and you can pick up a few of your favorite scents of purposes affordably there.
Here's a list of what we like to use for antiviral or skincare recipes (Bold denotes an oil studied for its antiviral properties):
tea tree
eucalyptus
thyme
rosemary
cinnamon
clove
orange
chamomile
lemon
peppermint
lavender
Tea tree, eucalyptus, and thyme were actually studied for their antiviral properties, so we include these in most of our disinfectant blends. Clove, orange, rosemary, and cinnamon are known for their antiviral properties, too.
However, I actually typically use mainly lemon and a bit of tea tree or eucalyptus in my homemade hand sanitizer because I just love the smell! Not only does it smell fresh to me, but a study showed it was actually more effective at decreasing stress than lavender.
Hydrogen Peroxide
Why do we include hydrogen peroxide in this hand sanitizer recipe?
Some research has shown that certain viruses "can be efficiently inactivated by surface disinfection procedures with 62–71% ethanol, 0.5% hydrogen peroxide or 0.1% sodium hypochlorite within 1 minute."
Just as we used it in my DIY Lysol Spray recipe, we're aiming to get the same benefits from this ingredient here as well.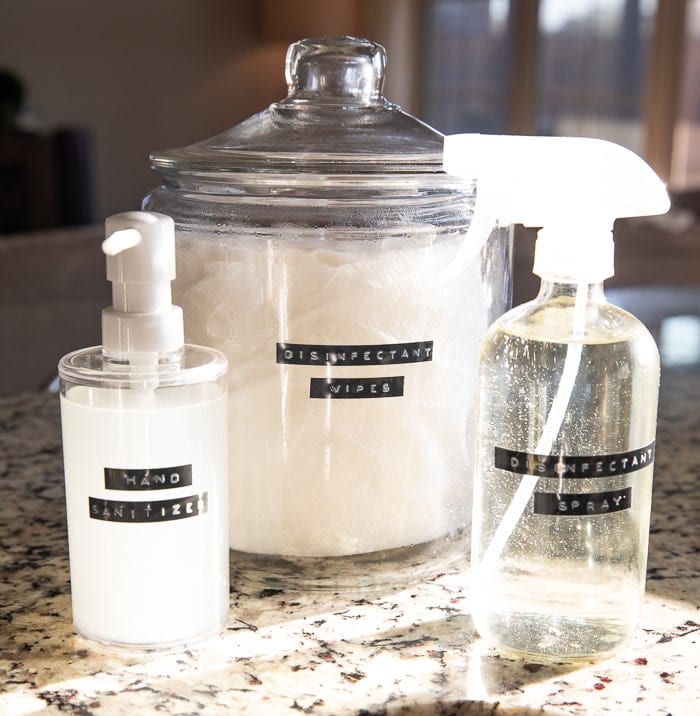 But How Do I Know if it's 60%+ Alcohol?
That's a really good question, because it's more complicated than you'd think. You have to absolutely make sure your DIY hand sanitizer is 60%+ alcohol, or else it won't be effective.
But calculating solutions is not as simple as it seems! Thankfully, there's a great resource out there to help you. I asked my mathematician friend to help me out, and he wrote up a very clear explanation of this calculation. Check it out!
In his calculation, we're aiming for about 75% final alcohol percentage (but his basic calculation makes 16 oz., not 12 oz.).
You can also use this online calculator, which is based on the WHO recipe for hand-cleaning hand rub solution.
DIY Hand Sanitizer / Disinfectant Recipes calculator
We're using slightly different ingredients, but the alcohol content should remain about the same. This calculator can be useful when using different types of alcohols in your DIY hand sanitizer.
Let It Sit
After making your hand sanitizer and pouring into a 12-ounce pump bottle or smaller squirt bottles, you want to let it rest for about 72 hours to kill any spores inside the bottle.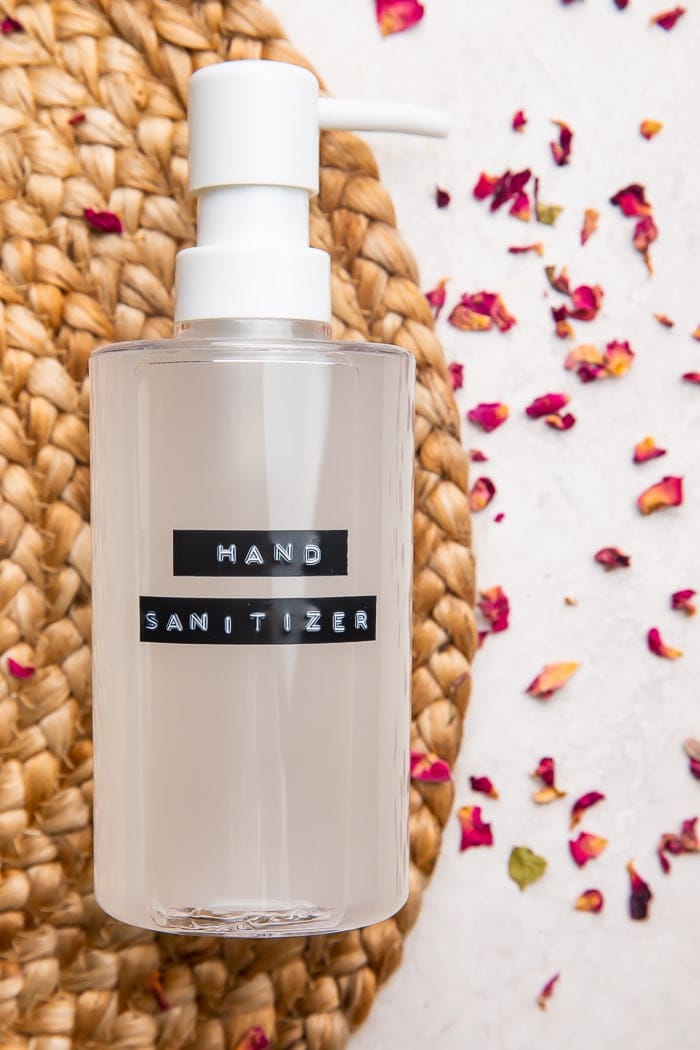 Remember!
Again, I'm not a chemist, so you should err on the side of strength here. I also recommend ordering a 0-200 proof alcohol hydrometer so you can test homemade hand sanitizer, DIY disinfectant spray, DIY disinfectant wipes, etc.
That's it! Remember: we aren't doctors, and we don't play them on the internet. MAKE SURE THAT your homemade hand sanitizer is at least 60% alcohol, preferably 70%, or it will not be effective.
Make use of this calculator to help you in determining the percentage, and make sure you know the alcohol percentage and type (whether it's isopropyl alcohol, AKA rubbing alcohol, or ethyl alcohol, AKA Everclear, vodka, etc.) of your ingredient.
Do I need essential oils to make this?
We do recommend adding essential oils, but you can omit them if you don't have any. You can also use lemon juice.
DIY Hand Sanitizer Recipe
This DIY hand sanitizer is easy and cheap to make, and it's effective at killing many surface germs when soap and water aren't available. It uses simple ingredients that moisturize skin, plus essential oils!
Ingredients
10

ounces

91% isopropyl alcohol (rubbing alcohol) or 95% ethanol (Everclear)

See Note for other alcohols

2

teaspoons

distilled water

1

teaspoon

hydrogen peroxide

1/4

cup

pure aloe vera gel

30-40

drops

essential oils as desired

See Notes for recommended essential oils.

pump or squirt bottles

12 ounce pump bottle or pour mixture into multiple smaller squirt bottles
Instructions
In a medium bowl, add all ingredients. Whisk well then pour into 12-ounce pump bottle or into multiple smaller bottles. Ideally, let mixture sit 72 hours to destroy any spores in the container, then use on hands whenever soap and water are not available.

Remember, soap and water are the BEST at destroying germs!
Notes
Important to Remember
You must absolutely make sure your mixture is 60%+ alcohol, or it will not be effective.
My mathematician friend wrote an equation for calculating the desired final alcohol percentage,so check out his super helpful walk-through of this if you need help.
For other types of alcohol, use this online calculator to help you know how much water to use. This calculator produces an 75% alcohol, and we do not use as much hydrogen peroxide in our recipe as the calculator. However, it is generally very helpful in knowing about how much water you can to use.
Essential Oils
Types of essential oils to use:
tea tree
eucalyptus
thyme
rosemary
cinnamon
clove
chamomile
peppermint
lavender
Tea tree, eucalyptus, and thyme were actually studied for their antiviral properties, so we include these in most of our disinfectant blends. 
Disclaimer: We are NOT chemists, doctors, or medical professionals. We do not play them on the internet. We are simply sharing a recipe for an alcohol-based cleaning spray that we've used for years and hope others will enjoy.
Continue to use germ-fighting best practices as recommended by the CDC, such as regular, proper hand-washing, coughing or sneezing into your elbow, etc. Visit their site for more information.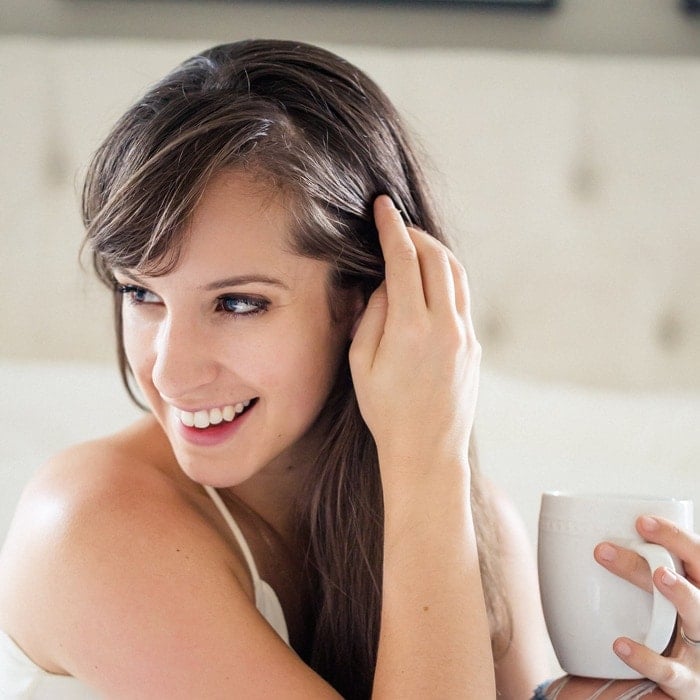 Cheryl Malik is the recipe developer, writer, and photographer behind the healthy, flavorful, family friendly recipes at 40 Aprons. She's been a blogger for 10+ years and is known for her delicious recipes and detailed recipe instructions. Cheryl is a mom of three who lives in Memphis, TN.