All About Cordyceps

Posted: 05/23/20 Updated: 05/11/22
Cordyceps is a total powerhouse in the supplement world. Used for a variety of ailments in Chinese medication for hundreds of years, cordyceps has now been shown by science to have tons of potential benefits, including improving immunity, managing type 2 diabetes, and even life longevity. We'll break down the facts, the benefits, and even its unusual origin.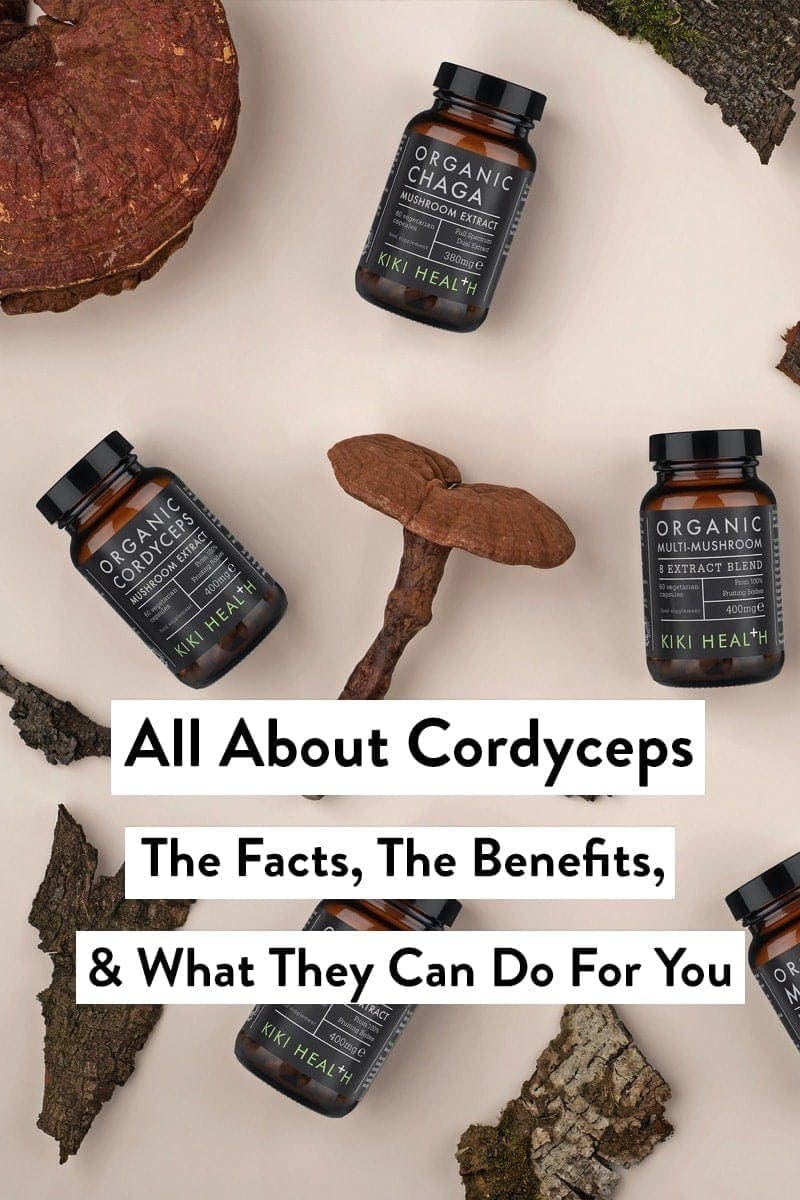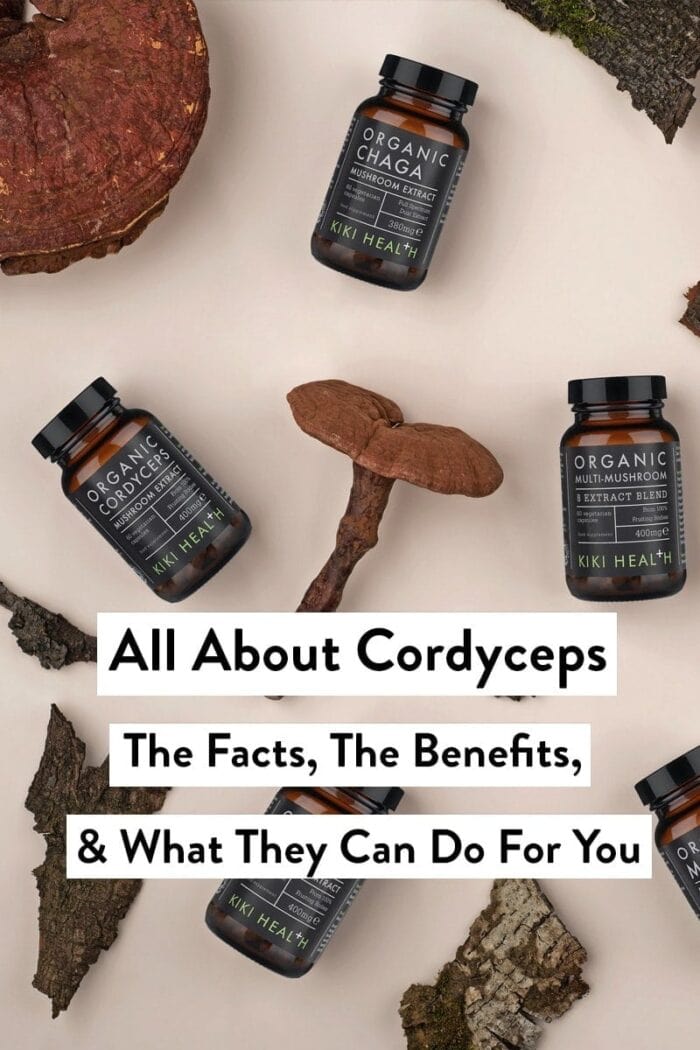 Please keep in mind that we are not doctors or medical professionals, and we always highly recommend speaking to your own doctor prior to starting or taking any supplements or making lifestyle changes. NOTHING in this article is medical advice and should not be taken as such. These are simply general concepts, not prescriptive information or health advice. We cannot emphasize this enough! Proceed at your own risk.
What Is Cordyceps?
Cordyceps is a type of parasitic fungus that grows on (and in) caterpillars. If you're super grossed out and thinking, "Welp, that's enough Internet for today," you should know most cordyceps sold in extracts are made in a laboratory. They've been used for centuries in traditional Chinese medication for a variety of ailments, and while scientific studies on cordyceps are still in the early stages, their findings are promising.
What Are The Benefits?
Improves the immune system
Anti-aging abilities
May help regulate blood sugar
Improves heart health and lowers cholesterol
May act as an anti-inflammatory
Could have anti-tumor properties
Improves The Immune System
Studies have shown that cordyceps increase the strength of the immune system. It may also be effective in regulating the immune system, both for autoimmune disorders and as an immunosuppressant after receiving an organ transplant. So if your immune system is either working too hard (like with a disease like lupus) or is suppressed, cordyceps may be able to bring your immune system to a normal level.
Anti-aging Abilities
While studies have not been done on humans, cordyceps has been shown to help hinder the aging process. In fact, mice who took cordyceps lived several months longer than mice who did not. Other studies have shown that it also improved their memory and sexual function.
May Help Regulate Blood Sugar
Cordyceps was shown to act similar to insulin in diabetic mice, helping to lower blood sugar to normal levels. It also lowered their cholesterol levels and helped improve kidney function. Diabetic mice who took cordyceps also gained less weight than those who took a placebo.
May Improve Heart Health & Lower Cholesterol
Animal studies show that cordyceps appears to lower "bad" LDL cholesterol, which can build up in the body and cause heart disease. It also appears to lower triglycerides, which can cause heart disease as well. There isn't enough evidence to show whether it also helps heart health in humans, but early research is promising.
May Act as an Anti-Inflammatory
Scientific studies on mice show that cordyceps can decrease inflammation, both externally on skin and internally in the respiratory system.
Could Have Anti-Tumor Properties
Though the research has primarily been done within labs, cordyceps has been shown to slow the growth of tumors with certain cancers, including ovarian, skin, and lung cancer.
Other Health-Related Benefits
May improve endurance during experience and lessen fatigue
Boosts sex drive
Good for kidney health
Rejuvenates skin and reduces appearance of aging
Helps detoxify the body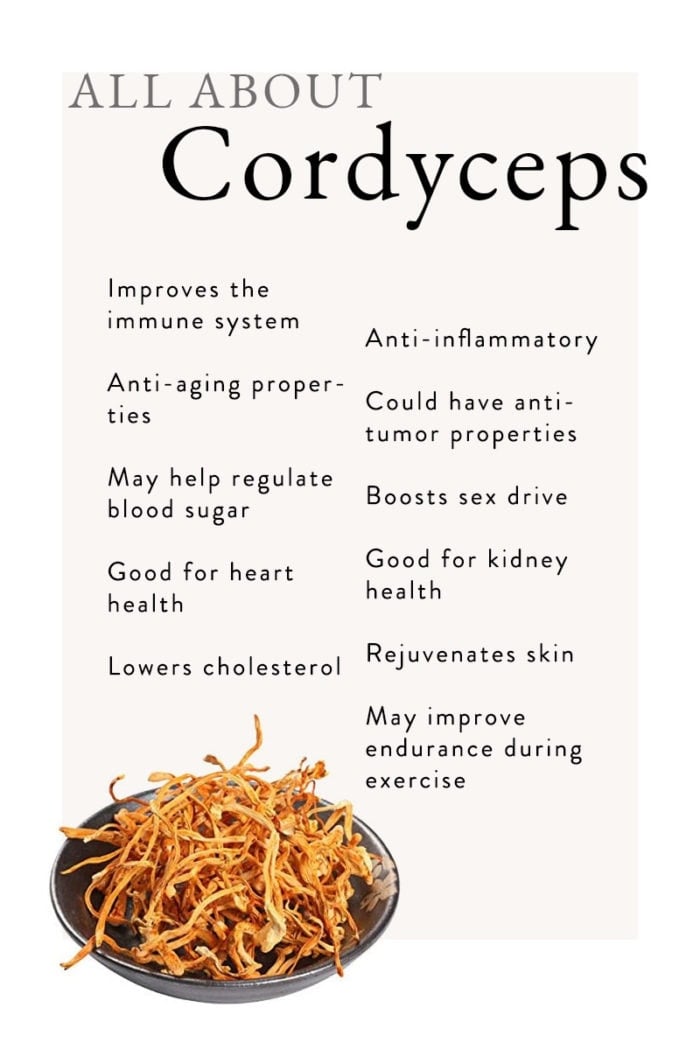 How Do I Take Cordyceps & What Should I Expect?
Cordyceps can be taken in capsule form, although it's also available as a drink, powder, and tincture or liquid. You can also buy them whole, but it's not cheap. Capsules are probably the most popular way to take cordyceps, and since each brand is different, make sure you read the label to make sure you are taking the accurate dosage. You can also steep them in a tea, but it's up to you!
Cordyceps are widely considered to be safe to take daily, but, obviously, talk to a medical professional before starting a new supplement plan. Some people reported nausea or diarrhea after taking cordyceps.
Before Taking Cordyceps
Talk to your doctor before starting any supplement or vitamin plan to make sure it's a healthy choice for you. In particular, if any of the following apply to you:
Allergic to mold or yeast: It's very possible you will be allergic to the supplement
Take any blood thinners: Cordyceps may increase your risk of bleeding.
Take insulin or any medication that affects your blood glucose: As mentioned, cordyceps can alter blood sugar levels, so talk to your doctor to make sure it won't lower your blood sugar too much.
Pregnant or breastfeeding: Not a lot of data is available regarding pregnancy and cordyceps, or if the cordyceps transfer to breast milk.
Have a myelogenous type cancer like chronic myeloid leukemia or acute myeloid leukemia: Cordyceps may increase the same types of cells that cause these cancers.
More From Health & Wellness
Hey – you've made it this far, and now we're best friends! Make sure you follow me on Instagram, Pinterest, and Facebook, too!