Years ago, I started dating a drummer when I was in college at University of Alabama. He was another student, of course, but was much more serious about music.. I'm still not sure what he thought he'd do at college, but nonetheless. Said musician then joined a band which got a record deal with a major label and moved out to LA. Let's jump into a long-distance relationship, shall we? Shall we!
When I visited, we'd always, always, always treat our whiskey-soaked hangovers to authentic burritos and a plate of salsas at a little taqueria-in-the-wall off Santa Monica and La Brea called Las Ranas. I dream of this place, you guys, and it's a for-sure when we visit LA again. The salsa that used to haunt me, however, was a smooth avocado salsa–not too spicy but with a little kick. Not too much cilantro; not too bland; not too creamy.. just perfect. It was years before I found a recipe that did this salsa justice, and I have my incessant Googling to thank!
This smooth avocado salsa is just perfect. So simple but full of flavor, so easy and perfect to go with almost anything Latin-inspired. 5 ingredients, a couple minutes, and a blender, you guys. The white vinegar is a surprising ingredient but don't skip it! It really adds a very, very subtle but rounding bit of acidity and keeps the salsa green in the frigo. And as the warmer weather creeps in, you need a batch of this in the fridge at all times.
Oh… and it goes perfectly with taquitos.. JUST SAYING.. ?
Hint..
Hint..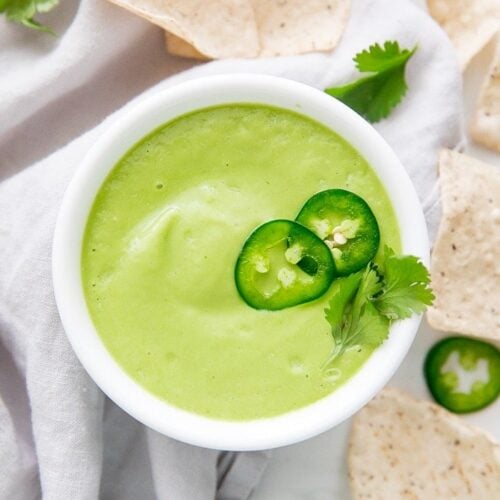 Avocado Salsa
This avocado salsa is perfect - smooth, flavorful, and so quick and easy. Perfect with any and all Mexican food, like chips, tacos, taquitos, burritos, nachos. Naturally Whole30, paleo, and vegan.
Ingredients
1

ripe avocado

halved, pitted, and flesh scooped out

1

fresh jalapeno

stemmed and cut into quarters

1

cup

water

1

tablespoon

white vinegar

3/4

teaspoon

salt

2

tablespoons

fresh cilantro

, minced

2

tablespoons

onions

, diced
Instructions
Blend all ingredients on high speed until very smooth. Add salt to taste, if desired. Keep in an airtight container in the fridge, at least a week.
Recipe Notes
Keeps in an airtight container in the fridge for about two weeks.
You can replace the white vinegar with lime juice, but the white vinegar is better for preventing browning. I prefer the brightness it provides to lime juice, too.
Nutrition Facts
Avocado Salsa
Amount Per Serving
Calories 21
Calories from Fat 9
% Daily Value*
Total Fat 1g 2%
Sodium 110mg 5%
Potassium 60mg 2%
Total Carbohydrates 1g 0%
* Percent Daily Values are based on a 2000 calorie diet.
47