This shop has been compensated by Collective Bias, Inc. and Conagra Brands. All opinions are mine alone. #31DaysWithRotel #CollectiveBias
These Whole30 Instant Pot Mexican stuffed sweet potatoes with chicken are the perfect Whole30 dinner: insanely full of flavor, filling, and full of protein, fiber, and healthy fats. Your new go-to Whole30 Mexican recipe! A great anytime paleo Mexican dinner, too. Comes together so easily and quickly in the Instant Pot. Crockpot option included.
Check out more fiesta inspiration to liven up your spring and summer by clicking here. I seriously can't get over how creative my fellow food bloggers are! #girlcrushes all around.
I'm always a little wary of trends, of gadgets or diets that pop up on social media. I was a paleo diet hater back when it first came to public awareness, and last year I rolled my eyes at the absolute must-have gadget that seemed to take over my Facebook mom groups: the Instant Pot.
We don't eat all that many slow cooker recipes, and I don't erm, make a lot of rice? So how useful could this thing even possibly be? But my friends continued to gush over this life-changing device, and I eventually gave in to the curiosity. I gathered a little bit of "play money" I'd gotten for my birthday, and ordered it on Amazon Prime.
Ding dong is right.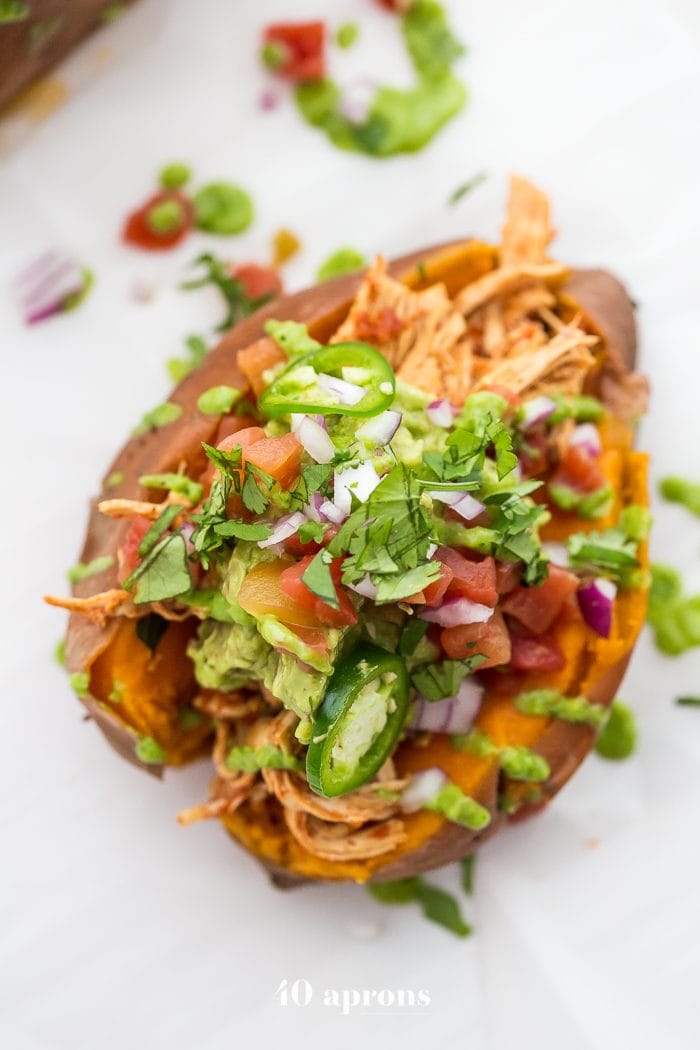 I started slowly, making terrible, watery curries and hating it. But then, all of a sudden, it kind of clicked. The weather was getting warmer, and I stopped obsessing over how long it took to get to manual pressure. I improvised a garlic-rosemary pork tenderloin in the IP, and what resulted was better than any filet I'd ever had. The kitchen didn't heat up, there was one dish to clean, and best of all… I could quite literally set it and forget it.
Consider me fully converted, join the cult, sign me up, where's the Kool-Aid, DONE.
But, of course, you all already know this, right? Because I'm always late to the party, always showing up in 2001 wearing jelly sandals asking, "What? Just me?" Always "discovering" sweet potato toast like 300,000 pins late. That's just my style, and I'm trying to embrace it.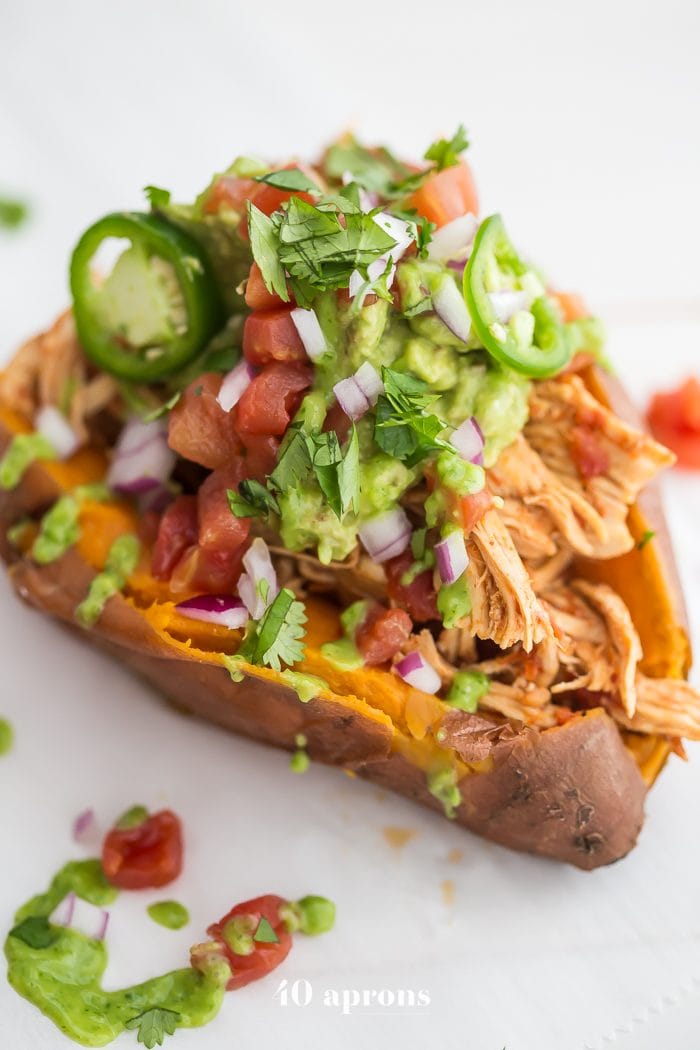 So, of course, after my fashionably late arrival to the Instant Pot rave, I knew I had to convert one of my very favorite slow cooker recipes: my embarrassingly photographed but intensely tender and delicious Crockpot chicken tacos recipe. I wanted to be able to throw a midweek fiesta without having to remember to load the Crockpot at noon, wanted to load up on flavor and dial down the time and effort to make a delish and healthy dinner.

I headed to Walmart to pick up a couple cans of RO*TEL and got back down to business.
Chicken + taco seasoning + a can of RO*TEL + Instant Pot = perfection.
Like I mentioned in my Whole30 Instant Pot chicken tortilla-less soup post, it doesn't take much for me to want to fiesta the entire month of May. Think about it: we start with a full week of every blogger everywhere sharing their best margaritas, salsas, and burritos. Why end things there? I'm no quitter!
So when the craving for queso (paleo, of course) and guac and salsa and all things spicy strikes, I'm ready. I threw these sweet potatoes in the Instant Pot and cooked them in 16 minutes (what!), then replaced them with chicken breasts, a bit of taco seasoning, and a can of RO*TEL. 20 minutes later? Perfection 👌 If you've ever done a Whole30, you know just how much time you end up spending in the kitchen. So Whole30 Instant Pot recipes that are also delicious? Kind of a lifesaver.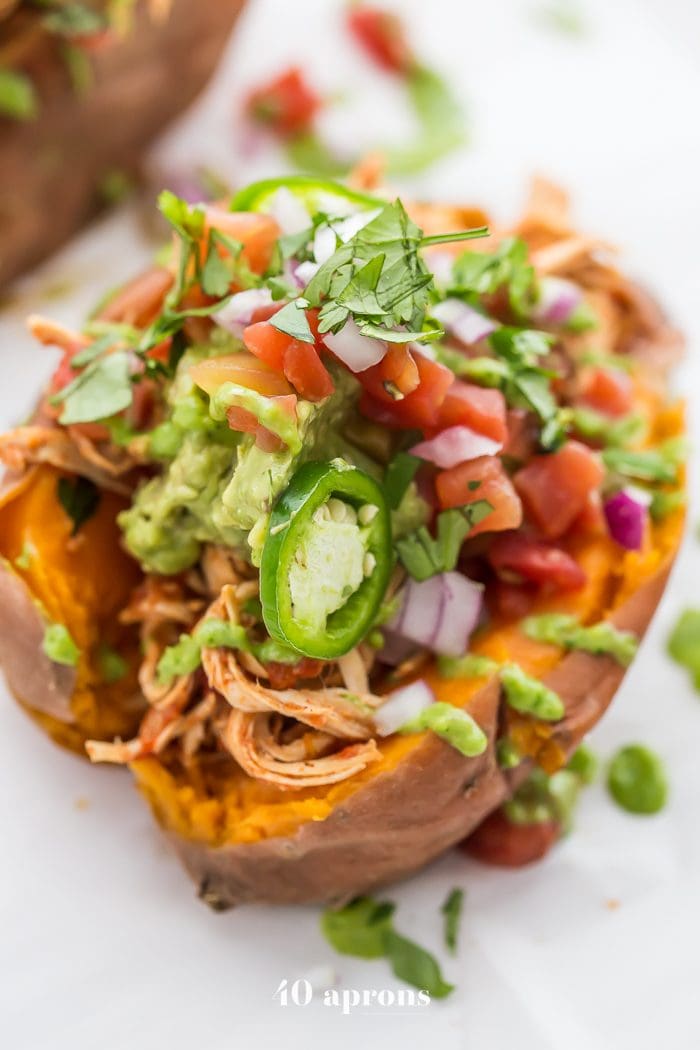 I blended together a few of my favorite ingredients–avocado, jalapeno, cilantro, garlic–to make a 30-second sauce that you use for a flavorful, super quick, no-chopping-here guac. There's seriously about 5 minutes of active cooking in this recipe, but the resulting dish is so flavorful and filling without being heavy. I could basically drink the avocado-cilantro sauce, and there's something beautiful and magical that happens when it all comes together on a fork: the sweet potato, the tender chicken, the creamy guac, the delish sauce. Oh! Oh oh oh. So good.
I topped the whole thing with more RO*TEL, which was the perfect way to add loads of flavor without more chopping or adding another mini recipe to the recipe. And Whole30 complaint – I mean, really! Such a perfect weeknight fiesta meal, y'all. Ol-é indeed.
Whole30 Instant Pot Mexican Stuffed Sweet Potatoes
These Whole30 Instant Pot Mexican stuffed sweet potatoes with chicken are the perfect Whole30 dinner: a Whole30 Instant Pot recipe that is insanely full of flavor, filling, and full of protein, fiber, and healthy fats. Your new go-to Whole30 Mexican recipe!
Ingredients
SWEET POTATOES
4

medium sweet potatoes

, scrubbed

1 1/2

cups

water
CHICKEN
2

chicken breasts

1

can RO*TEL

, undrained, any variety

1

tablespoon

taco seasoning
AVOCADO-JALAPEÑO SAUCE
1

avocado

, peeled and seeded

1

jalapeño

, stemmed

1/2

cup

fresh cilantro leaves

1/2

cup

water

2

cloves

garlic

2

teaspoons

white vinegar

1/2

teaspoon

salt
QUICK GUACAMOLE
2

avocados

1/4

cup

avocado-jalapeño sauce
GARNISHES
jalapeños

, sliced thin

fresh cilantro

RO*TEL

, drained

red onion

, chopped
Instructions
See Notes for sweet potato and chicken cooking instructions if you do not have an Instant Pot. You can also bake your sweet potatoes in the oven while you cook the chicken in the Instant Pot to save time, if you like.

Cook your sweet potatoes: Prick sweet potatoes all over with a fork. Place steaming trivet in bottom of Instant Pot pot then pour 1 1/2 cups water in pot. Place sweet potatoes on trivet then secure lid and cook on Manual, high pressure for 16 minutes. Quick release pressure and remove sweet potatoes from trivet. Set aside. Discard steaming water and rinse cooking pot, making sure outside is very dry.

Make your shredded chicken: combine chicken breasts, taco seasoning, and RO*TEL (undrained) in the pot of an Instant Pot. Do not add water. Secure lid and cook on Manual, high pressure for 20 minutes. Quick release pressure and remove chicken breasts from pot. Shred with two forks then return to pot. Stir on Sauté mode a few minutes until sauce is absorbed.

Meanwhile, make your sauce: combine all avocado-jalapeño sauce ingredients in the bowl of a food processor and process until smooth.

To make guacamole, mash avocados and stir in avocado-jalapeño sauce.

To serve: with a knife, make a slit down the top of each sweet potato and press sweet potatoes ends toward center to push open. Top with shredded chicken, guacamole, avocado-jalapeño sauce, more RO*TEL, and garnishes. Serve immediately.
Recipe Notes
If you don't have an Instant Pot, follow these instructions to bake your sweet potatoes: Preheat oven to 400º F. Prick sweet potatoes all over with a fork then place directly on oven rack in middle position. Bake for 40-45 minutes or until easily pierced with a fork. Remove sweet potatoes from oven and set aside.
To make chicken in a slow cooker instead of an Instant Pot: In the pot of a slow-cooker, combine all ingredients. Do not add water. Cook on low for 6 to 8 hours, or cook on high for 4 to 6 hours. After about 3/4 of the time, shred the chicken breasts with two forks and leave in the slow-cooker for the rest of the time.
730