DIY Catwoman Costume

Posted: 10/15/12 Updated: 05/11/22
For DIY Catwoman accessories, check out my DIY lace mask blog and my DIY lace ears blog!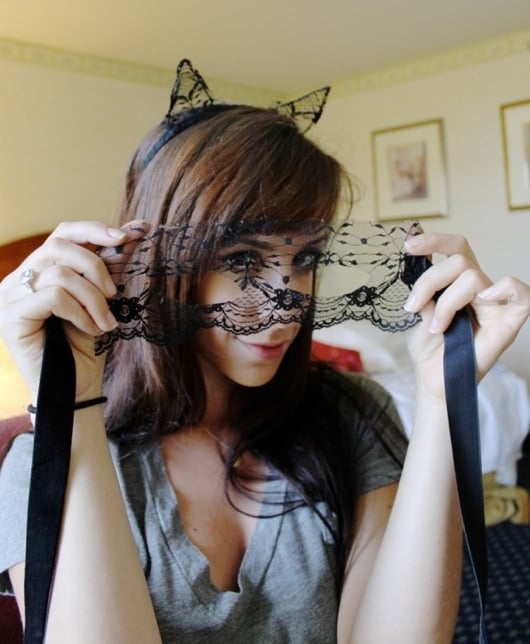 In October of 1995, I still hadn't seen 1992's Batman Returns, but that changed nothing. I knew, at the ripe age of six years old, I absolutely had to be Michelle Pfeiffer's Catwoman for Halloween.
Luckily, my mother sewed well and had a tendency to support my oddest dreams, so she endeavored to make me a costume. By hand. This was the old days, guys, before stringy green witches' wigs and thin rayon capes. She crafted a catsuit that fit perfectly, complete with hand-painted white seams and a full-head mask.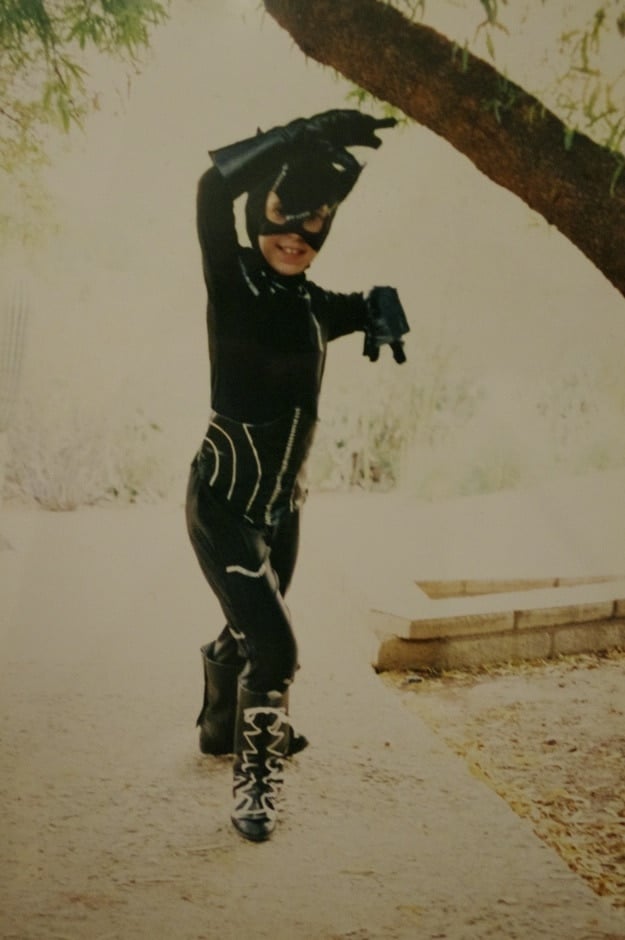 Today I'm going to show you how!
Just kidding. I have neither the time nor patience to take upon such a masterpiece, but this year, there's still just no question. I have to be Catwoman for Halloween.
Why, you ask? Why other than my lifelong obsession with strong, dangerous women in head-to-toe black?
I look a little like Anne Hathaway. I used to look a lot like Anne Hathaway. Then she lost 20 pounds to play Fantine in Les Misérables and I learned to really cook, and the twinhood stopped, for the most part. But if you catch the girl with some thick bangs and a dress (the only place to hide my sprinter-thighs), I can still feed the hope.
[AdsWithin]
Halloween is, by far, my favorite holiday–followed by Valentine's Day and then Thanksgiving. At one point, I attempted to merge Halloween and Thanksgiving into one perfect holiday, either Hallowsgiving and Thanks-o-ween, but it never caught on. Maybe we all just felt too fat in our slutty pilot outfits after the feast, which reminds me..
Are we sick of those yet? The poorly-made, ill-fitting polyester suits with buttons screen printed on? The sexy elf or sexy pirate or sexy nurse or sexy ketchup bottle.. are we done with those yet? We are simply too chic for that. We are fashionistas, hear us roar!.. Forgive my necessary tribute to M. Pfeiffer to counteract my preference for Anne.
So I present to you a collection of chic Halloween costumes, starting with a DIY catwoman costume from the Dark Knight, based on the character played by the lovely Anne Hathaway. Each of these costumes centers around items you already have in your wardrobe, perhaps adding an accessory here or there.
Each costume is truly a fashionable look–perhaps not obsessively true to the original, but done with more sophistication and ease.
This post will be followed by a step-by-step tutorial on creating your own lace cat ears and how to make a simple lace mask. The DIY catwoman costume laid out here is a blend between Anne's super-hot leather catsuit and her incredible lace mask in the ball scene.
If you want, you can add the lace cat ears and mask to a regular little black dress for a more authentic look from the scene, but I think this combination is sexy, playful, and a impossibly cool.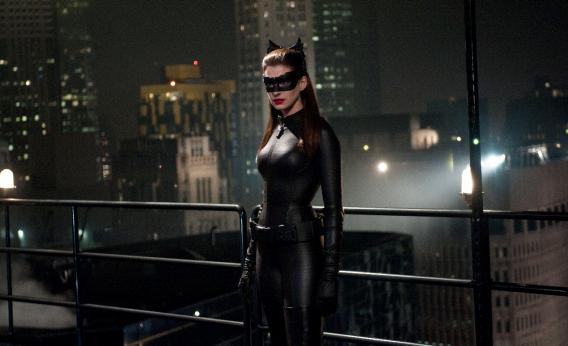 The How-To: DIY Catwoman Costume
A tight pair of black pants and a standard long sleeve black round neck shirt make up the base of the outfit; I'm sure you already have these in your closet. Next, add a pair of thigh-high leather boots, or settle for knee-high, if you must. There's nothing like a pair of thigh-high boots to make you feel impossibly sexy, and you can find a cheap pair on eBay. Mimic the leather treatment with a pair of mid-forearm or elbow-length leather gloves–again, you can find a cheap pair of PU gloves on eBay for pretty darn reasonable. Wear a thick black leather belt around your hips to mimic her holster belt. Finally, add lace cat ears and a lace mask to top off the ensemble and finish off your chic interpretation. If you don't want to make your own, try these cat ears or this mask. But I'll be making mine and showing you how in the next few days!
What are you going to be for Halloween? Oh, and next up… two Anna's.
—
If you enjoyed this post, tip me! I won't even make you fish a wrinkly dollar bill out of your pocket.. Just share this post. Like it on Facebook, tweet it, Pin it.. all from the share bar right below!