Vegan Ricotta and Tomato Layered Pasta Bowl

Posted: 06/11/14 Updated: 03/08/19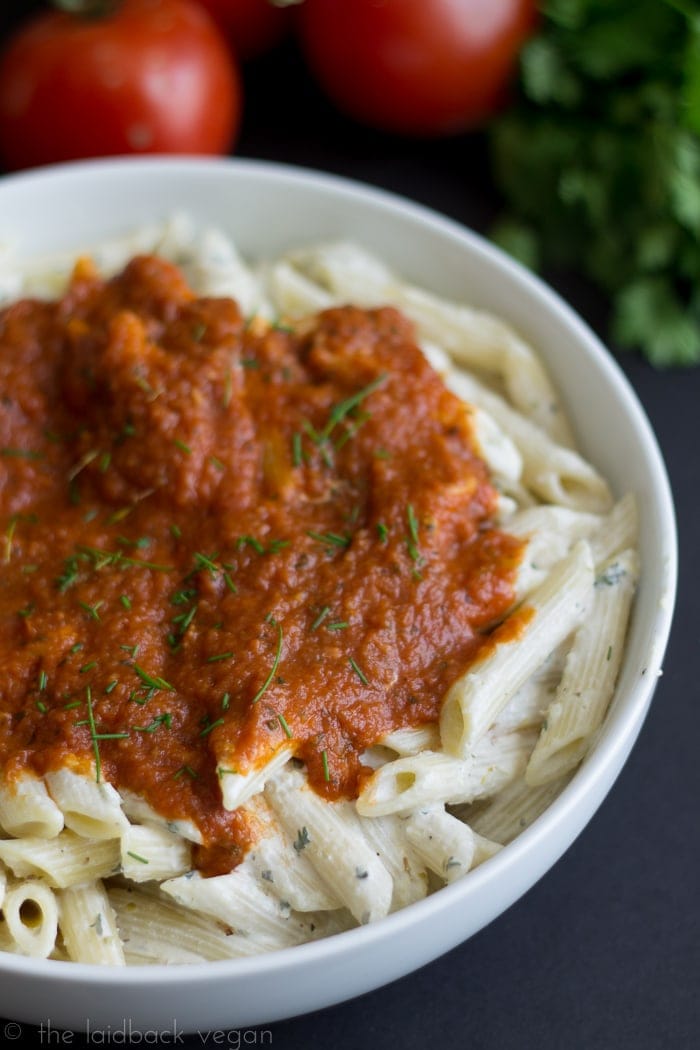 It's apparently National The Laidback Vegan's Tofutti Week! My last post was these unbearably delicious "flaky donuts" with blackberry-cream cheese filling and lemon glaze, and today I'm sharing another recipe I developed for Tofutti: the ricotta and tomato layered pasta bowl.
This dish has something of a strange story, and while I try to contain my relatively irrelevant memories on Tofutti's page, you guys are not so lucky.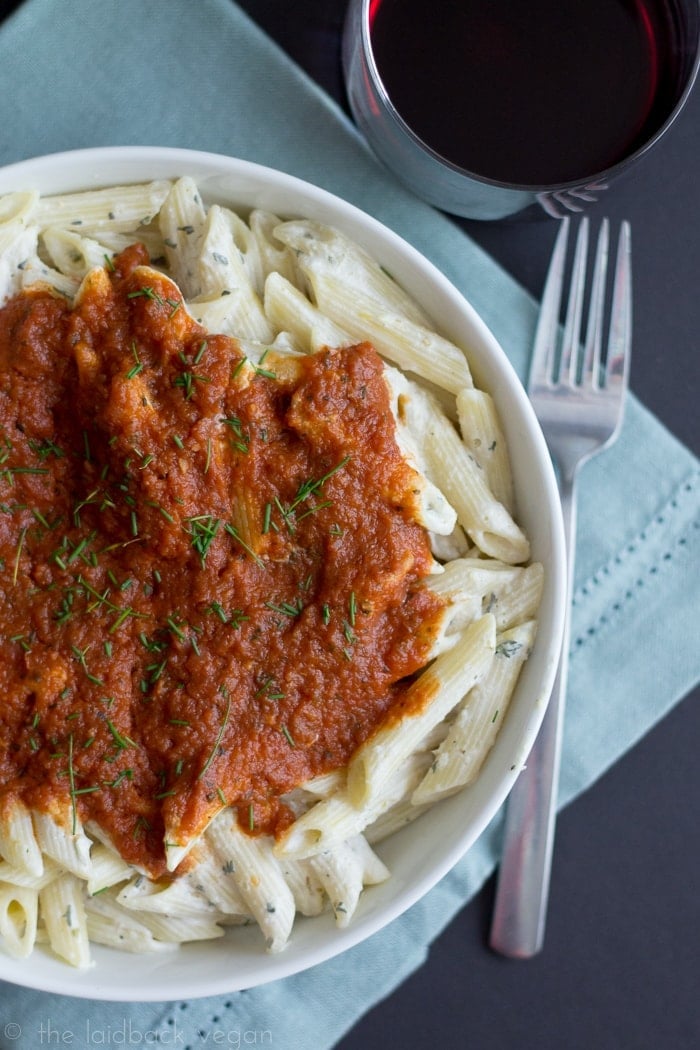 I used to dance… a lot. I took classes most days of the week and competed for shiny trophies; the whole mess. Eventually I converted to a full-time classical ballet dancer, but when I was still tap dancing–flailing arms and everything–and maxing out my jazz hands potential, I ate a lot of this dish called "Italian casserole". This little Italian fast food joint right behind my dance studio was a quick dinner, not as awful for us as Taco Bell or whatever, and it was de-lic-ious de-lish-us dee-lish-shush really good.
I knew what I liked, dammit, and got the same thing every time (dammit): the Italian casserole and another Italian classic: the iceberg salad with ranch dressing. The Italian casserole was something is rarely–if ever–made in Italy, but that didn't change the fact that it was perfect every time: al-dente penne tossed in rich, herbed ricotta, all topped with a simple marinara sauce. Sometimes I'd mix them all together; sometimes I'd keep them separate as layers on each bite. Either way, the flavors blended so beautifully, a nod to such classic Italian flavors; a tart acidity from the tomatoes cutting through the creamy ricotta. Mmm.
Definitely not vegan.
Until Tofutti sent me some Better Than Ricotta a few months ago (after which I promptly developed the best damn vegan cheesecake: lemon-ricotta cheesecake with blueberry-white wine sauce. Tell me you didn't just groan a little from reading the title alone!), and the culinary cogs started turning in my cabeza. Italian casserole would be mine–again!
You'll love this dish because it's comfort food: simple and homey, but delicious and elegant. Balanced: creamy and bright, all in one. It comes together quickly and is sure to please!
Check out my recipe on Tofutti's site.