This tom kha soup recipe (or Thai coconut chicken soup) is absolutely perfect. Rich and creamy yet tangy and salty, this Thai coconut chicken soup recipe is filling but light and positively bursting with flavor. The very best recipe I've ever made or tried. Whole30 and paleo, too. Make sure you read below to enter my Whole30 Starter Kit giveaway with Thrive Market!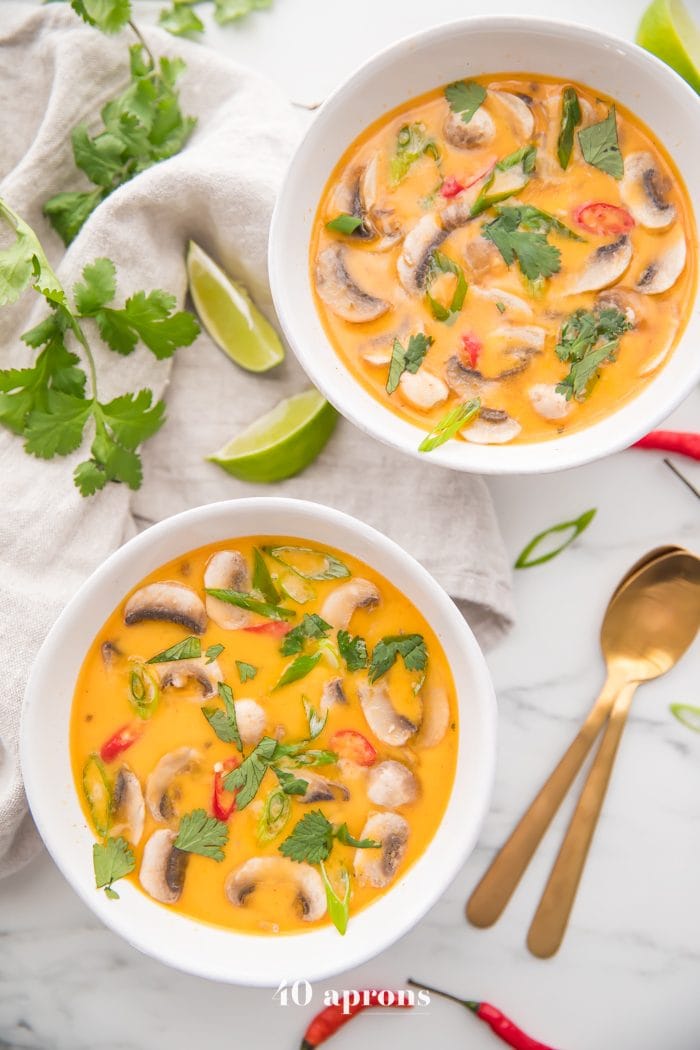 Let's go ahead and talk about the best soup of all time.
That's right: tom kha soup. AKA Thai coconut chicken soup. And you know what? I have a really solid story to go along with this recipe.
Why this is the best tom kha soup recipe (ever):
There's a secret ingredient that adds a savoriness to this Thai coconut chicken soup recipe that takes it all to the next level.
It's creamy and sweet and salty and spicy and bright all in one.
This tom kha soup recipe is actually quite easy to make and doesn't require too many weird ingredients. You should be able to get everything from the regular grocery store!
I've included Whole30 options so you can enjoy this tom kha soup all the time, even if you're avoiding added sugars.
I've mentioned my love of tom kha before on my blog, when I shared my paleo coconut curry zoodle soup, for instance, or, more embarrassingly, in 2009 when I used Photobucket to share my pictures so basically they're lost forever. It's probably for the best. Definitely for the best.
So, OK, I love tom kha soup, and I really love a Whole30 tom kha soup (perhaps more commonly known as Thai coconut chicken soup), but that's not a solid story, is it? Nah. So here goes.
When I was in college, I fell in love with cooking. Like, swept me off my feet, fall flat on my back, obsess over it day in and day out in love. And so, it being 2006, I started a recipezaar.com account. I went into detail about my obsessions and how the one recipe I always wanted to learn to make was the fresh salsa from my favorite Mexican restaurant. In fact, you can read the story here and get the recipe for the best restaurant style salsa ever by clicking here. You'll thank me later (pretty sure).
What happened was this: a guy at my college found my profile on the recipezaar.com and saw that it was my lifelong dream to recreate this salsa. He reached out to the head of marketing or CEO or something like that at the restaurant in question and told her this sob story about how we were engaged and living abroad and I was terribly homesick and all he wanted to do for Christmas was make me a giant feast to remember home, including this salsa that I loved so much, of course.
So what did she do? She gave him the recipe of course. Of course.
And then he gave me the recipe of course. Of. Course. And then we got to talking and, no, unfortunately our leading fella isn't my husband and the father of my children (Because wouldn't that be just too damn much?), but he did the same thing for me later with this tom kha soup. You see, there's something about this recipe that's just not like the others. Something better.
This tom kha soup is based off the exceptional dish found at a local chain of restaurants in the state where I went to college. It was different than the Thai coconut chicken soup I'd had before, and it sold me forever and ever on Thai food. I couldn't quite put my finger on it solo, though, but it all made sense when he got me the secret recipe.
It turns out it's quite simple, really: red curry paste. Just a bit of red curry paste added to an otherwise pretty traditional recipe for tom kha soup, and oddly enough, fewer "authentic" ingredients, making it way easier to make on a regular basis. You still use lemongrass, of course, but you swap ginger for galangal and fresh lime juice for kaffir lime leaves. As much as I love the international market, I just don't get there enough to satisfy my Whole30 Thai coconut chicken soup craving if I have to use those hard-to-find ingredients!
So here's the deal: this Whole30 tom kha gai (Thai coconut chicken soup) is perfection. It's creamy and a bit tart and salty and a bit sweet, and the chicken is tender, and the mushrooms are filling, and the fresh cilantro adds the perfect herbaceous edge, and I can't get enough of this soup. I don't think you'd ever need another Whole30 Thai coconut chicken soup recipe, or heck, a plain ol' non Whole30 Thai coconut chicken soup recipe for that matter, because this recipe is so damn good.
Thrive Market = easiest ever Whole30 (And easiest ever tom kha soup!)
Last month, I partnered with Thrive Market to bring you an amazing buffalo casserole dish (click here to see that recipe!).  Thrive Market is an online store that sells the all organic, non-GMO products at 25-50% off retail price. Plus, all of their inventory is sorted by values, meaning all of your favorite Whole30 and paleo staples are accessible with one click of a button. And one thing I adore about them: for every paid membership, they donate a free membership to a low income family, public school teacher, military veteran, or first responder — which truly epitomizes their mission to make healthy living easy and affordable for everyone.
Something I want to focus on today is their Whole30 category. They have an entire section dedicated to the items that Melissa Hartwig has approved for Whole30 — literally taking any guesswork out of the equation. All approved products have been carefully evaluated by the Whole30 team, which also vets the company to make sure its offerings, core values, and mission are aligned with the Whole30 community. For my people trying Whole30 this month, Thrive Market is giving away one FREE Whole30 Starter Kit to those who sign up using my link! That's in addition to an EXTRA 25% off your first purchase and a free 30 day trial. Click here to enter! The giveaway is only valid for the 7 days, so be sure to enter your email address on my landing page as soon as you can.
Make sure you check out the Whole30 Starter Kit anyway: it's loaded with the Whole30 necessities that you'll be stocking up on anyway. And so much cheaper (and more convenient!). I mean, could it get any cooler? Thrive is like your own little Whole30 support service… and don't we need that?!
What I love most about Thrive Market is that it makes stocking up on healthier products easy and affordable, especially when it comes to those sometimes hard-to-find but oh-so-delicious staples like
Delivered straight to your door? Yes. Cheaper than any store I've seen? Double yes. Thrive Market is letting me live my best life over here, y'all.
How to make the best tom kha soup:
The first step is the most important: sweat some garlic, onions, chiles, lemongrass, and–here it is–red curry paste in a bit of oil in a saucepan until the onion is softened. Add the chicken broth and simmer for about 30 minutes.
Strain out the aromatics (the garlic, onions, lemongrass, etc.) and add coconut milk, chicken, and mushrooms. Simmer until the chicken is just cooked through, then add the fish sauce, lime juice, and coconut aminos or brown sugar. Stir to mix well then taste and adjust seasonings, adding more fish sauce for saltiness, brown sugar or coconut aminos to enhance the natural sweetness of the coconut milk, or lime juice to brighten up the whole thing and balance the spiciness.
Ladle into serving bowls and top with fresh cilantro and green onions. Serve with slices of lime and more fish sauce!
What's the difference between tom kha and tom yum soup?
I'm a big fan of both of these classic Thai soups, but tom kha soup speaks to me on a whole different level: it features rich, creamy coconut milk that beautifully balances the Thai flavors of lemongrass, ginger, lime, and fish sauce. Tom yum is broth-based and frequently served with shrimp, and it's quite spicy! I once read it was called the "fiery queen of Thailand," and I posted a recipe for it ages ago. It's perfect when you're feeling sick and need to clear the head out!
Can I use regular fish sauce for this tom kha soup on a Whole30?
If you're on a Whole30, you have to use Red Boat Fish Sauce. There's no sugar added to that brand, whereas almost all others have that ingredients stuffed in the label. I beg you not to skip the fish sauce, too. Simply substituting salt won't cut it! If you're not on a Whole30, anything goes, sister!
Where can I find lemongrass?
I find fresh lemongrass in the produce section of almost every grocery store these days. If you can't find it fresh, though, you can usually find a refrigerated tube of it, minced, in the produce area. Ask your clerk and tell them it's important! You can't make the best ever tom kha soup without it!
Can I skip the coconut aminos in this Whole30 Thai coconut chicken soup?
If you're on a Whole30, I really wish you wouldn't! Coconut aminos offer a really subtle sweetness that complements the coconut milk so, so well in this recipe. Typically, you sweeten the soup with palm sugar in an authentic recipe, but that's of course a no-no on Whole30. Coconut aminos offers just the right amount of naturally occurring sweetness with a savory boost you'll just love. If you're not on a Whole30, simply add brown sugar or a touch of maple syrup to taste.
Can I use shrimp / (other protein)?
Absolutely! You'll want to cook the shrimp for less time than the chicken, but the rule is pretty much this: add whatever you want and cook it until it's just cooked through. Shrimp is awesome in this recipe, and we personally love tofu in our tom kha. Not Whole30-compliant, though!
What if I have a coconut allergy?
I'm sorry but this might be one of the few times where I don't have a substitute for you!
Other recipes you'll love:
Whole30 Tom Kha Gai - Thai Coconut Soup (Paleo)
This Whole30 tom kha soup (Thai coconut soup) is absolutely perfect. Rich and creamy yet tangy and salty, this Thai soup is filling but light and positively bursting with flavor. The very best recipe I've ever made or tried.
Ingredients
1

Tbsp.

coconut oil

1/2

onion

sliced

2

garlic cloves

chopped

1/2

red jalapeno pepper

sliced, or a couple Thai chiles, halved

3

quarter-inch slices

slices galangal or ginger

1

lemongrass stalk

pounded with the side of a knife and cut into 2-inch long pieces

2

teaspoons

red Thai curry paste

4

cups

canned coconut cream or coconut milk

2

medium chicken breasts

cut into bite-sized pieces

8

oz.

white mushroom caps

sliced

2

Tbsp.

coconut aminos

1 1/2 - 2

Tbsp.

Red Boat fish sauce

plus more to taste

2-3

Tbsp.

fresh lime juice

2-3

green onions

sliced thin

fresh cilantro

chopped, for garnish
Instructions
In a medium pot, heat the coconut oil over medium heat. Add the onion, garlic, chile, galangal or ginger, lemongrass, and red curry paste and cook, stirring frequently, for 5 minutes, or until onions are softened. Add chicken broth and bring to a boil. Reduce head and simmer uncovered for 30 minutes.

Add in coconut cream or milk, chicken breast, and mushrooms. Simmer until chicken breast pieces are just cooked through, then add fish sauce and lime juice, plus more to taste. Cook 2 minutes, then ladle into serving bowls and top with sliced green onions and fresh cilantro.
Recipe Notes
You can use raw shrimp in this recipe in place of chicken. Simply add shrimp to the soup in place of the chicken and cook through until pink and no longer translucent.
If you're on a Whole30, use Red Boat Fish Sauce. This is the only fish sauce I know of that does not include sugar.
Nutrition Facts
Whole30 Tom Kha Gai - Thai Coconut Soup (Paleo)
Amount Per Serving
Calories 668
Calories from Fat 540
% Daily Value*
Total Fat 60g 92%
Cholesterol 48mg 16%
Sodium 975mg 41%
Potassium 1081mg 31%
Total Carbohydrates 16g 5%
Protein 24g 48%
* Percent Daily Values are based on a 2000 calorie diet.
290