Perfect Grilled Pizza

Posted: 04/08/16 Updated: 03/24/20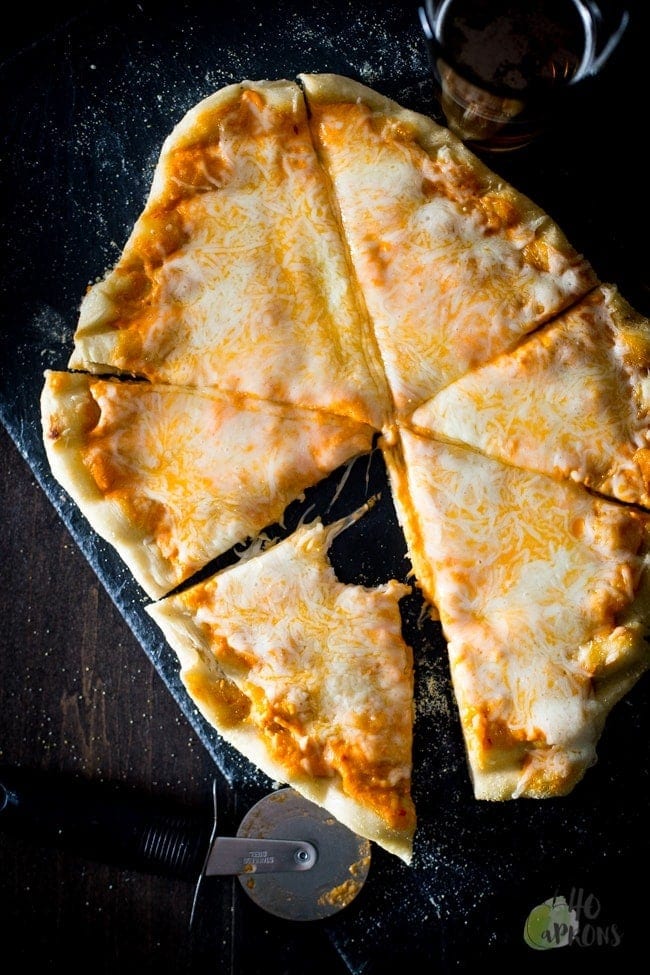 Oh boy, oh boy, you guys.. do I have a special treat for you! The man, the myth, the monogram, O is with us today to explain the process behind his perfect grilled pizza. You've heard me brag and complain about him for years now, and he's finally making an appearance on the ol' blog! But he basically laughed hysterically when I asked him to actually write a post for us, so we're doing this in interview form. You've been warned.
This is on the record. Uh, tell us a little bit about yourself. I wrote down actual questions.
I'm not doing this.
You have to; you promised. Don't look at me if you don't want to. Just tell us a little bit about yourself. What are your likes and dislikes?
Doing this right now.
OK, what are your likes?
Watching Bates Motel, which I was just doing.
Honey. 
Restart this.
I did. I'm not going to publish this! (?), just tell us a little bit about yourself.
[In sorority girl Valley voice] Hey, my name's O, I live in Memphis, I work as an attorney, and that's it.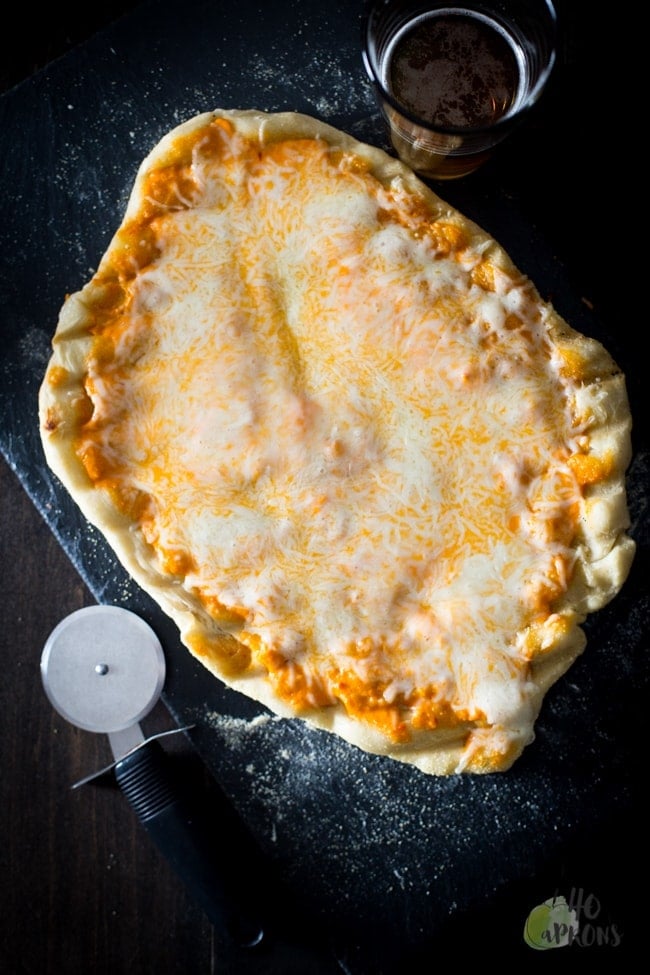 [Laughing hysterically] Why are you talking like that?! Omigod. OK, what's the best pizza you've ever had?
Well, it's really hard to explain. I think I like making my own pizza, so I would say the best I've ever had is what I've made in my own house. Pure mozzarella with vodka sauce.
Yeah, that's right. [Note: interview made said vodka sauce.] You think it's better than that pizza in Italy? What's the best pizza you have ever tasted, where you were like 'Goddamn that's the best pizza ever'?
OK, maybe some pizza in Florence.
What about the kind in Mexico? That's my favorite.
No.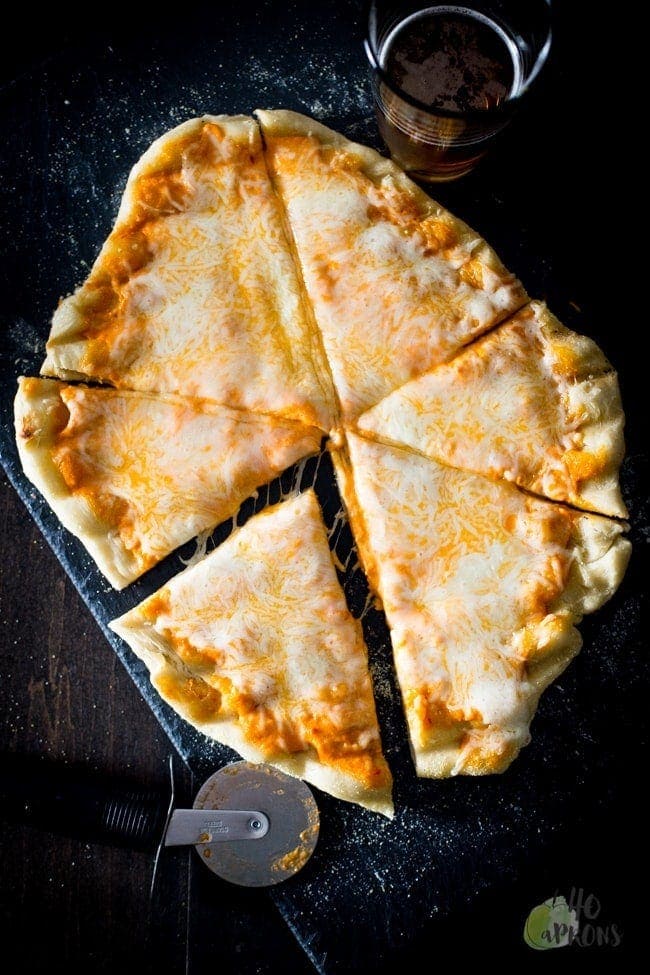 Um, OK. So how do you make this pizza? Be really specific.
The key is organization. You need to get all your toppings right next to your grill. You need to heat the grill, lay out your dough, brush olive oil on the top side, and once you put olive oil on the top side, and make sure your grill is at 400-500º,
400 or 500?
Anywhere in between there will be fine.
So 450.
Yeah, maybe. Something like that. Once your grill is warmed up, you get all the toppings next to the grill, then you're going to lay the side with the olive oil onto the grill. Once you lay that down, you're gonna wait 2-3 minutes. During that time, you're gonna put olive oil on the other side of the pizza (which is now the top side). Then you're gonna get your tongs–
Wait, is there some sort of like, visual cue for when to flip it?
When the dough starts to rise–
RISE?! 
Yeah..
It gets puffy?! Oh, it gets little bubbles.
Yeah.. Anyway, that's when you flip it and put the toppings on.
So you flip it and put the toppings on? Do you put the cheese on at the same time?
You put the cheese on right when you flip it first, and then the toppings. And then you wait 2-4 minutes. You can close or open the grill–
Pick one!
I would say open; that way you can watch it.
Oh, OK.
Then you wanna take it out, depending on how crispy you like your pizza.
Just slide it off onto a plate?
Yeah, just make sure the cheese is melted and there's grill marks. OK?
OK, yeah, wait, I'm not done. Is there like a trick to this pizza? No, don't look at your phone!
The trick is organization.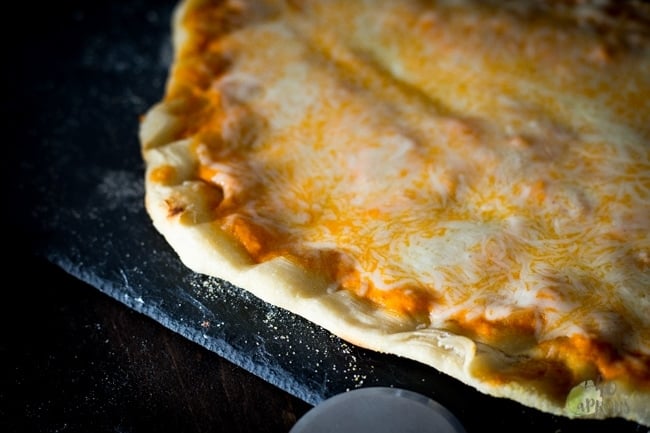 OK, who is the best cook that you know?
Uh……. that's a tough decision. My wife is pretty good, but I'd have to say Gordon Ramsay.
[Laughing hysterically] You KNOW Gordon Ramsay? PUT YOUR PHONE DOWN. OK, try again, who's the best cook that you know?
Cheryl Malik.
Do you love her?
Yes.
Do you think she deserves a new Lillébaby?
No.
WHY NOT?!
Because she has fifteen already.
Put your phone down!
No.
Interview over.
---
I really don't think there's much to say that hasn't already been said here.. except you're going to seriously love this pizza, you guys. The crust develops the perfectly crunch shell, yet is chewy and tender on the inside. And you can make your husband do it then interview him about it! He will be in so much pain during said interview, and it will be glorious to watch.
Make sure you use my perfect food processor pizza dough, and this entire meal is just a snap.
Perfect Grilled Pizza
The perfect at-home pizza, this method produces a wonderful crispy shell with a tender, chewy inside. The result is not smoky, but reminiscent of truly authentic pizzas from Italy!
Ingredients
1

whole

one ball of pizza dough

1

tbsp

olive oil

1/2

cup

preferred pizza sauce

, about 1/2 cup

4

tbsp

mozzarella cheese

, for topping
Instructions
Preheat your grill to 450º.

Roll out your pizza dough to be very thin. It should be thin enough that it's a bit translucent but not so thin that it looks like it will tear if you look at it the wrong way. Don't try to create a crust by leaving the edges thicker. Brush olive oil on the top side of the prepared dough and then place the dough, olive oil side down, on the grill. Brush new top side with olive oil then close grill hood.

After about 2-3 minutes, open the grill hood and, if bottom of grill has a few grill marks and is beginning to puff in areas, gently flip pizza using tongs (two tongs together work well here). Spread sauce over pizza then top with plenty of mozzarella, followed by your toppings. Wait about 2-4 minutes (you can leave the grill hood open, which will slow the cooking time a little, or keep it closed for a meltier pizza and more grilled crust). When bottom of pizza has grill marks and cheese is melted, slide pizza onto a platter. Wait about 3 minutes before slicing to make the cheese easier to cut through.
Notes
 Wait about 3 minutes before slicing to make the cheese easier to cut through.
Nutrition Information
Serving:
2
g
,
Calories:
122
kcal
,
Carbohydrates:
4
g
,
Protein:
4
g
,
Fat:
10
g
,
Saturated Fat:
3
g
,
Cholesterol:
12
mg
,
Sodium:
417
mg
,
Potassium:
203
mg
,
Fiber:
1
g
,
Sugar:
3
g
,
Vitamin A:
365
IU
,
Vitamin C:
4
mg
,
Calcium:
83
mg
,
Iron:
1
mg
,
Net Carbs:
3
g
Number of total servings shown is approximate. Actual number of servings will depend on your preferred portion sizes.
Nutritional values shown are general guidelines and reflect information for 1 serving using the ingredients listed, not including any optional ingredients. Actual macros may vary slightly depending on specific brands and types of ingredients used.
To determine the weight of one serving, prepare the recipe as instructed. Weigh the finished recipe, then divide the weight of the finished recipe (not including the weight of the container the food is in) by the desired number of servings. Result will be the weight of one serving.