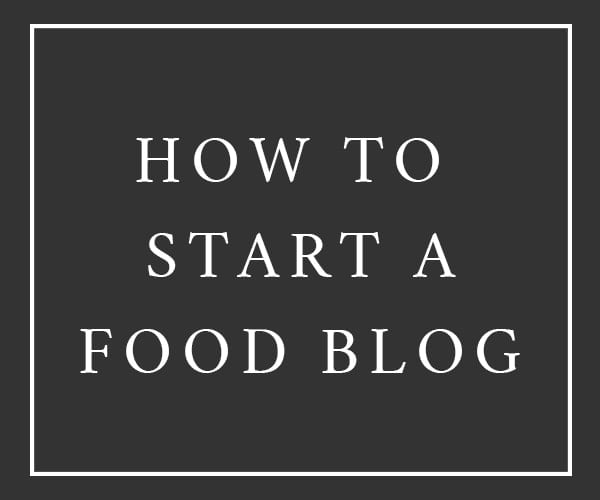 So you want to start a food blog, eh? I'm here to help!
Blogging is a hard gig, especially in the food world! Not only do you have to be an oh-so-charming writer, you have to be part developer, part marketer, part food photographer, part graphic designer, part chef, part recipe writer.. man! Lots of aprons to wear. Well, I'm here to help you by sharing the resources I've found to be especially helpful. I've been blogging for many, many years now, in various capacities, and that's what I do for "work" (though it hardly feels like work, I say) for different clients. If you have any questions or suggestions, leave a comment or shoot me an email!
---
Coaching
I offer blog consulting and coaching, to help food bloggers of any level, from those just starting out who hope to start right, to those who've been blogging beautifully for a while who just want to up their game. If you need help with back-end development, front-end design, writing, photography, branding development, revenue generation, or marketing strategy, get in touch! I know I can help take your blog from delicious to.. shut-the-front-door amazing!
Hosting
Bluehost. Inexpensive, easy to use, easy to setup, very popular with bloggers, can expand to dedicated servers if your growth demands. I highly recommend Bluehost, unless you are extremely familiar with backend development and like, erm, stark interfaces (like me; I'm a weirdo).
Webfaction. I personally use Webfaction, because a developer on one of my past startups recommended it. It's pretty bare bones, so you have to be somewhat comfortable with hosting to use WF. However, I adore it and there are loads of tutorials to help you mount WordPress on your site. It's very reasonably priced, clean, and reliable.
Blog Names & Domains
You need a name that's memorable, catchy, and–most importantly–not taken. To help choose your name, if you're stuck, try
Panabee. Panabee is a business name generator that mashes together keywords you provide. Very helpful when choosing a food blog name! Think of keywords that represent you as a blogger and what you want to share with your readers, and go forth!
namechk. So you thought of the name "Smitten Kitchen" for your blog; great job! Except, oh wait, that's totally already taken. Check all the domains and social media platforms for availability in one fell swoop using namechk. Go ahead and scoop up all the handles of your blog name on social media, too. You might not need that particular platform now, but if you do in the future, you don't want to have to deal with the hassle of someone else already having taken it!
Domains
GoDaddy. When you're ready to make it internet-official, I recommend GoDaddy to purchase your domain name. It's reasonably priced, and extremely popular.. which means pretty good service and excellent tutorials.
WordPress Themes & Design
Not only does your blog have to feature incredible pictures, delicious recipes, and charming copy, the layout of the site has to be clean enough without feeling stark, quick to load, easy to navigate, and full of functionality and features. Picking an awesome WordPress theme can help with all of this! I've been through several that I recommend, especially Genesis, with the Foodie Theme skin by Shay Bocks.
Design
I do WordPress development and design for clients day-in and day-out, but food blogging is where my passion lies! If you don't know much about web development–or you don't have the time or desire to dive in–let's talk! I can set up everything you need, to your own dreams or specs!
WordPress Themes
Building an Audience
I enjoyed decent traffic for a couple years before I really discovered food porn and image sharing sites.. and the sheer power that rests in their little talons. Of course, to be accepted to most food porn sites, your photos need to be pretty top-notch, but that's actually easier than you might think! We'll get into that a little bit further down the page, but for now, try submitting your recipe photos to these sites for an immediate boost in traffic. If you get rejected, don't take it personally! I got rejected constantly in the beginning and now hardly ever see those words any longer. It just takes a little while to figure out what they want.. and how to translate that in your photos. But it's definitely doable.
There are dozens more out there, but I've found them–in my experience–to not necessarily be worth the time and effort it takes to apply to yet another food porn site. These five are my go-to photo-sharing sites, and I no longer submit elsewhere. Promoting your posts can become a second job in and of itself if you let it!
Aside from sharing your photos, make sure you develop your Facebook page and Twitter page and share your posts there, as well.
Google+ Authorship
Additionally, I recommend developing a Google+ page and linking your authorship of your blog to your profile. You know the little author pictures you see under some blogs in a Google search? That's Google authorship, which is the linking of your blog and your Google+ profile. Pretty rad, huh? In addition to your pic popping up in Google searches, you'll sometimes find that your Google+ posts pop up in your friends' Gmails, especially when they're reading emails from you!
To learn more about Google+ Authorship, check this out. There's a plugin for WordPress that will do this for you easily!
Photography
By now you should know just how important great photography is to a successful food blog. It might not be fair or even make sense, really, but that's just the way it is! As food bloggers, the only option we have is to serve up our dishes in pixel form, so learning how to turn your delicious dishes into mouthwatering images is critical. Luckily, a lot of food photography is fairly easy to replicate using a few techniques and browsing enough gorgeous images. Here's a few resources I recommend to help take your photos from
Cameras, Equipment, and Props
Can you take fabulous pictures without a DSLR? Yes, of course! But a great DSLR can give you control over your camera that makes taking gorgeous food photos easy. I'm including two options for cameras, both of which I have loads of personal experience, though there are so many others out there to choose from. I've found that Canon works beautifully for me and has, ultimately, greater options for photographers who specialize in food, but if you're set on Nikon, that's great, too!
Learn
I've read a couple books on food photography that I highly, highly recommend, and I encourage you to read them, too! Even though I've been doing this for a while now, I still read anything I can get my hands on. Every photographer and author has a different perspective, and you never know what you might glean from a different book or article.
Food Photography: From Snapshots to Great Shots. A truly amazing read; I highly recommend it.
Tasty Food Photography. Written by one of the darlings of the healthy-ish food blogging world, Lindsay Ostrom, this ebook is everything you need and nothing you don't! I love that this girl shows her before-and-after shots, including some less-than-gorgeous shots from her early days. It really gives you the sense, hey, everyone can do this! And she shows you step-by-step just how. Highly, highly recommend.
Plate to Pixel: Digital Food Photography & Styling. Written by the blogger behind Tartelette, I'm in the middle of this book now and am already quite impressed! It's something of a classic in the food-photography-for-blogging world.
This article "12 Things That Have Helped My Food Photography" is full of useful information from a blogger who takes beautiful photos. Certainly worth a read.
Are you gaga for dark, moody photos like me? Oh, how I love these Mr. Rochesters of the food photography world; how I want to dive into their shadow coziness, mmm! This article "Learning Your Camera and How to Shoot Moody Images with Peter Georgakopoulos" can help you get that look. Another great, quick read.
My current equipment setup is:
Props
I'm pretty obsessed with DIY stained wood boards, faux wood placemats and vinyl backgrounds, because uh, I don't have a massive, aged farm table in my tiny dining room?
I buy so many of my dishes, spoons, and napkins at Home Goods, because they have crazy and interesting pieces, and you can buy them one at a time! I have so many single dishes floating around my office, and that one unique piece can really make your dish sing in a photo. Make sure that your dishes are typically on the smaller side, however–same thing with flatware. Smaller plates and bowls frame the food better and let your props and styling shine through, without a shiny white plate taking up a ton of the visual space. Try using simple white tea towels as a bright and airy "tablecloth", or these porcelain egg spoons
in a granola recipe!
I make most of my own backgrounds out of a few simple boards, gluing them together, and staining them. Simple, cheap, and they have that rustic table look I love! Also, they're totally customizable, so you can get that dark and moody look you love, or opt more for a bright, airy look – just by using a different shade of stain or paint.
Some of my favorites when I started getting serious were actually these puppies–I LOVE them for what they are, and they're in several of my photos–and you can pick them up at Bed, Bath, and Beyond. Crazy, right?
If you're looking for other "faux" backdrop options, Etsy is a great place to check, too. Try InkandElm !
I use foam core boards from HobbyLobby/Michael's for the actual backgrounds. I score them down the middle and prop them up to serve as the actual backdrop, using bookends and other weird stuff. I'm especially obsessed with a matte black backdrop. It's soft enough because it's matte, but the black really allows the food to pop in your shot. Highly recommend. Additionally, you can use foam core boards as either reflectors (to add light) or flags (to reduce light), by holding them in a strategic location around your food.
Fake ice. If you shoot a lot of cocktail or mocktail recipes, or even like to place a glass of water in your frame as part of your styling, I highly recommend picking up a bag of fake ice. Ice made at home in the freezer will typically turn cloudy and opaque, and is usually not in the most glamorous of shapes… And regular, filtered ice, well.. melts! Which can make things stressful. Try dumping a good handful of these fake ice cubes in your beverage and spritz the outside of the glass with water, emulating condensation.
Food & Recipe Writing
The most important part of your writing is finding your own voice. It might take some time to develop a voice that is uniquely you, but you'll start to see it truly take shape the more you write. Need some help? Try browsing dozens of blogs – really! Narrow it down to a few whose writing style really like. Ask yourself.. why do you like it? What is it about the voice, the style? Once you pick up on whether it's sarcastic or funny, sweet or informative, you'll get a better sense of the voice you hope to embody that's natural for you.
When it comes to learning about the art of food and recipe writing, I encourage you to pick up a couple books.
Monetization
So you've got a pretty decent following and you're ready to monetize? Instead of bumbling around like I did at the beginning, I recommend reading Kiersten Frase's ebook, "How to Monetize Your Food Blog" about the process, and how she makes a full-time income from almost entirely ad revenue alone. Really amazing!
If you're hoping to work with brands, you'll also need a media kit. Kiersten offers a really functional media kit template for only $5! I used it as a base for mine, and several other blogger friends I have did the same.
—
Some of the links on this page are affiliate links, which means we receive a small compensation if you decided to sign up for or buy any of these services or products. However, we only promote products and services that we personally know well and approve of! But that electric bill ain't gonna pay itself.
Disclaimer: Some of the links included are affiliate links, which means we'll receive a small portion of the sale if you do decide to purchase the product or service. However, we would never link anything we didn't totally believe in and use ourselves!
24