Food Blog Income Report and Traffic: February 2018 + Putting Yourself Out There

Posted: 04/26/18 Updated: 05/11/22
This is our food blog income report for February 2018. This food blog income report shows you how much traffic we had, what money we made, where it came from, and what it cost to run our site. This food blog income report is awesome for food bloggers looking to expand and monetize their blogs! Also, how putting yourself out there is key to success as a blogger or entrepreneur.
If you're interested in growing your blog's traffic and revenue, make sure to sign up for Cheryl's Food Blogging Bootcamp! This six-week course contains Cheryl's method for growing food blogs in quality, revenue, and traffic, and contains everything you need to know for better, bigger food blogging. Click here to learn more.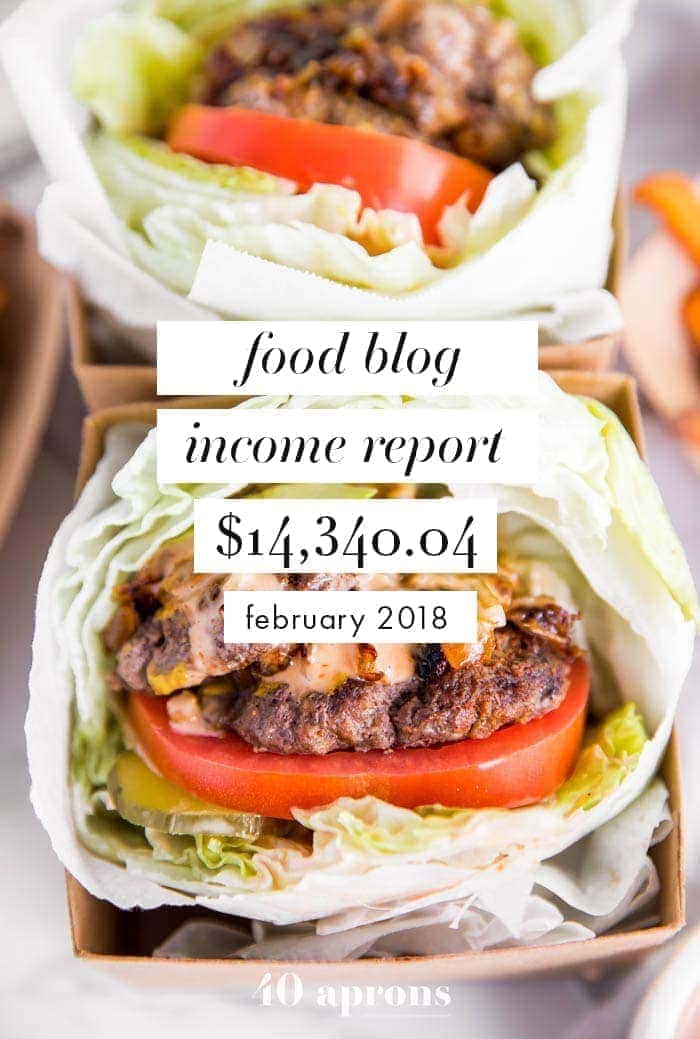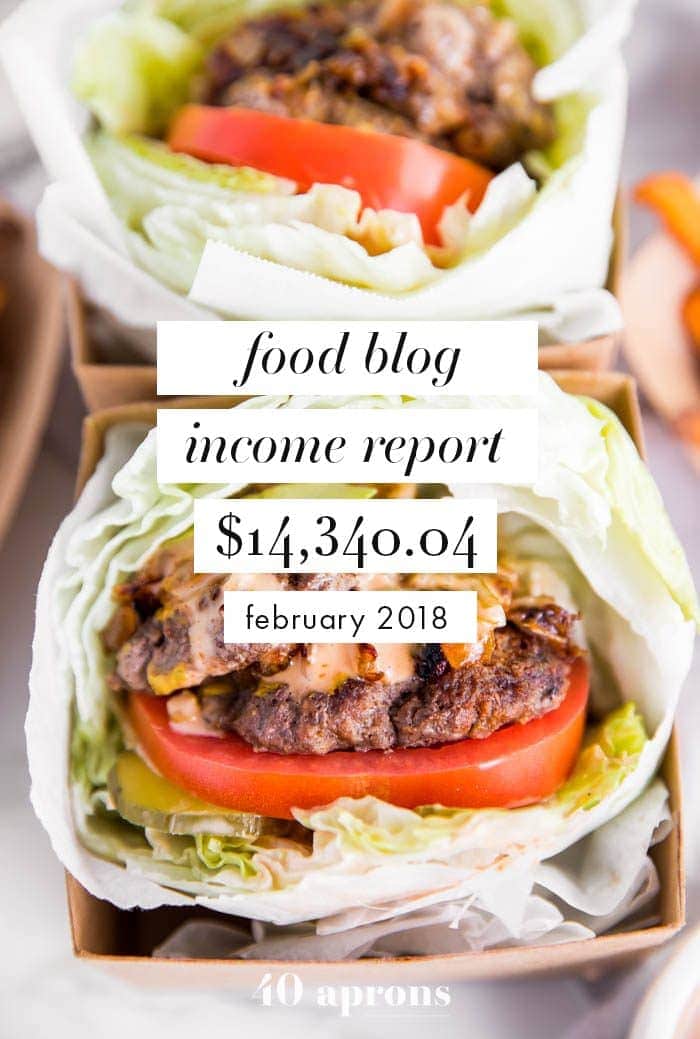 These Whole30 In N Out Burgers: Double Double Animal Style are already reader faves
February 2018 is best described as the month I spent wondering what's going to happen now. I'd had a big, foreseeable boost in traffic in January 2018, but I didn't know where my numbers would go from there. I checked my traffic obsessively, but you know what? I ended up making almost the same amount both months, especially when you account for the difference in days each month has. For example, in January 2018, I made an average of $544 per day; in February I made an average of $540 per day.
Granted, in February, much more of my work was hands-on, providing freelance recipe development and working one-on-one with food blogging and photography coaching clients. But still – I'm shocked even now looking at these numbers.
Speaking of numbers…
Traffic
As I mentioned in my last income report, my traffic skyrocketed in January during New Year's resolutions season but stayed elevated since. Now that we're officially towards the middle of Q2, the fact that my traffic is consistently double what it was before January tells me something extremely important: for a health food blogger, you've got to own January. I'll write more about that a bit later.
The overall takeaway, though, is that that bump in exposure gave us an opportunity to progress with higher traffic in general, and I'm working hard every day to think of new ways to combat known "slumps" and challenges. We'll see how well that works.
Here's February 2018 compared to the last 28 days of January 2018. Naturally, there's a significant drop, but the fact that my traffic stayed at a level that is double what my average was in 2017, I was super excited with the numbers.
And here's February 2018 as compared to February 2017. Whoa.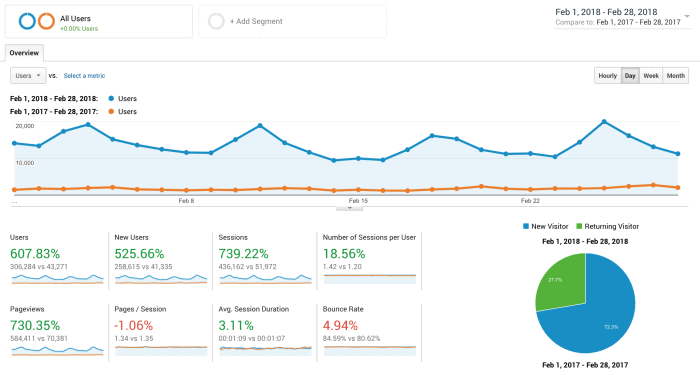 Pageviews: 584,411 (for 28 days, not 30)
Income
I don't include any of my freelance work that isn't completely related to my blog and my online presence. For example, this month I worked on my nonprofit client's year-end campaign. I'm sure my blog had some sort of influence when they hired me, but it's not directly related, so I don't include it. On the other hand, my freelance food photography is a direct result of my online presence, so it goes in the report.
This month, I had a few extra projects: I did recipe development for a local brand, Soli (you can actually order my recipes already made if you're local to the Memphis area!), and started working with food blog and photography coaching clients one-on-one.
Sponsored posts: $1000. I wrote one recipe for a regular sponsored post client and did one Instagram video this month.
Ad revenue with Adthrive: $8611.87. RPM (revenue per thousand impressions [pageviews]) = 8611.87/584,411 = $14.74. Compared to January's RPM of about $12, February saw a big boost. My ad revenue looks lower than normal, relatively speaking, because I'm only counting 28 days. Using an average of $307.57 per day (Which… I know), a 30-day month would have resulted in about $9227, which looks a lot like my "average" these days.
Freelance food photography: none.
Freelance recipe development: $3000. I've worked as a freelance recipe developer for years and love working with brands to come up with dishes that support their business or marketing goals. It's varied and exciting, and hey, you get to literally eat for work. This month I clocked $3000 in freelance recipe development.
Food Blog & Photography Coaching: $1500. I started working one-on-one with a variety of food bloggers or beginners, offering–my favorite–an in-depth brand development analysis and thorough panel of growth suggestions. I offer the client my food photography resources like my food photography book and food photography Lightroom presets, included in the program, then work with them each week closely critiquing their recent photos, SEO efforts, and copywriting. We work on new content ideas together, dive deep in their analytics, and troubleshoot their social media efforts. In other words, it's an extremely intensive, hands-on program for any blogger who wants to level up and take his or her game more seriously. I highly recommend trying it if that sounds like you! You can get in touch with me to learn more.
Sales: $415. This number includes all the items I have for sale on my site, like my digital cookbook The Paleo Instant Pot, my food photography presets, and my ebook Improve Your Food Photography Almost Instantly.
Amazon Affiliate sales: $606.17. This is what I make when anyone purchases something using a link from my site. It doesn't cost the buyer anything else, but gives me a small portion of the sale as a referral fee for the purchase.
Total Income: $15,133.04
Expenses
WPOpt: $43. I adore my host, and they keep my site running super fast. They even include an https certificate, so I didn't have to deal with any headache at all. They offer different levels for different traffic volumes, so there's something for everyone. I probably need to upgrade soon, but I still feel like WPOpt handles the volume well at the level I pay for. I highly recommend them.
Mailerlite: $95. My list is so important to my traffic, but that focus has made it pretty large. I use Mailerlite because it does the job, and I really don't feel like I need any fancy capabilities with my list. My subscription went up $30 this month because I reached 25,000 subscribers that month.
Adobe: $50. I pay for the entire suite of Adobe apps, because I do so much design, photography, and videography. For my blog I used Premiere Pro, Lightroom, Photoshop, and Adobe Illustrator, so the $50/month deal is great for me.
LinkMyPhotos: $5. This services lets me link my Instagram photos directly to my blog. A lot of people use LinkInProfile, but LinkMyPhotos is half the price and does the same thing.
Food blogger VA: $600. My assistant helps me with finding social media links to share, on photo and video shoots, and on a million other things. She's made the biggest difference in my business and what I'm able to do and earn, and I really think everyone needs a virtual assistant. More on that in the next paragraph! cal
Total Expenses: $793
Net Income: $14,340.04
Since including freelance food photography in my food blog income report this month, I wanted to talk a little bit about putting yourself out there.
You see, even when my blog was "little" and didn't make a whole lot of ad revenue, it was still making me a lot of money. Hundreds of thousands of dollars, in fact! So how is that possible?
It's simple: my blog gave me visibility early on. It showed people, Hey, she's out there. Hey, she can take photos. Hey, she's not a bad writer. Hey… I wonder if she designed her own site?
It got me job offers and new clients and freelance food photography and recipe development jobs (With major brands!) years ago. It was probably responsible for 75% or more of the client projects I had as a full-time freelancer. In other words? I owed it all to putting myself out there.
As bloggers, though, we can become paralyzed by comparison. We look at the amazing photos our peers are taking, especially those in our niche, and it can be tempting to just sit on content "until it's really ready," or, in other words, forever.
I'm here to encourage you, instead, to just do it. Let it go. Put it out there. Don't wait until you're a James Beard-worthy recipe developer or can take photos that deserve a spot in MoMA. Put yourself out there now and use that space to grow. Do it now.
And hey, if you're into growing your skills and developing your craft whilst putting it out there, you might be a good fit for my food blogging and photography coaching program. Get in touch!