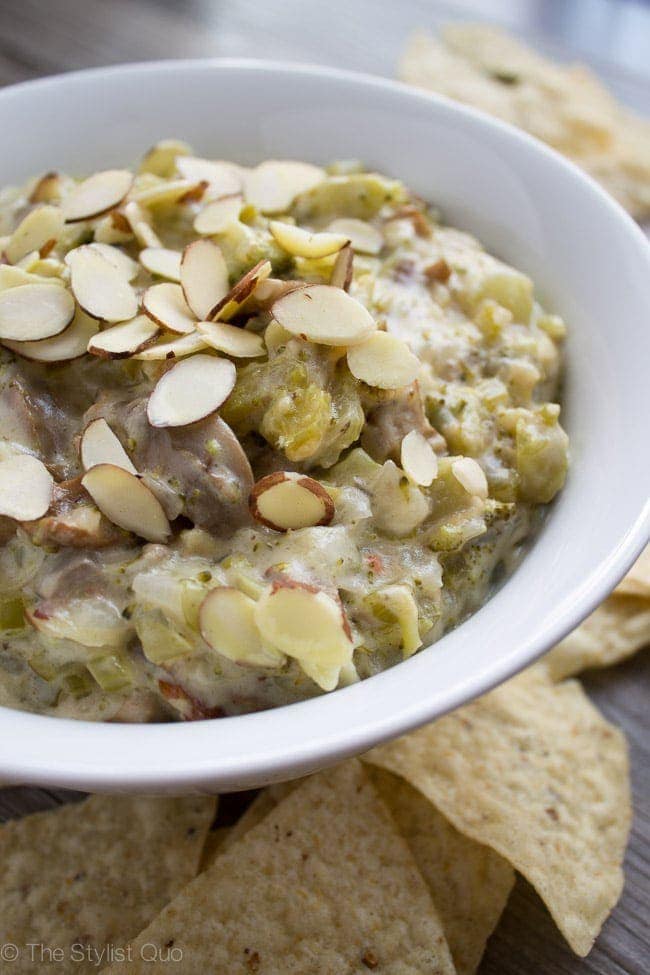 Have you ever noticed how some of the ugliest foods can be the tastiest?
That's definitely the case with this broccoli dip! I'm guess it could be uglier, but this unbelievably delicious dip, packed with pepperjack cheese, broccoli, mushrooms, and sliced almonds was definitely hit by the ugly stick. We should be nice to it because of its misfortune.. and eat it. All the time. ALL THE TIME.
This is one of those party foods my mom's been making ever since I could eat solids, and it's a hit at every single event. It might not be the fanciest thing ever, but you know how unfancy food sticks around? By being FREAKING DELICIOUS, that's how. There's so many caps in this post already.. I APOLOGIZE.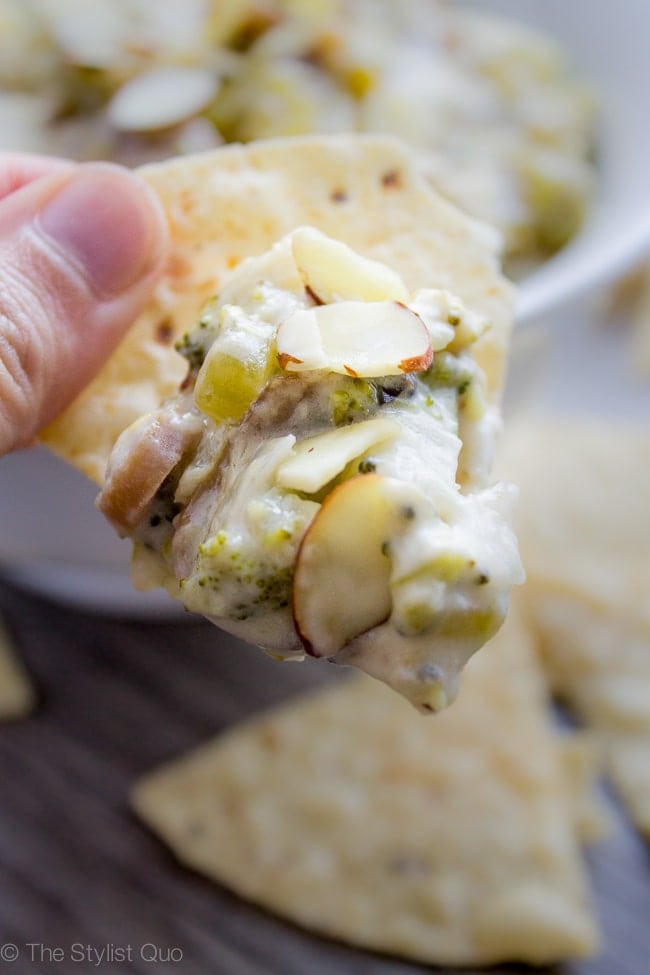 Whenever she makes it for a family event, my sister, her boyfriend, O, and I hover over it like possessive addicts, growling at anyone who dare approach. It's really pretty classy. Really.
What I love most about this dip is that it performs swimmingly in a Crockpot.. but you'll end up with all your friends huddled around it at any given party. It's also got broccoli, so it's clearly healthy. The broccoli, that superfood of superfoods, definitely offsets the evil cream of mushroom soup and hefty serving of pepperjack cheese. It's science; look it up*.
This dip comes together in about 20 minutes and you can make it the morning of serving and let those flavors meddle all day in the Crockpot, or, do like I did this time, and make it the night before and refrigerate the pull-out ceramic dish of the Crockpot overnight.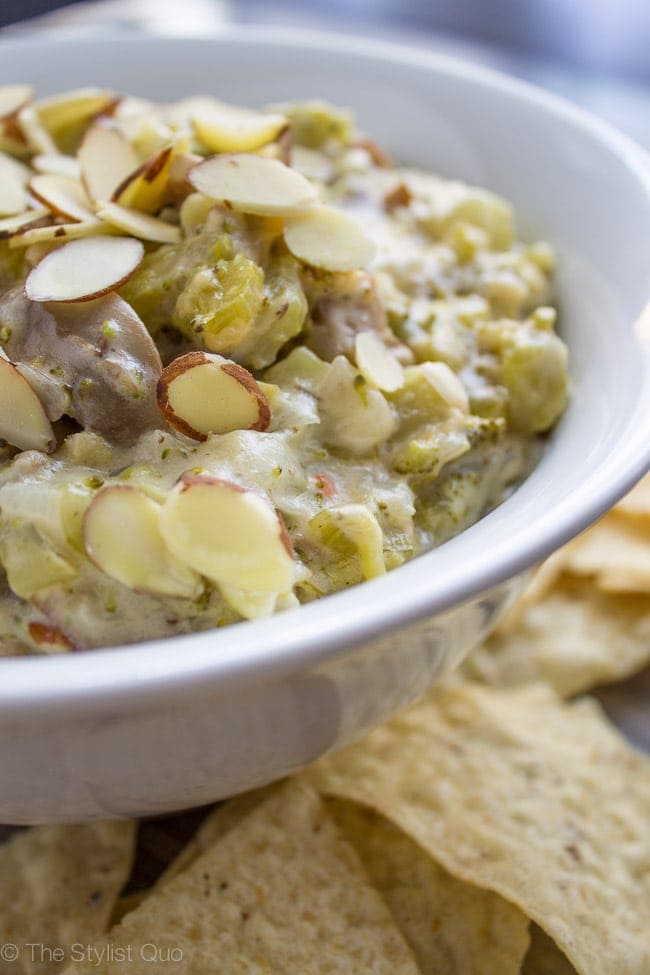 You'll love this dip because it's completely delicious. The slight spiciness of the pepperjack cheese provides a creaminess that blends beautifully with the chopped broccoli and tender mushrooms. The butter-sautéed onion and celery gives a nice base to the whole thing and offsets the use of canned mushrooms, frozen broccoli, and canned soup with a bit of classical technique. To top it all off, it's pretty darn easy.
It freezes beautifully, so make a double batch and freeze half. I always have a flattened ziploc gallon bag of the stuff in the freezer for last-minute entertaining.
Make this! Call up some friends and share. My number is..
Broccoli Dip
A delicious hot dip with broccoli, mushrooms, and sliced almonds. Perfect in the Crockpot and freezers beautifully. Serve with tortilla chips.
Ingredients
3

tablespoons

butter

3

pieces

stalks celery

, chopped

1

piece

small onion

, chopped

1

piece

small can mushroom slices

, drained

1

piece

can cream of mushroom soup

5

ounce

. pepperjack cheese

, sliced

1

piece

package frozen chopped broccoli

, cooked and drained according to package directions

1/4

cup

sliced almonds
Instructions
Melt butter in a large skillet over medium heat. Add celery, onion, and mushrooms and cook until soft. Add cream of mushroom soup and heat until mixture starts to barely bubble.

Add cheese, a couple slices at a time and stir until melted. Repeat until you've incorporated all the cheese. Add in cooked and drained broccoli and stir to combine. Serve in a small Crockpot or chafing dish. Serve with tortilla chips.
Recipe Notes
Freeze well.
Nutrition Facts
Broccoli Dip
Amount Per Serving (2 g)
Calories 621
Calories from Fat 414
% Daily Value*
Fat 46g71%
Cholesterol 108mg36%
Sodium 638mg28%
Potassium 1225mg35%
Carbohydrates 29g10%
Protein 30g60%
Vitamin A 2964IU59%
Vitamin C 275mg333%
Calcium 725mg73%
Iron 3mg17%
* Percent Daily Values are based on a 2000 calorie diet.
*Please don't look it up. That's not science in any way.