These Whole30 breakfast sandwiches are easy to make and insanely good. Buttery sweet potato buns layered with Whole30 breakfast sausage, fried egg, and avocado or quick Whole30 chipotle aioli, they're about to be your favorite Whole30 breakfast. Comes together easily in a large cast-iron skillet like this one.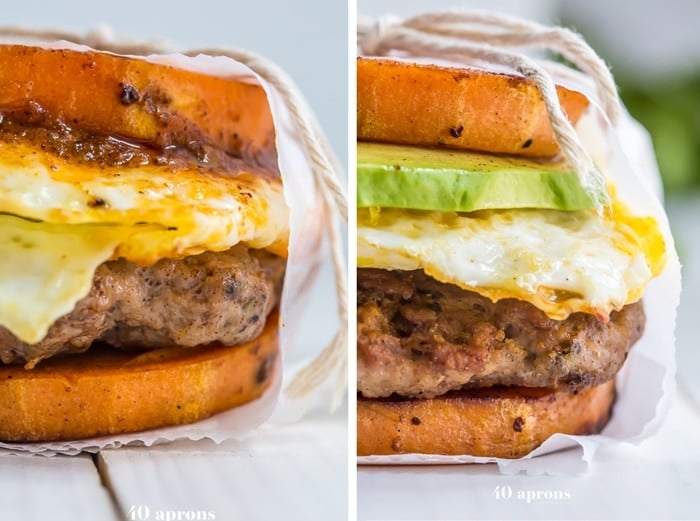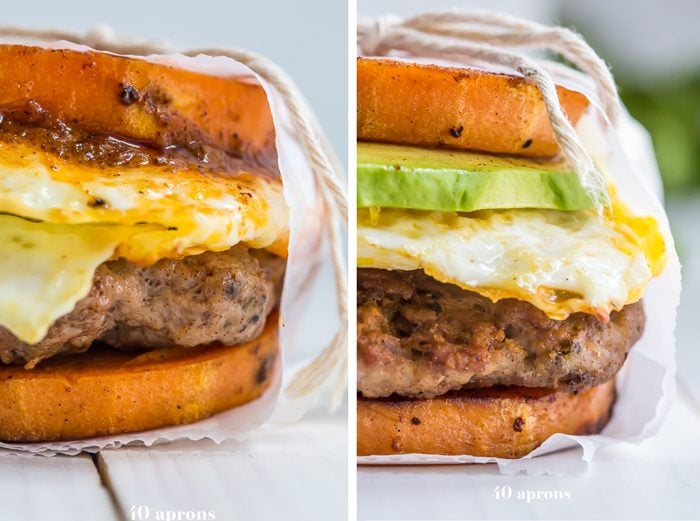 Whole30 Breakfast Sandwiches (Whole30 McGriddles)
I have a confession to make.
I have something of a thing for junky breakfast. My obsession started when we linked drive-thru breakfasts and road trips, in the car at 7 a.m. with my tween head angled over on the car window, a pillow from home sandwiched in between my headphones and the glass.
I'd order pancakes and sausage and hashbrowns and orange juice, and I'd balance the styrofoam plate on my knees as I pried open the corner of the syrup container. My mom would anxiously warn me to be careful, no doubt envisioning the gratuitous hours spent cleaning up a sticky mess, worsened by drying, as spilt syrup is not a pull-overable offense.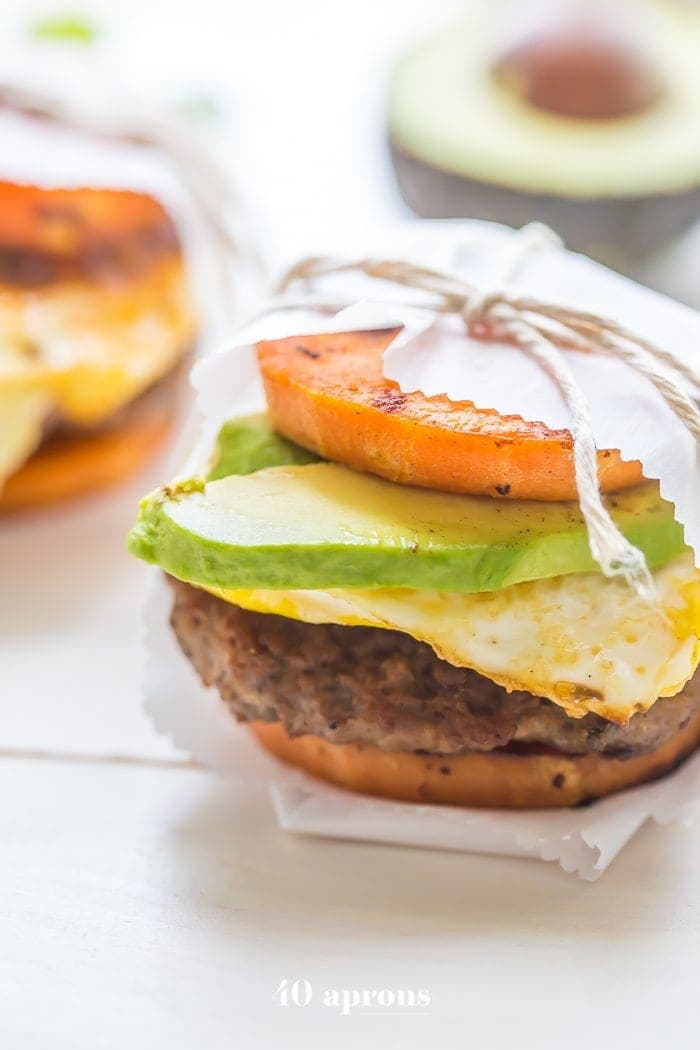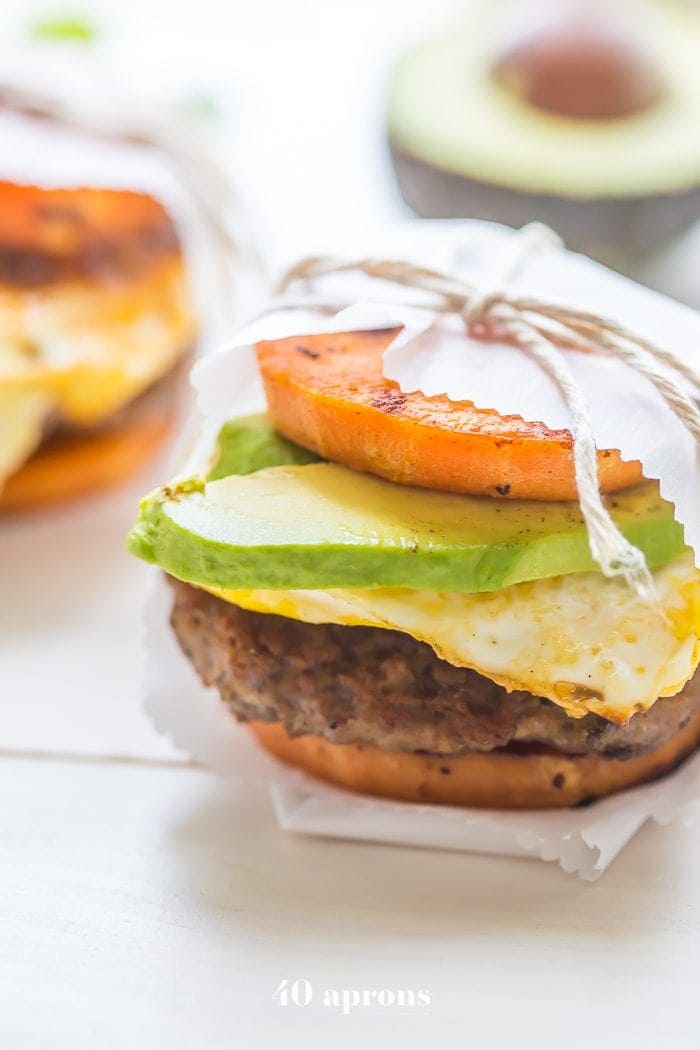 I'd cut up the soft and golden brown flapjacks with the plastic knife and fork they threw in our to-go bag, noticing the scars my dinky cutlery left in the portable plate. I'd eat half the pancakes and wish I'd ordered more hashbrowns and sausage but glad I hadn't, since don't you know that grease causes pimples?!
And so my love of bad-for-you breakfast began! I'd like to say that road trips are the same without a dash through the drive-thru, but I'd be implying that we don't still press pause on our healthy, paleo diets and indulge in a bag of mini cinnamon rolls when traveling…
(We totally do.)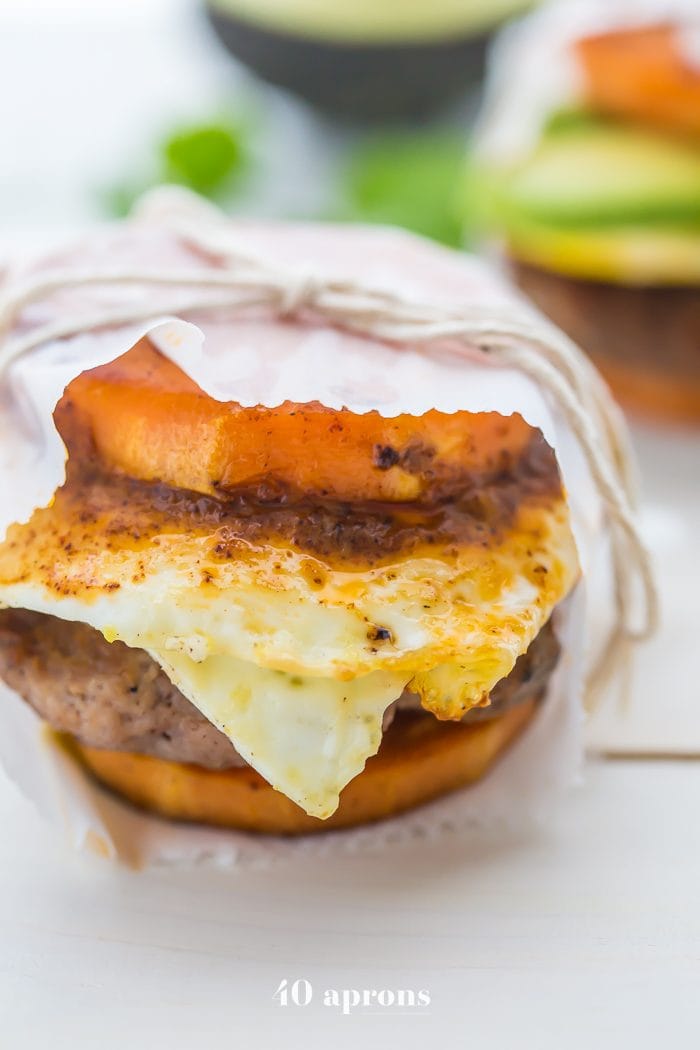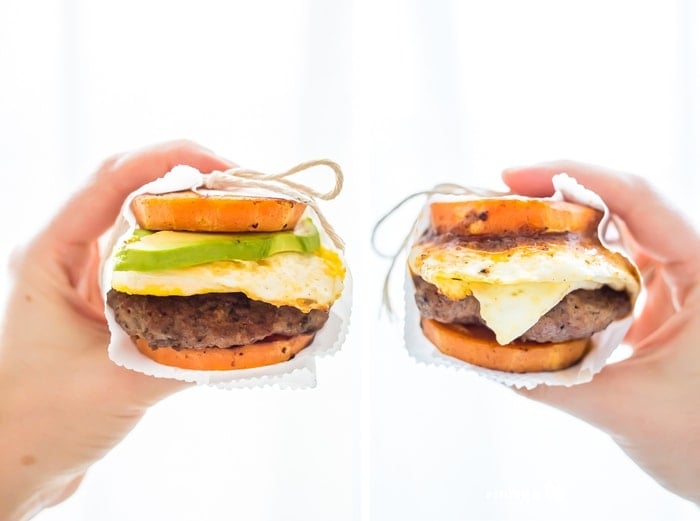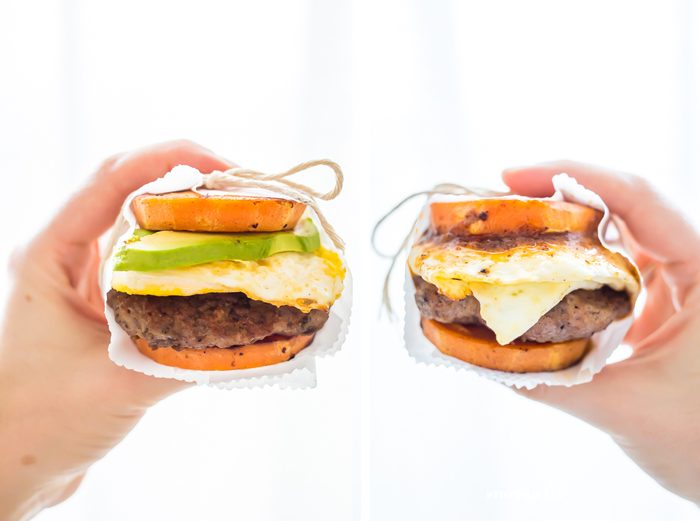 But on a regular basis? Nope. We save the fast-food breakfasts only for exceptions, and we gorge on my Whole30 "bread pudding" with sweet potatoes and apples or my paleo quiche with crab and spinach or my paleo cereal which comes together in a minute or two and is so good for a quick and easy morning when you can't stand the thought of yet another egg.
And then I had a revelation. What are fast-food breakfast sandwiches, really? They're meat and egg and maybe cheese and some sort of carb-y bun. I've been making sweet potato toast for months, so why not… bring the breakfast sandwich to the Whole30 and paleo breakfast?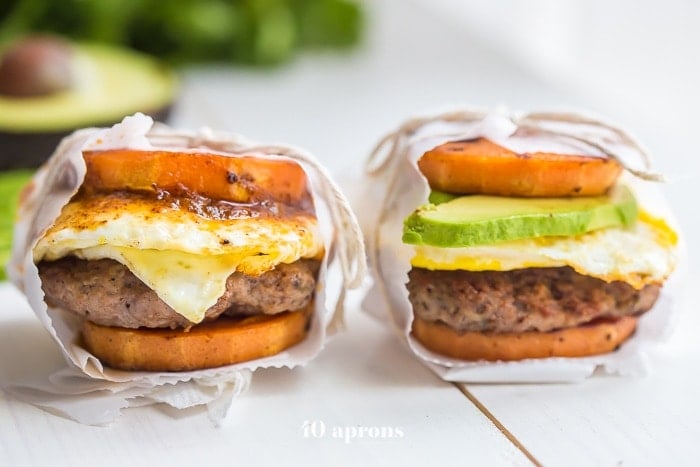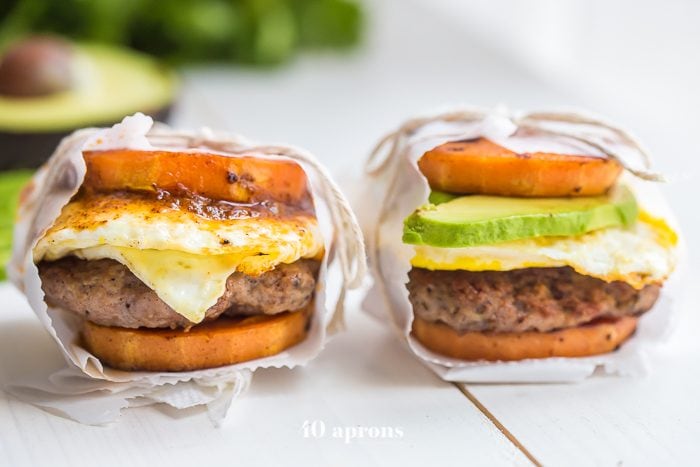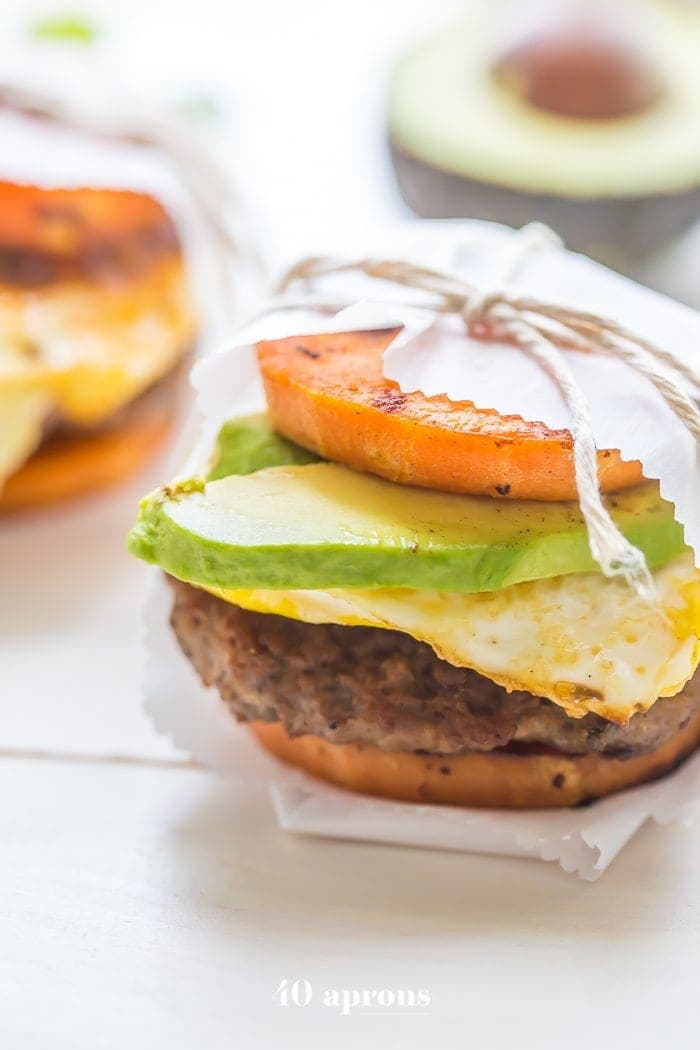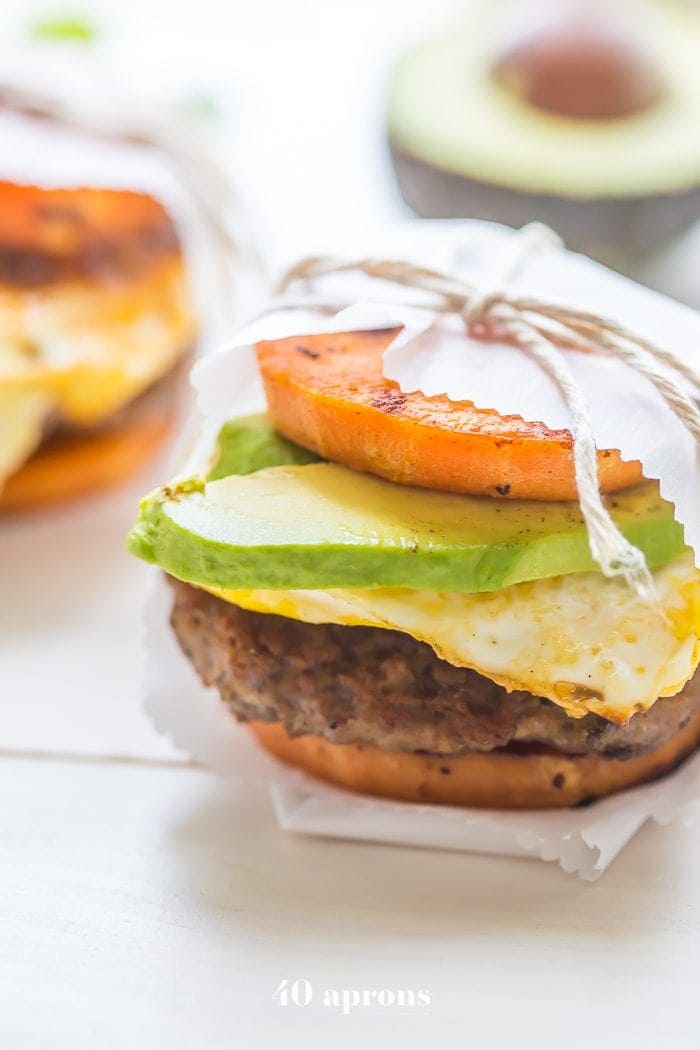 It was one of those recipes that's so loaded with expectation, because you want it to be as good as it sounds in your head, and when it's not? It's a little more upsetting than it should be, regularly prompting introspection and nights in bed scrolling food chemistry blogs in the dark, while your husband dramatically flips over in bed to remind you that, yes, he is still awake and yes, it's because you're illuminating the entire bedroom with your giant iPhone.
But luckily (for my marriage?), these Whole30 breakfast sandwiches were a total home run, and right away. I made sweet potato "toast" by sprinkling sweet potato rounds with cinnamon and salt and sautéing them in buttery ghee. I layered these sweet potato buns with homemade Whole30 breakfast sausage patties (which are so easy to make – my recipe includes a video!), a fried egg, and either avocado slices or my quick chipotle aioli.
Before you accuse me of having SWYPO, keep in mind that these are not baked recreations of junk food, just like sweet potato toast is a-OK on a Whole30. ?
I could rock a Whole30 for life with these Whole30 breakfast sandwiches every morning, couldn't you?
Hey – you've made it this far, and now we're best friends! If you make this recipe, I'd love for you to give it a star rating ★ below. Make sure you follow me on Instagram, Pinterest, and Facebook, too!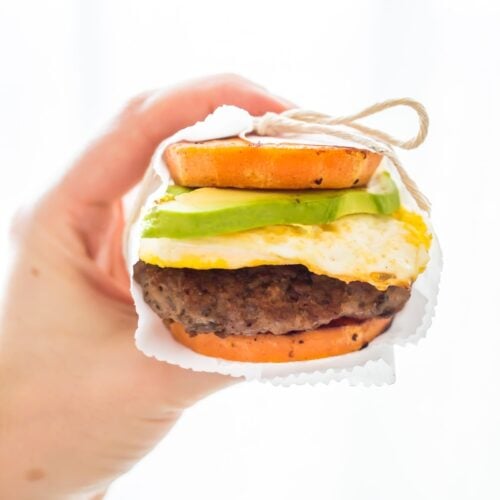 Whole30 Breakfast Sandwiches (Whole30 McGriddles)
These Whole30 breakfast sandwiches are easy to make and insanely good. Buttery sweet potato buns layered with Whole30 breakfast sausage, fried egg, and avocado or quick Whole30 chipotle aioli, they're about to be your favorite Whole30 breakfast.
GO PREMIUM – AD FREE + MEAL PLANS
Ingredients
4

½-inch-thick slices

sweet potato

from half of a fat, uniformly round sweet potato

2

tablespoons

ghee

or coconut oil or butter

⅛

teaspoon

cinnamon

2

Whole30 breakfast sausage patties

recipe in notes – patties made from ¼ cup sausage

2

eggs

1

teaspoon

salt

¼

avocado

per sandwich, peeled and sliced, optional
For the Chipotle Mayo
1

tablespoon

mayonnaise

¼

teaspoon

garlic

powdered

¼

teaspoon

chipotle pepper

powdered

1

pinch

salt

to taste
Instructions
Cook Whole30 Breakfast Sandwiches
Heat 1 tablespoon ghee in a cast-iron skillet over medium heat. Add sliced sweet potatos and sprinkle with half of cinnamon and a pinch or two of salt. Cook about 5 minutes or until browning a bit. Flip and sprinkle with remaining cinnamon and salt. Cook another 4-5 minutes or until evenly browned on both sides.

Meanwhile, heat remaining 1 tablespoon ghee in cast-iron skillet and add sausage patties. Cook about 3-4 minutes per side, or until browned and cooked through. Move sweet potato slices and sausage to make room for eggs, then crack eggs in pan and fry about 2 1/2 minutes per side. Don't overcook. Season eggs with salt.
Make Quick Chipotle Mayonnaise
In a small bowl, combine all ingredients for chipotle mayonnaise. Stir very well. 
Assemble Whole30 Breakfast Sandwiches
To assemble, layer one sweet potato round, then sausage, then egg.

If using avocado, fan out avocado slices on top of egg and top with one more sweet potato round.

If using chipotle mayonnaise, spread on inside of one more sweet potato round and place on top of egg. 
Notes
Timeline for cooking is as follows:

Add sweet potato rounds.
After two minutes, add sausage patties.
Cook about 3 minutes, then flip both sweet potato rounds and sausage patties. Add eggs.
Cook egg about 2-2 1/2 minutes on each side.
After 4-5 minutes are up, and sweet potatoes and sausage patties are browned on both sides, remove from pan and assemble.
Recipe yields 2 breakfast sandwiches. Nutritional values shown are general guidelines and reflect information for one breakfast sandwich. Actual macros may vary slightly depending on specific brands and types of ingredients used.
Nutrition
Serving:
1
breakfast sandwich
Calories:
426
kcal
Carbohydrates:
13
g
Protein:
13
g
Fat:
36
g
Saturated Fat:
15
g
Polyunsaturated Fat:
6
g
Monounsaturated Fat:
12
g
Trans Fat:
1
g
Cholesterol:
236
mg
Sodium:
1591
mg
Potassium:
370
mg
Fiber:
2
g
Sugar:
3
g
Vitamin A:
8293
IU
Vitamin C:
2
mg
Calcium:
49
mg
Iron:
2
mg
Net Carbs:
11
g
If you enjoyed this post, be sure to check out 40 Aprons Premium! 40 Aprons Premium offers exclusive recipes, monthly meal plans, grocery lists, and more – all completely ad free!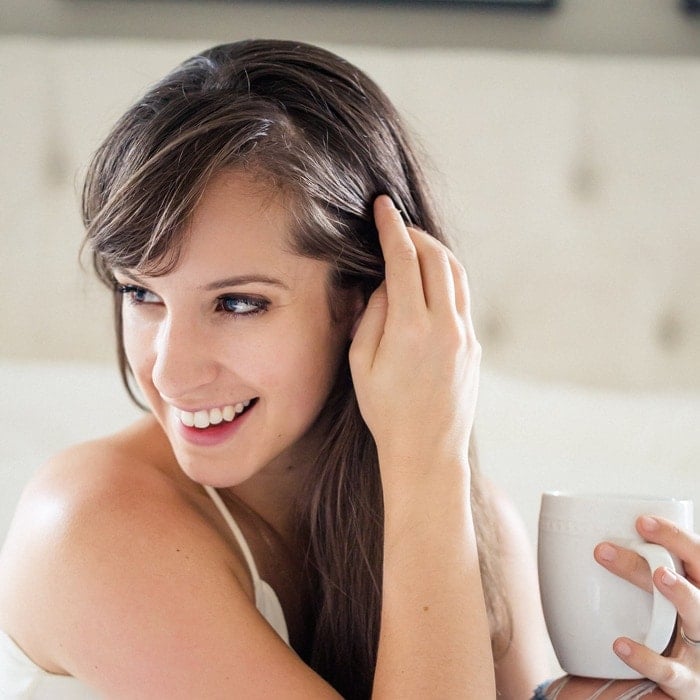 Cheryl Malik is the recipe developer, writer, and photographer behind the healthy, flavorful, family friendly recipes at 40 Aprons. She's been a blogger for 10+ years and is known for her delicious recipes and detailed recipe instructions. Cheryl is a mom of three who lives in Memphis, TN.