Matcha Marshmallows

Posted: 06/26/15 Updated: 05/11/23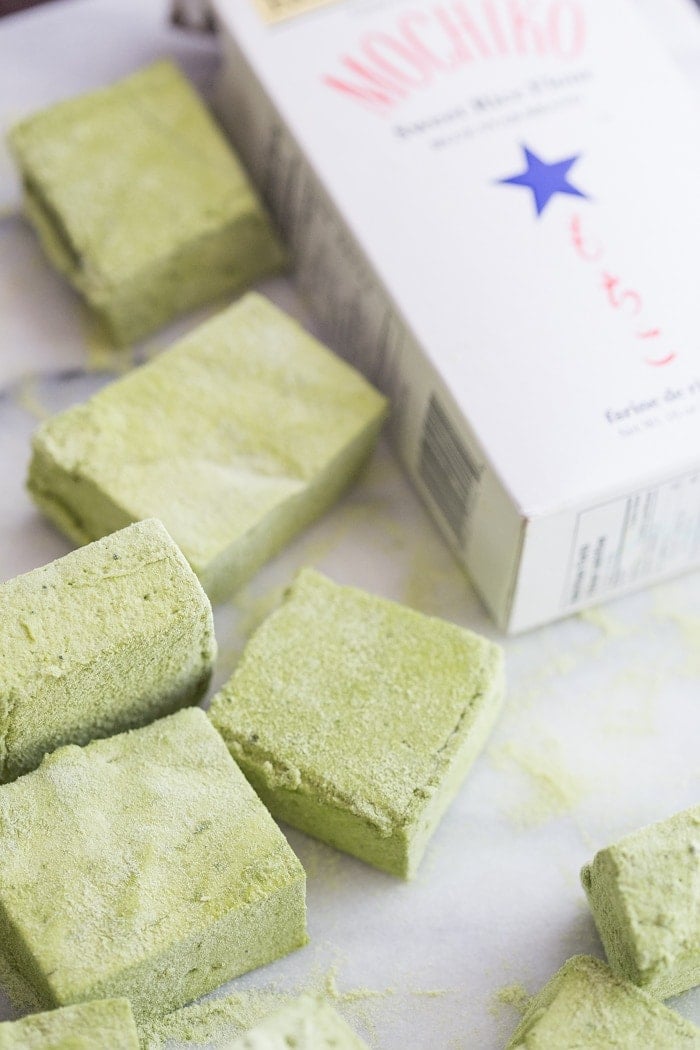 Oh, pillowy matcha marshmallows with your grassy, earthy sweetness.. where did you come from?
From my dreams? My pregnancy-induced cravings that know no bounds whatsoever?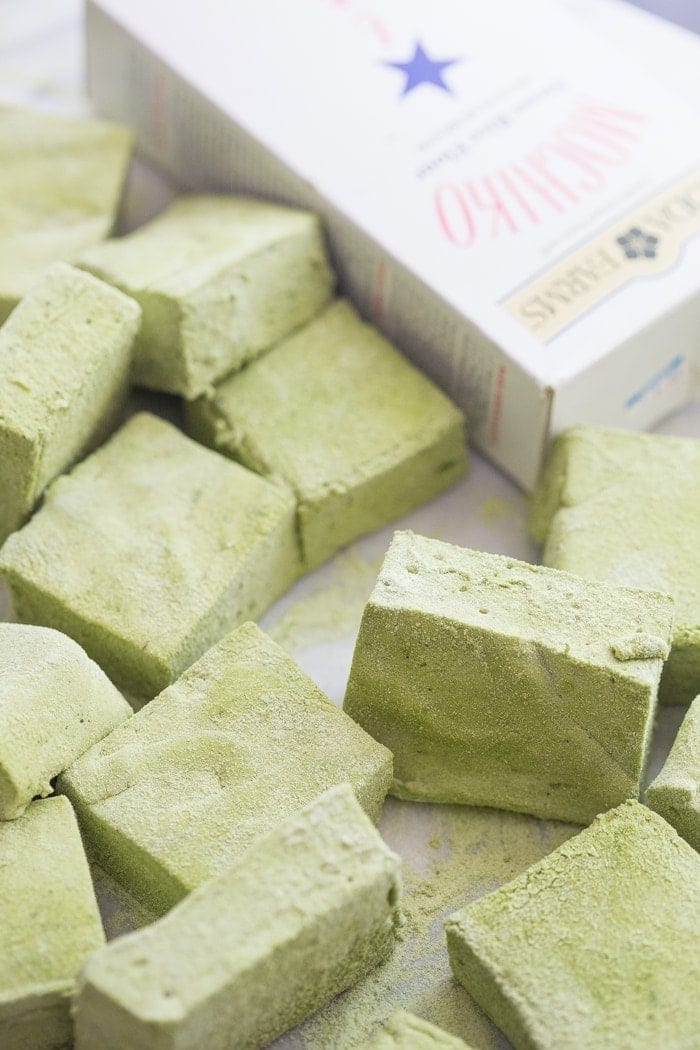 You know.. I once wrote a poem about pregnancy cravings, and I'd like to take this opportunity to share the ode with you now. My only regret is that I'm limited in my presentation, preferring, of course, a dramatic spoken-word setting.
They spring from nothingness
Latent in the dark hollows
Scratching
Clawing
Like an unchained beast after
Years of a chain
To ignore the presence would be to close your eyes
In the middle of a hail storm and claim you
Feel nothing
Just lift your arms out from your sides with palms turned up to the skies and say
"What a beautiful autumn sunset"
No, you relinquish control because the surrender is more satisfying than
free falling backwards into a soft stuffed bed of goose down
You give in because hot damn mashed potatoes
Ahh, yes. I remember this night well, salivating at the thought of mashed potatoes and brown gravy from a particular Southern kitchen we frequented when I was a kid. I hated it, or so I thought, but that night it was all I could do to keep myself from hunting down the proprietor, donning a ski mask and sporting a nonchalant machete, forcing them to make me a bowl for the love of all things holy. Such restraint have I!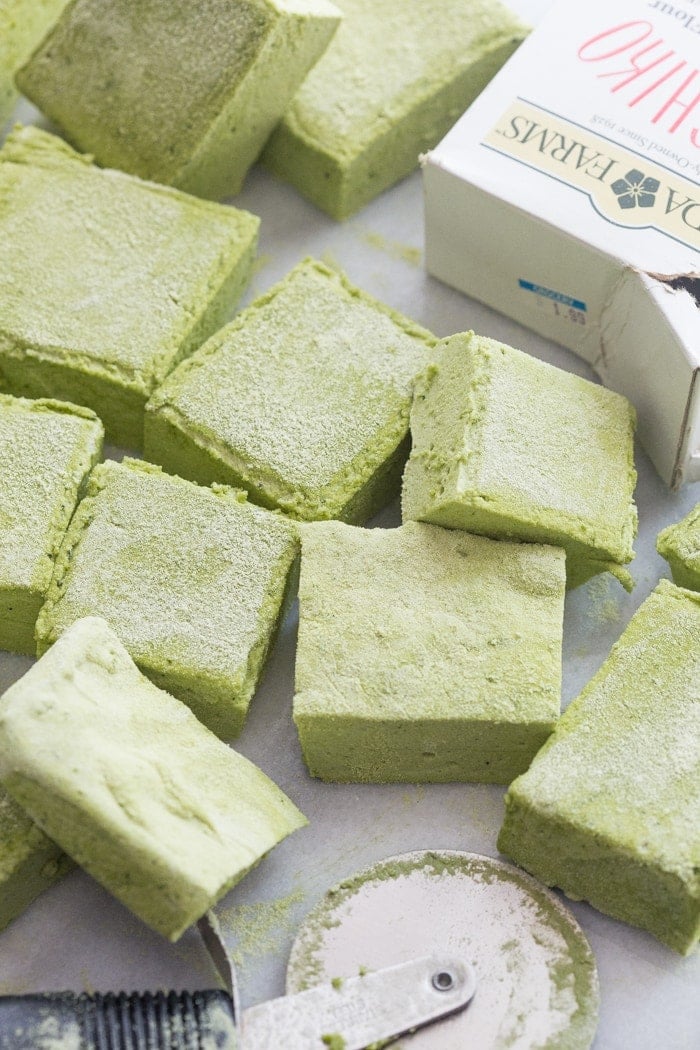 The mashed potato craving has passed (or so I thought.. merely talking about the object of my passion is reigniting the spark, and I might just have to hop in the car–thankfully we find ourselves in daylight hours for this craving–and speed all the way into Midtown for a bowl. I'm huge enough that I can feign labor, should I get pulled over.), but the feelings were similar when the idea of matcha marshmallows alighted on my mind. Fervor, passion, and hungry desperation (or is it desperate hunger?).. a trio of emotions usually reserved for the inside cover of a 50 Shades of Whatever-It-Is-Now hardback.
So, it seems that's where the matcha marshmallows came from. From the little man who lives in my belly and kicks his apartment walls so hard it makes my entire stomach shake, who high-fives my bladder (sometimes opting for a singular pinky jab straight to that particular organ) on the reg, and orders what we like to call "womb service" at all hours like it's the St. Regis.
The St. Regis in Orange Mound, because damn, he is really requesting some fried chicken right about now.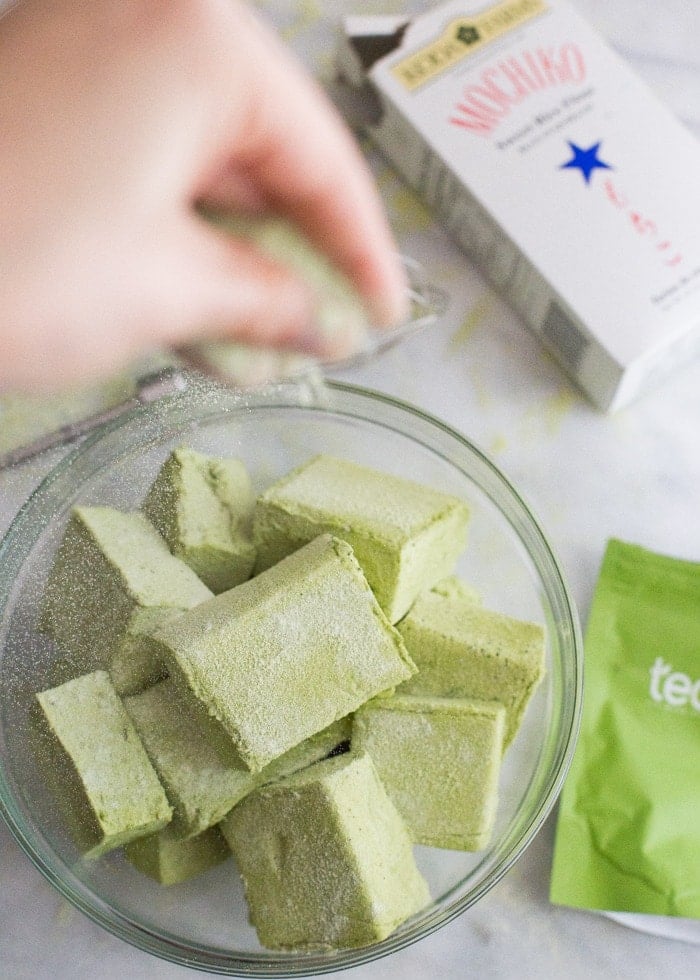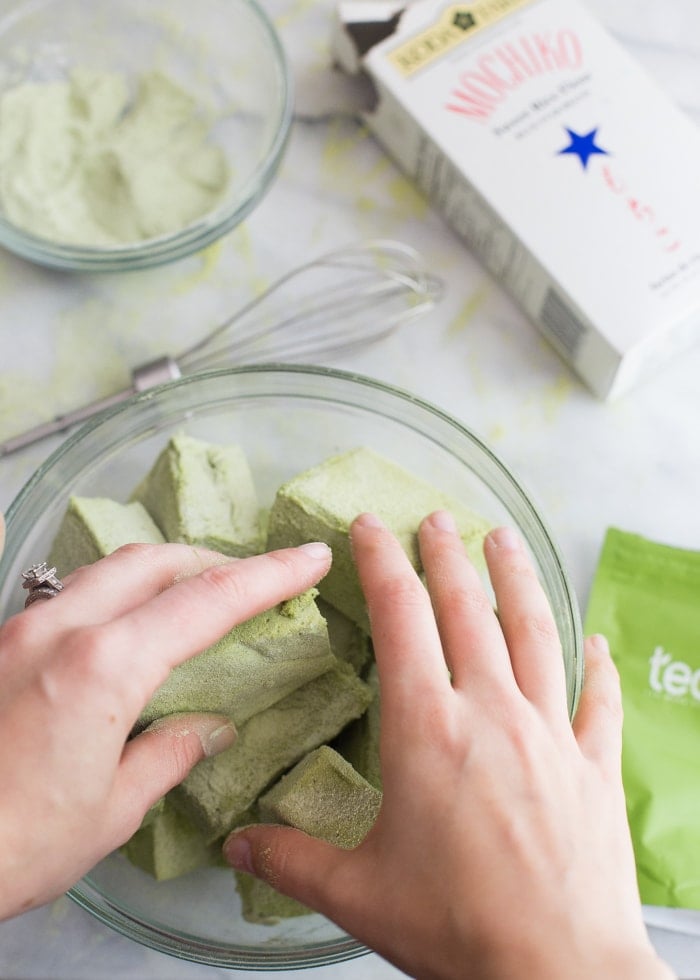 Prosaic justification of my cravings aside, these matcha marshmallows are damn good. They're soft and tender and rich yet far from overwhelming, just like a perfect homemade marshmallow should be, but infused with an elegant earthiness that grounds the sweetness wonderfully. They're insanely green and consequently full of mega antioxidants, which basically makes these health food. Oh, and gelatin, too! Gelatin.. also a health food. You should eat some ice cream, just to balance these out. They're basically cardboard, they're so good for you.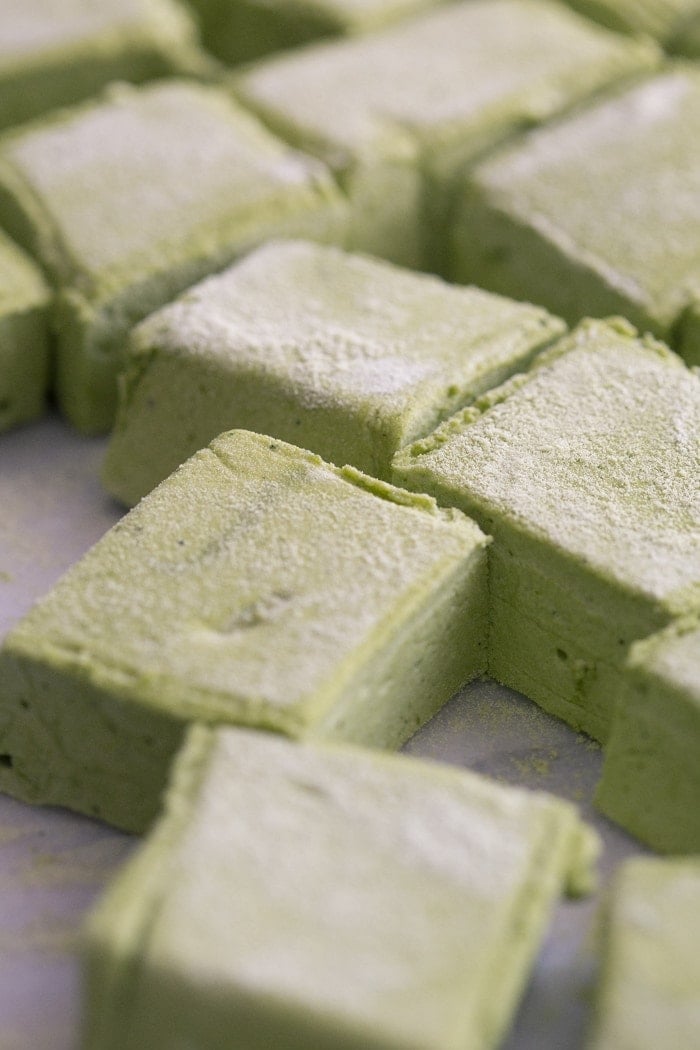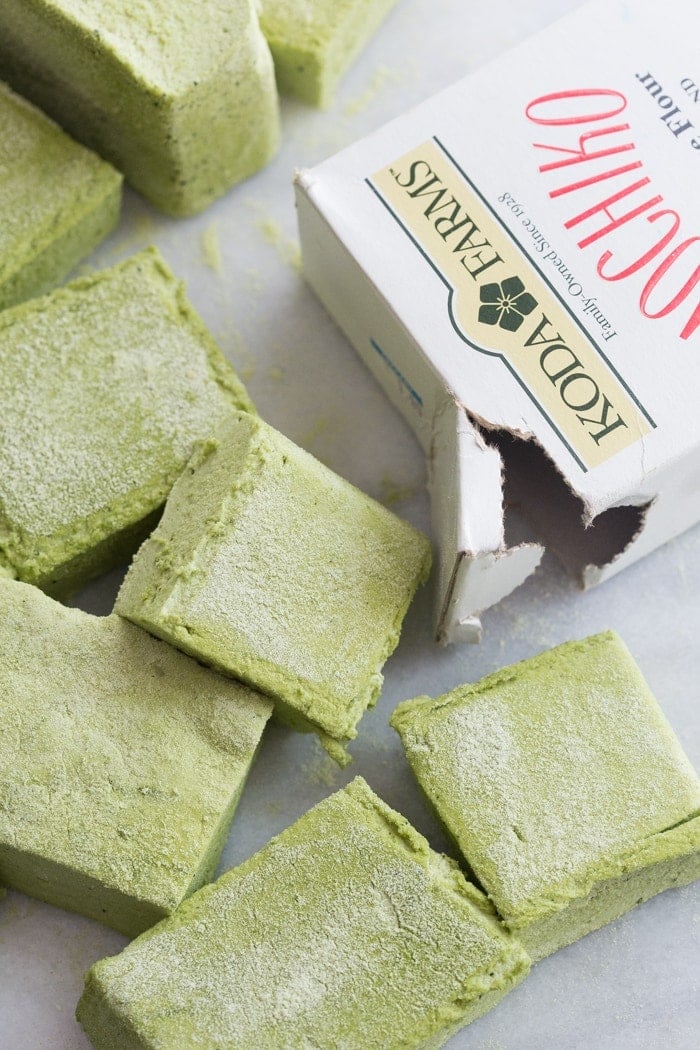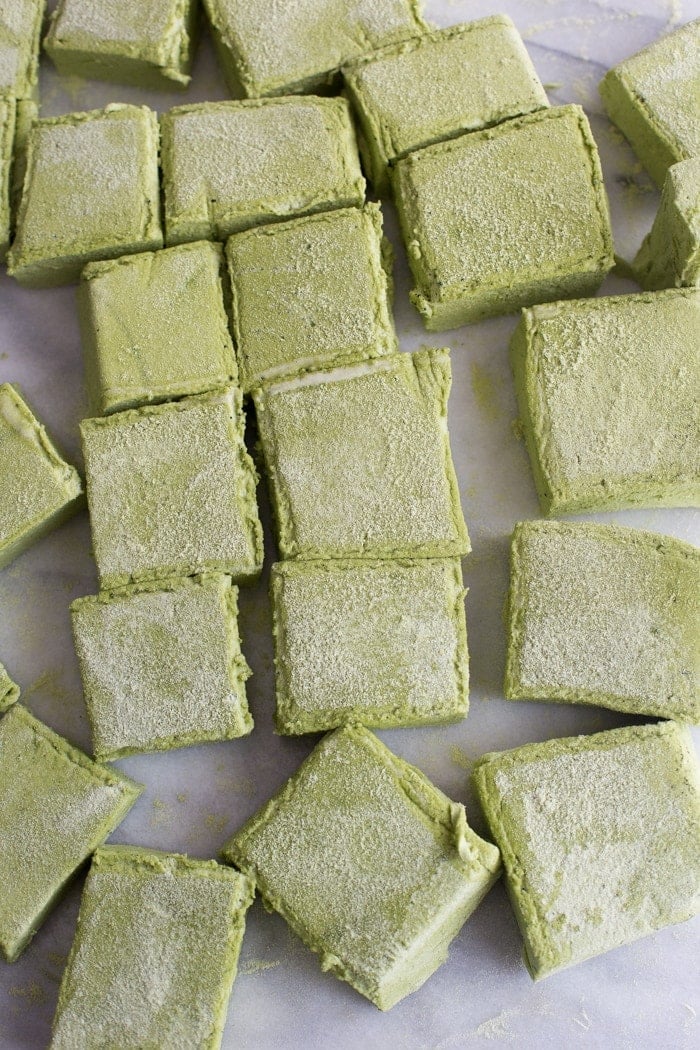 Not…. that I'm implying that cardboard is good for you. But..
Hey! Look over here! Matcha marshmallows!
Make them. And send me some. Or else I'll show up at your house at midnight in a ski mask with a machete. Pretty sure you'll know who it is, though; the swollen belly tends to give me away these days.
Matcha Marshmallows
Pillowy homemade marshmallows infused with antioxidant-rich, grassy matcha. A perfectly elegant twist on a classic confection.
Ingredients
3

tablespoons

packages unflavored gelatin

1

cup

ice cold water

, divided

12

ounces

granulated sugar

, approximately 1 1/2 cups

2

tablespoons

matcha

1

cup

light corn syrup

¼

teaspoon

kosher salt

1

teaspoon

vanilla extract

½

cup

sweetened rice flour

, for dusting

1

tablespoon

matcha

, for dusting
Instructions
Place the gelatin into the bowl of a stand mixer along with 1/2 cup of the water. Have the whisk attachment standing by.

In a small saucepan combine the remaining 1/2 cup water, granulated sugar, corn syrup and salt. Place over medium high heat, cover and allow to cook for 3 to 4 minutes. Uncover, clip a candy thermometer onto the side of the pan and continue to cook until the mixture reaches 240 degrees F, approximately 7 to 8 minutes. Once the mixture reaches this temperature, immediately remove from the heat. Whisk in 2 tablespoons matcha powder.

Turn the mixer on low speed and, while running, slowly pour the sugar syrup down the side of the bowl into the gelatin mixture. Once you have added all of the syrup, increase the speed to high. Continue to whip until the mixture becomes very thick and is lukewarm, approximately 12 to 15 minutes. Add the vanilla during the last minute of whipping. While the mixture is whipping prepare the pans as follows.

In a small bowl, place sweetened rice flour and whisk in a bit of matcha to color the mixture light green. Lightly spray a 13 by 9-inch metal baking pan with nonstick cooking spray. Add the sweetened rice flour mixture and move around to completely coat the bottom and sides of the pan. Return the remaining mixture to the bowl for later use.

When ready, pour the mixture into the prepared pan, using a lightly oiled spatula for spreading evenly into the pan. Dust the top with enough sweetened rice flour mixture to lightly cover. Reserve the rest. Allow the marshmallows to sit uncovered for at least 4 hours, up to overnight.

Turn the marshmallows out onto a cutting board and cut into 1-inch squares using a pizza cutter dusted with the sweetened rice flour mixture. Once cut, lightly dust all sides of each marshmallow or toss with the remaining mixture. Store in an airtight container for up to 3 weeks.
Notes
Marshmallow recipe based on Alton's.
Nutrition Information
Serving Size:
10
serving
,
Calories:
279
kcal
,
Protein:
5
g
,
Fat:
1
g
,
Saturated Fat:
1
g
,
Sodium:
85
mg
,
Potassium:
6
mg
,
Total Carbs:
67
g
,
Fiber:
1
g
,
Sugar:
60
g
,
Net Carbs:
66
g
,
Vitamin A:
225
IU
,
Calcium:
6
mg
,
Iron:
1
mg
Number of total servings shown is approximate. Actual number of servings will depend on your preferred portion sizes.
Nutritional values shown are general guidelines and reflect information for 1 serving using the ingredients listed, not including any optional ingredients. Actual macros may vary slightly depending on specific brands and types of ingredients used.
To determine the weight of one serving, prepare the recipe as instructed. Weigh the finished recipe, then divide the weight of the finished recipe (not including the weight of the container the food is in) by the desired number of servings. Result will be the weight of one serving.