Easy Peel Hard- and Soft-Boiled Eggs

Posted: 04/05/23
This super simple method creates the most perfect boiled eggs that are SO easy to peel. From soft-boiled to creamy hard-boiled and everything in between, this article is all you need for perfect boiled eggs every time. Ideal for deviled eggs and Easter eggs.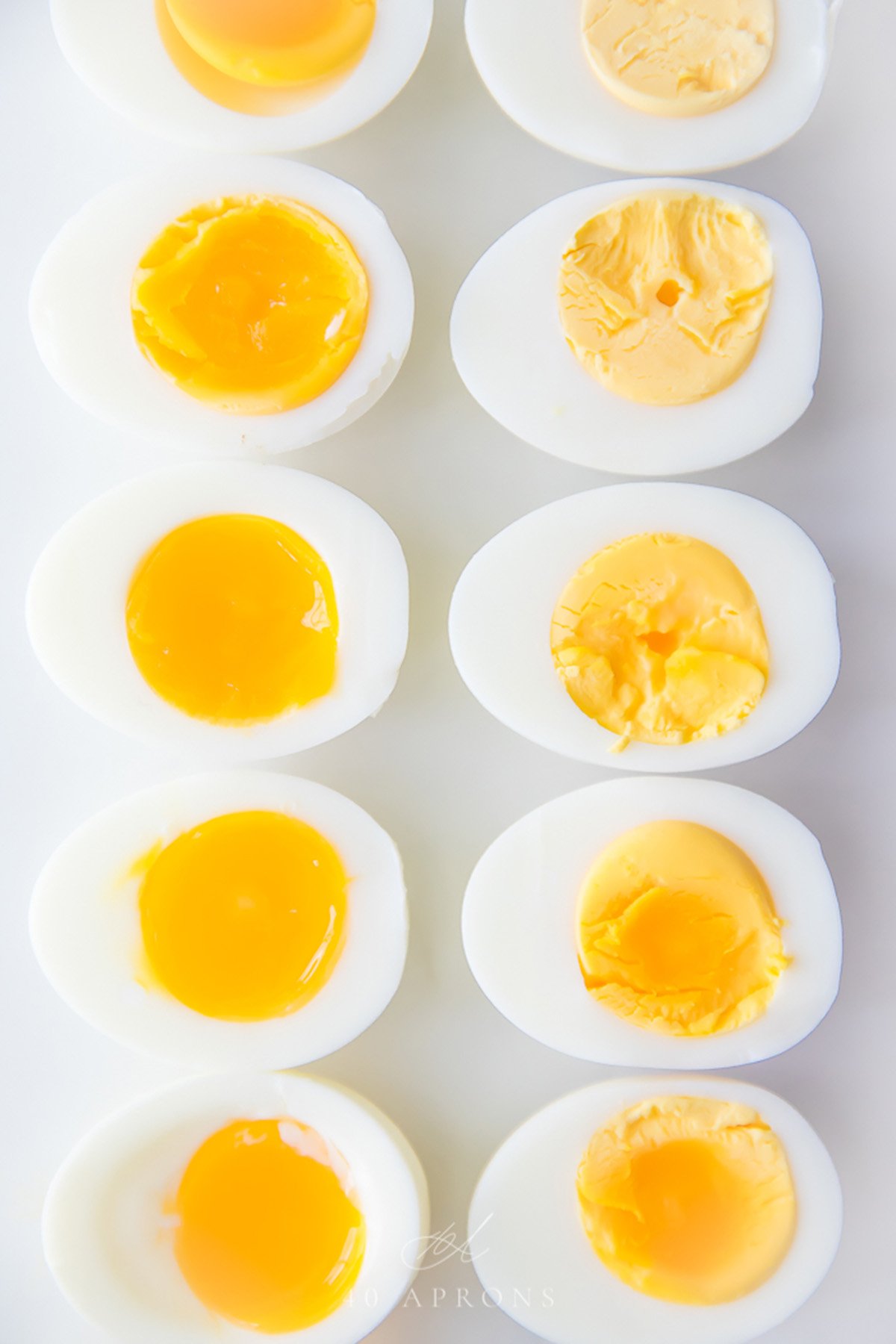 Look. I'm not ashamed to admit it. For years, I was boiling eggs ALL wrong. Don't hate me, but you probably are, too.

I used to start the eggs in cold water and bring them to a boil. I also tried adding the eggs to boiling water, then removing them from the head and letting them just steep for however many minutes.

Nothing ever worked just right. Peeling them was an absolute pain, and the creaminess and doneness of the yolks always, always varied.

Sound familiar?
😍 Why This Method Is Absolutely Perfect
It's quick and easy and totally foolproof. You can peel a dozen boiled eggs perfectly in roughly 2 minutes.
It produces the richest, creamiest yolks, whether you want them runny, jammy, or fully solid.
You end up with the easiest-to-peel boiled eggs you'll ever attempt to peel.
The yolks never turn blue-green or sulphuric.
🍳 How Long Does it Take to Boil an Egg?
Well… that depends entirely on how you prefer your boiled eggs! Did you know there's a whole range of results between "hard boiled" and "soft boiled"?
I boiled each egg with exactly the same method. The only difference was the length of time I let them boil. Here's how they turned out…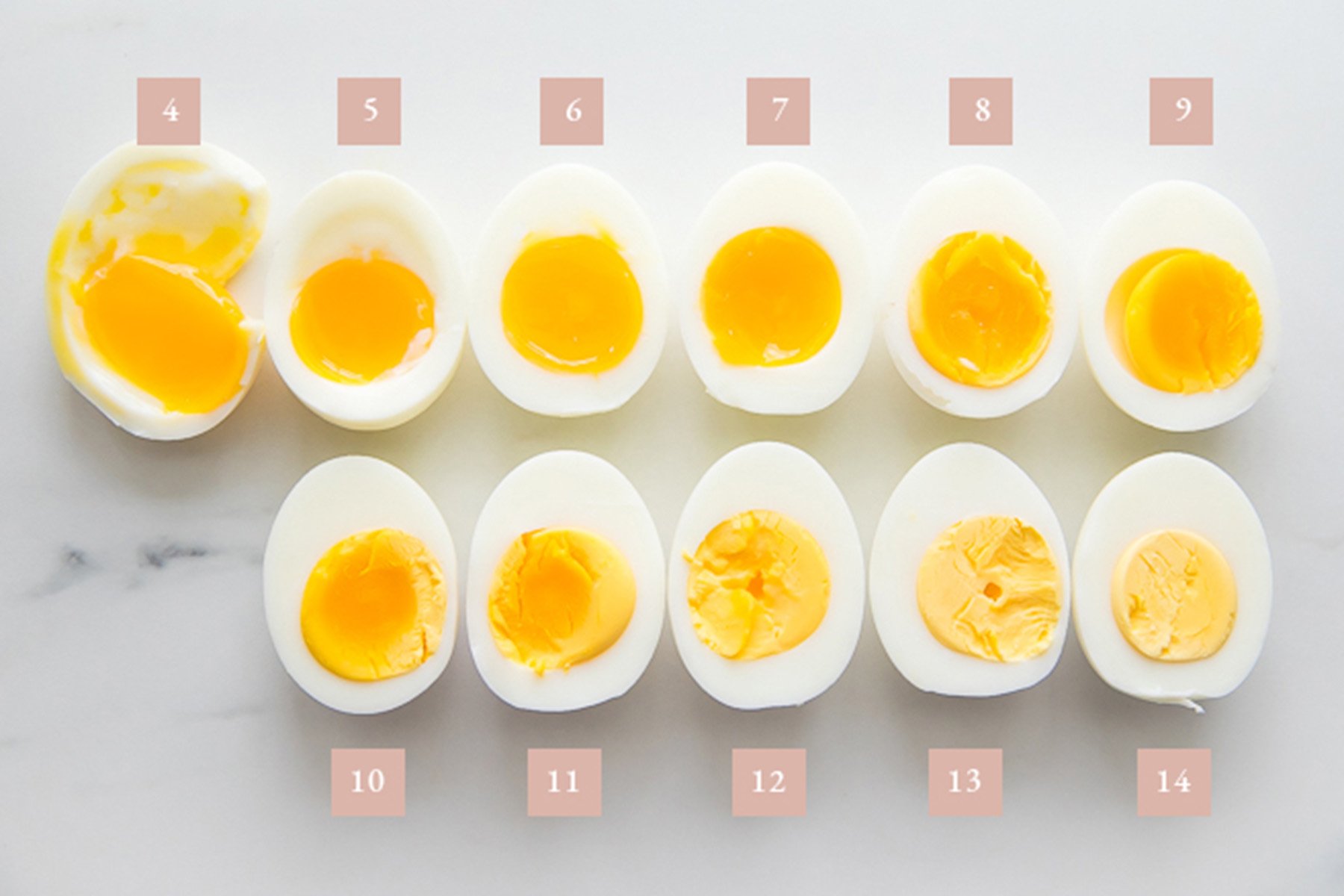 And if we break down each boiled egg result, starting from the top left, we've got:
4 minutes: Mostly set white that doesn't stay together. Super liquid yolk.
5 minutes: Almost entirely set white with a runny, nearly liquid yolk.
6 minutes: Set white and creamy, gooey yolk. Great for ramen and similar dishes.
7 minutes: Firm white and jammy yolks. Great for eating alone, topped with your preferred seasoning and a nice pinch of salt. My favorite!
After 7 minutes, all boiled eggs moving forward will have firm egg whites.
8 minutes: Half-set yolk. The edge is solid and creamy but the center is soft and almost a little jammy.
9 minutes: Mostly set yolk, but the center is quite moist.
10 minutes: The yolk is half fully set (light yellow) but the center half is still darker yellow and moist.
11 minutes: The yolk is mostly fully set (light yellow), but not quite. The very center is still a little moister than the rest.
12 minutes: The yolk is fully set and light yellow but still super creamy.
13 minutes: Fully set but less creamy.
14 minutes: Fully set but starting to get dry.
💡 How to Use Hard- and Soft-Boiled Eggs
There are SO many uses for boiled eggs! I mean sure, you could go with the classic dash of salt, pinch of pepper. Beyond that, try…
…dying the eggs for Easter egg hunts or holiday decorations.
…turning them into classic deviled eggs for cookouts or potlucks.
…halving them, then adding a sprinkle of togarashi, hot sauce, Old Bay, cajun seasoning, or smoked paprika.
…serving them as part of a breakfast charcuterie with bits of nice cheeses, meats, fruits, or even bagels.
…mashing them into egg salad.
…giving the finishing touch to a bowl of homemade ramen.
Need more ideas? Check out this post on 15 Things You Can Do with Hard Boiled Eggs!
🥚 Boiling Old Eggs vs. New Eggs
I found only a very slight difference between peeling old and new boiled eggs. I compared "brand new, purchased yesterday" eggs with eggs that were purchased at least a week before. Compare the two left eggs in the photo below.

I wouldn't worry too much about which eggs you use, though. The remaining eggs used I used were new, conventional eggs. I had zero problems with them whatsoever.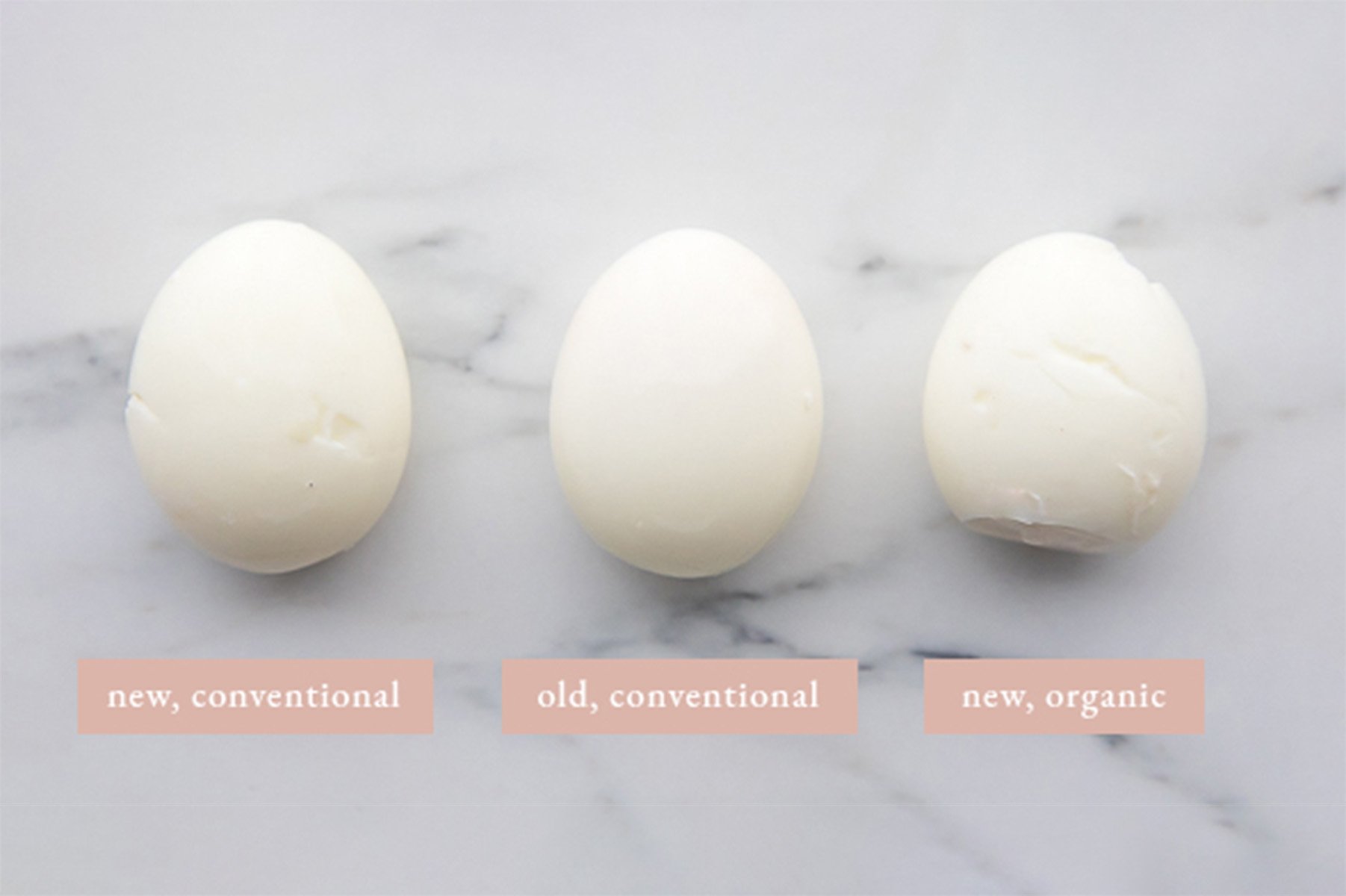 🧂 Vinegar and Salt in the Water?
I'll keep it simple: Yes. You should add vinegar and salt to your boiling water. Here's why:
Adding vinegar makes the eggs easier to peel.
Adding salt makes the eggs coagulate if the shells crack during boiling. That means little-to-no egg white leakage!
It doesn't really matter what kind of vinegar you use, but add about 1-2 tablespoons to your water as it warms up. Include a big few pinches of salt at the same time.
⏲️ Frequently Asked Questions
How do you boil eggs so they peel easily?
1) Add the eggs to boiling water – not cool water. 2) Immediately transfer them to an ice bath after boiling. 3) Shake them in the ice bath to start cracking the shells.
Should you boil the water before adding the eggs?
Definitely! Adding the eggs to already-boiling water makes it much easier to time how long they cook. That helps ensure you get your desired yolk consistency!
Is it better to peel boiled eggs when they're hot or when they're cold?
Let them cool first and peeling them will be much easier! As they cool, the boiled egg whites contract and pull away from the membrane on the inside of the shell.
How long do you boil an egg?
Anywhere from 4 minutes to 14 minutes, depending on the texture and consistency you want. 4 minutes gives you barely-set egg whites and a super liquidy yolk. 7 minutes produces a jammy yolk and firm whites. At 12 minutes, the yolks are fully set but still super creamy.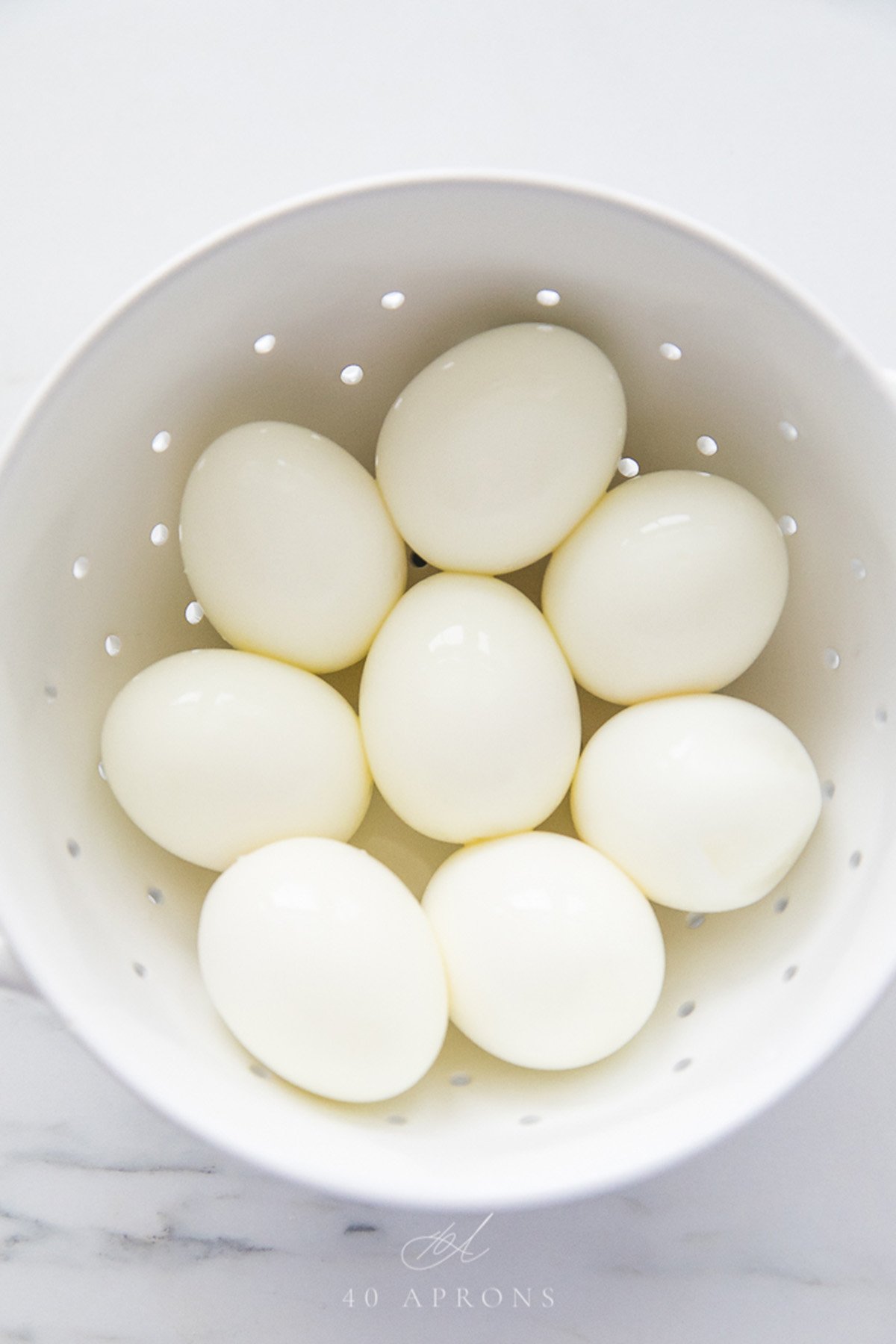 🥘 Our Favorite Egg Recipes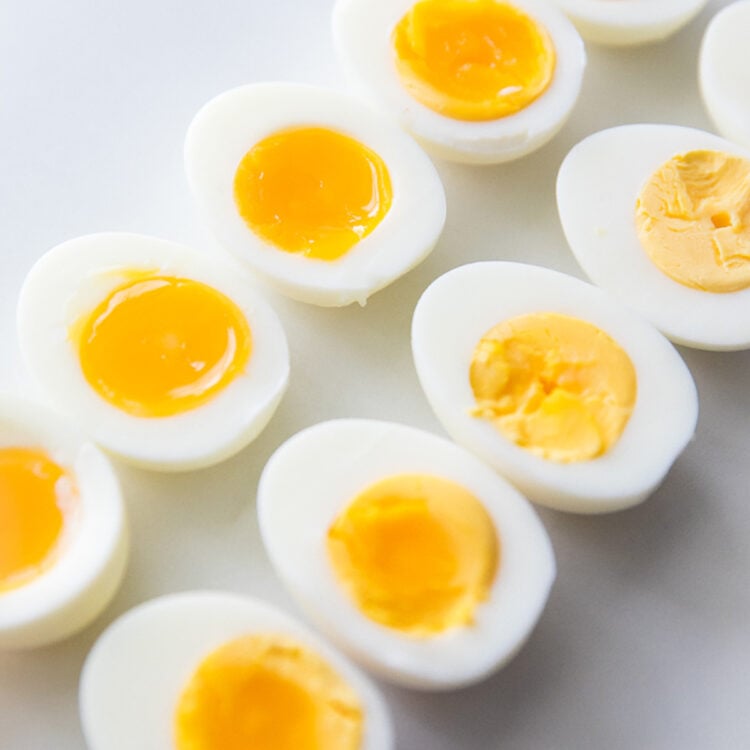 Easy Peel Hard- and Soft-Boiled Eggs
The quickest, easiest, most foolproof method for perfectly boiled eggs every single time.
Ingredients
1-2

tablespoons

vinegar

any type

½

teaspoon

salt

12

large

eggs
Equipment
Large saucepan

or large pot, see Notes

water

Slotted spoon

or handheld strainer

timer

Large bowl

filled with cold water and ice
Instructions
Fill saucepan with enough water that waterline sits approximately 1-inch above top of eggs.

Place saucepan on stovetop over high heat and bring water to boil. Once water begins to boil, stir in vinegar and salt. Bring water back to rolling boil.

Working quickly but carefully, use slotted spoon to gently lower 2 to 3 eggs into water, being careful not to crack eggs on bottom of saucepan. Continue until all eggs have been submerged, then start timer. See Notes below for time recommendations.

When timer is finished, quickly but carefully transfer boiled eggs from saucepan directly into large bowl filled with ice bath. Let eggs sit in ice bath at least 5 minutes.

Once eggs are chilled, drain water and remaining ice from bowl. Vigorously shake and toss eggs in bowl to crack shells. Continue until shells feel like mesh and have no large, intact pieces remaining.

Gently peel away and discard egg shells. If needed, hold eggs under running water while peeling, using force of water to remove any small pieces of shell.

Serve peeled boiled eggs immediately, or place eggs in airtight container and refrigerate until ready to serve.
Notes
Saucepan: Use a saucepan (or pot) that's large enough to hold all of the eggs in one even layer, without the eggs being stacked. Work in batches as needed if you don't have a large enough saucepan or if you need to boil a lot of eggs.
Storage: Boiled eggs (peeled or unpeeled) can be refrigerated in an airtight container up to 1 week.
Boil Times & Egg Consistency
4 minutes: Mostly set egg white & super liquid yolk. Egg whites will not hold together.
5 minutes: Almost entirely set egg whites & runny, nearly-liquid yolk.
6 minutes: Set egg whites. Creamy, gooey yolk. Great for ramen and similar dishes.
7 minutes: Firm egg whites with jammy yolks. Great for eating alone, topped with your preferred seasoning and a nice pinch of salt.
8 minutes: Half-set yolk with solid, creamy edges and soft, slightly-jammy center.
9 minutes: Mostly set yolk with very moist center.
10 minutes: Majority of yolk is almost fully set and light yellow. Center of yolk is darker yellow and still moist.
11 minutes: Almost all of yolk is fully set and light yellow. Very center of yolk is more moist than rest of yolk.
12 minutes: The ideal hard-boiled egg! Fully set, light yellow yolk that's super creamy.
13 minutes: Fully set yolk that's less creamy.
14 minutes: Fully set yolk that's starting to become dry and crumbly. I don't recommend boiling eggs more than 14 minutes.
Nutrition Information
Serving Size:
1
egg
,
Calories:
72
kcal
,
Protein:
6
g
,
Fat:
5
g
,
Saturated Fat:
2
g
,
Trans Fat:
0.02
g
,
Cholesterol:
186
mg
,
Sodium:
168
mg
,
Potassium:
69
mg
,
Total Carbs:
0.4
g
,
Sugar:
0.2
g
,
Vitamin A:
270
IU
,
Calcium:
28
mg
,
Iron:
1
mg
Number of total servings shown is approximate. Actual number of servings will depend on your preferred portion sizes.
Nutritional values shown are general guidelines and reflect information for 1 serving using the ingredients listed, not including any optional ingredients. Actual macros may vary slightly depending on specific brands and types of ingredients used.
To determine the weight of one serving, prepare the recipe as instructed. Weigh the finished recipe, then divide the weight of the finished recipe (not including the weight of the container the food is in) by the desired number of servings. Result will be the weight of one serving.