Today I have a super special guest, my friend Erin from The Speckled Palate, sharing her No Bake Pumpkin Cookies with you! She came up with a perfect, easy fall recipe that just so happens to be good for milk supply, too. Awesome, huh? Of course, if you're not breastfeeding or if you're a dude, they're still perfect for you, because.. no bake? Pumpkin? Um, yes. 
Taste the fall without having to turn on the oven! Whip up these vegan, naturally sweetened No Bake Pumpkin Cookies for the perfect pumpkin bites!
Hey, y'all! I'm Erin, and I blog over at The Speckled Palate. I'm thrilled to be filling in for Cheryl today as she settles into motherhood and taking care of Baby Leo. I'm actually returning the guest blogging favor here since she stood in for me in March after my baby girl was born (check out Cheryl's Vegetarian Shiitake Gyoza at The Speckled Palate!).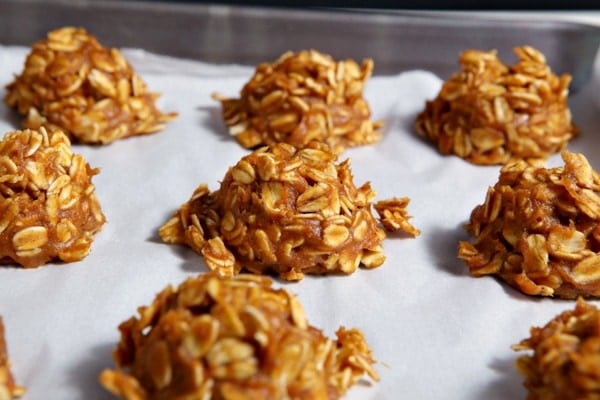 So. Since I'm a new mother, I wanted to make a new mom-friendly recipe. It's really an everybody-friendly recipe, which is fabulous. I've found in the first six months of motherhood that it's really good to have recipes up your sleeve that are simple and delicious.
It's also an added bonus if said recipe is delicious and potentially helps your body.
(Note: Please don't read that as me telling you to make these cookies and eat only them for a week. I'm fairly positive that's not healthy. But! If you're going to make cookies and eat them at a sensible rate, these aren't too bad for you, compared to some of the cookie recipes I've seen!)
Fun fact: Oatmeal is apparently good for lactation. And if you're a new mama, chances are, you're trying to figure out how to keep your baby happy, how to function on little sleep and how to make things work. If you're nursing your baby exclusively, you want to keep that milk supply up. And oatmeal apparently helps with this.
Another fun fact: I've made chocolate-hazelnut no bake cookies all summer and jokingly called them lactation cookies… and I saw an improvement in my supply. … The more you know.
So. Let's discuss these delightful No Bake Pumpkin Cookies.
Fall should be here — it's September, after all — except it's not in the South. And I don't know about y'all, but even though I desperately want autumn to appear, it won't for a while. Because, well, I live in the South, and that's not how our weather rolls.
So what's a girl to do when she wants something pumpkin-y?
I'll tell ya one thing: She doesn't run to the coffee shop for a PSL.
Nope. It's waaaaaaaay too warm for one of those, even if you want to get in the whole autumnal mindset with your ankle boots and leggings and cozy sweaters. I'm fairly positive it's sacrilege to get a PSL iced.
I've got a solution for those of us who live where it's still uncomfortably warm but want a taste of the fall: No Bake Cookies.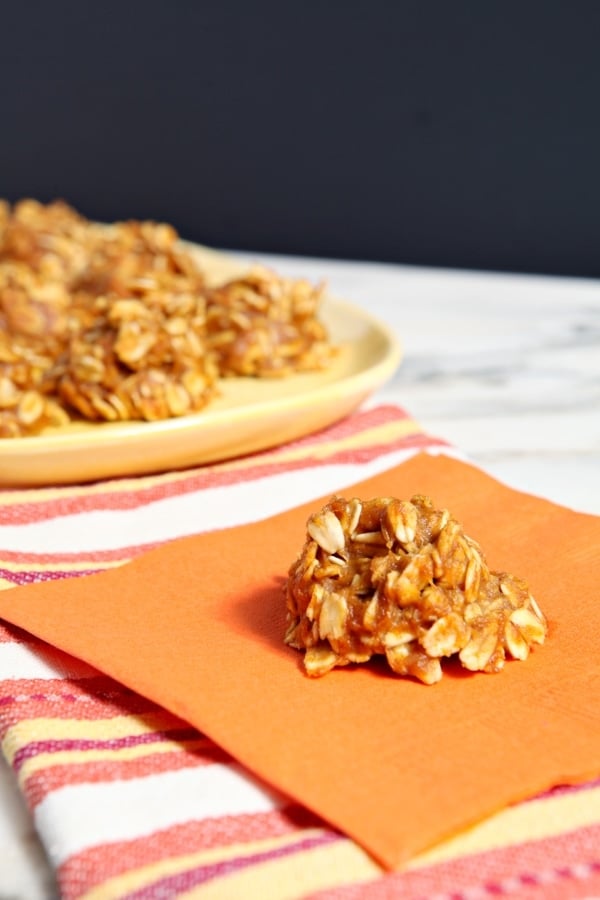 Specifically, No Bake PUMPKIN Cookies.
These cookies are SO easy to make, and they're SO delicious… and you keep 'em in the fridge. They're super easy to snack on, AND they're naturally sweetened with maple syrup, so your blood sugar should thank you for that.
I made these a few weeks back and have been re-upping the stock whenever stores get low because, well, they're delicious. And (faux-ish?) lactation cookies FTW!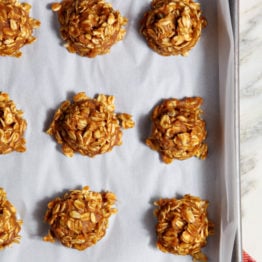 No Bake Pumpkin Cookies
An easy, no-oven-required pumpkin cookie - perfect for fall days on the cusp! Added bonus? These double as lactation cookies, thanks to the oatmeal. I'll take 400.
GO PREMIUM - AD FREE + MEAL PLANS
Instructions
Prepare a small baking sheet with a piece of parchment paper. Set aside.

In a large saucepan over medium-high heat, melt the coconut oil.

Add the maple syrup, peanut butter and the pumpkin. Stir until combined and melted through.

Remove from the heat, and add the vanilla extract, cinnamon, salt and oats.

Using a 1-inch cookie scoop, scoop the cookies into the prepared baking sheet.

Cool in the refrigerator for at least an hour, then enjoy!
Notes
Store the cookies in an air-tight dish in the refrigerator for up to a week. If your household is anything like ours, though, they won't last that long!
Nutrition
Serving:
16
g
Calories:
55
kcal
Carbohydrates:
8
g
Protein:
1
g
Fat:
2
g
Saturated Fat:
1
g
Sodium:
13
mg
Potassium:
54
mg
Fiber:
1
g
Sugar:
3
g
Vitamin A:
875
IU
Vitamin C:
1
mg
Calcium:
10
mg
Iron:
1
mg
Net Carbs:
7
g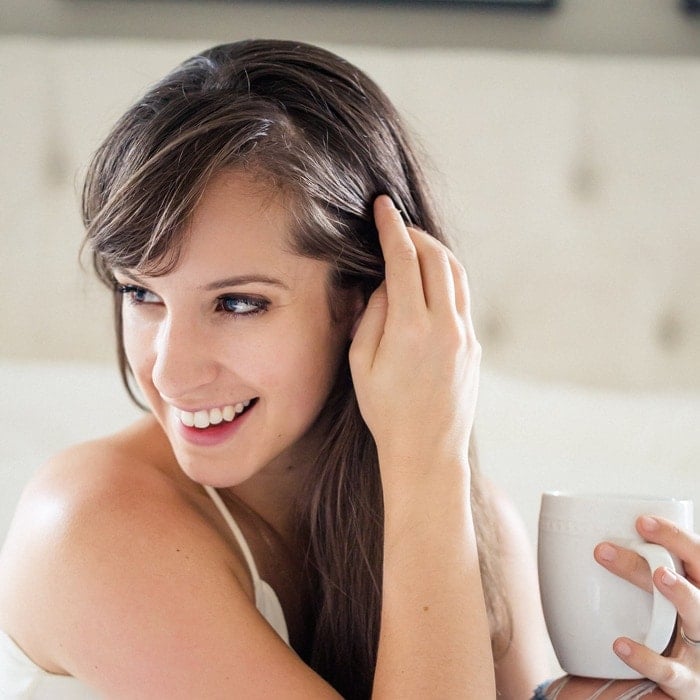 Cheryl Malik is the recipe developer, writer, and photographer behind the healthy, flavorful, family friendly recipes at 40 Aprons. She's been a blogger for 10+ years and is known for her delicious recipes and detailed recipe instructions. Cheryl is a mom of three who lives in Memphis, TN.