This vegan salted caramel ice cream will knock your socks off. So rich and creamy, you'll fall in love with this dairy-free, vegan ice cream.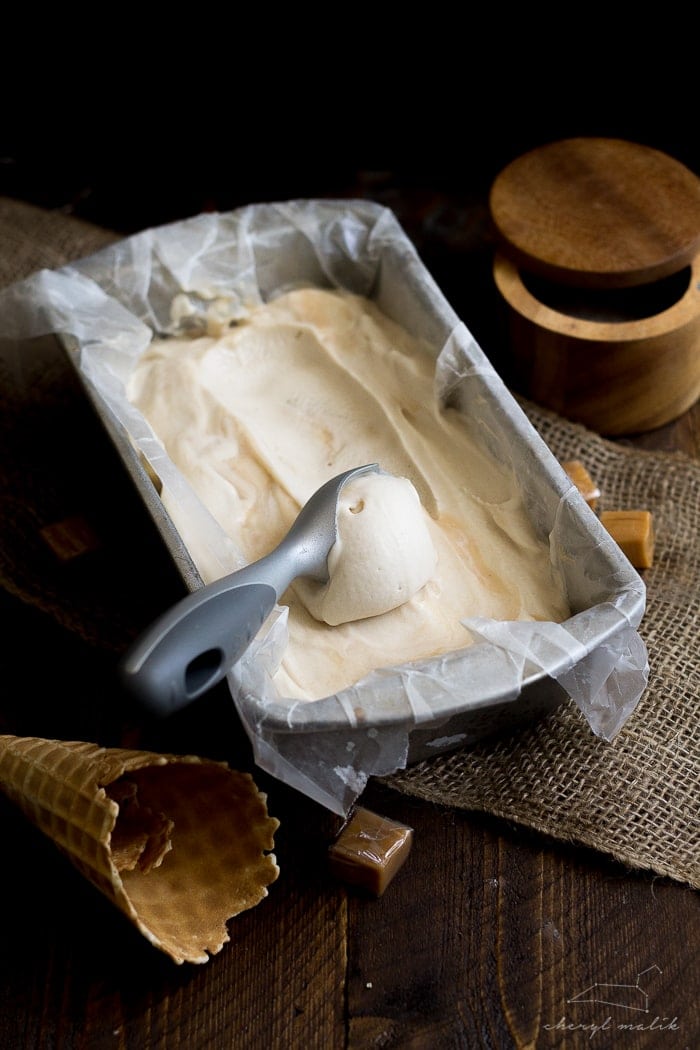 I wish I could get this blog written from O's perspective.. but I already spend so much of my day saying "Write your blog, honey! Write your blog! Seriously.. write your blog!"
….and yet, there's only oh, two posts on his sports blog. So I'm going to have to take this one over. But if O were writing? It'd go a little something like this.
"OMG OMG OMG OMG OMG OMG this is the greatest thing I've ever eaten." Except maybe, just maybe, slightly less tween-girly and a little more.. lawyery.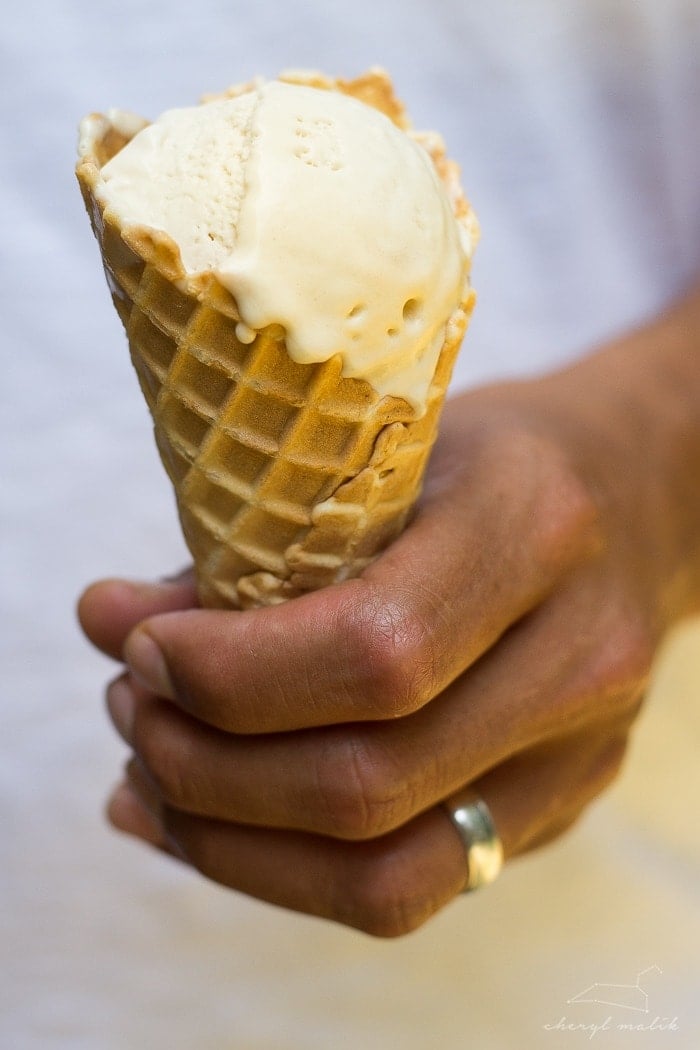 O loves this ice cream. I mean, I thought I love caramel, right? Especially salted caramel. Especially salted caramel ice cream. Most especially super love vegan salted caramel ice cream.. Right? But nothing can compare to O's love of this stuff. And I don't blame him.
It's good.
The texture is so rich and creamy–not at all icy or lacking–but perfectly smooth and buttery. The caramel is sweet and complex, the slight saltiness balancing the richness beautifully, the swirl of caramel adding to the overall indulgence. I was a little shocked at how this turned out myself, considering how many batches of vegan ice cream I've trashed due their total lack of resemblance to real, honest-to-goodness ice cream. Eating something a bit healthier yet a little less delicious is OK from time to time, but salted caramel ice cream is not one of those occasions.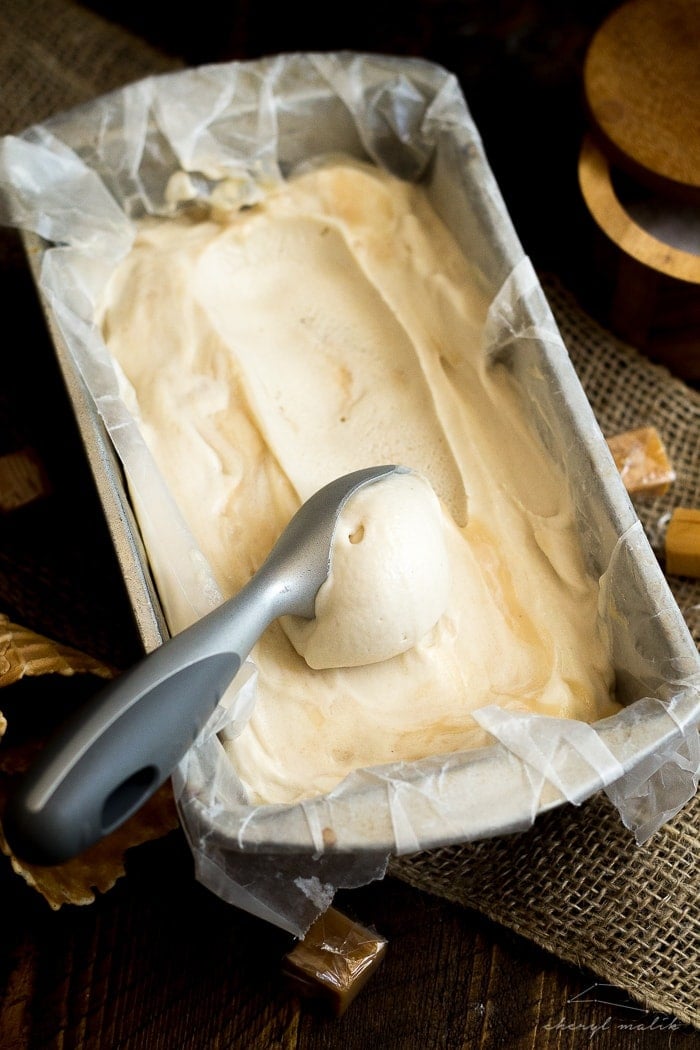 I whipped up my easy go-to caramel sauce but used a cashew-and-almond-milk blend in place of heavy cream to make it vegan. I blended a generous amount into my ultimate favorite vegan ice cream base and then swirled in some more, just because I can. Because I'm a grown up who gets to decide how much or how little salted caramel she eats. And the decision is..
lots. I get to eat lots of it.
O, however, surpasses my proclivity for this stuff pretty impressively. We hopped into Ben & Jerry's the other day, as I am obsessed with the salted caramel & blonde brownie ice cream (in the dipped cones, I mean, come on, people! I can't say no) and he threw his cone away, because he thought it was nowhere near as good as mine. I wouldn't go quite that far, but you've got to give him credit, right? And to be fair, my version is made of cashews and coconut milk, maple syrup and coconut oil (and, OK, a little regular white sugar, too), which can't be said of anything you'd find at your average ice cream shop.
He got pretty upset, too, when we ran out of this stuff. When I made a batch of Speculoos and Earl Grey ice cream with a Cookie Butter swirl, he was annoyed! Because it wasn't more vegan salted caramel ice cream. Then, of course, he tasted the new batch, and all was forgiven. But that's another story for another day.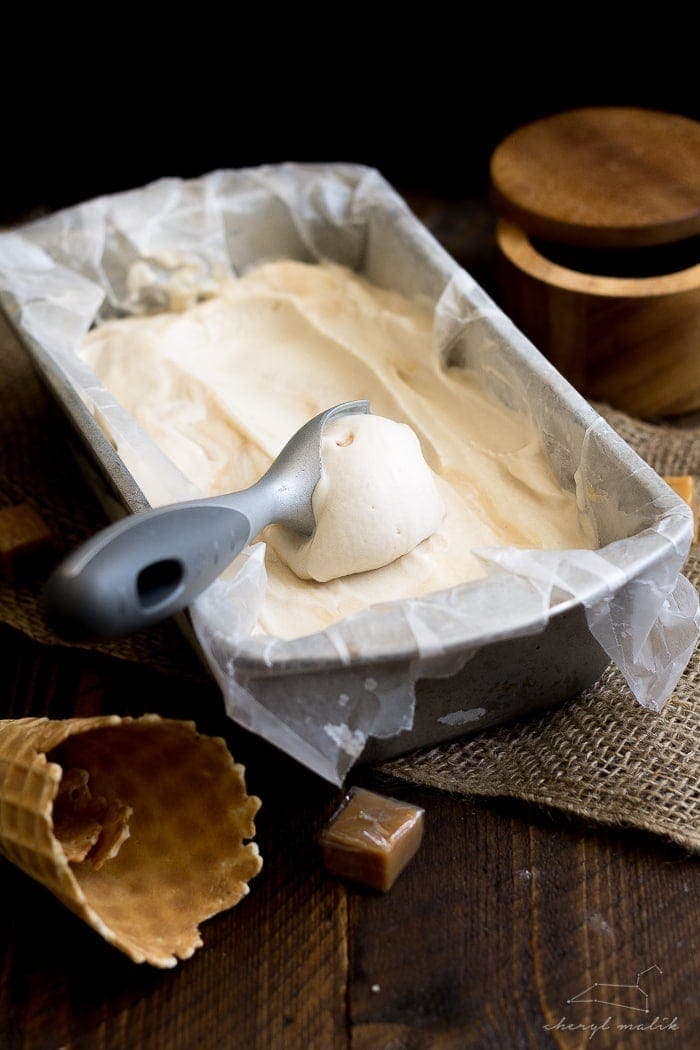 The moral of today's diatribe? Make this. Your husband will become a vegan salted caramel ice cream monster. But that's OK.. just one more little thing he couldn't live without. Right? How very Ina Garten of us.
Salted Caramel Ice Cream (Vegan)
Rich and creamy, deeply sweet and just slightly salty, this vegan salted caramel ice cream is painfully delicious and just happens to be vegan. I use
this ice cream maker
and adore it.
Ingredients
Salted caramel sauce:

1/2

cup

unsweetened almond milk

1/2

cup

+ 2 tablespoons water

, divided

1

cup

cashews

1 1/2

cups

sugar

1/2

cup

water

3

tablespoons

Earth Balance

2

teaspoons

flake sea salt

Ice cream:

1 14-

ounce

can full-fat coconut milk

(don't sub light coconut milk here!)

1

cup

cashews

, soaked at least 6 hours

3

tablespoons

coconut oil

2

cups

salted caramel sauce

, divided
Instructions
Make your "heavy cream": blend 1/2 cup almond milk, 2 tablespoons water, and 1 cup cashews in high-speed blender until very, very smooth. Sieve or press through a nut milk bag for the smoothest texture.

Make your salted caramel sauce: Stir sugar and 1/2 cup water in heavy large saucepan over medium-low heat until sugar dissolves. Increase heat; boil without stirring until syrup turns golden (I advise to not wait until it turns amber, as that usually means it's burnt!), occasionally brushing down sides of pan with pastry brush dipped into water and swirling pan, about 12 minutes. Remove from heat. Whisk in Earth Balance. Very gradually add cream (mixture will bubble vigorously). Stir over low heat until smooth. Add 2 teaspoons sea salt. Makes about 2 cups.

Combine coconut milk, 1 cup soaked cashews, coconut oil, and 1 1/2 cups salted caramel sauce in a high-speed blender. Blend until very smooth. Transfer to air-tight container and refrigerate until very cold. Once the mixture is cold, churn according to ice cream maker instructions.

Once churned, the ice cream will have the texture of frozen yogurt. Gently swirl in the remaining 1/2 cup salted caramel sauce and place in freezer at least 2-3 hours.
478