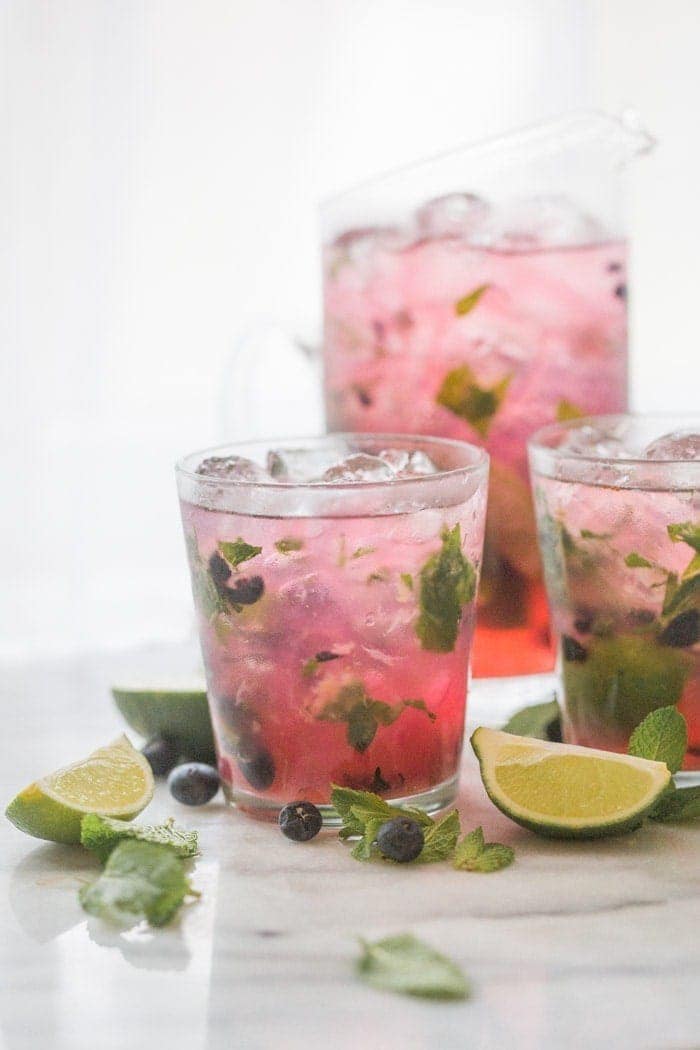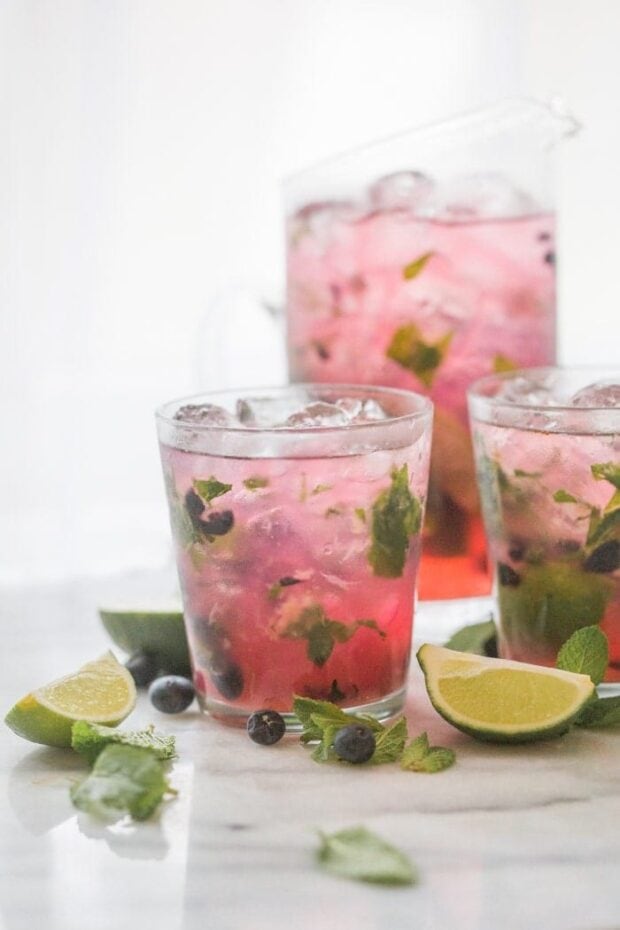 My blueberry mojito recipe is one of my all-time favorite cocktail recipes–it's bursting with a lightness that, paired with the fruitiness of the blueberries and tartness of the limes, is hard to beat. Especially during the warmer months!
Except I happen to be super preggo. Like.. super preggo.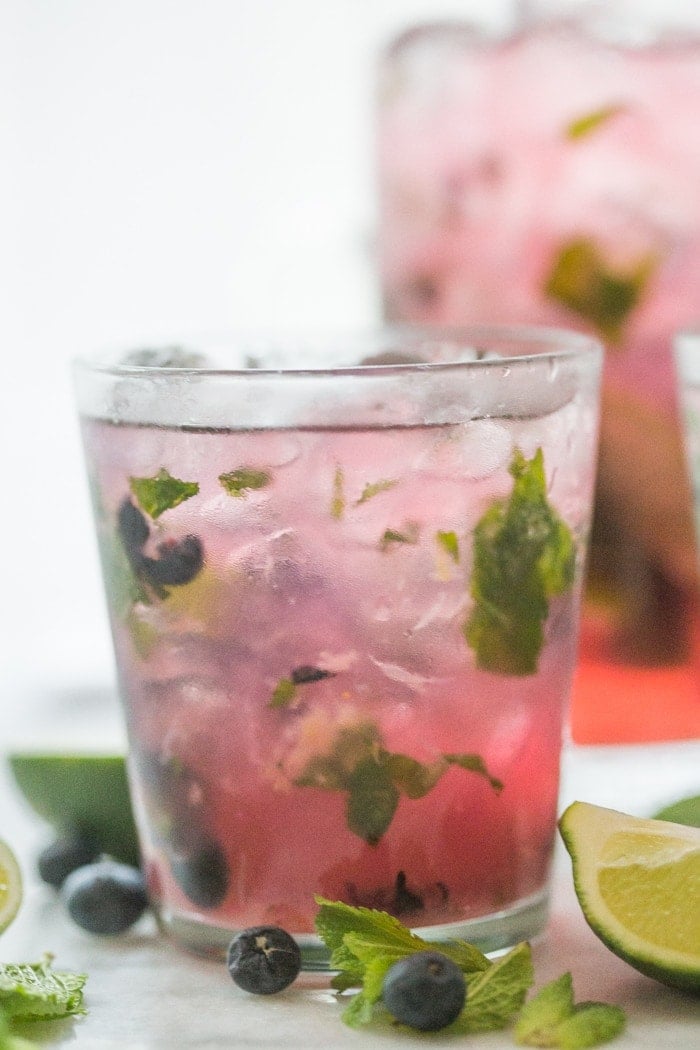 But that doesn't mean that you are. Are you?! OHMYGOD ARE YOU PREGNANT?!?!
OK, so pregnancy has dragged me into a world of wishing pregnancy on everyone else I meet (ah, let's get together and complain, coo, and compare notes on recent studies on caffeine levels and how much wine you can drink), but don't worry.. you can't catch it. Not from me, at least.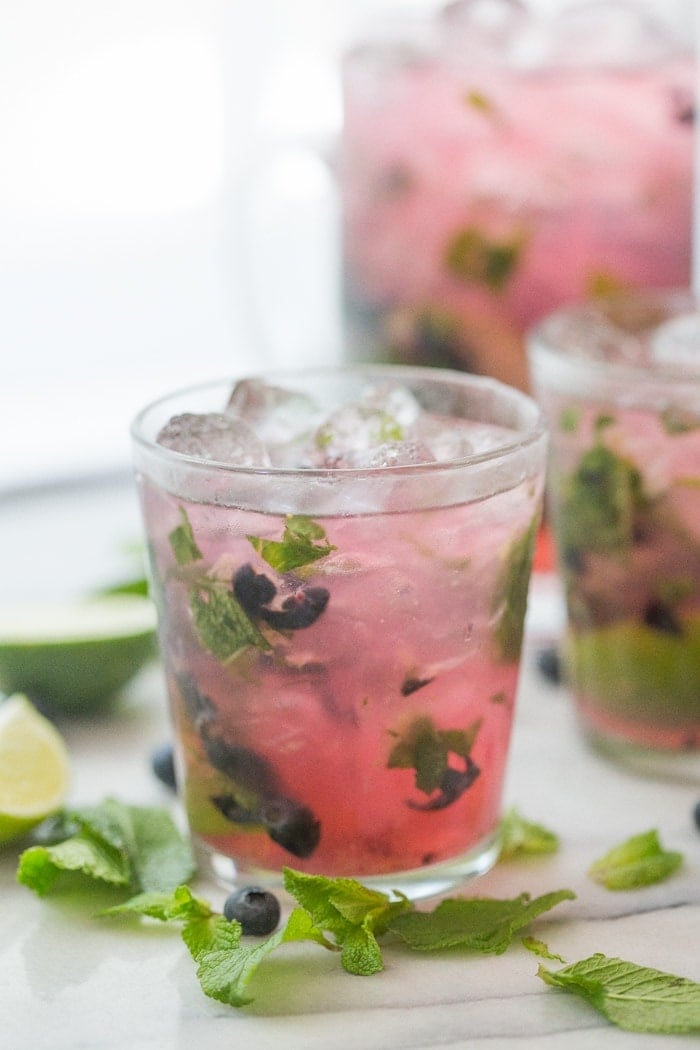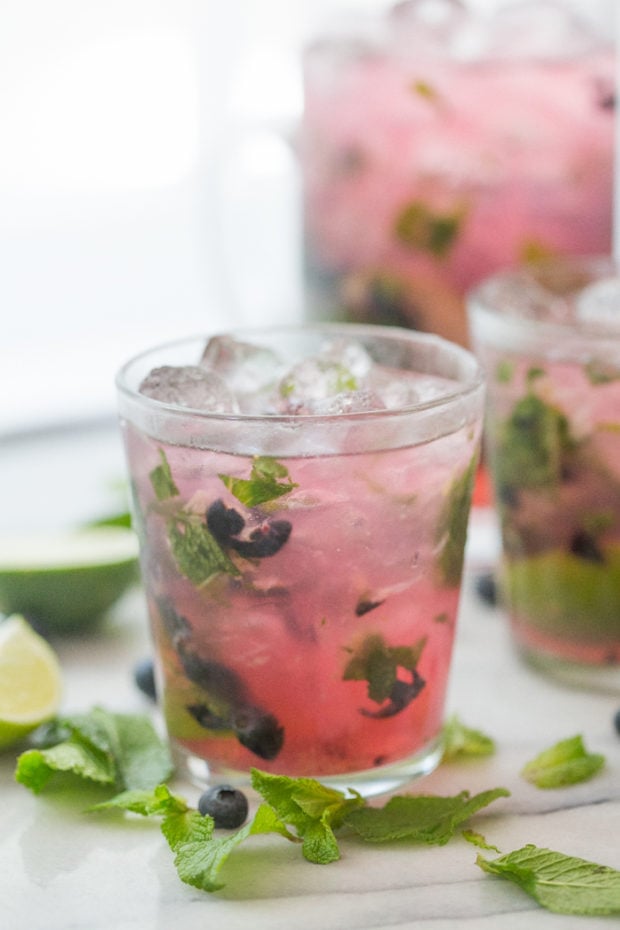 HEYO……………… anyway, ahem. Blueberry mojitos. For a crowd!
Hubs and I decided to throw a gender reveal party, because obviously. Why would we not gather our family and closest friends for any sort of party, much less one with a theme so ripe with creative potential? I knew that we wanted everything to be pink and blue (again, obviously), including the drinks, but all I was coming up with on Pinterest was electric blue, Koolaid- and Jello-based punches which is just really not my style. Mojitos, though? Mojitos are definitely my style.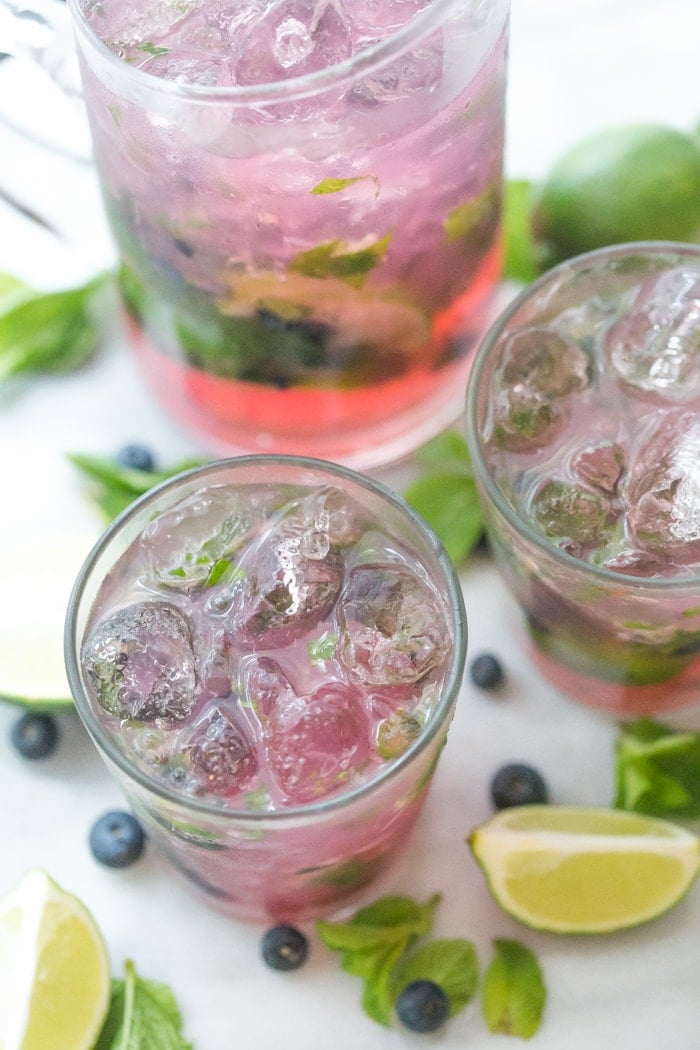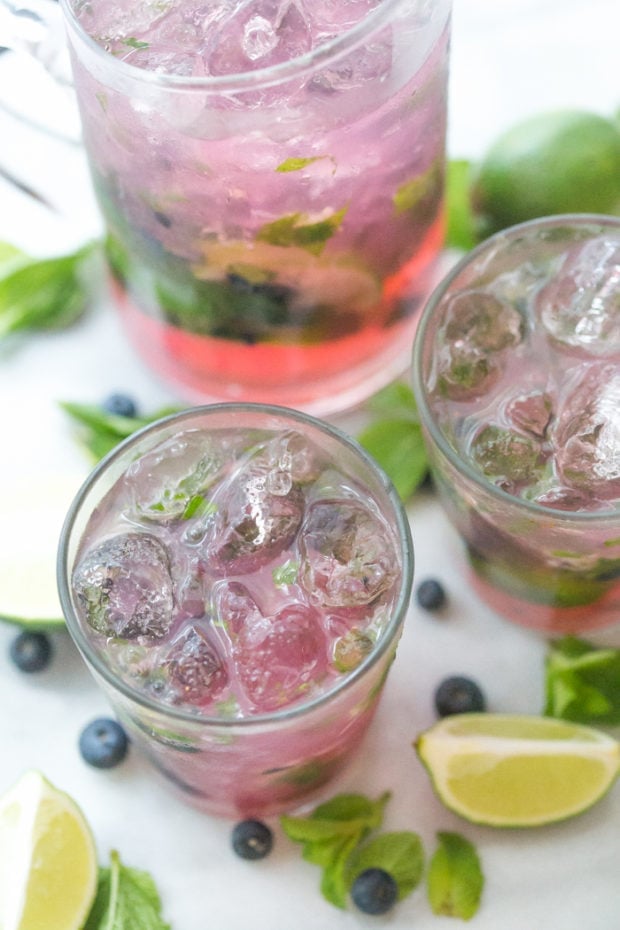 I decided to expand my one-off blueberry mojitos recipe and add a dash of blue food coloring, because, well, blueberries are actually pretty damn purple, and it made for the perfect non-preggo sipper for the party. I, of course, had to taste test a tiny little sip to make sure everything was balanced right, and whoa mama! I'm making a batch of these for our hospital bag. They are good.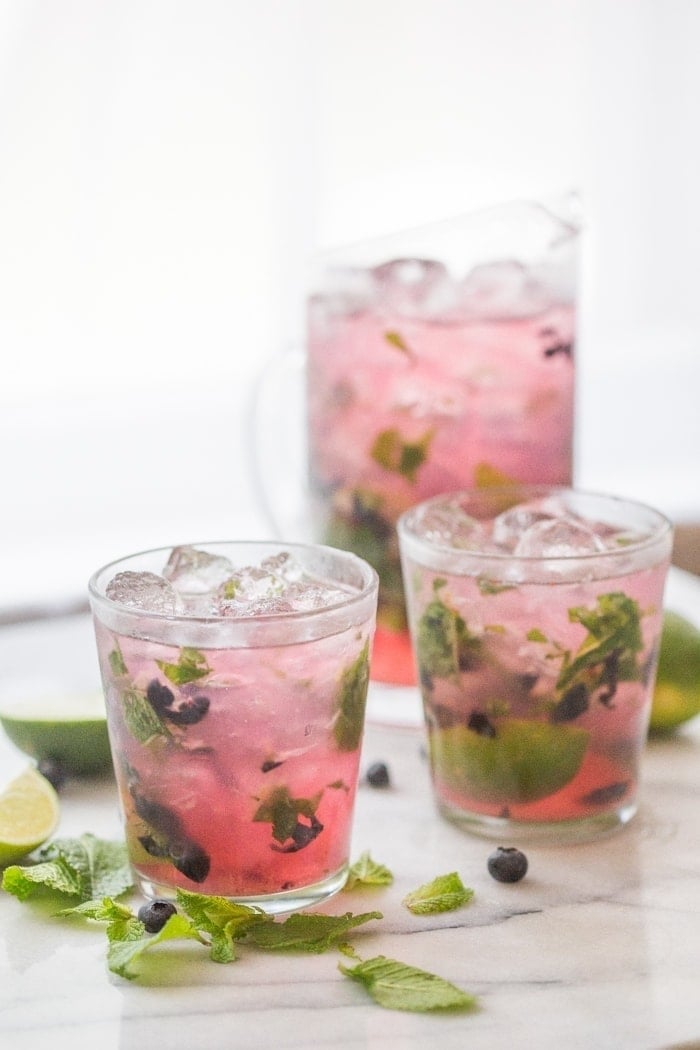 What I love about this recipe is that it's elegant but fun, is easy to expand (I made 3 batches!), festive, but fruit and minty and tart and light and lovely. It's an excellent mojito, and takes hardly any effort at all. Make a simple syrup, mash some leaves, limes, and blueberries, et voilà! It doesn't get much easier. I mean, OK, I guess you could mix some Hawaiian Blue Tropic punch with Sprite, or whatever, but, if that's not your style?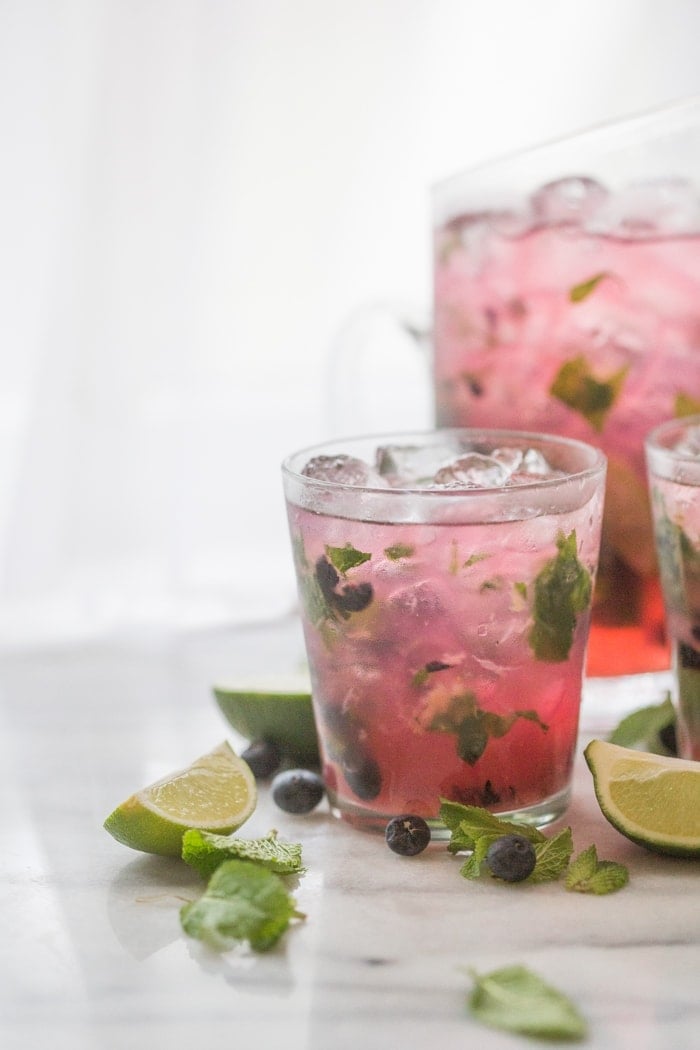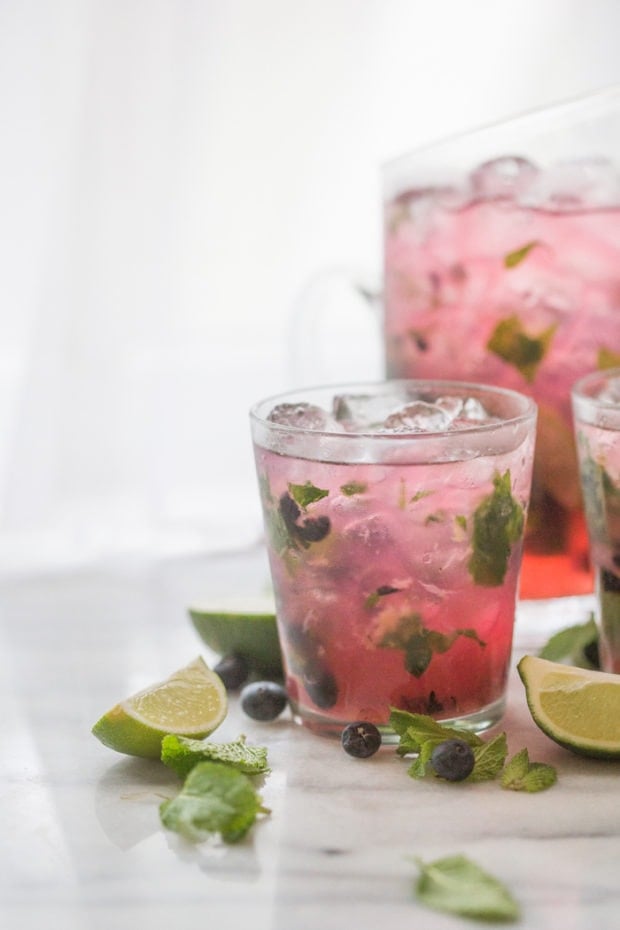 Then this is. I promise.
Of course, these are beyond perfect for a gender reveal party (team blue!), especially when paired with my strawberry-basil lemonade (coming soon!), but they work so well for any other event as well. Serve them in a pitcher with glasses and plenty of ice, next to the printed recipe. You'll be asked; trust me.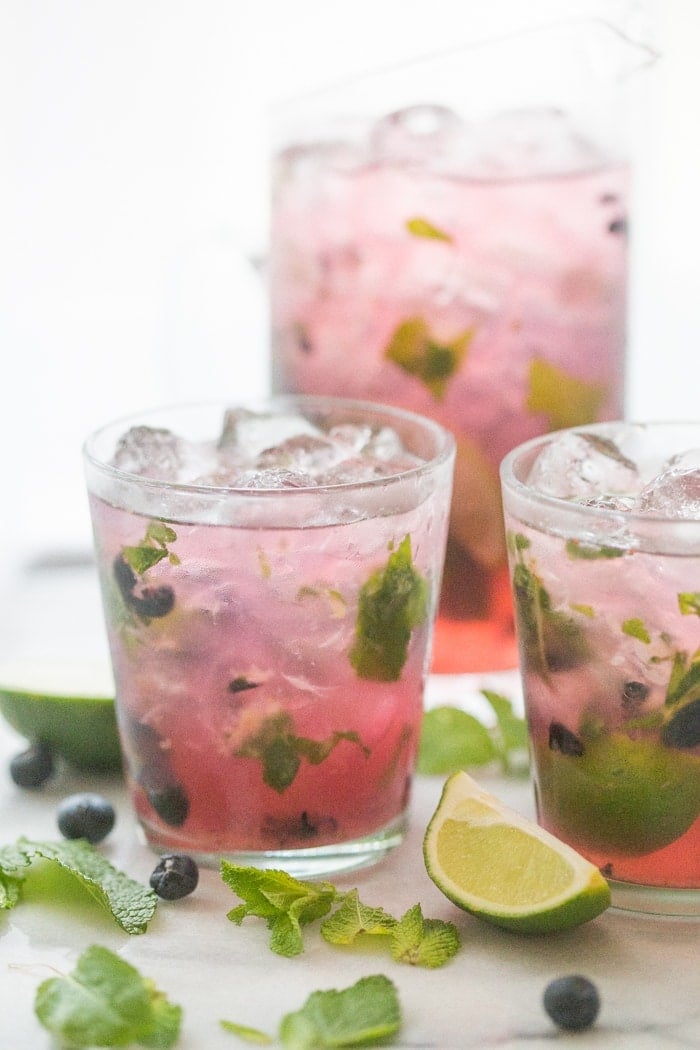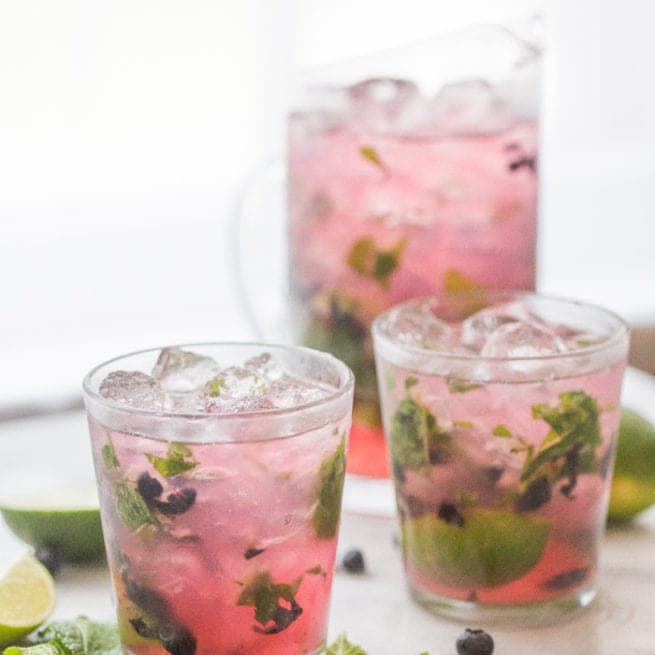 Blueberry Mojitos for a Crowd
The perfect pitcher cocktail--fruity, minty, light, tart, bursting with springy, summery goodness.
Ingredients
35

pieces

fresh mint leaves

, very roughly chopped (just barely!)

1/3

cup

simple syrup

, or a little more to taste (2:1 ratio of sugar:water, see note)

3-4

pieces

limes

, quartered, depending on how tart you like it

40

piece

blueberries

1-1/14

cup

white rum

3-4

cups

soda water

, to taste (about 3-4 cups)
Instructions
In a large bowl or pitcher, combine mint leaves and 1/3 cup simple syrup and muddle well 'til oils are released and very fragrant. Add limes and muddle 'til juiced. In a small bowl, muddle blueberries separately 'til mashed. Add blueberries to large bowl or pitcher, then add white rum (go for 1 1/4 cups if your crowd can hang! for a daytime event, I'd go with 1 cup). Stir to combine, and add about 2 cups soda water. Taste and add more simple syrup if you prefer a sweeter taste, and soda water until the mojito is light and bubbly enough. Serve with plenty of ice!
Recipe Notes
This recipe makes one batch, which serves about 6. Easily double or triple the ingredients for larger crowds!
To make simple syrup:
Combine 1 cup sugar with 1/2 cup water in a small saucepan over high heat. Stir until sugar is dissolved and bring to a boil. Remove from heat, cover, and let cool. Makes a little more than a cup; reserve any remainder for another use.
Nutrition Facts
Blueberry Mojitos for a Crowd
Amount Per Serving (6 g)
Calories 16
Calories from Fat 9
% Daily Value*
Fat 1g2%
Sodium 27mg1%
Potassium 40mg1%
Carbohydrates 2g1%
Protein 1g2%
Vitamin A 248IU5%
Vitamin C 3mg4%
Calcium 20mg2%
Iron 1mg6%
* Percent Daily Values are based on a 2000 calorie diet.
Oh.. and guess what! It's a boy! Team Mojito wins!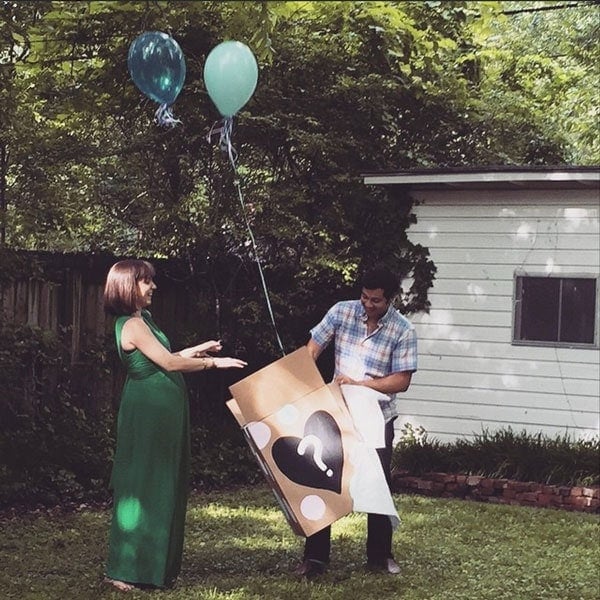 And yes, I am that huge. 23 weeks bump..