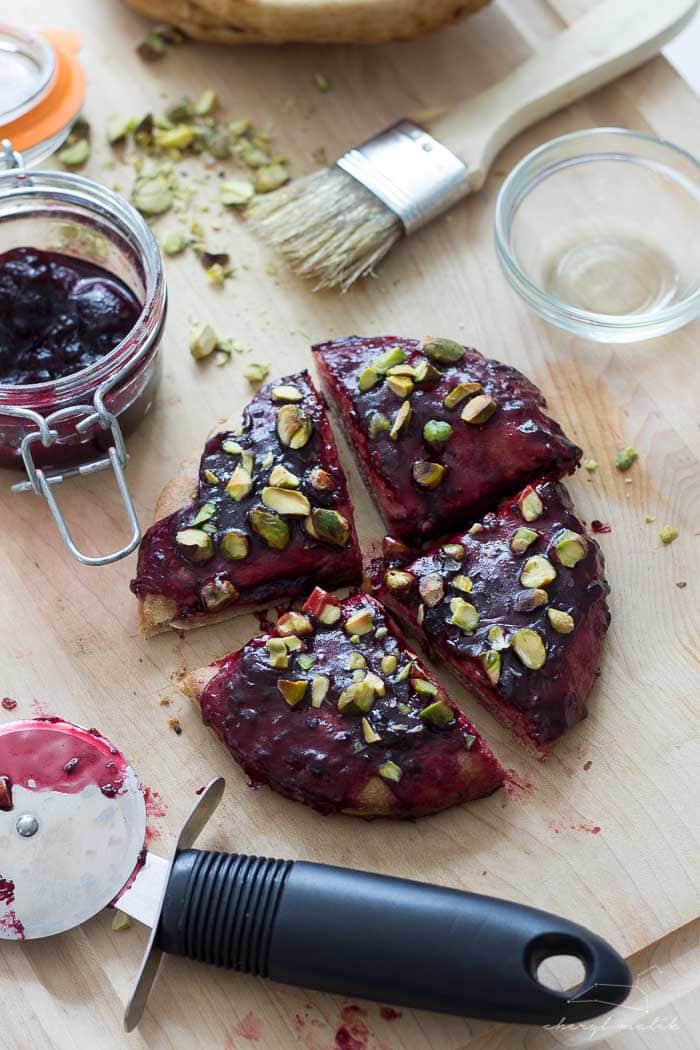 Pizza in the morning, pizza in the evening..
(everybody now!)
pizza at suppertime! When pizza's on a..
Except I'm going to go ahead and assume that if you've happened upon my blog, you're probably not one to scarf down a box of Bagel Bites for dinner. Or breakfast. Or ever.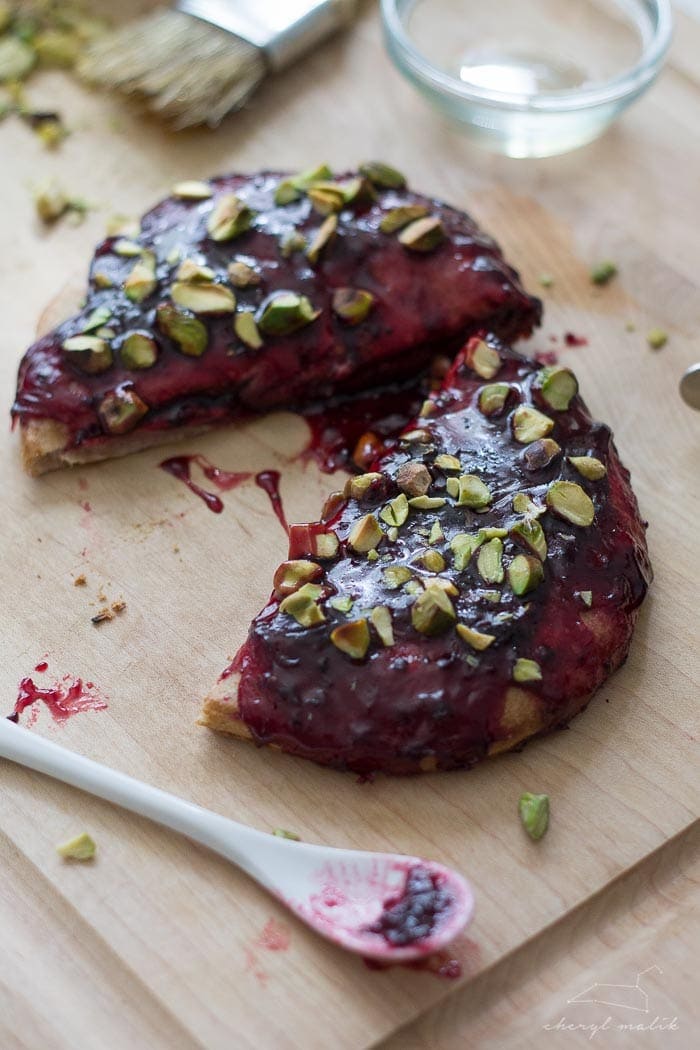 But when it comes to a fruity, tender whole wheat pizza topped with salted pistachios and blackberry jam, you're probably more of a believer. Am I right? Am I totally off the mark? Are you sitting there, thinking "What, no processed cheese? I am outta here"? I hope not, because this is who I am and.. if you don't like it then..
I'll try and change.
Kidding! It's vegan breakfast pita pizzas or bust. But here's why: I came across this recipe via VeganCrunk (amazing vegan blogger from my very own town! Trust me, that doesn't happen frequently 'round these them parts) via Mark Bittman and it looked beautiful and sounded OK. I figured the whole wheat pita would taste very whole wheat pita-y, a bit dry and toothy, leaving me longing for the days when I genuinely believed that white flour was excellent in any and all quantities (I miss you, 90s). But no. Brushed with a bit of olive oil and baked for a few minutes, the pita puffs up gently and softens beautifully, the jam seeps into the pleasant-surprise pita, and pistachios provide a nuttiness and slight saltiness which balances it all out and even elevates the elegance. That, and you get to use a pizza cutter at 7 a.m.
Which is way more awesome than it should be.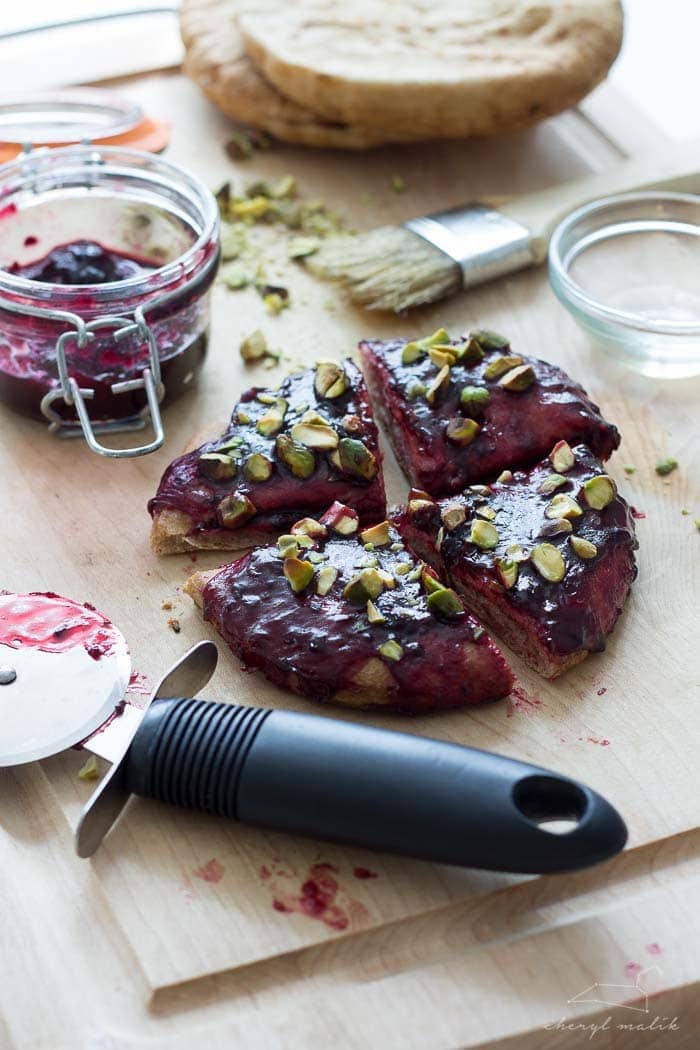 Instead of making my own strawberry compote, I reached for the blackberry jam since.. laziness. But what I love about my take on Mark's recipe is that it's 100% versatile–you can use any type of jam, really, or even forego the jam altogether and slather the top of your pita with peanut butter and bananas, drizzle with a little honey or agave (Helloooo, yesterday morning. Miss you.). It's filling but not heavy, fruity but not sticky-sweet, soft but with a bit of texture. Basically it's, dun dun dun, the perfect quick weekday breakfast. Heavy claims!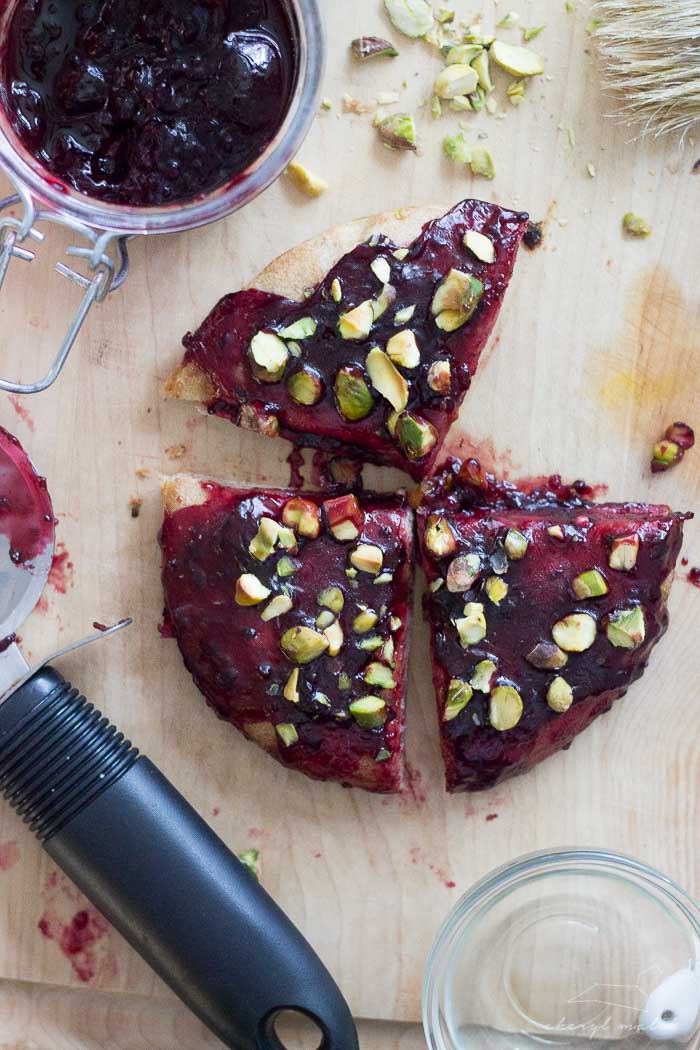 You'll just have to try it to find out if I'm right.
And when am I ever wrong.. right, honey? …Honey?
Breakfast Pita Pizza (Vegan)
Soft whole wheat pita slathered with fruity jam and topped with salted pistachios. Quick, versatile, and filling, this should be your new go-to weekday breakfast. Vegan.
GO PREMIUM - AD FREE + MEAL PLANS
Ingredients
1

whole

whole wheat pita

1 1/2

tbsp

olive oil

2

tbsp

jam

, any flavor

2

tablespoons

chopped salted pistachios
Instructions
Preheat the oven to 425ºF. Lightly brush the top of the pita with olive oil, reserving a little, then spread the jam on top, not getting too close to the edge, as the jam will run a bit. Sprinkle pistachios on top and gently brush tops of nuts with the remaining olive oil, to prevent burning.

Place on a baking sheet and bake 5 - 10 minutes, or until jam is bubbly and pistachios are turning golden brown. Remove from oven and let cool a few minutes before slicing into four pieces with a pizza cutter.
Notes
You can use any of your desire Jam flavor!
Nutrition
Serving:
1
g
Calories:
384
kcal
Carbohydrates:
32
g
Protein:
3
g
Fat:
28
g
Saturated Fat:
4
g
Sodium:
18
mg
Potassium:
154
mg
Fiber:
2
g
Sugar:
21
g
Vitamin A:
62
IU
Vitamin C:
4
mg
Calcium:
16
mg
Iron:
1
mg
Net Carbs:
30
g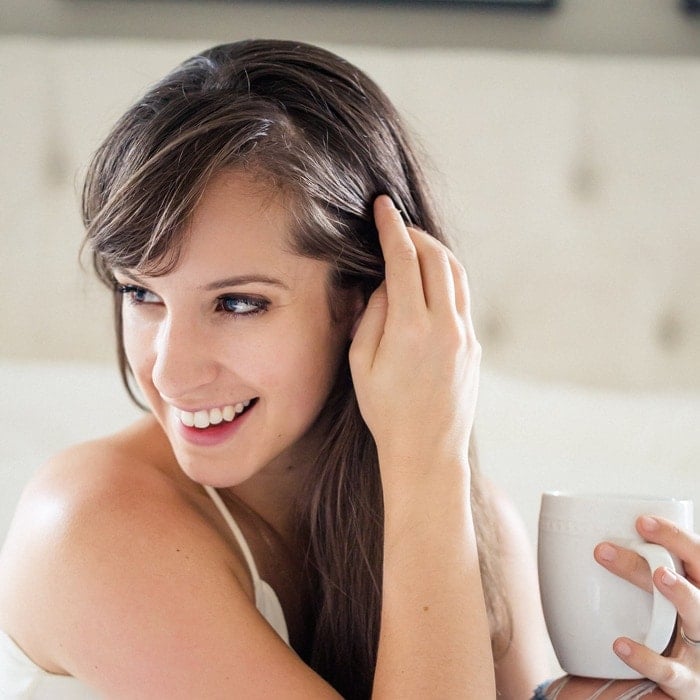 Cheryl Malik is the recipe developer, writer, and photographer behind the healthy, flavorful, family friendly recipes at 40 Aprons. She's been a blogger for 10+ years and is known for her delicious recipes and detailed recipe instructions. Cheryl is a mom of three who lives in Memphis, TN.