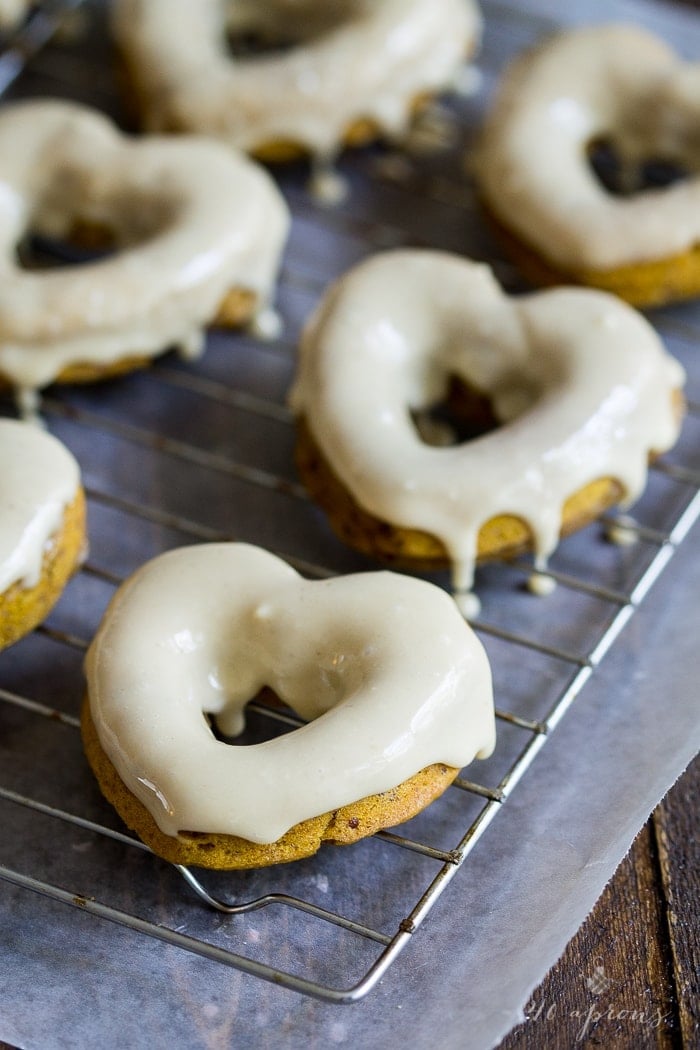 Hey! Have you made your vegan pumpkin donuts with salted caramel glaze for Thanksgiving yet? No?
Well, what kind of sham of a Thanksgiving are you hosting?!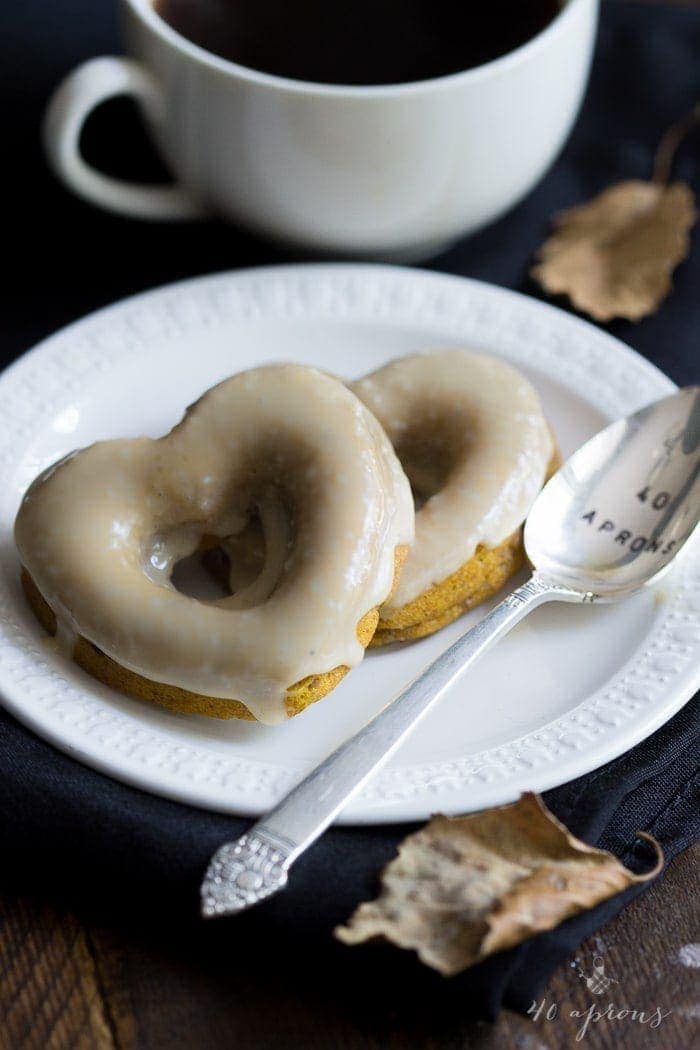 I figured that you were tired of Thanksgiving posts by now–mostly because I've run out of Thanksgiving recipes to send your way–so I'm hitting you with your new favorite Thanksgiving tradition: donuts for breakfast! But not just any donuts..
vegan
pumpkin
donuts with…
salted
caramel
glaze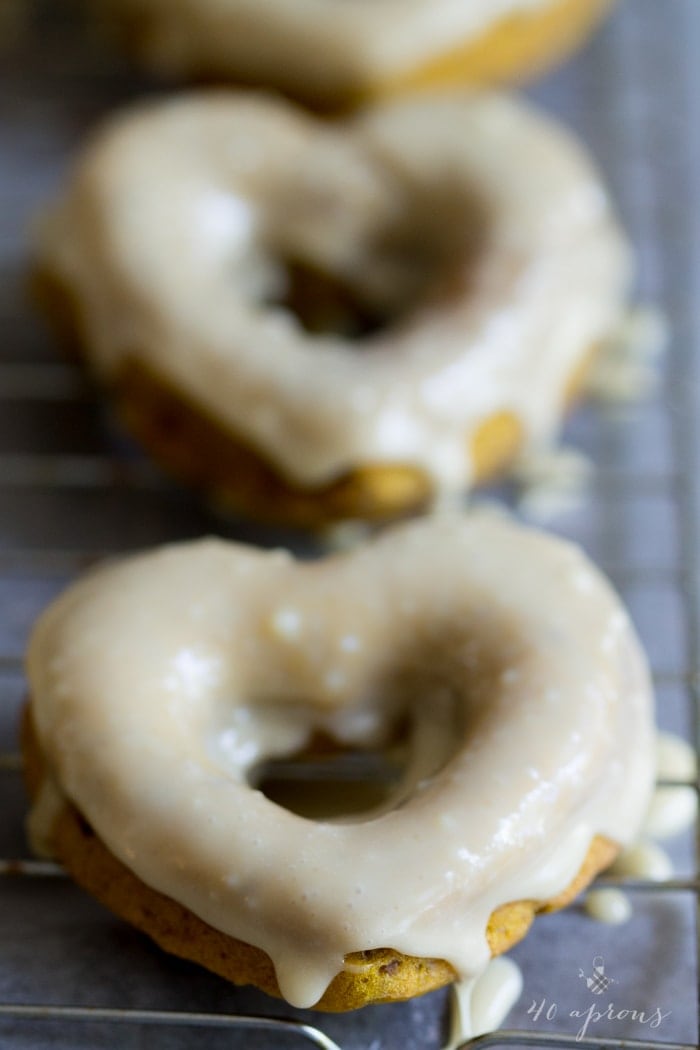 I had to give each of those uh, words its own line, because I felt they were each too powerful to play well together inside a measly span tag. Am I right or am I right?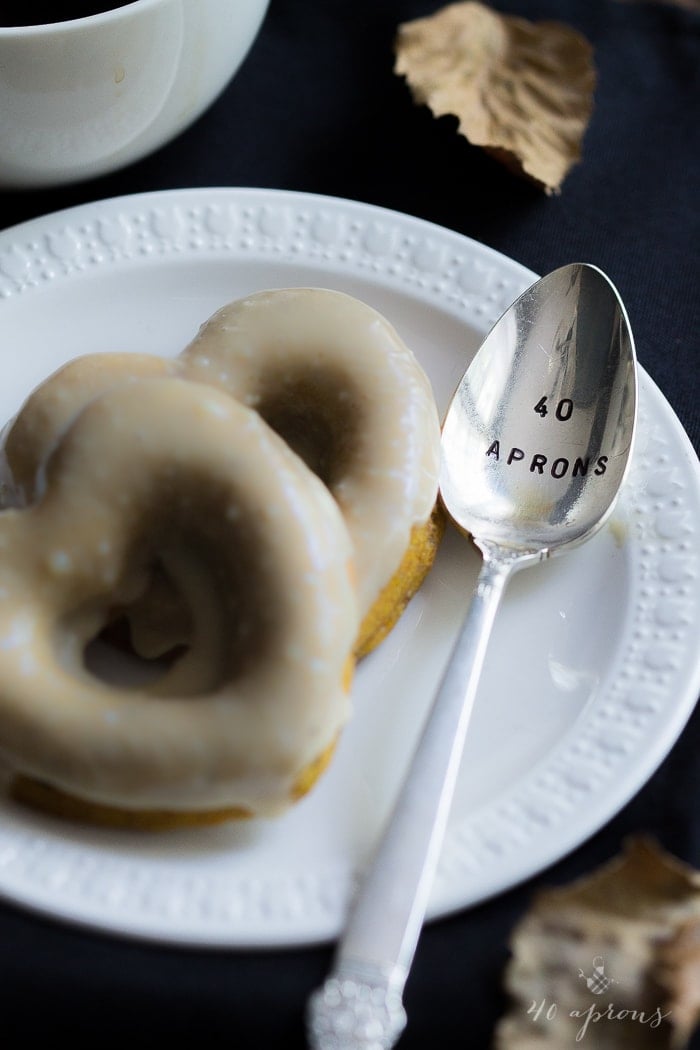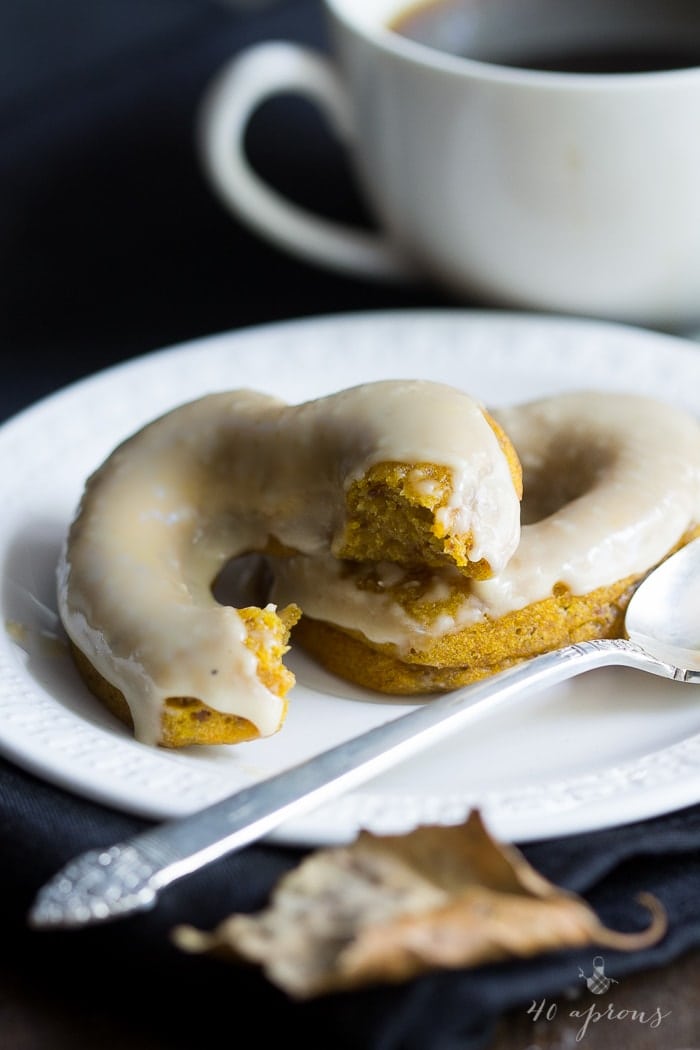 What I love about these donuts is a) they're easy as pie. Pumpkin pie, to be exact. Since, you know.. the.. pumpkin.. and b) they're stinkin' delicious?! Without bein' stinkin', of course. Oh, and c) they're vegan! So any ol' soul can eat them. Unless they're gluten-free, in which case.. I apologize.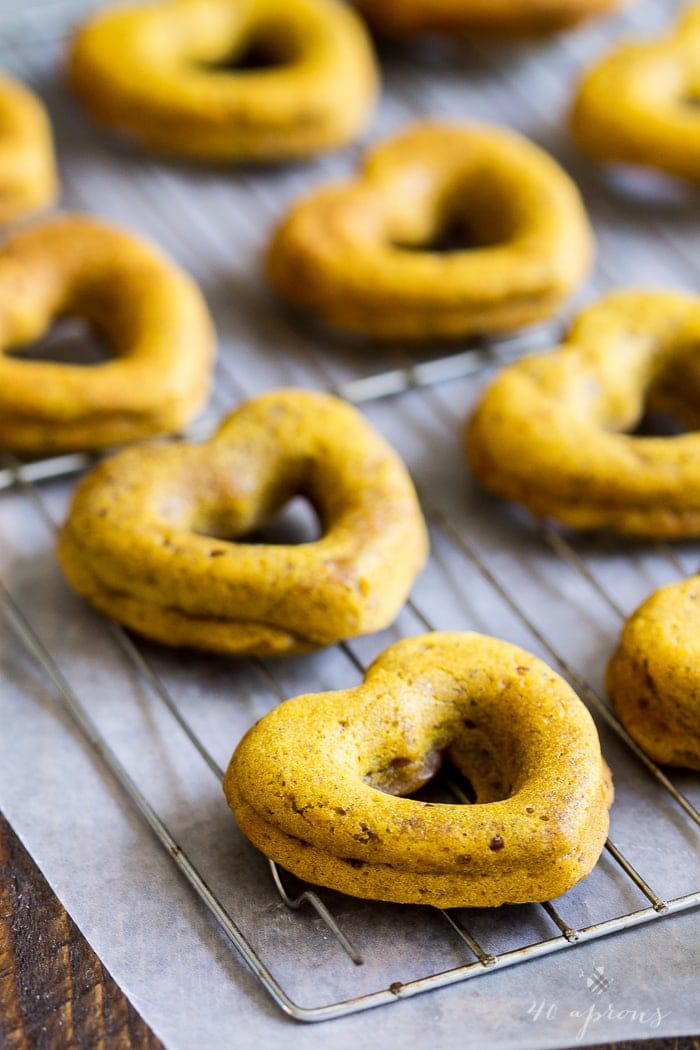 I used half whole wheat flour, because, while I wanted these to be rich and fun and indulgent, I didn't want to break the bank nutritionally, so to speak. Or, rather, save a little, to balance out the wild and crazy powdered sugar we're using in the salted caramel glaze. There's plenty of pumpkin in these little suckers, and just the perfect amount of pumpkin spice to make these seasonal and warming without being too heavy. The salted caramel?
I mean, do I even have to? If you don't understand the holy holiness that is salted caramel without me describing it, then..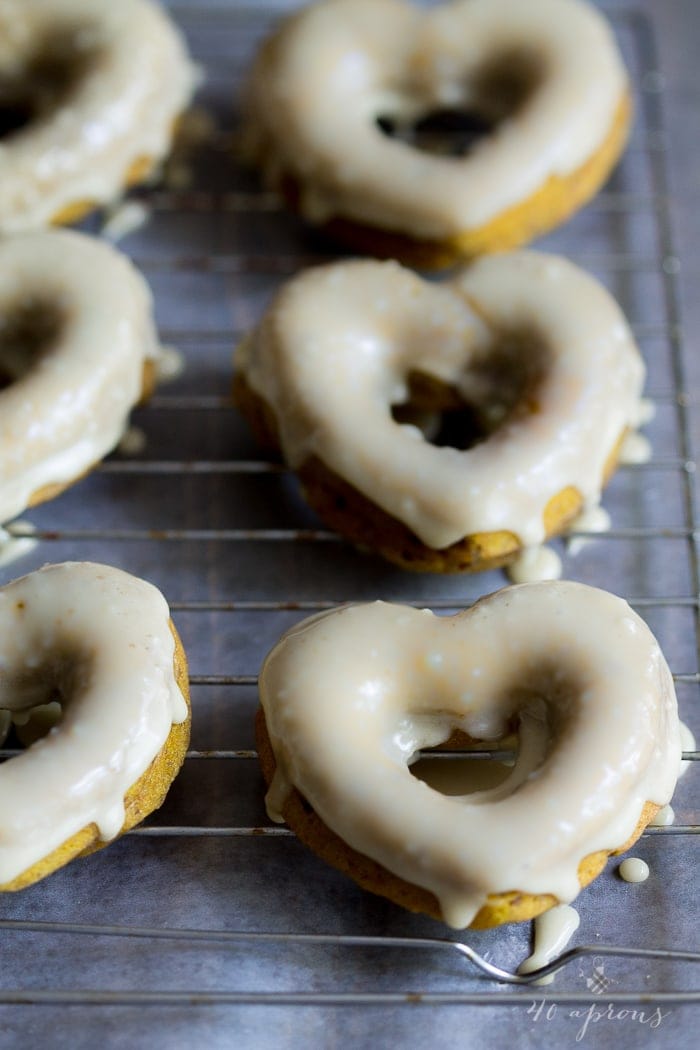 Just… no. I can't know you, you alien you!
Happy Thanksgiving, dearests! Here's some donuts to celebrate!
Vegan Pumpkin Donuts with Salted Caramel Glaze
Vegan pumpkin donuts with salted caramel glaze. Epic!
GO PREMIUM - AD FREE + MEAL PLANS
Ingredients
1

cup

flour

all-purpose

1

cup

wheat flour

white whole

1 1/2

teaspoons

salt

to taste

1 1/2

teaspoons

baking powder

2

teaspoons

pumpkin

pie spice

1/4

cup

coconut oil

melted

3

tablespoons

flax eggs

(mix together 3 tablespoons freshly ground flax meal and 1/2 cup + 1 tablespoon warm water and set aside until the texture of egg whites)

3/4

cups

agave nectar

1

teaspoon

vanilla extract

1 1/2

cups

pumpkin purée

(*not* pumpkin pie filling)

1

tablespoon

Salted Caramel

2

cups

sugar

powdered

3/4

cup

vegan caramel sauce

(store-bought or make your own below)

1 1/2

teaspoons

salt

sea salt

2-3

tablespoons

milk

almond

1

tablespoon

VEGAN CARAMEL SAUCE

1 1/2

cups

sugar

1/2

cup

water

3

tablespoons

butter

vegan

1/2

cup

milk

almond
Instructions
Make the caramel:

Stir sugar and 1/2 cup water in heavy large saucepan over medium-low heat until sugar dissolves.

Increase heat; boil without stirring until syrup turns golden (I advise to not wait until it turns amber, as that usually means it's burnt!), occasionally brushing down sides of pan with pastry brush dipped into water and swirling pan, about 12 minutes.

Remove from heat. Whisk in butter. Very, very gradually add almond milk (mixture will bubble vigorously). Stir over low heat until smooth. If the mixture seizes up, simply continue to heat and smooth out. Cool to lukewarm before making the glaze.

Make the donuts:

Combine flours, salt, baking powder and pumpkin pie spice in a mixing bowl; whisk together until well combined. Set aside.

In another mixing bowl, stir together coconut oil, flax eggs, agave nectar, vanilla extract, and pumpkin purée until smooth. Add flour mixture and continue to whisk or stir together until well combined.

Fill the donut pan 3/4 of the way full (these don't rise much!) - I find the easiest way to do this is to schlep the batter into a piping bag or large ziploc bag and pipe the batter into the donut pan cavities.

Bake the doughnuts for 15 to 18 minutes, or until a toothpick inserted in the center comes out clean.

Remove from oven and let stand at least five minutes, then transfer to a wire cooling rack, while you make the glaze.

Combine all the glaze ingredients in a mixing bowl and whisk until completely smooth. Dip the tops of the donuts in the glaze and serve immediately. If you plan to serve later, keep the donuts and glaze separate and glaze right before serving.
Notes
Dip the tops of the donuts in the glaze and serve immediately. If you plan to serve later, keep the donuts and glaze separate and glaze right before serving.
Nutrition
Serving:
12
g
Calories:
432
kcal
Carbohydrates:
87
g
Protein:
4
g
Fat:
9
g
Saturated Fat:
5
g
Cholesterol:
1
mg
Sodium:
684
mg
Potassium:
178
mg
Fiber:
3
g
Sugar:
56
g
Vitamin A:
4913
IU
Vitamin C:
1
mg
Calcium:
70
mg
Iron:
2
mg
Net Carbs:
84
g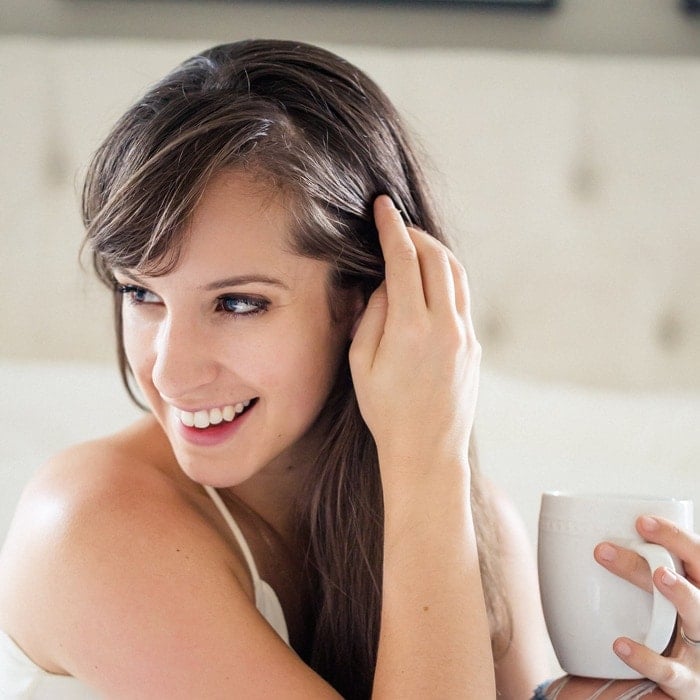 Cheryl Malik is the recipe developer, writer, and photographer behind the healthy, flavorful, family friendly recipes at 40 Aprons. She's been a blogger for 10+ years and is known for her delicious recipes and detailed recipe instructions. Cheryl is a mom of three who lives in Memphis, TN.