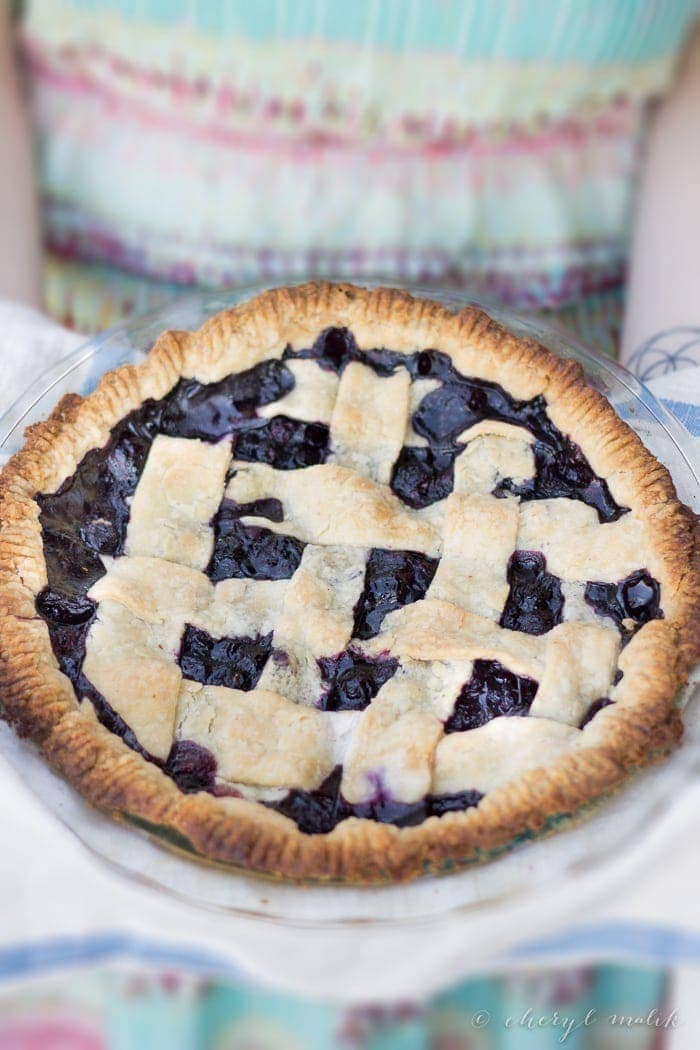 When I was a kid, we often read the book "Blueberries for Sal". I'm not exactly sure what actually happens in the book, I just know Sal totally jammed his face into a mess of fresh blueberries.
And it sounded awesome.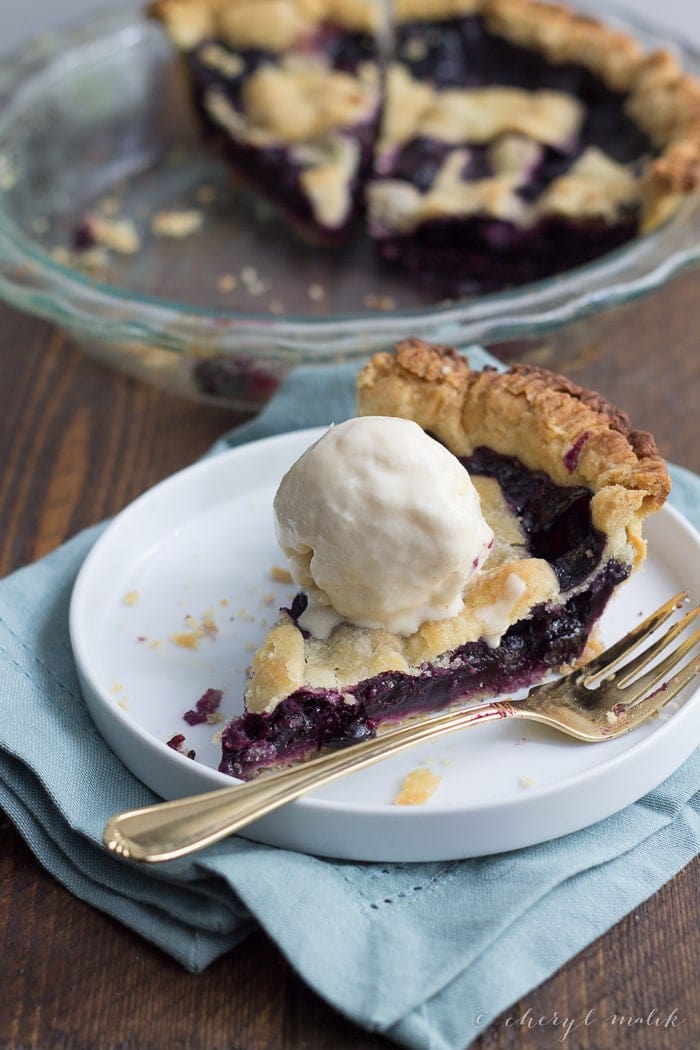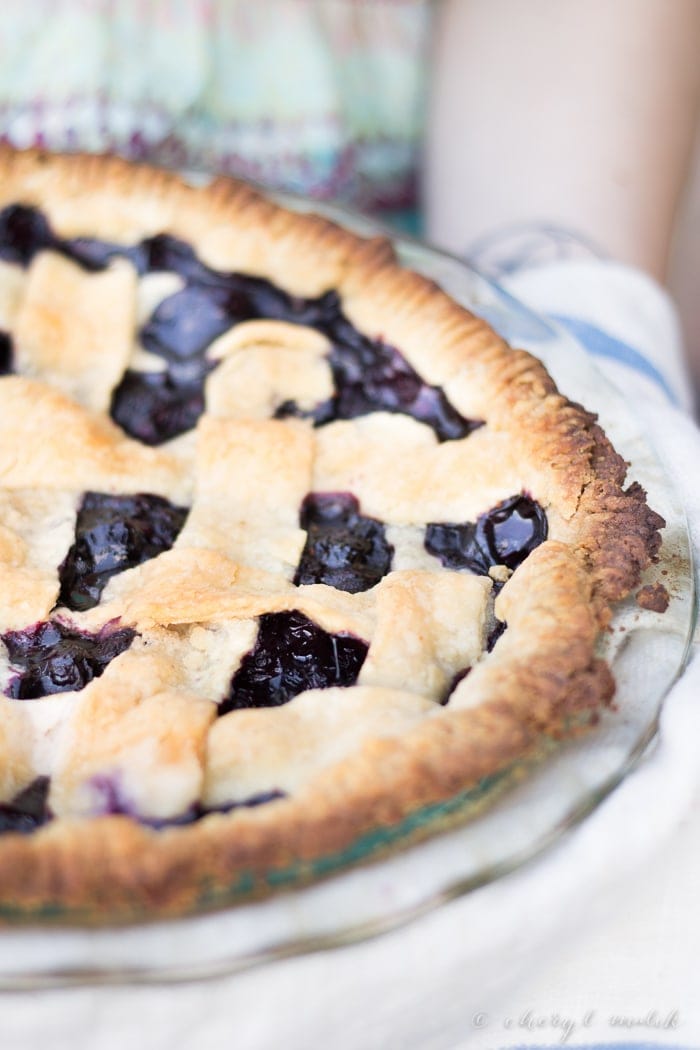 Growing up, we never ate blueberry pie for some reason, but when I ordered my first slice a few years ago, I had a flashback to Sal.
"Finally," I thought, "I get to jam my face into a mess of fresh blueberries… contained in a flaky, buttery crust and warmed with just a touch of cinnamon, brightened with just a touch of lemon zest"
Being a grown-up and making these decisions for yourself is awesome, just like Sal's country adventures. So when I saw the hoards of MasterChef hopefuls making blueberry pie on an episode a couple weeks back, I knew I had to make use of the in-season berries and make my very first blueberry pie.
And I've been eating it for lunch everyday for a week since. You think I'm joking!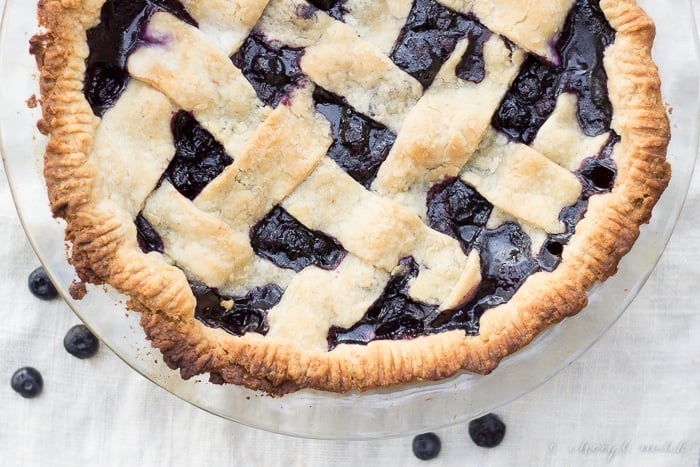 Maybe, but it's damn good. The flaky crust perfectly supports but doesn't overpower the blueberries, which are tossed in a mind-bogglingly simple mixture of arrowroot, sugar, cinnamon, and lemon zest. As the pie bakes, the blueberries bubble and burst and take on this insanely rich hue, so deep it almost emulates a sapphire molasses. I'd never really paired blueberries and cinnamon together before, either, but one bite, and I was sold. Absolutely, positively sold.
I decided to make a vegan crust here and brush the lattice crust with oil instead of egg, but you can absolutely go the butter route if that's your bag. Vegan butter isn't quite as easy to work with when it comes to pastries, as it melts much more quickly than its dairy counterpart, but it's cruelty-free and has no lactose! Tastes damn delicious, too, so just make sure to freeze your butter and chill your dough more often, and you'll be just fine.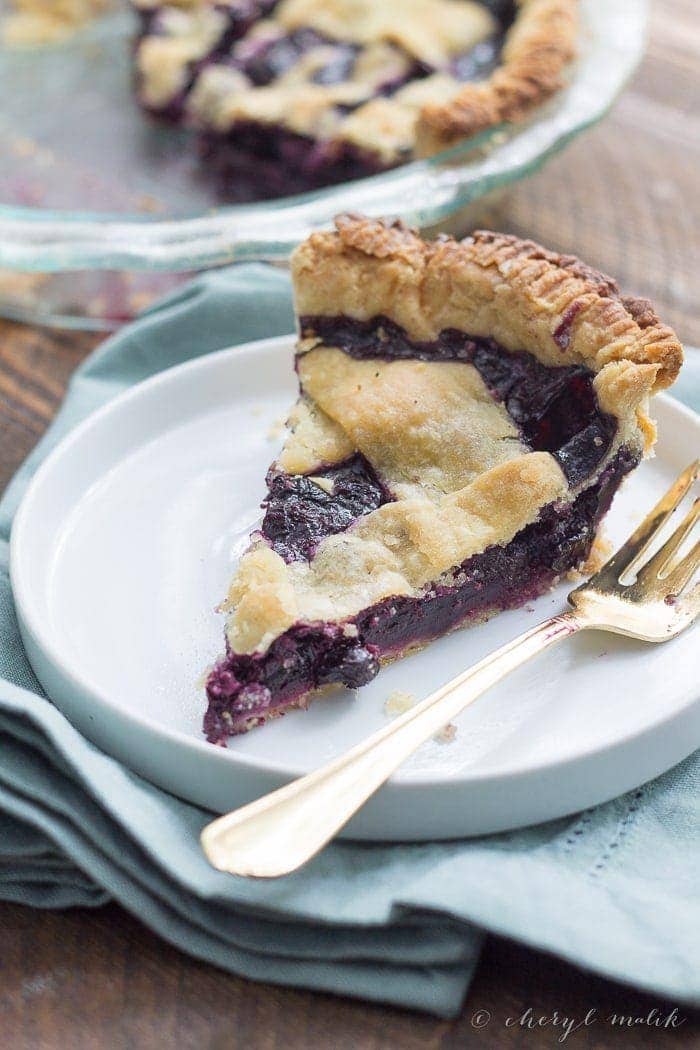 Other than the ol' vegan butter switcheroo, the pie itself is already vegan! Neat, eh? Cheers to in-season blueberries, naturally bursting with vibrant flavor! Make this pie and bring it to the next thing you're going to. A family dinner? A work meeting? Your dentist appointment?
Yes. Yes. And yes.
Vegan Blueberry Pie
Make use of in season blueberries with a classic blueberry pie. Simple, sweet, a bit rustic, and totally vegan!
GO PREMIUM - AD FREE + MEAL PLANS
Ingredients
4

cups

blueberries

1

tbsp

zest of one lemon

3/4

cup

sugar

3

tablespoons

cornstarch or arrowroot

1/4

teaspoon

salt

1/2

teaspoon

cinnamon

1

tbsp

neutral oil for brushing crust

1

cup

vegan butter

, cut into small pieces and frozen

2 1/2

cups

flour

1

pinch

pinch of salt

8

tbsp

ice water
Instructions
Preheat oven to 425ºF.

If making pie crust:

Chill a mixing bowl and pastry cutter until cold. Whisk together flour and salt in mixing bowl then cut in vegan butter until the size of peas, using two knives or a pastry cutter. Begin to mix in ice water, about a tablespoon at a time, or until dough begins to form - it should just hold together. Don't overwork the dough, and keep the ice water at a minimum! The more you work the dough, the tougher it will get; the more ice water, the less flaky and rich.

Once dough is forming, push together mixture into a ball and wrap in plastic wrap, then flatten to a disk gently. Freeze at least 20 minutes, or until vegan butter is solid again.

To roll out: remove dough from freezer and divide in half using a pastry cutter or knife. Reform dough into a disk and roll one piece on a well-floured surface or pastry board, rolling from the center to the edge, turning 1/4 of the way after each roll, until it's large enough to fit in a deep dish pie pan. Using your rolling pin, roll crust up around the pin, move to the edge of your pie pan, then unroll. Place in freezer while you prepare the filling. For the top piece crust, wait to roll out until blueberries are prepared, or roll out and keep on the board in the freezer, so the vegan butter stays cold.
Notes
For the filling: toss blueberries with other ingredients (besides oil) and pour into prepared pie crust. Roll out second pie crust half and lattice (here's a

great video on the technique), then crimp edges. Brush top with neutral oil and cover crust edges with aluminum foil. Bake about 45 minutes, removing aluminum foil after about 25 minutes. Serve with vegan ice cream, like

Tofutti!
Nutrition
Serving:
8
g
Calories:
449
kcal
Carbohydrates:
62
g
Protein:
5
g
Fat:
21
g
Saturated Fat:
5
g
Sodium:
263
mg
Potassium:
107
mg
Fiber:
3
g
Sugar:
26
g
Vitamin A:
1119
IU
Vitamin C:
8
mg
Calcium:
10
mg
Iron:
2
mg
Net Carbs:
59
g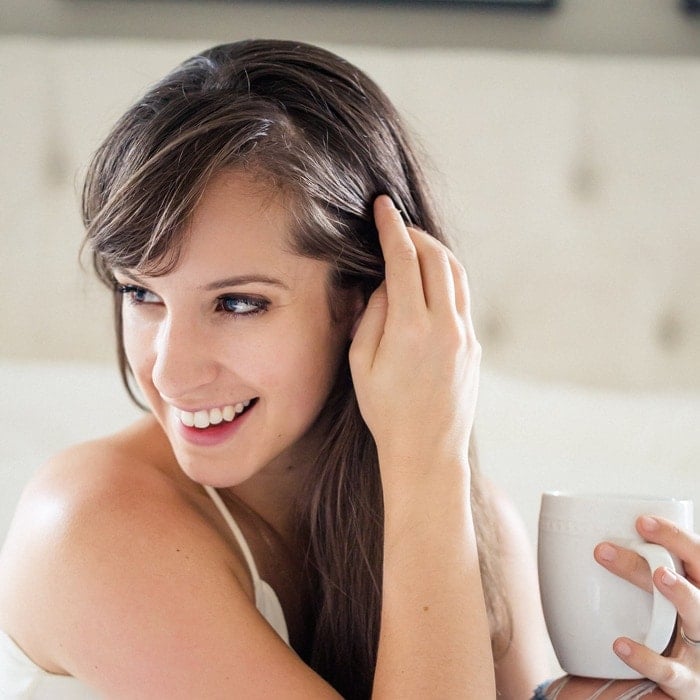 Cheryl Malik is the recipe developer, writer, and photographer behind the healthy, flavorful, family friendly recipes at 40 Aprons. She's been a blogger for 10+ years and is known for her delicious recipes and detailed recipe instructions. Cheryl is a mom of three who lives in Memphis, TN.